Definitive Guide to

Hatsan Bullboss
The Hatsan BullBoss... the name is terrible, but the gun is fantastic. The BullBoss PCP bullpup is just further proof that the folks over at Hatsan are doing a great job listening to their customers. The BullBoss gives you more power in a bullpup platform than the Gladius in a stripped down package that is much more simple and utilitarian. The BullBoss is everything that an airgunner needs without all the extras. Simple, powerful, and easily adaptable; we think that the BullBoss sets a new standard in what a bargain price bull pup should be.
Order a Hatsan Bullboss
Video
Detailed Review
The Basic Anatomy of the BullBoss
Hatsan really put some thought into the ergonomics of the BullBoss.
The stock is a great fit for just about any shooter, those with long arms may find the length of pull just a tad short but other than that it's spot on.
The BullBoss also features an adjustable cheek riser to make sure that you get you eye lined up just right behind the scope. We mounted up our scope using medium height rings and found that just a few clicks up on the cheek pad got everything lined up perfectly.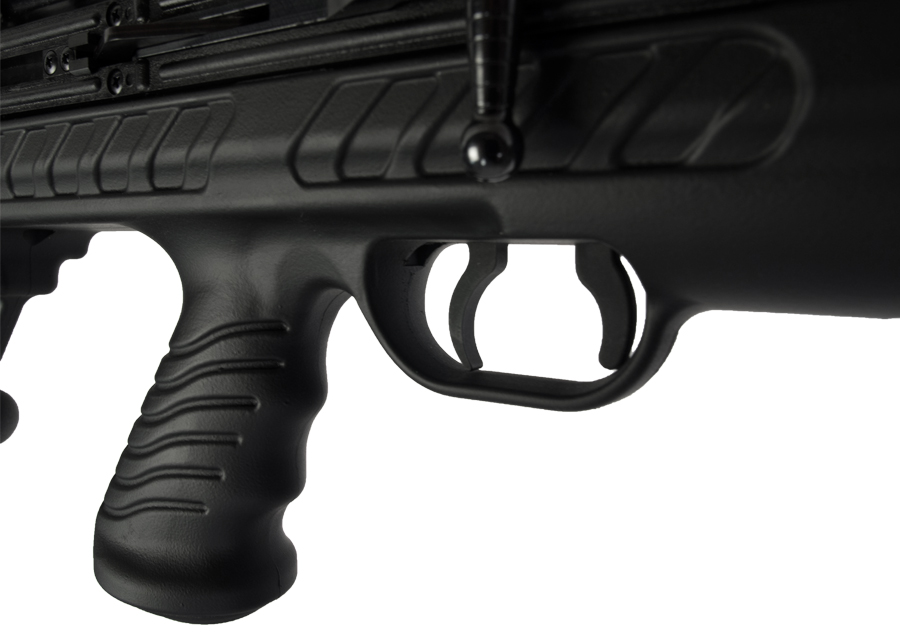 As far as mounting optics, Hatsan uses a combination Weaver/Dovetail rail that lets you mount just about anything that you have. This is a great feature considering many airgunners already have a preferred scope and ring set up. Note that these aren?t standard weaver rails, but we have had no problem mounting on them. The BullBoss is also equipped with a lower accessory rail for mounting bipods or anything else that you would like.
Predator Polymag
or the new
JSB .22 cal Beast
a no-go. However, we still love that the magazines are so quick and easy to load due to their open design and being that they are inexpensive; picking up a few extras for quick reloads is a must.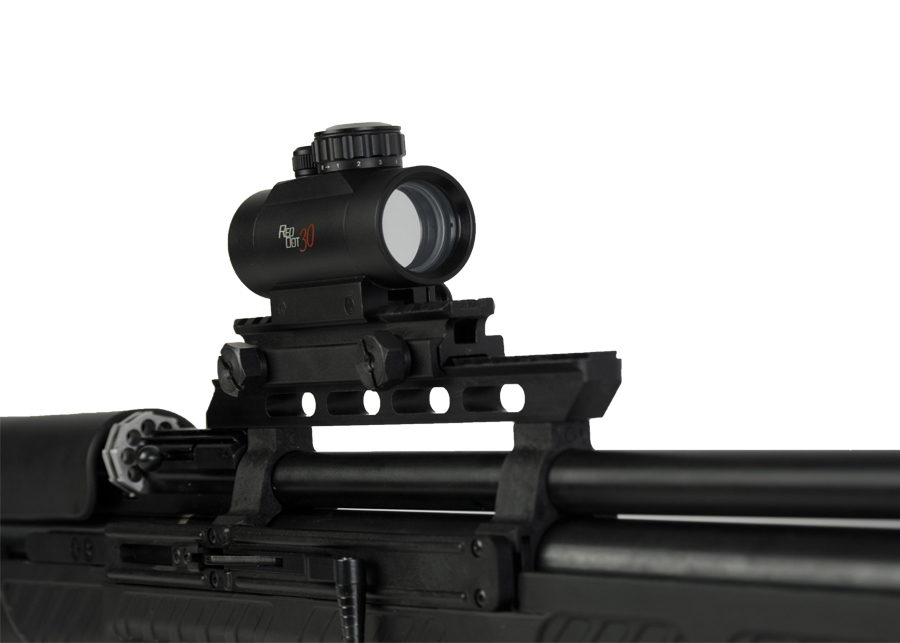 The sidelever cocking mechanism of the BullBoss is silky smooth and its placement on the rifle makes it super easy to cycle while not having to come off the scope. We also found that
left handed and right handed shooters both were able to cycle the gun easily and comfortably.
We are big fans of Hatsan?s side lever actions and are happy that Hatsan chose the side lever for the BullBoss over their more standard bolt action that is found on the BT series airguns.
Shot Performance, Calibers & Loudness
The BullBoss is a powerful hunting air rifle, perfectly suitable for all types of small game. Available in .177, .22, and .25 calibers you should have no trouble fitting the BullBoss to your needs. For our tests we used a .25 caliber model and after chronograph testing we were thoroughly impressed.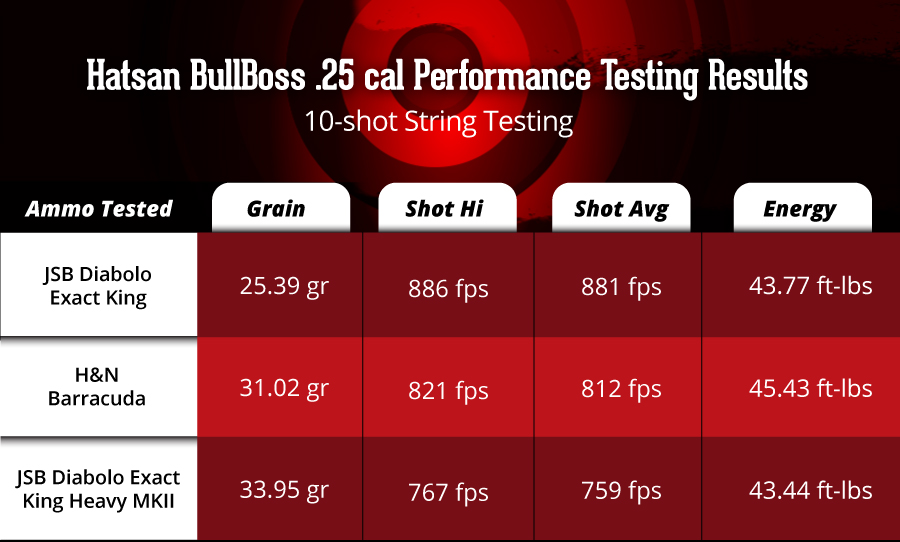 As far as accuracy is concerned the Hatsan BullBoss gets the job done.
At 50 yards the BullBoss easily shot under 1.5 inch groups off the bipod and with some patience those group sizes could easily shrink.
The BullBoss is perfectly capable of taking 50 yard shots on small game such as rats, squirrels, or similar game.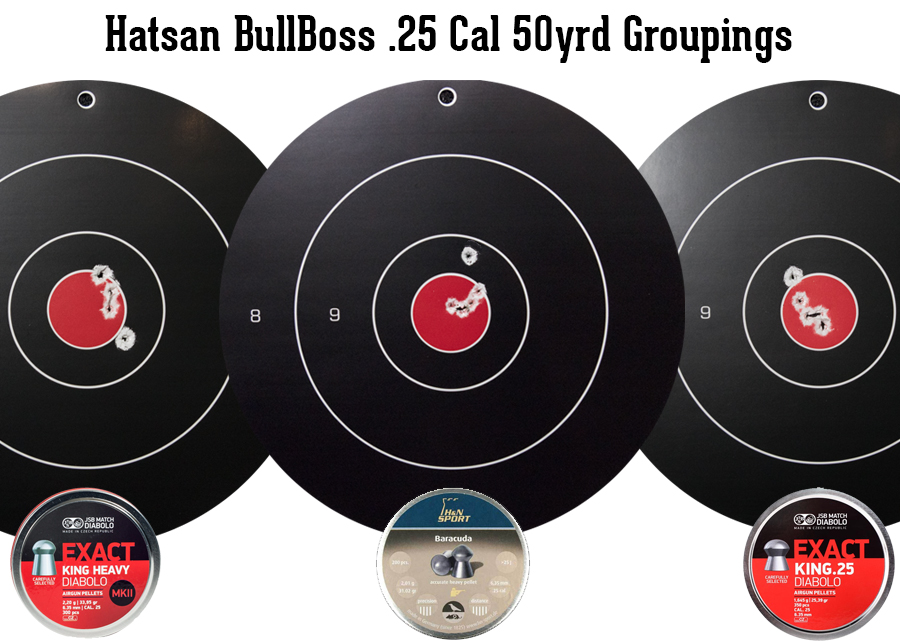 The BullBoss features Hatsans Quiet Energy system that uses polymer baffles lined with cotton fabric to deaden the noise. It registered 81.4 dB on our sound meter. This is certainly not the quietest gun or even the quietest Hatsan that we have tested but we would still call it backyard safe.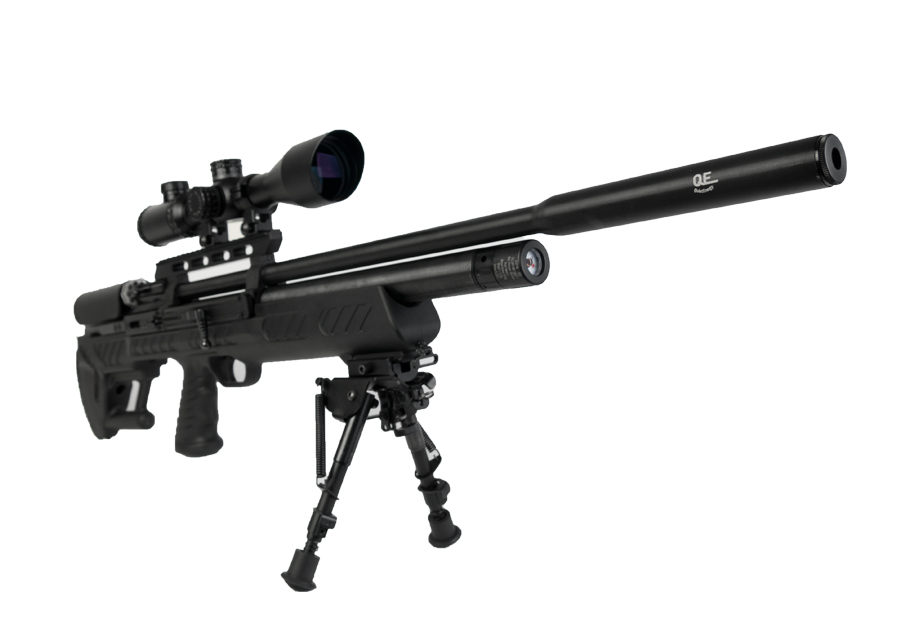 Accessories
You can fill your BullBoss with a hand pump if you?d like, but we always recommend taking the plunge and making the one-time investment in a quality carbon fiber tank. Choose carbon fiber over more outdated and heavier aluminum or steel scuba tanks. Plus the carbon fiber tanks can be filled up to 4500 psi allowing more fills before needing to head down to your local scuba shop
(or better yet fill at your local firehouse if you can sweet talk your way into hooking up to their compressors with the
Air Venturi Firehouse adapters
).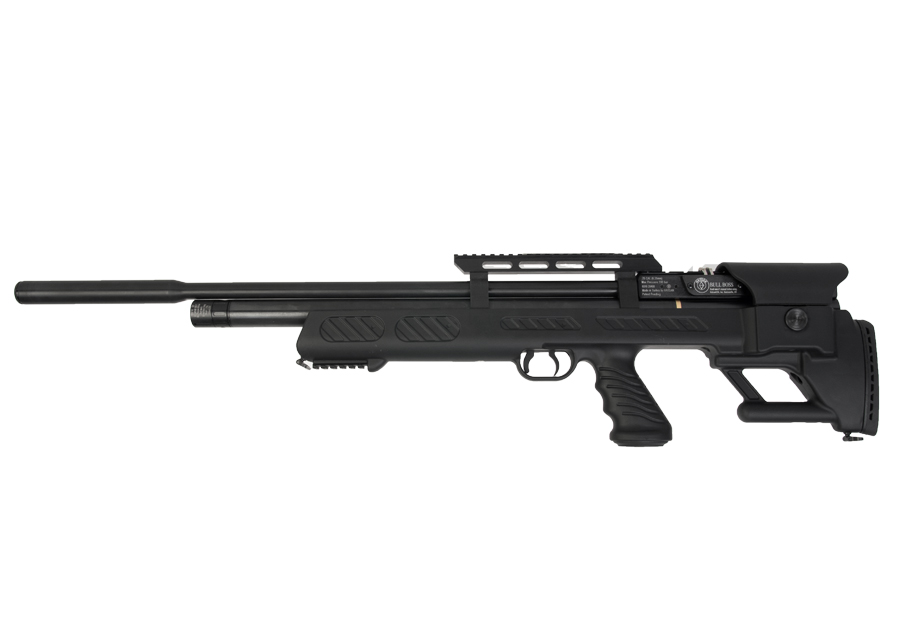 The BullBoss uses a removable air cylinder that can be swapped out simply and without any tools. Hatsan BullBoss uses the same cylinder as the AT44 Long which means you can purchase extra
hatsan air cylinders
to carry out in the field if you plan on shooting more than the 30-40 shots one cylinder will typically give you. These extra cylinders are much more convenient to pack around than a
74 cubic ft carbon fiber tank
.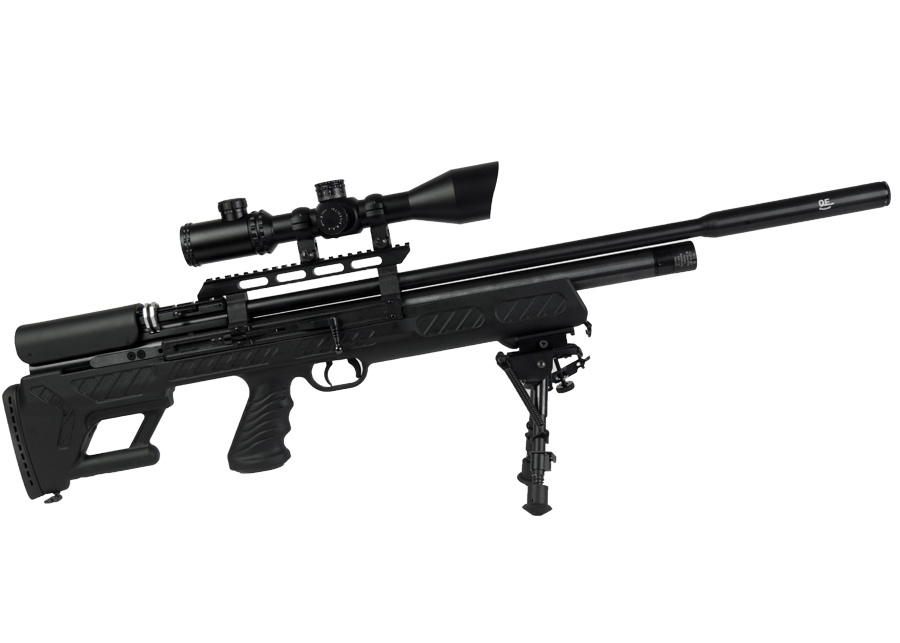 We welcome your comments and questions.
Everything You Need, Nothing You Don?t
The BullBoss is the boss, and it?s all business (I?ve been wanting to use that line all week!). Okay, all jokes aside, this gun is perfect for the airgunner who?s all about utility and looking for pure reliability in place of creature comfort features. The BullBoss is simple, with many of its parts, including the air tube, side lever and valve borrowed from the already loved AT44. The BullBoss is ready for duty straight out of the box, but if you're one of those types that can?t leave well enough alone, mods like the AT-44 regulator are easy and parts are readily available
More Power!
When tested side by side with the standard Hatsan Gladius, the BullBoss averaged around 65 fps faster velocities than the Gladius in our test .25 caliber rifle. That?s not as much as the claimed 100 fps velocity increase stated by the manufacturer but it is a nice little boost in power. We averaged about 5 ft-lbs of extra power with the BullBoss over what we got from the Gladius.
Accurate With Boring Regularity
Like all Hatsans the BullBoss features a German steel, button rifled barrel. Hatsan?s barrels are essentially manufactured using the same techniques and steel stock as the famed Lothar-Walther barrels and the results are the same. The BullBoss shoots lights out, easily producing groups under 1 inch at 50 yards with multiple pellet designs. At 100 yards the Hatsan still holds about a 2 to 3 inch group so taking long range shots on larger pests such as pigeons or rabbits is totally capable. With the Airgun Depot exclusive BullBoss Sniper combo that comes with an included Optima scope and rings and bipod you can set up your BullBoss to achieve the ultimate in accurate shooting.
Fits Like a Glove
One of the things that we love most about this rifle is its ergonomics. The soft touch stock with adjustable cheek riser is perfect for getting your eye lined up just right on the scope or other sight. Couple that with a long upper combo rail that works with both Weaver and dovetail rings and you have a package that can be set up for just about any shooter. The forend includes a Picatinny rail underneath that allows for mounting of bipods or other accessories. The bullpup configuration of the BullBoss moves the weight of the rifle rearward, toward the shooter, this makes the rifle 9.5 lb rifle feel lighter when in the shoulder, making it a very quick and pointable gun.
Discuss