From Service Members worldwide to the prohibition era gangsters in Chicago, the M1A1 is just as famous as it is infamous. This Umarex Legends replica steel BB version is dead ringer for the original "Chicago Typewriter". Utilizing a 30 round stick magazine that fits two 12 gram CO2 cartridges, the M1A1 can send rounds downrange at velocities of up to 435 fps and it does so with a very realistic blowback action. The M1A1 can be shot in semi-auto or full-auto, giving you hours of fun plinking in the backyard. This rifle has faux wood furniture, functional sights, and sling mounts that add to it's surprisingly realistic design. The Legends lineup from Umarex has delivered on another replica that is historically significant and well designed once again!
Umarex Legends M1A1 Features:
Semi-Auto and Full Auto fire capability
30 Round Magazine
Drop free high capacity magazine
2 CO2 cartridges housed in the magazine
Full metal frame
Faux-wood polymer stock
Open bolt blowback action
Front and rear sling mounts
Fixed front and rear sights
Up to 435 fps
Specs
Manufacturer

Legends

Caliber

.177

Velocity

435 fps

Condition

New

Ammo Type

Pellets

Action

Semiautomatic/Full-auto

Barrel Style

Smooth bore

Fire Mode

Repeater

Gun Weight

7.75

Overall Length

31.75

Barrel Length

12.00

Loudness

3-Medium

Magazine Capacity

30

Mechanism

CO2

Rail

No

Safety

Manual

Front Sights

Blade

Rear Sights

Fixed

Shots per Fill

0

Trigger Adjustability

0

Trigger Action

0

Use

Plinking/Fun

Warranty

90-day limited warranty
Reviews
Average Customer Review
5.0
5.0
4 Reviews
5.0
By Andy
USA
April 3, 2020
Verified Purchase
I have a Drozd Blackbird with chip and hpa with fps's over 1000 and if I had to pick only one it would be the Legend M1A1 hands down.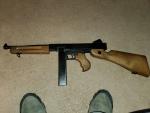 Pros
So far I like everything about this gun. Full auto dumps the mag in 2 seconds, outstanding rate of fire. With fresh C02 this beast will easily take care of problem rodents. Accuracy actually amazed me even on full auto.
Cons
I really can't find anything to complain about, it's that good for the money.
5.0
By Ken
USA
April 1, 2020
Verified Purchase
Pros
I received my M1A1 two days ago, but I'm supposed to be sheltered in place, (COVID19) so I haven't had a chance to take this beauty for a ride. And it is definitely a beauty, very faithful to the original. I have 1 suggestion, a drum mag, even if it only held the original 30 rounds - if only for the aesthetics. I would definitely buy one, and I don't doubt that many others would join me.
Cons
One very minor issue. The sound of the sling swivels hitting the hollow plastic stock. The "wood" stock looks good, but it doesn't sound good. If I put a sling on it, it would probably muffle the sound.
5.0
By Kevin
March 26, 2020
Verified Purchase
Umarex did it again....this M1A1 will not disappoint!
Pros
Just completed my first time firing and I can sum up the experience with one word...WOW!!!!! Accurate weight and feel even the Simulated wood stock. Great fun plinking single shot from the shoulder,but zipping off a burst in full auto from the shoulder or hip....well, if that doesn't put a SEG on you face, nuttin' will.
Cons
An adjustable rear sight might be nice but the fixed one works just fine An earlier reviewer mentioned the sling. That might be nice but the swivels are already there and authentic Kerr slings are readily available and cheap, so again not an issue
5.0
By Dennis
March 23, 2020
If Umarex could throw in a matching/correct rifle sling, that would be really nice.
Pros
Awesome design, fun to shoot. A must have if you are an air rifle enthusiast.
Cons
None
Q&A
Question?
Login to ask someone who bought this product.
Will this accept an MP-40 magazine?
asked Leslie from USA
Can extra mags be purchased for this gun
asked Steve from USA
There are no extra magazines currently available. There should be some available in the near future.
Mark from USA