From Service Members worldwide to the prohibition era gangsters in Chicago, the M1A1 is just as famous as it is infamous. This Umarex Legends replica steel BB version is dead ringer for the original "Chicago Typewriter". Utilizing a 30 round stick magazine that fits two 12 gram CO2 cartridges, the M1A1 can send rounds downrange at velocities of up to 435 fps and it does so with a very realistic blowback action. The M1A1 can be shot in semi-auto or full-auto, giving you hours of fun plinking in the backyard. This rifle has faux wood furniture, functional sights, and sling mounts that add to it's surprisingly realistic design. The Legends lineup from Umarex has delivered on another replica that is historically significant and well designed once again!
Umarex Legends M1A1 Features:
Semi-Auto and Full Auto fire capability
30 Round Magazine
Drop free high capacity magazine
2 CO2 cartridges housed in the magazine
Full metal frame
Faux-wood polymer stock
Open bolt blowback action
Front and rear sling mounts
Fixed front and rear sights
Up to 435 fps
Specs
Manufacturer

Legends

Caliber

.177

Velocity

435 fps

Condition

New

Ammo Type

BBs

Action

Semiautomatic/Full-auto

Barrel Style

Smooth bore

Fire Mode

Repeater

Gun Weight

7.75

Overall Length

31.75

Barrel Length

12.00

Loudness

3-Medium

Magazine Capacity

30

Mechanism

CO2

Rail

No

Safety

Manual

Front Sights

Blade

Rear Sights

Fixed

Shots per Fill

0

Trigger Adjustability

0

Trigger Action

0

Use

Plinking/Fun

Warranty

90-day limited warranty
Reviews
Average Customer Review
4.4
4.5
23 Reviews
5.0
By Lawrence
USA
October 3, 2021
Verified Purchase
I have owned this M1A1 for just over a year and have never had the first issue with it. Just read and follow the instructions and do not leave the CO2 cartridges in the mags if you are not going to use it for any length of time. Make sure you have oil on the seals.
Pros
Accurate right out of the box. Get about 3 mags out of 2 cartridges with short burst.
Cons
Not really cons but the reloading tab is very small . (Used wood clothes pin to hold tab back with no damage.) The hollow plastic stock. But that can be filled with all sorts of things to get rid of that hollow sound.
5.0
By Eric
USA
August 26, 2021
Verified Purchase
With Crosman CO2 cartridges, putting a dime in between the two cartridges with ensure piercing of both cartridges since they are a little shorter than others. Ultrair CO2 care kit is a good choice for gas as the kit contains 9 regular cartridges plus one containing lube and cleaners. Buy extra magazines; the ones available have a follower lockdown for easier loading than the one provided with the gun. Since the gun will empty a magazine in a heartbeat, extra ones will give you more shooting time between reloadings. Stick with steel BB's for best results. I originally bought 2 guns, but bought another for a friend because I knew he would get a kick out of this fine piece of machinery!
Pros
Very realistic feel (I own an auto ordinance Thompson semi-auto). Looks like the real thing.
Cons
Definitely needs adjustable rear sight! It shoots a little low and left but that's easy to adjust to in semi-auto and really doesn't matter much in full auto.
5.0
By Jim thompson
July 14, 2021
Extra mag when avaible
Pros
Weight is perfect,a run gun to use and looks so real
Cons
Mad is pain too reload,use soda straw to refill and not spell bbs
1.0
By Joseph
March 17, 2021
Pros
It's a lot of fun when it works.
Cons
The magazine jammed and wouldn't work after 2 weeks. I then returned it and got another one, however the first time I used it, the magazine jammed again, and I had to send that one back too. Save your time and money.
3.0
By Gerald
USA
March 10, 2021
Verified Purchase
If it gets more accurate with use, I will update my review.
Pros
Fun to shoot! And looks cool. I like the feel and it seems to be well made.
Cons
At 10 yards it hits a little over 1in left of dead center in single shot mode. That was a bench test. I shot 3 full mags with same results. Would have been nice to have adjustable sights.
4.0
By Scott
USA
December 22, 2020
Verified Purchase
Pros
Great replica! It's heavy, close to the actual military model. Great fire rate and fun to shoot.
Cons
Pistol grip is very close to the stock mount. Maybe I just have large hands but it's difficult to get a good grip, somewhat uncomfortable. Smaller hands shouldn't have any issue.
5.0
By Thomas
December 21, 2020
Verified Purchase
Pros
Excellent replica (weight, feel, all metal), and a complete blast to shoot...If a Drum-fed magazine were to be added...a 10+++.
Cons
Loading spring should incorporate an indent allowing spring to be held in position while loading. Hard on the fingernails.
5.0
By Harry
August 12, 2020
Can't say enough about how much I like this gun. No problems at all.
Pros
Best full auto I own. Shoots very accurate on single and full auto. I get two + mags with the two co2 cartridges
Cons
None
5.0
By Mike
USA
August 4, 2020
Made a detent for the mag from an old bucket handle, bent so one end is secure in the allen fitting, other end holding the detent. Coulda made one from a coat hanger. Put BBs in one of those restaurant mustard containers, cut the tip at an angle, Have loading down to 5 seconds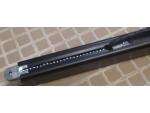 Pros
Surprisingly accurate in single fire
Cons
was a pain to load
stock up on co2 they have good deals on this site if u buy in bulk get the 100 count great value
Pros
this gun is awesome iv never seen anything like it iv got a lot of guns off this sight but nun are more fun to shoot this is extremely accurate on full auto and it is loud i made a shooting range in my closet to catch bbs and can't shoot this all the time for fear of my neighbors hearing but it is closest to real thing imaginable must have to all full auto collectors my recommendations to everyone
Cons
wish they had extra magazines run out in milliseconds
Q&A
Question?
Login to ask someone who bought this product.
Does this gun come with a option to get a round clip
asked Clayborn from USA
Will they ever make a drum type mag for this item or design a similar Tommy gun.
asked Derrel from USA
Umarex Legends M1A1 BB Rifle magazine CO2 question. Does it actually operate on two CO2 cartridges or just one? Read the instructions and information on both this page and Umarex website as well as comments/reviews it's not clear. I just received my new M1A1 and inserted two CO2 carts. When it was empty and I remove the CO2 only one cartridge had been punctured. Can someone provide clarification please? Thanks, kw
asked Kenny from USA
I may be stating the obvious but make sure the cartridges are inserted the first one pointing toward the top of the magazine the second one pointing toward the bottom. also insert the first cartridge and put a penny or a washer between the cartridges
Raymond from USA
tightening a little more might help DUH
anthony from USA
need new o-rings for the magazine , the one that goes on the end cap for the c-o2 the one is bad and needs to be replaced for the m1a1
asked floyd from USA
For parts contact Umarex USA 479-646-4210
Mark from USA
Will this accept the drum magazine from the 1928 model?
asked Gary from USA
Will this accept an MP-40 magazine?
asked Leslie from USA
Can extra mags be purchased for this gun
asked Steve from USA
There are no extra magazines currently available. There should be some available in the near future.
Mark from USA
Why not 52 rd? Like mp40?
asked Scott
Is the magazine interchangeable with the Umarex Legends MP's magazine?
asked KBF
If the "faux" plastic stocks are not done well this will go over like a lead balloon. I'd pay extra to get wood stocks! Somebody let me know how these faux stocks look and feel!
asked Leslie from USA
google it .........
anthony from USA