The SIG Air Reflex Sight gives you a 3 MOA red dot sight for your compatible SIG AIR M17 airgun pistol or airsoft pistol. Different lighting situations are no problem, because it features 6 intensity levels for all conditions.
With simple windage and elevation adjustments and a tough and resistant aluminum housing, you'll never have to worry about this sight letting you down, so buy one now from Airgun Depot.
SIG Air Reflex Sight Features:
Fits SIG AIR M17 airgun and airsoft pistols
23mm 1x field of view
3 MOA reticle
Windage and elevation adjustable
6 intensity levels
Includes airgun and airsoft mounting plates
Specs
Manufacturer

SIG Sauer

Condition

New

Accessories Type

Lasers, Red Dots & Iron Sights

Warranty

60-day limited warranty

Weight

0.50
Reviews
Average Customer Review
4.0
4.0
2 Reviews
3.0
By Tim
September 30, 2022
Verified Purchase
If you can get this optic sighted in, it's a great addition to the M17 pistol.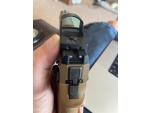 Pros
Intensity levels range from dim to nice to way obnoxious. Sure to find a comfortable setting for each shooter. Mounting is easy. Comes with a nice kit for mounting and adjusting, plus a spare battery and a cover.
Cons
I hate this part, but I want to be honest. VERY easy to get smudges on the front of the glass. Not a big deal, but inconvenient. Can't mount this sight without the rear sight on the M17 air pistol. Problem is, the set screws you need to loosen to adjust the sight are behind the rear sight. To adjust, you have to loosen the set screws, tighten down the mounting screws, adjust the sight, then unscrew the mount screws to tighten the set screws, then tighten back down. The way to fix this is for Sig to design the mounting plate where you can mount the plate/sight without the rear sight attached or raise the sight 1/16th of an inch so the rear set screws clear the rear fixed sight.
5.0
By Greg
USA
November 9, 2020
GO GET ONE "NOW NOW NOW"
Pros
It Really does work, Better then the sights that are on the Sig SAUER M17 Pellet Pistol. I wish all my pellet Pistols could have this sight mounted on The top Slides. I give SIG Air Reflex Sight Not Five Stars But Rather Ten Stars OUTSTANDING.
Cons
Nothing
Q&A
Question?
Login to ask someone who bought this product.
Would this mount onto a Sig 2022 9mm?
asked Christopher from USA
Will this fit the Crosman 1322/1377 steel breech upgrade dovetail? I believe that this upgrade is referred to as an 11mm or 3/8" size.The Crosman reflex sight fits well, as I have one.
asked Bill from USA
How difficult is it to sight this red dot?
asked Jesus from USA
will this fit beretta m9a3?
asked Ronald from USA
Will the SigAir fit on a Crosman DPMS SBR ?
asked Ira Joe from USA
Does this work on the cross man ak1?
asked Kael from USA
Would it work on real steel, or would the blowback/recoil of the real-steel destroy it?
asked Jd from USA
My guess would be no. It comes with mounting plates for Airsoft/Airgun, and doesn't have rail mounts. Doesn't feel beefy enough to stand up to the shock and recoil of a real pew pew.
Timothy R from USA
Does it come in another color other than black? Preferably cayote tan to match the sig sauer m17 air pistol?
asked Eric from USA
is there a red dot that can go on the p365 air pistol?
asked Anthony from USA
does it fit on the p365 air pistol or just the p320 and M17?
asked Anthony from USA
will it fit my red dot sight for umarex trevox .177 break barrel pellet air pistol
asked Diana from USA
How about the320
asked William from USA
is there a red dot that can go on the p365 air pistol?
Anthony from USA
No. this is only for the two M17 Airgun and airsoft models.
Wade from USA
Can be used with sig p226 ?
asked Behrad from USA