The new Umarex Brodax is a modern-day air-powered BB slinger revolver that is stylish and attractive. It may remind you of a gun you might see in a video game or science fiction movie. Vented ports are positioned atop the barrel housing with a Picatinny rail positioned at top-rear making it ready for a dot sight.
Umarex Brodax BB Revolver Features
Uses one 12-gram CO2 cartridge
Picatinny rails
375 fps
Specs
Manufacturer

Umarex

Velocity

375 fps

Condition

New

Ammo Type

Pellets

Action

Revolver

Barrel Style

Smooth bore

Fire Mode

Repeater

Gun Weight

1.52

Overall Length

10.00

Barrel Length

5.50

Loudness

1-Low

Magazine Capacity

10

Mechanism

CO2

Rail

Weaver/Picatinny

Safety

Manual

Front Sights

Blade

Rear Sights

Fixed

Use

Plinking/Fun

Warranty

90-day limited warranty
Reviews
Average Customer Review
4.7
4.5
12 Reviews
5.0
By Burt
November 24, 2019
Bought this weapon at a store's closing sale, pd less than 20.00 out the door. Even at the full retail price, I'd have been one happy camper, as this is a fine melding of polymer and metal. The gun feels substantial, works smoothly in double or single action, and besides being accurate enough for my shooting at 70-80 feet, it's powerful enough to knock cans off their perch at that distance. The weapon seems to shoot straighter in double action, and despite the occasional flyer, where you point it is mostly where it goes. It's also very stingy with CO2, using Umarex cylinders, I get over 90 potent shots, with a good 20 more or so in warm weather. By the way, if you have not tried Umarex CO2, know that you should, for a lot of reasons, including way more and more consistent power, period.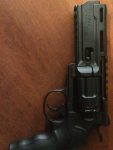 Pros
Nice feel, good grips, easy loading and cylinder switch out. Gun is powerful, more accurate than either of my automatic BB pistols, and extremely easy on CO2 use. This gun is dirt cheap and it does not come close to feeling like it.
Cons
The one area, and I mean ONE area the gun reflects its bargain basement price point is the sights, they are malformed, pressed plastic, and iffy, at best. I aim the weapon with alignment and observation of rounds. Never hit my target can on the first shot, like I do fairly regularly with my pellet pistols at 75 feet, but I hit those cans fairly regularly with the Brodax, on the second or third.
5.0
By R O.
July 14, 2017
Verified Purchase
fit and finish are excellent. balance is superb. I never thought I would really like a BB gun but this has changed my mind. My gamo P 25 blowback is still my favorite but this is next. Laser scope is very good and easy to install. For the money spent you cannot beat this pistol. Buy one.
Pros
see above
Cons
I wish it were a pellet shooter
5.0
By Adam
January 7, 2017
I bought this for my Nephew he loves it
Pros
Easy to use nice quality
Cons
None
2.0
By Chris
January 2, 2017
Loading the air was a struggle. Loading to bb cartridge disk is a struggle. Disk lost all bb's when shooting.
5.0
By Edmond
USA
December 17, 2016
Let's start with this is a $30 pistol. For that you get a truly unique look, 3 mags, a very decent trigger pull and pretty good accuracy from 15 to 25 feet. It will put all 10 BBs in a 2 inch circle at 20 feet (less the inevitable flyer) and get in my experience (inside) over 100 shots. It's a very good revolver to practice the basics with and shoot for pennies a session. It's not a target pistol but for those pesky soda cans invading the back yard it's hard to beat for the price. It has functioned perfectly and it's just plain fun to shoot.
Pros
10 shot mags, good trigger pull, price, good use of CO2, light weight but not toy weight. spare mags are cheap. I like the aggressive look. rails. good velocity
Cons
mags will not hold excite safety BBs well. BB diameter is too small. packaging but again it's 30 bucks at Airgun Depot. mags a bit tricky to seat properly till you get use to them nothing else I can think of
5.0
By Jeff
USA
December 16, 2016
I bought this gun because it was cool looking. I was pleasantly surprised at how it felt in my hand and as a bonus it was also pretty accurate. It's very easy to load and has enough power to punch holes in an aluminium can at 15 to 20 feet. For the price I've had lots of fun shooting this gun.
Pros
Price, looks, quality and easy to load.
Cons
Not all metal.
5.0
By Bud W.
November 23, 2016
One of the best hand guns I have owned.
5.0
By John
USA
October 12, 2016
The look and the feel is outstanding! The smooth trigger pull in single action and double action is fantastic. There is absolutely no revolver even close to this quality in this price range. For a BB pistol it is very accurate. I was totally surprised and I own numerous Hi-end pellet and BB revolvers (ie. Umarex Smith& Wesson, Dan Wesson, etc.)
Pros
This is the best bb gun for the price. It comes with three 10 round bb magazine and they are really easy and fast to load. Use a bowl or container to catch the BB's, but just poor them on top of the magazine and they will settle in the 10 holes. Then simply run your finger over them to seat the BB's and you're read to go. I can load three magazines in less than 30 seconds. Also I chrono'd the gun on an 85' day and in a 10 shot string I got a high velocity of 480 fps a low 360. This gun totally exceeded my expectations. I also put a red dot sight on the top rail. This is a must buy for your collection!!
Cons
NONE!!
5.0
By Jack
September 16, 2016
Better than expected. Great feel. Great aim at up to 35ft.
Pros
The safety is in a great spot for controlled one handed operation. feels great in hand
Cons
Rotary mag doesn't hold BB's well. They fall out.
Q&A
Question?
Login to ask someone who bought this product.