The world's most powerful production PCP hunter has arrived'The Umarex Hammer. With an unheard of 700 fpe of knockdown energy, Umarex has changed airgun hunting forever. Made right here in the USA, the Hammer was conceived, designed, and engineering in America, built in Fort Smith Arkansas. Delivering three .50 cal. rounds one after the next, the Hammer uses the patent-pending Light speed Valve designed to provide consistent 3,000 psi of pressure behind each shot driven by its huge 4,500psi cylinder. This innovative system was built to sling a .50 caliber 550-grain lead slug at 760 feet per second and a 250-grain slug at over 1,000 feet per second. These factors add up to a big bore that can fire 2 fully-powered consistent shots, plus one more follow-up up shot. Once you fire your first shot, move on to the next by operating the straight-pull bolt to progress the 2-round spring-operated chamber magazine. The bolt's low 2-lb cocking effort makes taking a follow-up shot smooth and simple. For added protection to the shooter, and anything downrange of its .50 cal. barrel, is a 3 step safety system that includes a hammer-block, a magazine lockout that prevents the gun from being fired without the magazine inserted, and a manual trigger safety. These features are set into a rugged polymer stock developed in collaboration with PolyOne Corporation, renowned for their innovations in specialized polymer products. This collaboration resulted in rugged all-weather design that can take the abuse of long trips into the field, and even includes a rear sling stud for attaching your own sling, and three slots in the forearm for adding other M-LOK® accessories. Designed with the shooter in mind, the Hammer features a long 8.5" Weaver/Picatinny rail for zeroing in on your quarry. The Hammer's barrel is reported to be to put its first two shots within an inch at 50 yards and is fully-moderated to help keep the noise down. Each includes a standard Magpul AR grip that can be switched out for other AR grips. Umarex is once again at the forefront of airgun innovation with a rifle that is sure to dominate airgun hunter's arsenals for years to come. If you're ready to hit the trail with giant big bore shots, devastating take down power, and a rough-and-tumble design, unleash the Hammer and harness the energy of the most powerful production PCP air rifle in the world!
Umarex Hammer .50 Features
Precharged pneumatic (PCP)
2-round chamber magazine
Rifled barrel
Straight pull speed-bolt with 2 lbs cocking effort
3-lb trigger weight
Regulated to 3,000 psi per shot
4,500 fill pressure (24 cubic inch carbon fiber tank)
Built-in manometer (pressure gauge)
Weaver/Picatinny optics rail
PolyOne designed and manufactured stock
AR Magpul style grip
Integrated rear sling stud
3 slots in forearm grip to accept M-LOK®attachments
Quick Disconnect Foster fitting
43.75-inch overall length
8.5 pound overall weight unloaded without scope
29.5-inch barrel length with full-length composite shroud
Made in the USA
Umarex Hammer™ Energy Generation
Grain Material FPS Energy (ft-lbf)
180 Umarex® ARX® 1100 484
200 Lead 1055 495
250 Lead 1000 555
275 Lead 945 545
300 Lead 930 576
330 Lead (Lyman) 935 641
350 Lead (Lyman) 875 595
550 Lead 760 705
Specs
Manufacturer

Umarex

Caliber

.50

Velocity

1000 fps

Condition

New

Ammo Type

Pellets

Action

Bolt-action

Barrel Style

Rifled

Fire Mode

Repeater

Gun Weight

8.50

Overall Length

43.75

Barrel Length

29.50

Loudness

5-High

Magazine Capacity

2

Mechanism

Pre-charged pneumatic

Rail

Weaver/Picatinny

Safety

Manual

Front Sights

none

Rear Sights

none

Shots per Fill

4

Trigger Adjustability

0

Trigger Action

0

Use

Hunting

Warranty

3-year limited warranty
Reviews
Average Customer Review
3.9
4.0
9 Reviews
5.0
By Kyle
USA
February 8, 2021
The guy below me is nothing but a internet troll. I highly doubt he owns a hammer. I don't own one either but I've shot one several time and thought it was a very balanced and smooth gun. I didn't have any complaints either did my buddy that owns it. I also have the gauntlet .25 and I absolutely love the gun great starter pcp equipment umarex makes!
Pros
Best looking 50 air gun hands down
Cons
Only one style of stock
5.0
By Steve
USA
February 1, 2021
Verified Purchase
Not sure why everyone is bashing the umarex hammer I have the hammer and there Gauntlet .25 and both arrived in perfect condition. Wish they had a nice .30 or a .357 in there line up..great air rifle glad I made the decision to get it.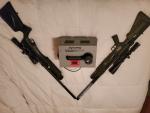 Pros
Gun arrived 2 months early and works perfectly. Thank you airgun depot.
Cons
Only con i can find is what ammo to use with it.
5.0
By James
USA
January 29, 2021
I bought my hammer from Umarex. I would have to state that the only other review on this site for this gun sounds like a competitor totally downing Umarex. Whats more to say? It is the highest powered PCP in production, made in America, and cost less than a $1000. Of course Umarex is going to have competition trying to knock it off the pedestal... It is sad when things come to slander
Pros
Great quality, awesome power
Cons
I would definitely like to have seen a high powered scope included for a more lethal combo.
5.0
By Ray
USA
January 27, 2021
Verified Purchase
Get it cause it's bad to the ass ! Crazy power
Pros
Power Speed And hits like a hammer ! Get one !
Cons
When I got it it was leaking air as I was filling it I cocked it and it stopped filled to 4500 was good to go no more leaking
5.0
By Rich
USA
January 20, 2021
Verified Purchase
And now for a review from someone who ACTUALLY purchased this rifle, rather than commentary from somebody who watches too much you-tube... It is a well made rifle and it feels well built and is comfortable. It has several attachment points for "M-rail" picatinny rails as well as the picatinny scope rail. The fill valve is a little more recessed than I like, but it is accessible and well protected by the stock. I did get rid of the rubber cover and bought an aluminum quick release cover for it. I bought a portable high pressure compressor, from 0-4500 psi takes approximately 18 minutes. When you recharge after several shots it only takes about 8-10 minutes. If you plan on spending an afternoon at the range I would suggest a cascade system to fill it. So far I haven't had ANY problems with the rifle and I've put 70 rounds through it, 50 of them in one afternoon. For the price point I can't say anything negative about this rifle, it's comfortable, accurate, and construction is solid.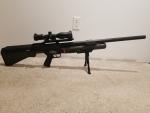 Pros
Well built, accurate (I have zeroed it at 100 yards and can consistently get groups within 1"), powerful big bore air rifle. I will be putting a can on this rifle eventually...it is loud.
Cons
Umarex's ammo is adequate but it seems like some of the diameters are varying, I am going to take a micrometer to them and check. Most of them will fall through the "magazine" if you don't knick them with your fingernail, or knife edge on the back of the projectile.
4.0
By David
USA
January 13, 2021
really an incredible piece of tech, will be harvesting whitetail in the northeast next year with mine, stay safe and enjoy 50.CAL
Pros
have shot 200 yds at a range and hit steel , really a handful for an airgun, TONNES of power regulated so super duper accurate, have a donny fl moderator, and a compressor that makes life nice :)
Cons
wait time for ordering was an issue, i was not "plauged" with anything, received mine in august of 2020 and the only thing i would have loved to see would be a quick change bottle system for bringing 2+ tanks to the field with you 4-5 shots per tank
4.0
By Dustin
USA
December 7, 2020
I saying this i have my name in to get another hammer. As soon as possible.
Pros
Its a shooter and i love it. I killed a 650 lb elk at 160 yards one shot and done.
Cons
Was not completely put together and had to be repaired right out of the box. Then i got 5 shots then the seals blew. And i have had several seals come apart and with no parts to be found i had to make it work. And it leaks air a little all the time but no big deal.
1.0
By Karl
USA
December 5, 2020
Verified Purchase
My rifle was in non working condition. The bolt was frozen. I was beyond disappointed because I waited many months while this was on back order.
Pros
High caliber
Cons
Poorly designed, mine was DOA right out of the box and I waited months while it was on back order. So disappointed. Did I mention, I waited many months while it was on back order.
1.0
By onederer
USA
October 28, 2020
It's been reported that most customers who have finally received a Hsmmer, have been plagued with all kinds of defficiencies. Leaky bottle, broken bolt handles, the list goes on... The company doesn't seem to be alble to get it's act together., after all these years. Since then, the competition has eaten the Hammer's lunch. They are in production, and working. Umarex's sparse production cannot seem to be able to hold up on it's own. Doubts have risen that they can even get their act together, fix quality control, and produce a reliable product. in quantity.
Pros
See below.
Cons
It looks like the Umarex Hammer is a prodct that needs a crutch to exist. The company doesn't seem to be able to get it's act together.
Q&A
Question?
Login to ask someone who bought this product.
Given the 1:24 barrel twist what are the exact dimensions of the optimal bullet for the hammer? What molds have people used? Thanks.
asked Fake from USA
Can you change the air tanks out to full ones like some other air guns
asked Steven from USA
Can you screw and unscrew the tanks to change them out to full tanks once empty
asked Steven from USA
Does anyone make a bipod for this?
asked David from USA
If you buy a m-lock rail you can attach any bipod.
Steve from USA
Will I be able to shoot this left-handed?
asked Frank from USA
Yes I am left handed and I shoot the hammer fine.
Steve from USA
will 50 cal hammer shoot air bolts
asked Carlton from USA
The Hatsan piledriver and hammer are both .50 BMG not the .50 you are used to. Being that the airbolts are meant for standard .50 cal sizes (.492 to .498) i would doubt that it would seal well enough to fire an air bolt.
kyle from USA
Can nitrogen be used in place of compressed air?
asked David from USA
If your seals are good yes you can run N2. Just remember you will get more power but few shots since more N2 will be used then air every time you actuate the valve. Nitrogen is very nice because it is completely dry and will offer more power but you will inevitably get less shots.
kyle from USA
how do you fill air tank? is it ready when shipped?
asked John from USA
For the first fill a hand pump will NOT fill this gun. You will need compressor or air tank but after you can use a pump if you have time and Dedication
Steve from USA
You need a compressed air source of 3000-4500 PSI. A hand pump .air tank or compressor.
Mark from USA
Can other commercially available bullets work in the Hammer such as a >50 caliber muzzleloader bullet?
asked Tom from USA
Muzzle loader rounds will not be the right size. the hammer uses a .50 BMG sized round which is larger then standard. But yes you could use muzzle loader rounds if were lead and sized properly but they will be to small I believe.
kyle from USA
Air gun slugs are almost pure lead. Soft/ The alloy in muzzle loader slugs is much harder. We do not suggest using them in an airgun,
Mark from USA
Can you use a hand pump for this rifle
asked Lionel from USA
For the first fill a hand pump will NOT work until you get the gun taking air and up to 1000psi then if you have the time and a 4500psi pump then yes you can.
Steve from USA
When is my hammer being sent
asked John from USA
Hammer shipments are coming in small numbers. Backorders are shipped first.
Mark from USA
Has AGD received and shipped any of these yet?
asked Tom from USA
I ordered one mid December and was told it would be shipped in march....was surprised when it came third week in January of this year 2021
Steve from USA
The Hammer is being made in small numbers.We are shipping as we get small shipments. Back orders are being shipped first.
Mark from USA
El umarex hammer la gran mentira de umarex.es un fusil virtual.nunca a estado a la venta.yo e esperado para tenerlo por mas de 2 años y nunca a estado a la venta.solo se puede ver en youtube.lo exiben pero siempre posponen su fecha de lansamiento al mercado.que decilucion que mientan asi.pienso en realidad que el producto no sirvee o en realidad no existe y todo es un montage.umarex hammer .la gran mentira
asked Jose from USA
El martillo Umarex se est produciendo actualmente en pequeos lotes de produccin. Menos de 75 armas al mes. Actualmente estamos enviando todas las armas que tenemos para llenar pedidos pendientes. Una vez que se completen esos pedidos, podremos enviarlos a nuevos clientes. La pandemia de Covid-19 mantendr la produccin en niveles muy bajos en el futuro previsible.
Mark from USA
Can the Air Venturi Long Shotshells, #6 Shot rounds be shot out of the Umarex Hammer and is Umarex still producing the Hammer? How long is the wait on the Umarex Hammer?
asked Joseph from USA
No. the shotshells can only be shot out of a smoothbore. The plastic shell will gum up in a rifled barrel like the Hammer.
Mark from USA
Is suppression an option for this air rifle? And what is the maximum effective range for the .50 with use for game such as whitetail deer?
asked Markus from USA
There will be aftermarket suppressors available in the near future.
Mark from USA
Is this capable of taking deer at 150 to 200 yards clean. All videos only show 50 yard shots.
asked Jeffery from USA
One of the guys at umarex said he has taken deer at 150 yards and a girl on YouTube has taken one at 140 yards.
Steve from USA