Mount this red dot sight on any air pistol, firearm or airsoft gun for enhanced target acquisition. Versatile laser sight mounts onto Weaver or Picatinny style rail. Adjustable for windage and elevation with included allen keys. Get up to 6,000 hrs of life from this tactical red dot sight!
Specifications:
Push-button on/off switch and remote pressure switch
Weight- .8 oz. (With Batteries)
Diameter- .55"
Length: 2.64"
Class 3R laster
Adjustable: Windage and Elevation
Range: 500 Meters
Output: 2.5-3.1mW
Wavelength: 630-640nm
Beam Diamter: 15-20mm @ 15 meters
Operating Temperature: 14 °F to 113 °F
Battery Operating Time: 80 Minutes
Laser Life: 6,000 hours
Features:
Revolutionary Tue Strength Platform and Smart Spherical Structure
Precise and Wide Range Windage/Elevation Adjustments
UTG New Generation Combat Quality
Double Recoil Stop Shoulders to Hold Zero and Precision
High Quality Aircraft Grade Alluminum Construction
Powerful and Long Range Beam with Pinpoint Accuracy
Hard Anodized Finish for Wear Resistance
Includes: Weaver/Picatinny Ring, (4) LR44 Batteries, Screwdriver, Hex Wrench & Pressure Switch
Specs
Manufacturer

UTG

Condition

New

Accessories Type

LASERS, RED DOTS & IRON SIGHTS

Warranty

1-year limited warranty

Weight

0.34
Reviews
Average Customer Review
4.9
5.0
8 Reviews
5.0
By Anthony
USA
February 26, 2020
5.0
By Bret
January 20, 2020
Verified Purchase
Easily adjustable, stays on zero, powerful and easy to track at distances. I was very impressed with how well this works.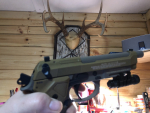 Pros
adjustments are fine enough to make zeroing easier and more satisfactory than I expected.
Cons
adjustment screws are slotted, should be hex (Allen) type for a more positively engagement of the adjustment while zeroing.
5.0
By Ron
USA
December 20, 2019
Verified Purchase
Bright light, easy to adjust. Like the external pressure switch.
Pros
remote pressure switch.
Cons
Need adapter to mount to 11mm rail on rifle. Weaver mounting.
5.0
By Steven
USA
December 10, 2019
Verified Purchase
Works great easy to use easy to install would recommend to a friend
Pros
Spot is dead on
Cons
Battery life is not the greatest
5.0
By Jameson
USA
September 22, 2019
Verified Purchase
Haven't used in combat, but is, in fact, a red laser... Works great on my TAC Desert 1911. Only casually using it, so can't comment on the exact precision, but works well. Bright safety sticker was easy to remove to make it all black.
Pros
Good for the price, easy to take off the aesthetically offensive safety sticker.
Cons
Was a little snug getting on the rail despite fully loosening the bolts, scuffed the paint a bit.
4.0
By Wayne
March 18, 2019
Works real good. Had a switch failure on the second unit I purchased. Company replaced it at no charge. I would like to have the wind-age adjustment on the right side when elevation adjust is place in the up position. Would make sighting in process a lot easier.
Pros
Like I said work great after sight in is accomplished.
Cons
Windage adjust needs to be on the right side. Both Elevation and Windage needs to show direct on movement of laser with the direction of movement on the laser. Example(in=dwn)(in=r.)
5.0
By JD
October 9, 2018
Verified Purchase
Laser fits perfectly and easy to adjust. It shows up on target well
5.0
By Jim L.
August 13, 2018
This is my first time with a laser sight. I was blown away with the accuracy . I'm using it with a co2 powered BB gun and can put multiple rounds in a one inch circle with no problem at 25 feet. I never could do that with iron sights.
Pros
Very easy to adjust, holds it's adjustment, and very accurate.
Cons
The only thing I did'nt like was the pressure switch but I just used the on/off switch so I could concentrate on my trigger pull instead.
Q&A
Question?
Login to ask someone who bought this product.
Will this laser fit my Gamo PR776 pistol?
asked Allen from USA
No. The PR776 does not have an optics rail.
Mark from USA
Will this fit a sig Sauger saugerP365 pistol
asked Robert from USA
No. The Sig P365 does not have an optics rail.
Mark from USA
Can the laser be seen in daylight?
asked Nathan from USA
Will this mount on the Diana trailscout rifle?
asked Nathan from USA
Only with an adapter like AGD-A7424 $7.99
Mark from USA
Will this fit a CZ p09 duty pellet and bb pistol?
asked Francis from Canada
So once I put on a new breech then what is the best mount for UTG LS268 Red Combat Laser
asked Paul from USA
What is the best rail to mount this laser to my Crosman P1322 ?
asked Paul from USA
So once I put on a new breech then what is the best mount for UTG LS268 Red Combat Laser
Paul from USA
Will this laser sight fit under or on the side easily of a SIG Sauer MCX without any adapters or is this only going to fit on the top where the pictinny rail is?
asked Marc from USA
This laser will only fit a weaver/pictatinny rail
Mark from USA
Will this fit on crossman vigilante???
asked Kevin from USA
Number one will this work with an M 17 and a Walther cp99 pellet pistol
asked Edward from USA
Will this work with a M 17 and a Walther cp99
asked Edward from USA
Will this mount on a Ben. Bulldog bullpup 357 rifle
asked Gerald from USA
Is there a BB gun or pellet gun on this website that can fit this attachment?
asked Bert Macklin from USA
The lazer attaches to a weaver mont rail. There are many air guns that have weaver rails on them.
Mark from USA