Webley Nemesis Features
Bolt-Action
Manual Safety
Uses (1) 12 gram CO2 cartridge
Fiber Optic Front and Rear sights
Tandem Self Indexing Magazine System (2x7 in .177, 2x6 in .22)
Single Shot Tray Included
Storage for Magazine in bottom of grip
Allen key for CO2 piercing housed in grip cap
Picatinny rail for mounting accessories
3/8" Dovetail Rail for mounting optics
Ambidextrous Grip
Bolt can be swapped from left to right side
Rifled Steel barrel with 1/2" UNF threaded end
40 shots per CO2 cartridge
Up to 450 fps in .177 (7 grain pellets), Up to 370 fps in .22 (14.6 grain pellets)
Two Stage trigger with adjustment for take up
Specs
Manufacturer

Webley & Scott Ltd.

Caliber

.177

Velocity

450 fps

Condition

New

Ammo Type

Pellets

Action

Bolt-action

Barrel Style

Rifled

Fire Mode

Repeater

Gun Weight

2.00

Overall Length

10.25

Barrel Length

6.25

Loudness

3-Medium

Mechanism

CO2

Rail

11mm dovetail

Safety

Manual

Front Sights

Fiber Optic

Rear Sights

Fiber Optic

Trigger Adjustability

Two-stage, adjustable take-up

Trigger Action

0

Use

Plinking/Fun

Warranty

1-year limited warranty
Reviews
Average Customer Review
3.5
3.5
6 Reviews
3.0
By Frederick
USA
April 29, 2021
Verified Purchase
Pros
Thought this would be a good addition to my pistols. Sadly, it does not perform well at all. It's clever how the magazine and CO2 compartment tool fit into the bottom of the grip. The gun looks good and feels solid enough.
Cons
The add-on magazines (a two pack) with shipping and tax are 1/3 the price of the pistol. Pellets jam A LOT, cutting down on shooting time. The magazines are very difficult to slide in and remove. I'm only getting 18 to 24 shots per CO2 cartridge and that is far less than manufacturer specs. I don't recommend this pistol. It's just too difficult to set up and use. Is it accurate? Yes, very. Too bad it has so many quirks.
1.0
By Don O.
November 17, 2019
Verified Purchase
The Webley Nemesis Co2 pistol looks and feels solid. Unfortunately it died after just one shot. All the gas leaked out, and the bolt spring broke. I was disappointed after having bought this pistol as a gift for a friend.
Pros
The gun looks really cool. The two rails are good for mounting accessories.
Cons
It doesn't seem to work at all. Maybe it was a fluke, but I would not buy this gun again.
5.0
By Timothy
USA
May 10, 2019
It shoots on target, and has a good trigger. I got 2 of them, both shoot great.
4.0
By JAMES
USA
April 29, 2019
Verified Purchase
I somehow got the impression that this was going to be made in England when I read some pre-production press. I was disappointed to see the dreaded phrase that is applied to what seems to be the origin of 90% of the world's goods. The Nemesis is very largely made of polymer but it is sturdy and has a very nice appearance of quality. The only steel or metal I could discern was the actual barrel, breech bolt, inner firing components, valve and the CO2 housing well. The sights are fiber optic (not a desirable feature to me) and both front and rear are windage adjustable. There is no elevation adjustment but my sample shot to point of aim. A full length dovetail rail runs atop the barrel housing and breech and a Weaver under-frame rail is present as well. Trigger pull is smooth and light with a crisp release; the bolt operates very easily and smoothly and the magazine in all aspects is pleasant to use. I measured velocity with slow fire, pausing a minute or two between shots so that I could determine a true measure of its velocity over the entire number of shots per cartridge. My pistol is the .22 cal. The first 30 shots were all full power with no trend of decrease and averaged 391 fps (high 397, low 383) with the JSB 14.35 gr.Jumbo Express dome. At shot 31 a slow decline in velocity began but still no shot was less than 375 fps. At shot 36 velocity began to drop steadily with each shot and I stopped the string at shot 42 which was down to 337 fps. The average group size with the open sights was 3" at 20 yards. The addition of a SightMark Sure Shot Plus reflex sight produced 4 six shot groups averaging 1.035". All 24 shots of the four groups were only spread over 1.181". The reflex sight required a conversion rail to provide a Picatiny base to mount it upon. I used a Hammerli 850 Magnum rail cut down to the length of dovetail behind the loading port and secured with the screws moderately engaging the polymer receiver. The rail had to be kept level to keep it from canting during the mount. Once secured correctly, I anchored it with a small amount of epoxy at the four corners of the rail between the dovetail and rail. Once cured, this provided a very solid and secure base for the sight.
Pros
Fine 20 yard accuracy with the aid of a reflex sight. Very smooth operation of the safety, trigger, breech bolt and piercing assembly. The power level was a little better than the rated velocity and using slow fire velocity was very steady for 35 shots. A very nice looking pistol
Cons
Made in China. Polymer dovetail rail may not provide a reliable foundation for some conversion rails to Weaver/Picatiny to allow mounting of most red dot sights. Do not try to tighten conversion rails using top mounted set screws too much (side mount clamp type conversions are a better option) and I added the epoxy as described to secure the mating of the two making my addition pretty much a permanent alteration. The accuracy improvement and my disdain for fiber optic sights made that a painless choice.
4.0
By Michael
USA
April 26, 2019
Just received today, I went over it and found it to be well made and as good as any in this field. I thought the mag was missing but it was in the grip also the co2 piercer was built in the bottom. I liked thee changeable cocking lever. All in all this is a well made sturdy gun. The trigger not bad for it's type.
Pros
The mag and piercing lever are in the grip, It comes with a single shot tray, It has a movable front sight. The repeating mag is in there too.
Cons
It is a little tough to get the mag out ,It appears fragile, It does not have that much in the way of ajustments.
4.0
By Wayne
USA
April 23, 2019
I love .22 caliber pellet guns. While I have a .177 Sig Sauer pistol, those too-small pellets don't quite get it done for me. So a couple years ago I bought a .22 caliber Hammerli 850 rifle. And now I've found an affordable .22 caliber pistol to go with my rifle. The minute you open the box you know you've found something special. This pistol is jet black, has a great look to it, and is, for lack of a better word, large. The Webley is 10 inches long with a six inch barrel. Look at the photo comparing the Webley along side my Sig Sauer P226. And one other note: the Webley is actually lighter than my Sig. At just under 400 fps, this may not be the most powerful pistol out there, but the larger .22 caliber round makes up the difference by packing a punch!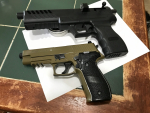 Pros
I love the look and feel of this weapon.
Cons
The Webley .22 has dual six shot magazines, but firing it requires you to charge the bolt each time. So it might not be accurate to call it a repeater. Also, it comes with only one dual magazine, and additional mags are not yet available as accessories. Make it so, Airgun Depot!
Q&A
Question?
Login to ask someone who bought this product.
What are the thread requirements for using it with a diffuser, a faux silencer, or similar?
asked Frederick from USA
Hi James W. Thanks so much for your detailed review. The only news I can't find are the actual joules of this gun (the .22 one). Possible they are a little less than four joules? I live in Italy, where there is a 7,5 joules limit. If I am right there are no problem taking this gun. Best regards, Sergio G.
asked Sergio G.
Does Airgun Depot sell extra mags?
asked Robert from USA
Yes, they sell a pack of 2.
Walter from USA
Looking for lead-free pellets for a .22 caliber version of this gun (lead-free preferably); any suggestions on what would fit the magazine?
asked ChiMaster
how long will the co2 stay in the gun without leaking out
asked Timothy from USA
I suppose it comes with 1 mag. Are extra mag available to buy?
asked Daniel from USA
yes from Air Gun Depot. They come in a pack of 2.
Walter from USA