AirForce has kicked it up a notch with their new baffle system which makes the AirForce Condor SS quieter. The AirForce Condor delivers from 600 fps to a rip-snorting 1300 fps (in .177) and it's recoilless! Accurate (1" at 50 yards) and powerful, this PCP offers extreme flexibility. It has an 18" Lothar Walther barrel (1:16 twist). You can also buy 12" and 24" barrels. Change-outs are easy and don't require any special tools, but the gun will be unsilenced. Built in the USA.
NOTE:
The .20 cal. pellets are slightly longer than the .22 cal. pellets of the same weight. Therefore, they drag in the barrel a little more and produce lower velocities. The quoted figures (showing the .20 cal. gun shooting slower than the .22 cal. gun) are actual test figures and are correct.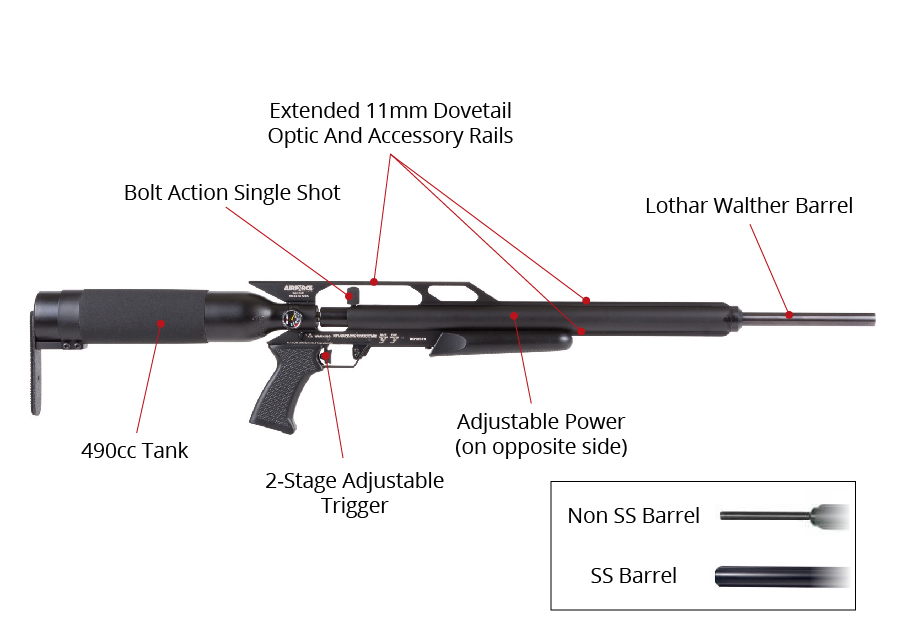 You'll need an adapter to fill the reservoir with air. The type of adapter depends on how you plan to fill your gun. A scuba tank will require a different adapter than a hand pump or carbon fiber tank. If you use a hand pump, the type of adapter you need depends on the brand of hand pump you use.
There are lots of ways to configure this gun- including rail-mounted accessories (coin-slot screws for each changeout). You can choose the scope, laser, flashlight, night vision equipment, extra tanks, quick-detach fiber-optic sights and attachments for the type of refilling unit you plan to use. If you replace the barrel with a longer one, the gun will not be silenced. Carrying an extra filled tank when shooting in the field is a lot easier than carrying a scuba or carbon fiber tank for refills. The .177-caliber Condor SS has a special tank valve spring. If you plan to attach other caliber barrels to your gun, you may want to buy a tank made for the other calibers (.20, .22 & .25 calibers use the same tank).
Specs
Manufacturer

AirForce

Caliber

.22

Velocity

1100 fps

Condition

New

Ammo Type

Pellets

Action

Bolt-action

Barrel Style

Rifled

Fire Mode

Single-shot

Gun Weight

6.10

Overall Length

38.13

Barrel Length

18.00

Loudness

4-Medium-High

Magazine Capacity

0

Mechanism

Pre-charged pneumatic

Rail

11mm dovetail

Safety

Automatic

Front Sights

none

Rear Sights

none

Shots per Fill

0

Trigger Adjustability

0

Trigger Action

0

Use

Hunting

Warranty

Lifetime limited warranty
Reviews
Average Customer Review
4.5
4.5
40 Reviews
2.0
By James
USA
July 13, 2022
Verified Purchase
Pros
Light weight and accurate
Cons
LOUD! If a 22 rimfire rifle is considered "back-yard friendly" this will do the trick. Don't be fooled by the reviews. This gun is very loud. 20% restocking fee. I'd rather keep the gun than pay a $165 restocking fee as a penalty for believing the claims of a quiet rifle.
5.0
By Thomas
USA
November 24, 2021
I have shot well over 3,000 pellets with my Condor SS in .25 hunting Iguanas.... I am thankful I purchased this fantastic Rifle.......
Pros
Absolutely the most accurate PCP rifle I have ever used in .25
Cons
Absolutely Nothing.... A fantastic PCP Rifle.......
5.0
By David
USA
November 16, 2020
I expected a quiet rifle and was not disappointed at all. This rifle is no louder than a Daisy BB gun. Definitely "backyard friendly". I purchased it in .25 cal to take small game since the .45 Texan just blows them to shreads. Adding some essential accessories makes this rifle even better. I immediately added the Airforce bipod, two dovetail to weaver rails, a rubber grip sleeve to the pistol grip, a rubber buttcap on the "stock", sling swivels, and the UTG 2-16x44 AO Accushot Rifle Scope with the SWAT wheel. Incredible small game getter. Don't hesitate to get this rifle if you're looking for something to take small game. I waffled on whether to get it in .22 or .25, and I'm perfectly happy with the larger .25 slug performance.
Pros
Quality build, precise fit and finish, great power.
Cons
I honestly can't think of anything.
5.0
By Scott
USA
July 18, 2020
This is the gun you want!
Pros
Lightweight, Damn near accurate every time, Quiet, and packs one Hell of a punch!!
Cons
I wish it came with a magazine
5.0
By Michael
USA
January 21, 2020
Love the gun and the power delivered with the .25 cal pellets. This gun has been a terror to the squirrels and other pest trying to do damage to my property, plus it is a blast shooting targets. Can't wait to take it to the next level and dispatch a few coyotes that prowl around my neighborhood.
Pros
Extreme power in a small package. Plus the ability to shoot in my backyard with no complaints from neighbors.
Cons
Had a little issue install my spin loc tank. Not sure why the factory doesn't just ship the gun with the tank installed.
5.0
By John
USA
November 30, 2019
I love my Airforce Condor more then doubles the range i can shoot with lethality. Just how far and how big of animals i can shoot working that out.
Pros
EZ to adjust power settings.
Cons
Single shoot
5.0
By Bob
September 17, 2019
Powerful and quiet,Love it!!!!!
The gun works well and is easy to use. Compared to the first gun I got this is working well. The only tragic flaw is that it is a single shot. When shooting at moving targets (roosters) it is more efficient to have a multiple shot gun. Chickens see a lazer coming and they run. A scope is not very functional on a moving, bounding target. This gun is a lot more powerful and actually works.
3.0
By Chad
USA
June 26, 2019
Expect to pump more money into this air gun. Without this air rifle being regulated I get 10 to 15 shots off before needing to top off the tank. Regulator cost $210 from PCP Tunes, and they recommend a smaller tank (400 vs 490). This is a very powerful air gun but it is not worth the money I spent on it. It is a very good looking and intimidating weapon when it is all suited with attachments (scope, bipod, IR illumination) I haven't had my angels singing in the background moment yet.
Pros
Quiet, but not as quiet as you are lead to believe. Birds and squirrels are still spooked in my backyard when I take a shot (inner city).
Cons
Cost
5.0
By Reynaldo
USA
June 20, 2019
I really like AirForce air rifles. My first one, which I purchased at Airgun Depot is a Talon SS .22 caliber combo discount. The second which is a Condor SS .22 caliber was purchased at Pyramyd Air, also with a combo discount. This time I purchased my third AirForce, again from Airgun Depot and availed their limited time discount of $735.99 from $774.95. And it is the Condor SS .25 caliber. The reason for buying AirForce air rifles? It's made in the USA, quality wise they are well made, accurate, super silent and lightweight. What's more? Airgun Depot customer service is outstanding, as well as with Pyramyd Air.
Pros
Good quality, accurate air rifles.
Cons
It becomes louder as the tank?s air pressure goes past below the 2000 psi mark. Just add air and it will be quiet again.
Q&A
Question?
Login to ask someone who bought this product.
Do any of the Air Force Airguns have a Magazine loading system ?
asked Scrambler82 from USA
Dose the cinder as come in different colors
asked Richard from USA
Is there a 24 inch SS barrel for a 25 cal Condor?
asked Rober Mack from USA
Will this chassis accept hard sights ? I do use Scopes but prefer Open Sights !
asked Scrambler82 from USA
Do they make a magazine for the condor rifle?
asked Frank from USA
How many shots are you guys getting per fill?
asked Matthew from USA
It all depends where you have it set in your power wheel. I have mine set @ 6-6 with JSB Heavy King 34gr pellets flying @ 950fps and I get about 10 good shots when filled 2,800psi. I finish the 10 shots about with about 2300psi. You figure 50psi per shot.
Santiago from USA
I recently purchased one of these models and I was wondering what is the decibel ratting for this cal. The one I purchased seems quite noise for an air version. It is almost as load as my 10-22 riffle. So can someone please help me with this question as I am not really able to shoot this even where I live without bothering the neighbors.
asked Jon-Paul from USA
I did the math if your pellets are going 1100 FPS that means you are just beyond the sound barrier which means you will get a sonic boom which can be fixed by using heavy pellets or toning down your power
Pete from USA
I just recently purchased The Escape SS ,in 25 cal. and the report to me is low at a setting of about 6. I sounds a tad louder than a 22 CB short. I don't have a sound meter to measure.. You would think the 22 cal with the longer barrel would be quieter than the 12 inch 25 cal. Try shooting at a lower setting and use heavy pellets. I am thinking of purchasing the Condor also. Ron
Ronald from USA