The new Talon P Carbine was developed as a collaboration between Airgun Depot and AirForce Airguns in order to fill a void in the market, where a compact, light, and accurate carbine was needed. The TalonP Carbine features everything that was great about the original TalonP, but with an added baffled moderator and included buttstock. Capable of consistently accurate shots, this is a must have for whenever you're in the field or for backyard pest control.
Please Note: The Quick Release thumb screw for the buttstock shown in the video is no longer included in this packageAirForce TalonP Carbine Hawke combo Features:
Pre-charged pneumatic
Single-shot
Bolt-action
11mm dovetail (no open sights)
12" barrel
2-stage trigger (adj. for position only)
Adjustable buttstock (4.75")
Includes: Hawke Red Dot Sights Vantage RD 1x20, 3 MOA dot
Textured grip
213cc tank
3000 psi max fill pressure
Adjustable power wheel
Up to 30 shots on low power & up to 12 shots on high power
Specs
Manufacturer

AirForce

Caliber

.25

Velocity

900 fps

Condition

New

Ammo Type

Pellets

Action

Bolt-action

Barrel Style

Rifled

Fire Mode

Single-shot

Gun Weight

3.44

Overall Length

23.25

Barrel Length

12.00

Loudness

5-High

Magazine Capacity

0

Mechanism

Pre-charged pneumatic

Rail

11mm dovetail

Safety

Automatic

Front Sights

none

Rear Sights

none

Shots per Fill

30

Trigger Adjustability

Two-stage non-adjustable

Trigger Action

0

Use

Small game hunting/plinking

Warranty

Lifetime limited warranty
Reviews
Average Customer Review
5.0
5.0
3 Reviews
5.0
By Terry
USA
July 26, 2022
Verified Purchase
I disassembled it since the power wheel kept jamming. Very easy to disassemble, but it was sent to me with a large plastic sticker on the hammer spring. After removing it the power wheel works great. On the subject of the power wheel, its purpose is to adjust velocity based on pellet grain size. If you want big adjustments in power, get the Airforce tophat kit.
Pros
This is my first pcp air rifle, and it far exceeds my expectations (25 cal). Had a rabid 80 lb javelina on my property and I dropped it in one shot to the cranium with a single JSB 25 grain (domed) pellet from 20 yards. power wheel on 6. Id expect that kind of stopping force from a big bore but a 25? That alone should tell you how powerful and accurate this gun is. Disclaimer: was not expecting that result, which is why I had a loaded AR45 ready to finish the job. The talonp is not adequate for big game hunting however. 25 cal slugs should be perfect for medium sized game
Cons
The red dot is pretty cheap. Go with a scope. The moderator works pretty well, but if you want something thats truly backyard friendly, look at the longer tubes from donnyfl or talontunes. Without a tube, its a bit louder than a .22
5.0
By Verdell
May 16, 2022
Verified Purchase
A good buy and reasonable price for what you receive,,my next buy will be an airforce carbine in 9mm I'm hooked,,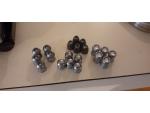 Pros
This is a really nice air gun ,,I like the carbine kit,, for a 25 cal. Pistol at 900 fps theirs not much around that can compete with the power or cost and not much can go wrong with a single shot,,its a back pack friendly survivalist tool ,small enough to hand pump,,but I did buy a 18v battery powered pump 3 mins to pump up to 3000 psi,,in all a nice powerful pistol,,best of all made in America in texas no problems getting service or parts
Cons
I changed the red dot for a scope and got better shot groups
5.0
By Mark
August 26, 2020
For the power, weight, accuracy, quality and size, makes this gun really hard to beat. And the silencer brings the sound level down below a level 1, I'm really impressed. I am going to install a regular scope for her to learn on but did zero in the red dot to test and I can hit nickel size targets at 25 yards with no problem. I love this gun!
Pros
Another excellent Air Force air gun. I bought this gun to teach my daughter how to shoot and help her fully understand gun safety. One of my favorite guns I own is a .25 Condor SS, so buying this gun from Air Gun Depot was an easy decision and no regrets.
Cons
It is nice you don't have to worry about the length of the ammo but having a magazine sure would be nice for follow up shots.
Q&A
Question?
Login to ask someone who bought this product.
Can I use a paintball tank on my talon p carbine
asked Verdell from USA
Is loudness really 5-High with the silencer can? These airforce guns don't seem to make much sense from loudness spec ratings. Want something similar loudness to Marauders.
asked Justin from USA
what pump do i need to fill the tank. we i order this gun i want to order everything at once.
asked anthony from USA
Can you put a bigger tank on it ?
asked Lisa from USA
Do you know the fpe on this carbine
asked Abel from USA
Is the base gun the same as the (TalonP Spin-Loc Pellet Pistol) version? What is the difference from that version?
asked Brian from USA
It is a longer barrel. But otherwise pretty much the same as the Talon P.
Mark from USA
Does the tank need to be removed to fill it?
asked Brian from USA
No. You can fill the tank on the gun.
Mark from USA
I have a talon p Spin loc model and want to purchase carbine separate and dont see that you offer that..
asked Ben from USA
We do not have the guns without spin loc tanks. That is how they come from the factory.
Mark from USA
Which handpump and parts are needed to fill the Talon p? How do you put a bipod on it? Thanks Andy.
asked Andrew from USA
How does the accuracy of the talonp carbine compare with the condor ss, both in 25 caliber
asked Bruce from USA
Does it come with a scope?
asked Douglas from USA
Can you mount a bipod on the talon p
asked Andrew from USA
Does this come with a carry case?
asked Andrew from USA
Best ammo to use?
asked Geoffrey from USA
How do you charge this gun, will a hand pump work as with other models? Does it shoot pellets or BB's
asked Michael