The AirForce Texan LSS just received an upgrade with the addition of a 475cc Carbon-fiber tank. The CF tank's 475cc, 250 BAR (approx. 3600 psi) fill pressure and updated TX2 valve help boost the Texan LSS' maximum muzzle energy from an already whopping 600+ foot-pounds of energy to over 700 FPE! And, of course, the slightly smaller, carbon-fiber tank weighs less than its aluminum counterpart, bringing the total weight of the Texan LSS down to a feathery 6.35 lbs. (compared to the 8-lb. weight of the standard Texan LSS.)
AirForce Texan LSS CF-Series Features:
Velocity: Up to 1100 FPS
Max Fill Pressure: 3600 psi/250 bar
Muzzle energy: up to 700 FPE (.457), up to 800 FPE (.50)
Adjustable power
475cc carbon-fiber air tank
250 Bar (3600 psi) max. fill pressure
Two-stage, adjustable trigger
Safety: automatic on cocking
Lothar Walther barrel
Low-effort, sidelever cocking
Made in the USA
Specs
Manufacturer

AirForce

Caliber

.45

Velocity

1113 fps

Condition

New

Ammo Type

Pellets

Action

Sidelever

Barrel Style

Rifled

Fire Mode

Single-shot

Gun Weight

6.35

Overall Length

54.00

Barrel Length

34.00

Loudness

4-Medium-High

Magazine Capacity

1

Mechanism

Pre-charged pneumatic

Rail

11mm dovetail

Safety

Automatic

Front Sights

none

Rear Sights

none

Trigger Adjustability

Two-stage adjustable

Trigger Action

0

Use

Hunting

Warranty

Lifetime limited warranty
Reviews
Average Customer Review
4.7
4.5
6 Reviews
5.0
By Michael
February 22, 2021
Verified Purchase
This is my very first PCP Airgun. What a absolute powerhouse, HOLY MOLY. I couldn't be happier with it, the quietness, an extremely high FPE. Make it perfect for my hunting of coyotes, deer,elk, Javelina, an big hogs. At 100yrd I'm shooting through a 4x6,( the 6in side) with Mr. Hollowpoints 385gr. It's absolutely amazing, never ever thought I would have a pellet gun with this much power. Definitely getting the regular Texan next.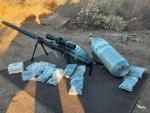 Pros
WHEW!!! The quietness...... an the POWER. GEEZ LAA WEEZ
Cons
little bit heavy on the front end.
5.0
By Sam
USA
January 27, 2021
Verified Purchase
Keep in mind the both Air Force and airgun depot are experiencing extremely high volumes of calls. Be patient and if they don't answer try again a few hours later and eventually you will find somebody to talk to. I look forward to ordering more air guns from airgun depot.
Pros
Absolutely incredible gun.
Cons
To those hearing a rattling in the tank: make sure you contact Air Force they will graciously send you a kit to rebuild your bottle. My gun arrived with a defect in which I could hear a rattling sound inside my rifle coming from the air tank. I called up Air Force and finally I got a hold of them they are extremely busy. They told me that what happens is there's a piece the brakes off from the valve and starts rattling inside the bottle. The representative that I spoke with was extremely friendly and helpful and she told me exactly what was going on with the gun and she is currently sending me the kit to repair this defect. So please don't get upset if you have a faulty valve Air Force is more than happy to replace it at no charge and within record time. Airgun depot was very helpful when I was unable to get in touch with Air Force right away. I have total confidence that this problem will be solved. Unfortunate events but very happy with the purchase.
5.0
By John
USA
June 24, 2020
Verified Purchase
The silencer can always be removed to shorten the rifle when using in thickly wooded areas.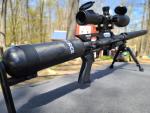 Pros
This thing is a monster! This gun is very accurate and has ton of power shooting just about any .45 bullet. I would highly recommend this rifle for hunting large game where power is a must.
Cons
This gun is a bit heavy when loaded up with a scope and bipod but totally worth it in my opinion. Its also a little on the long side so probably not the best version of this gun for a shorter person.
4.0
By onederer
USA
May 25, 2020
Verified Purchase
The AirForce Texan LSS, Carbon-Fiber Tank, is quite top heavy. It does balance at the center, however do to it's long length, it forces me to hold the rifle with my elbow against my pants belt, while my hand supports the hand guard. Or, carry a shooting stick to stabilize the shot. Shooting from a table, should be a pleasing experience. since the whole gun can be supporter with cushions, etc..
Pros
Haven't had the chance to shoot is yet. Missing parts.
Cons
The 11mm rail. This rail presents additional problems and high expense(s). Hard to find adapters to make it easy to mount a scope. If the rail were picatinny rail. it would be easy right off the bat to mount a scope, without having to buy additional hardware to complete the task, and extra money needed. With the cost of this rifle, a little effort to make the purchaser's life easier, would be highly appreciated. Difficult to find information. Available parts for accessories, and maintenance not found. Where do we go for further parts and accessories?
4.0
By Paul
USA
December 22, 2019
Verified Purchase
This will be my first review on my first PCP Airgun. This thing is a beast with tons of power. That being said there are a few complaints. The new carbon fiber tank is stamped max 3626 psi. The gauge as you can see in the picture goes in the Red at 3000 psi. Not a deal breaker but it would have been nice for the money I spent for a 3500 mark. Now I have read the complaints on the 11mm rail on other Texan reviews and I would have to agree. I bought Tri Rail scope base from AirForce and mounted my thermal scope to become a coyote hunting machine. The biggest compliant is the noise. My buddy has a Texan with the DonnyFL emperor silencer attached and it is supper quiet. He has the older version .457 with no new valve or carbon tank so maybe I shouldn't complain.
Pros
Tons of power.
Cons
Not as quite as I wanted but not bad.
5.0
By James
USA
December 18, 2019
Verified Purchase
I was waiting on the Umarex Hammer for a more powerful hunting air rifle. When The Texan LSS came out with the carbon fiber tank and more power I had to go for it. Glad I did, great power along with accuracy. Can't wait to go hunting for deer with this baby!!!! Very happy with my decision, thank you Air Force !!!!!
Pros
Power, power and power!!!! Very accurate and very reliable. The best big game production Air Rifle out there. Confident enough to take Deer at 100 yards.
Cons
Haven?t found any yet!!!
Q&A
Question?
Login to ask someone who bought this product.
Is this pcp equipped with the baffle to make it more quiet? If not can it be so equipped? Pr do I need to consider a different model. Thanks
asked jeff from USA
The LSS is a shrouded barrel so it is already baffled.
Richard from USA
One of the reviews said that you could use any .45 Bullet? Does that mean I can take the .45 cal bullets I reload for my .45 acp hand gun and fire them through this beast?
asked Winston from USA
No, lead air gun slugs only.
Mark from USA
can fill up the texan with a Air Venturi MK4 Kit by Hill Hand Pump, Up to 4500 PSI
asked joel from USA
Yes. That is a lot of work.
Mark from USA
does the .45 fit with a .457 or only a .45?
asked joel from USA
The .457 will fit the Texan LSS.
Mark from USA
What is the maximum effective range on the 45 and.50 calibers
asked Greg from USA
I consistently group at 200 yards with the ,457. Waiting for my .50
Rabbi Moshe from USA
Can this be used by a left handed person
asked David from USA
The bolt is designed for access on the right side of the rifle, which would make it difficult to re-chamber a new slug after each shot when shooting left handed. I believe the grip is an ambidextrous grip so it could be fired from the left hand. I do not believe there are any left handed models.
Richard from USA
1) why does this model have an output of 700+ ? 2) can this same gun use a NON- Carbon Fiber tank and put out the same Numbers? 3) and if so I am trying to get this Gun, as I do not care if i have the Carbon Fiber tank, i just want the power outputs that this gun w/ CF has........ 4) so the weapon should be just a AirForce Texan LSS with everything the same just no CF tank.... and have 1100 FPS+ and 700+ FPE....... Correct ......... let me know with your price and i will be buying it ASAP, Thank You.
asked Nicholas from USA
The non carbon fiber tank does not support filling to the same pressure. You would not get the same numbers as higher pressure contributes to higher fps and fpe ratings. Just a matter of physics.
Richard from USA
How long of a wait is it for shipping time
asked Jim from USA