A winning combination of quality features, performance and price point, the Beeman Chief is a worthy addition to the budget friendly PCPs that are taking the airgun industry by storm. The Chief is modeled after the classical styling of bolt-action hunting rifles, with its handsome hardwood stock embossed with a yellow-hued Beeman logo. With added attention where it counts, the Chief has an adjustable 2-stage trigger that's ready for your fine tuning. For sighting, shooters can choose between the included fiber-optic sights, or mount their optics to the 11mm rail. With the Chief, you don't need to be a bodybuilder to fill the cylinder, as a standard hand pump can easily reach the 2000 psi max with not much effort at all! Load up a round and send it flying at 1000 fps (in .177). According to Beeman, this PCP can shoot up to 50 rounds in .177 or 35 in .22. Curious about getting into PCP airguns, without breaking the bank? Pick up the Chief for a gun that will please with its performance and its price!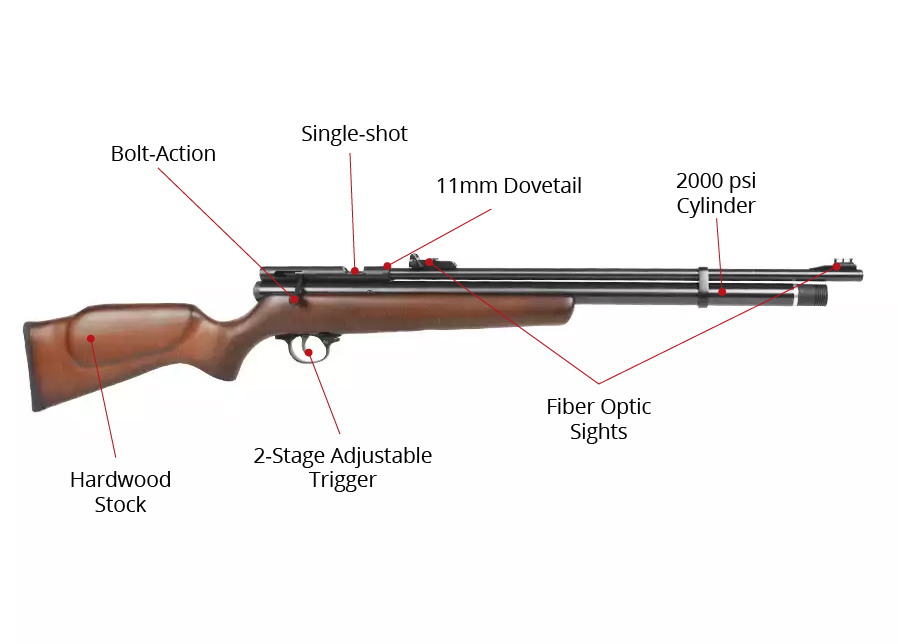 Beeman QB Chief PCP Air Rifle Features
PCP
Bolt-action
Single-shot
Manual safety
2-stage adjustable trigger
Hardwood Stock
Fiber-optic front and rear sights
11mm dovetail
Rifled barrel
2,000 psi fill pressure
Up to 50 shots per fill in .177 / 35 shots in .22 caliber
Specs
Manufacturer

Beeman

Caliber

.22

Velocity

850 fps

Condition

New

Ammo Type

Pellets

Action

Bolt-action

Barrel Style

Rifled

Fire Mode

Single-shot

Gun Weight

6.80

Overall Length

39.00

Barrel Length

21.50

Loudness

4-Medium-High

Mechanism

Pre-charged pneumatic

Rail

11mm dovetail

Safety

Manual

Front Sights

Fiber Optic

Rear Sights

Fiber Optic

Shots per Fill

50

Trigger Adjustability

Two-stage adjustable

Trigger Action

0

Use

Small game hunting/target practice

Warranty

1-year limited warranty
Reviews
Average Customer Review
4.8
5.0
18 Reviews
5.0
By Brady causey
August 29, 2023
It likes any pellet Ive found
Pros
Its accuracy is actually great, I bought the gun 3 years ago
Cons
My barrel came not in line so I couldnt use The sights , had to put a scope on it
5.0
By Dean
USA
October 16, 2020
I shoot from a bench and rest. I shoot to test the gun's accuracy as well as my own. Using a Simmons 6 X 24 X 40 scope shooting from 50 ft., I shoot 2 (10.65 gr.) pellets at one point of impact. I found that I can one whole 4 of 5 points of impact (10 shots total) very frequent. I believe the gun has the accuracy I just don't have the consistency to prove it. Starting with a fresh fill of 2000 psi the first shots are around 930 fps (w/10.65 gr. pellet) and gradually step down. It takes about 25 shots to get the pre-charged pressure to about 1000 psi at which time the pellets are clocked at about 800 fps.
Pros
I like the wood stock.
Cons
Can't think of any.
took 20 shots for feel, then the first thing I did was adjust/modify the trigger to a short butter smooth light break action and installed a side wheel 4x16 scope..then backed off the hammer spring pressure 1 turn out. Is This gun Accurate or What. I am certainly not a marksman but after scope site in at 50 yards with crosman domed first 5 shot group -dime size.not one flyer. I was absolutely amazed. went to 75 yards. 5 shot group - nickel size. I was floored.. this rifle makes me look good. gentlemen if you miss your mark its not this rifle.
Pros
uncanny accuracy at $200.00. nice looking. nice feel.
Cons
forward cocking a bit unnatural. Only a single shot. ( have 5 shot adapter on order). slightly snuger bolt would be nice.
5.0
By kurt h.
April 30, 2019
awesome air rifle. very spot on target shooting.feels very solid feel.will recomend to other shooters.
The rifle shoots well although it isn't a backyard plinker.as soon as I chambered the first round it started leaking air . Each time I reloaded more air would leak out of the open chamber and slow leak when closed but still leak. The gun can't hold air for even an hour. Not very satisfied
5.0
By Kenneth
USA
February 22, 2019
Is it accurate? Ask the 10 squirrels that know longer live in my attic. At 35 yard hole in hole with Jsb 15.89s
Pros
Value
Cons
Not regulated only fill to 1700 psi for best shot curve. Hard to load with big hands
5.0
By Jason
USA
April 24, 2018
I just received the hand pump today 4/24/18 and filled the gun up to 2,000 psi and when I shot the gun it blew me away. It sounds like a real .22 long rifle going off and has a lot of power behind it. I'll know more about it on a day that it is not raining and not a lot of wind. I would so far to recommend it to a friend.
Pros
I love the bolt action on it and the trigger fills great to me without setting it. The open sights seem good also. And I love the hard wood stock.
Cons
It's not a back yard plinker due to the muzzle break when firing.
5.0
By Vincent
USA
January 13, 2018
I had this air rifle for about 2 week and am love it it's heavy and loud but when it comes to accuracy it's perfect I can even hit the bullseye at a hundred yards with no problem with this air rifle keep up with the good work beemen
5.0
By William
USA
December 9, 2017
I am happy to have this rifle, it exceeds what I was expecting. it looks nice feels nice and is very accurate. yes it is a little loud, that's ok. I like it. I have a Bushnell AR/22 rim fire scope on it. they seem to be meant for one another. I use Crossman 10.5 domed pellets, mine likes these pellets. I am very pleased with this rifle.
Pros
very accurate, average 20 shots per fill. excellent trigger, very adjustable. match grade!
Cons
needs a heaver bolt handle, to hold it down when shooting, bolt pops up and back a bit when shooting. factory barrel\ o /rings may need to be replaced after purchase. mine did, easy to change.
5.0
By matt
USA
November 10, 2017
Yes this is made in China. So what?!? This is a good-looking and very accurate rifle! Oh, and VERY affordable! The wood stock is well finished. Nice piece of beechwood they chose. I like the classic curves and lines of the design. The bluing is superb for a sub-$200 gun! The mechanics of the bolt and the receiver are a bit more crude than precisely machined. I would file a couple sharp edges, and I wish the bolt was a bit more precision-fit, but hey... I relate this to the loose feel and sloppiness of, say, an AK-47. They will probably just always work without any fussiness just because it's not some overly picky primadonna. The trigger is decent. Not German engineered, but its short and reasonably crisp. This gun is accurate! I took the iron sights off and put a UTG 4x32 True Hunter on. I fire JSB Monsters, and can consistently hit the very middle of quarter-sized crab apples in my tree atleast 100 feet away! This gun is pretty loud! Definitely a 4. I plan to order a muzzle brake from TKO airguns (they are awesome and effective!)
Pros
a really good rifle for $180 I put a good $65 scope on... Got a $15 tin of quality pellets... Used a 10% off coupon... all this for less than $250, and I am hitting squirrels, crows and bluejays 250 feet away!
Cons
sharp edge of the bolt slot on receiver (fixable with a file!)
Q&A
Question?
Login to ask someone who bought this product.
Is there a clamp on moderator available for this type barrel that is not threaded ?
asked Edward from USA
Does it come with adapter to connect and fill rifle with air from hand pump?
asked Wayne from USA
Can I use this for protection?
asked Kathy from USA
Can it use a bicycle air pump?
asked Yingjian from USA
No, it requires a high pressure air source. A bicycle pump will not work.
Randall from USA
Has anyone used slugs ammo in it if so did it do any good with the slugs ammo, because i live in the UK we can only use air rifle that are under 12ft * lb of power and any air rifle that are over 12ft *lb will need a fac license
asked George from United Kingdom
This rifle puts out more than 20fpe in both .177 and .22, so plan accordingly if you live in the U.K.
Randall from USA
Matt USA. How many CCs of air does the tube hold?
asked Tim from USA
How do you fill the cylinder with air? Do you need a special compressor to fill it?
asked Thomas from USA
The QB Chief fills at 2000 PSI, You need a high pressure hand pump or high pressure compressed air tanks.
Mark from USA
Can it ship to Canada?
asked Ian from USA
Can I attach a scope for this gun?
asked Wissam from USA
Yes. 11mm dovetail
Mark from USA
PLEASE PLEASE PLEASE, where can I buy valve and o 'ring repair kit? I am from Panama and I have to buy it online
asked victor from USA
Is this co2 or pump?
asked Jon