This Deluxe version of the QB78 features a 2 stage adjustable trigger, TRUGLO fiber optic sights, and Beech wood stock.
Specs
Manufacturer

Beeman

Caliber

.22

Velocity

550 fps

Condition

New

Ammo Type

Pellets

Action

Bolt-action

Barrel Style

Rifled

Fire Mode

Single-shot

Gun Weight

6.00

Overall Length

40.00

Barrel Length

21.50

Loudness

4-Medium-High

Magazine Capacity

1

Mechanism

CO2

Rail

11mm dovetail

Safety

Manual

Front Sights

Fiber Optic

Rear Sights

Adjustable

Shots per Fill

0

Trigger Adjustability

Single-stage

Trigger Action

0

Use

Plinking & target practice

Warranty

1-year limited warranty
Reviews
Average Customer Review
4.8
5.0
68 Reviews
2.0
By Nolan
USA
May 17, 2020
Verified Purchase
From my experience, don`t buy this one.
Pros
for 100 bucks, good looking, weight is good, trigger is good, functions good.
Cons
After 1000 or more shots the 25 yd. groups went from about 6" to 1 1/2". Not impressive. This is with a scope. But this doesn`t bother me as much as the fact that after leaving it in the garage for 2 days all the co2 leaked out. This happened twice and then I put it back in the house and forgot it, disgusted. I tried a half dozen different pellets. I tried the felt "cleaning" pellets. It seemed to like Crossman premier hp like my other guns usually do, but not always. I applied Crossman oil and silicone grease where it is supposed to go. It is never cold in my garage, I am out there everyday and it is insulated well. I would much rather write a favorable review on this nice little gun, but I am very disappointed with it.
5.0
By Gino C.
December 9, 2019
I have had this gun for two years now and I am very pleased by the overall performance. I have never had a time where it has let me down. It runs very smooth and noise level is reasonable. I love the capacity of co2 because I can get out at least 100 rounds before I need to reload the co2. I have brought it out to 70-80 yards before and I got a very good grouping of about six inches, although bullet drop was significant.
Pros
High co2 capacity, Long range performance. Adjustable sights. Good quality for buck.
Cons
I have not noticed any
5.0
By bb g.
November 26, 2019
Verified Purchase
has nice hitting power. easy trigger pull ,no issues
Pros
beautiful gun all around
Cons
single shot
5.0
By Richard
USA
October 6, 2019
I was interested in a QB78-Deluxe for some time and couldn't pass up a great AGD deal during 2016's "Black Friday" week. It's been several years now and I have no regrets. Initial impressions were very positive, particularly the all wood & metal construction plus the heft of its solid steel barrel (I measure OD~0.59"). Front and rear fiber-optic sights appear to be all metal (die cast?) with rear adjustments for elevation and windage. Limited mostly to my 35 ft basement "range", I enjoy the challenge of free stand shooting so having decent, adjustable iron sights is a big plus. The QB78 is surprisingly powerful for a CO2 rifle. It easily sends Crosman .117 wad-cutters thru both sides of a tin can at 35 ft and being able to load two CO2 cartridges gives a high shot count per fill. For me, fills can stretch over a number of sporadic sessions so I'm extremely pleased to find NO evidence of CO2 leaks, even after the QB78 sits dormant for a month or two. Overall, I find the QB78 a really good bang for the buck and I'm very pleased with it.
Pros
Overall, a fun rifle and a great bang for the buck.
Cons
When new, the safety had to be muscled ON & OFF and it took a fairly long time to break in. It's a lever that rotates ~180? forward (fire) and back, into the trigger guard for "safe". In the safe position the lever can over-rotate, making it difficult to get a finger on it to flip the other way. Maybe a defect or maybe just a clumsy safety design, but hardly a deal-breaker.
5.0
By Chance
April 17, 2019
Verified Purchase
As mentioned in several other reviews, there are a lot of sharp edges on this gun, right out of he box. The more you use it, the better it gets. I use it for shooting starlings out of my pine trees, and it's surprisingly accurate out to 30-40 yards. After that, the groupings fall to pieces. Very little recoil. So little, that just about any scope will hold 0. For $100, this gun is worth every penny. I highly recommend it.
Pros
Chicks dig it. 9+ foot pounds. Accurate. Adjustable trigger. Easy to work on. Very low maintenance.
Cons
Stock came with several dings in it. FPS is almost too low.
4.0
By Jason h.
December 19, 2018
This was my second air rifle but I have gotten about 3 years ago and it is still one of my favorites this one is a good rifle to start with or just have one in your collection it is very quiet and accurate the reason why I got this one is I needed something quiet for pesting day or night #CarolOfTheGuns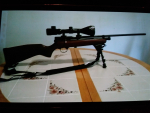 Pros
There is a lot of Pros with this rifle good accuracy and quiet good for beginners just getting into The Airgun industry
5.0
By Will
October 19, 2018
As someone that has shot springers as a kid and now that I am an adult I have to say that I love this little rifle. I never thought that I would consider buying a PCP but now that I have experienced there little brother the co2 it is on my list. From the first day I shot this rifle it was laying down tight groups. I haven't felt this confident with a rifle since my M16 in the army. This is the best $100 you will ever spend on an air rifle. The one draw back is you don't know when you are getting low on pressure till it happens but as you get to know it you will be able to figure out how many shots you have. While the FPE is on the low side because of the accuracy you will be able to take small game (squirrels, cotton tail, and birds) easily at 25 yards. There is no recoil and on the dB meter on my phone it register around 70. So the gun is also very quiet at least compared to break barrals I've shot.
Pros
Accurate, quiet, and easy to shoot.
Cons
No magazine so you have to load each pellet individually.
5.0
By Michael
USA
April 16, 2018
I like this gun I can see the improvements made ,Like the fit and finish ,the stock are far better than the older Chinese models .It is accurate and you get at least5 fifty good shots. I also like that one can mod this gun with after markets kits.
Pros
Lots of shots, Can be modded fit and finish much improved
Cons
None at this entry level price
5.0
By steve
USA
January 13, 2018
very nice wood and metal finish. Quite accurate and good trigger at this price point. I have had poor luck with QB78's in the past (e.g. frost on the air chanber after 5 shots) however this current gun holds a charge very well and perhaps they have upgraded their quality control.If this level of performance continues I would regard it as the best CO2 rifle available in this price range.
Pros
beautiful wood, light weight gun. Holds charge very well
Cons
no trigger adjustment,
4.0
By Jack
USA
December 21, 2017
After cleaning the barrel, I sighted the rifle in with a couple different pellets.JSB 15.89s were the best.Punching the x-ring out of the target in my basement. Can't wait for warmer weather to try it outside.

Pros
Fit,finish,price.
Cons
I had to turn the rear sight windage all the way right to sight it in-hence 4 stars instead of 5.
Q&A
Question?
Login to ask someone who bought this product.
Can you attach any extra gear too the weapon?
asked Eric from USA
The QB78 has a 11mm scope rail. You can attach a set of sling swivels to mount a sling. Archer airguns has aftermarket add-ons.
Mark from USA
Does anyone know where to get the qb78 repeater kit???
asked Christian from USA
It was carried by Archer Airguns. With the Covid-19 pandemic we do not know when it would be available again.
Mark from USA
Does anyone know what the actual feet-per-second rating is for this gun? Or has anyone measured for themselves?
asked David from USA
I have one with an extended bolt probe and modified valve and it averages 765fps. on co2.
Gerald from USA
arround 600fps
lance hansen
Is this available in .22 cal.?
asked MICHAEL from USA
Yes, they will be available in .22, we have not received the first shipment of .22 models yet but as soon as we do we will have them up on the site.
Scott from USA