What's the No. 1 reason you buy an airgun? Accuracy! With that in mind, the Benjamin Armada Magpul just might be one of the most accurate repeating air rifles we sell. That's because the technology, barrel, sound suppression and trigger are based on the dependable and proven Benjamin Marauder air rifle. Crosman has converted the popular Marauder into this cool repeater by adding Magpul AR-style gear. It just might be the ultimate black rifle! If you're one of the shooters who's complained about airguns not having enough rails, the Armada solves that problem with long lengths of Picatinny rails. Add tactical flashlights, lasers, bubble levels and more -- you've got the rail space to do it. Since the rifle with scope, mount and bipod weigh a bit over 10 lbs., take a load off by attaching a sling. The Magpul stock and AR gear make it easy to add one. Filling your Benjamin Armada Magpul air rifle to no more than 2,600 psi (179 bar) may deliver the greatest accuracy. We recommend trying different fill levels between 2000 and 3000 psi to determine the optimum fill level for your own rifle. Each gun is different. A chronograph is the best way to determine optimum fill levels for precharged pneumatics (PCPs). Most PCPs require 2,900-3,000 psi air pressure. You can run it on high-pressure air from 2,000 to 3,000 psi by making the adjustments shown in the owner's manual. The owner's manual states this about fill pressures: "The Armada Magpul has been factory set to an efficient fill pressure that will suit most hunting and target uses." If you're left-handed and need the bolt moved to the left side of the rifle, please add that optional service to your cart when you buy your gun. If you prefer to shoot your rifle single-shot (to get the most accuracy from it), remember to buy an Air Venturi single-shot adapter.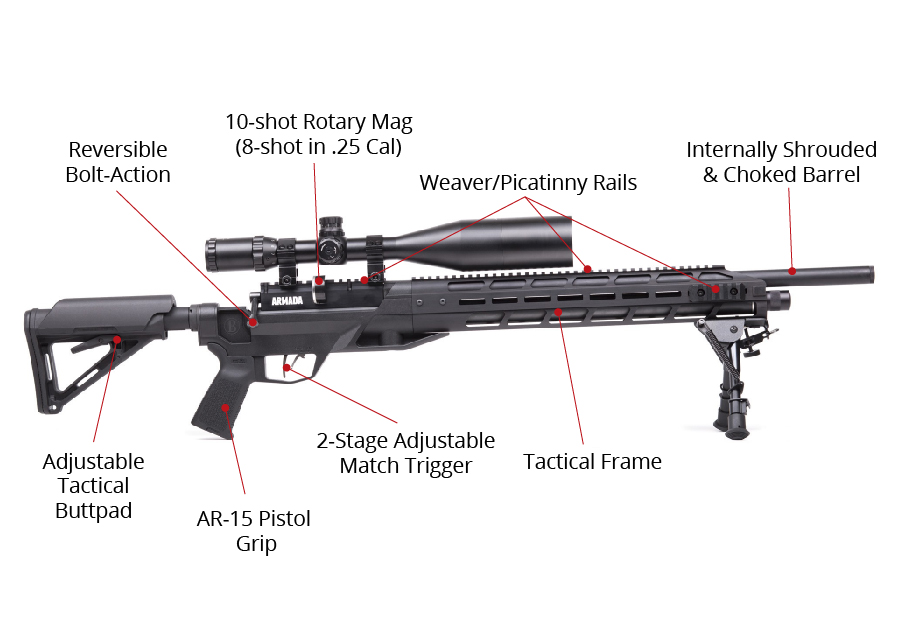 Benjamin Armada Magpul Air Rifle Features
Precharged pneumatic
10-shot repeater with auto-indexing feature
Bolt-action
AR-compatible airgun
Uses compressed air: 2,000 to 3,000 psi (make adjustments as shown in the owner's manual)
Can be adjusted for different velocities
Internal shroud makes this a VERY quiet gun
Choked barrel delivers superior accuracy
2-stage adjustable match trigger...and the trigger is metal!
Raised aluminum breech for easier loading of circular magazine
Magpul M-LOK slotted all-metal handguard with 15" of Picatinny rail space
Machined receiver with 5" of Picatinny rail space
Magpul MOE (Magpul original equipment) grip, 6-position stock & cheek riser (cheekpiece/comb)
Sling-ready
Ambidextrous stock
Rubber recoil pad
Reversible bolt -- switch from right to left side (with our special service)
Built-in air pressure gauge (manometer)
215cc air reservoir
30+ shots per fill
20" barrel
7.20 lbs. (10.30 lbs. with scope and bipod)
42" long with buttstock retracted
Air reservoir ends with a male quick-disconnect Foster fitting for fast refills (requires a female Foster quick-disconnect adapter to fill from a scuba tank or hand pump)
Includes degasser, depinger, bipod, 4-16x56 AO scope with 4" sunshade and co-witness rings
Officially licensed rifle for the Magpul M-LOK modular accessory system
Regulated by ITAR (International Traffic in Arms Regulations) since it has AR equipment and cannot be shipped outside the U.S.
Scope Specs
4-16x magnification
56mm objective lens
Mil-dot reticle
10 yds to infinity parallax adjustment
28 oz.
15.5" long
Includes 4" sunshade and Weaver/Picatinny co-witness rings
Bipod Specs
Folding legs
Spring-loaded extendable legs
6-9" height
Metal with rubber feet
.80 lbs
Specs
Manufacturer

Benjamin

Caliber

.22

Velocity

1000 fps

Condition

New

Ammo Type

Pellets

Action

Bolt-action

Barrel Style

Rifled

Fire Mode

Repeater

Gun Weight

10.30

Overall Length

42.00

Barrel Length

20.00

Loudness

2-Low-Medium

Magazine Capacity

10

Mechanism

Pre-charged pneumatic

Rail

Weaver/Picatinny

Safety

Manual

Front Sights

none

Rear Sights

none

Shots per Fill

30

Trigger Adjustability

Two-stage adjustable

Trigger Action

0

Use

Hunting

Warranty

5-year limited warranty
Reviews
Average Customer Review
5.0
5.0
1 Review
5.0
By Jesse
USA
March 16, 2017
Had this gun for awhile now and it's great. The shot per fill is around 35-40 shots before it's too low to want to pump back up. It's a heavy gun, a foregrip is heavily recommended. I bought a Magpul foregrip from eBay for $25.00. I purchased the Hawke sport hd to go on it. I don't like the stock centerpoint scope. It has wire reticles that can bend, thus throwing off your shot. That and it's huge.... Not waterproof, not fogproof... Etc.... All in all its a good value. Only real concern I've found personally is how much force it takes to retract the bolt lever to chamber the next round. Seems like it should be a bit smoother.
Pros
Great accuracy. Awesome power, target at 25 yards is made of a 3/4 sheet of plywood with an industrial stainless steel baking pan on the back. Penetrates the steel after one or two shots. Using jsb exact jumbo 15.89 gr. https://www.youtube.com/watch?v=U3cowyo-Ggc
Cons
Stock scope is cheap.....$1000 rifle, cheap scope..... Bolt lever is a bit stiff, could be more user friendly...
Q&A
Question?
Login to ask someone who bought this product.
to the guy who posted about the reticle being "bent", I have the same scope that came with my bulldog kit (Centerpoint 4-16x56) and mine is a glass etched mil-dot reticle on the 2nd focal plane. So unless your scope has a wire reticle that seems odd. Mine is fogproof, waterproof, too as Ive been out In miserable conditions with no complaints. Ive heard of a couple other people mentioning the same issue you had with cockeyed or crooked reticle and Im really curious if its more of a mirrage/illusion type thing due to a combination of spherical lenses, eye relief or a defect in the scope. Did you try getting replacement?
asked matt
How is the air bleed off in this air rifle? How long will air supply stay in the gun?
asked anavel