The deep, rich bluing and the stock-work are reminiscent of fine European air rifles...but you'll be paying a lot less than what you'd spend for one of them. You will lack nothing with this air rifle. Get it. Shoot it. Enjoy it. You'll be the envy of your airgunning friends. If you're just venturing into PCP guns, get this gun! You'll be hooked for life. It's not just the fact that it's remarkably accurate. But it's got a spectacular trigger. One that you usually find on much more expensive guns. This package includes the Benjamin Marauder and Benjamin branded high pressure hand pump, making it easier to re-fill your Marauder while in the field.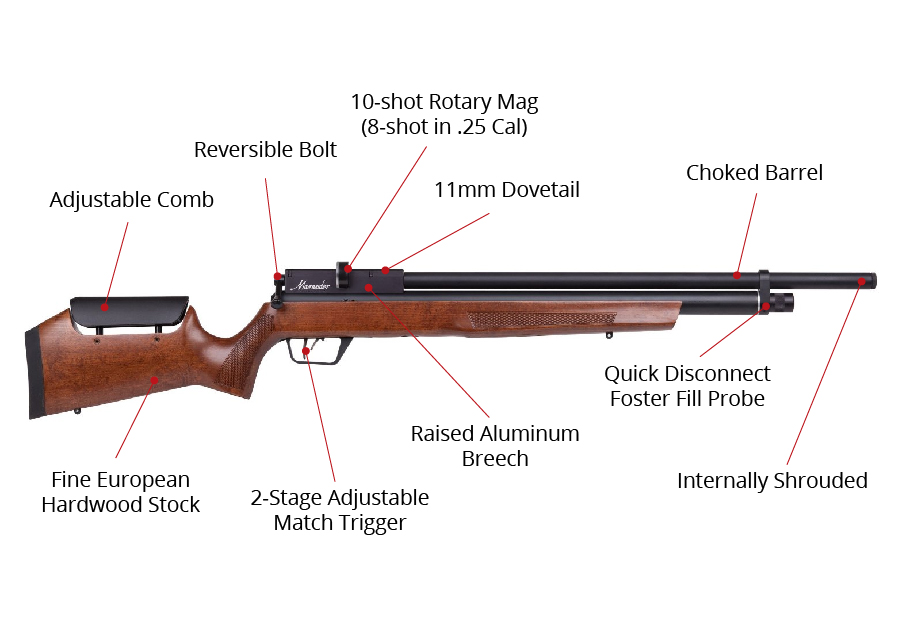 Benjamin Marauder Pump Combo Features:
Single shot tray available
Improved valve and a depinger
Can be adjusted for different velocities
Internal shroud makes this a VERY quiet gun
Choked barrel delivers superior accuracy
2-stage adjustable match trigger...and the trigger is metal!
Trigger is moved back for more comfortable hand positioning
Raised aluminum breech for easier loading of circular magazine
11mm Dovetail Accessory Rail
Ambidextrous Turkish walnut stock with vertically adjustable comb
Built-in air pressure gauge (manometer)
Uses compressed air up to 3,000 psi *
215cc Air Reservoir
Gun comes set at 2,500 psi air fill; to fill to 3,000 psi
Air reservoir ends with a male quick-disconnect Foster fitting for fast refills (requires a female Foster quick-disconnect adapter to fill from a scuba tank or hand pump)
Includes: Wood Marauder, 10-Round Magazine, Sling Swivel Studs, and Benjamin Pump
*The owner's manual states you can fill the gun with air or CO2, but that is incorrect. Please fill your gun with high-pressure air only.
Specs
Manufacturer

Benjamin

Caliber

.177

Velocity

1100 fps

Condition

New

Ammo Type

Pellets

Action

Bolt-action

Barrel Style

Rifled

Fire Mode

Repeater

Gun Weight

8.20

Overall Length

42.80

Barrel Length

20.00

Loudness

2-Low-Medium

Magazine Capacity

10

Mechanism

Pre-charged pneumatic

Rail

11mm dovetail

Safety

Manual

Front Sights

none

Rear Sights

none

Shots per Fill

32

Trigger Adjustability

Two-stage adjustable

Trigger Action

0

Use

Small game hunting/target practice

Warranty

5-year limited warranty
Reviews
Average Customer Review
5.0
5.0
3 Reviews
5.0
By Stephen
USA
February 21, 2018
I really like this guns details
Pros
Shoots the cross man ultra magnum pellets jsb, and also H&N pellets so far I got tested
Cons
None that I know of just wish it was regulated
5.0
By Craig
January 31, 2018
Been shooting air rifles and firearms for over 53 years. The Marauder is the keenist product to come along in a long time. Super quiet, hard hitting and accurate. My rifle will put 4 pellets through the same hole at 25 yards. The only hassle is the pump to recharge. I guess it's good exercise for my upper body. Bolt a little tight but over time it's loosened up. Shooting the Diablo 24 grain pellet gives the best accuracy. Glassed with a BSA contender. Can't wait to take it varmint hunting.
Pros
Great construction and an American product.
Cons
Pump.
5.0
By Randy
USA
December 7, 2017
I bought the .22 Benjamin Marauder combo, as my introduction to the PCP Air Rifle world and I am highly impressed! My shooting experience comes from powder burners and various multipump/springer/Nitro/ air rifles. While I love my powder burners, I have neighbors and can't shoot them in the backyard and the shooting range is a long drive and over crowded. I have longed for a backyard replacement, for going to the range with my traditional rifles, but none of my air rifles have fit the bill. They have all felt like toys, lacking decent triggers and relative to my traditional rifles, are inaccurate. Well, NO MORE!! This Benjamin Marauder is wonderful! When I unboxed the Benjamin Marauder, I was immediately impressed the the quality feel of this rifle. It is a heavy rifle, but not hard to handle or unpleasant. The wood stock is comfortable. My first pull of the bolt surprised me, it was rather stiff but it does break in nd gets smooth. The trigger is wonderful! Finally a trigger that rivals that of my traditional firearms! I have a Savage .308 and the triggers are very similar. Short pulls and crisp break. You always know where this trigger will break! Unlike all of my other air rifles with a mile long pull before it breaks. Good job , Benjamin! Alright I have cleaned the barrel, let's take it out and shoot! I am using a UTG 4x32 mildot scope off of my Benjamin Nitro. First to fill the gun with air. I did buy the combo with the rifle and Benjamin high pressure hand pump. I have been wondering how hard this would be. I didn't count the pumps on first fill, but the rifle had 1000psi and I filled to 3000psi. I was tired afterward. It is far from impossible but it will give you a workout. After about 4 fills, I figured out that over about 2800 psi, I seemed to be losing accuracy, so I shoot from 2800psi down to about 2100psi. It takes about 60 pumps to fill it back up. Wth the factory power settings, I am getting about 40 shots per fill. I have shot down past the 2100psi and it seems to stay accurate down to around 1600psi. After around 200 rounds, I started looking at the measurable accuracy. I am shooting at 30 yards at 1/2" dots on a target. I tried multiple pellets. The worse seems to be Crosman Premier comes 14.3g. at 1" and larger groups The best groups are coming from JSB Exact Jumbo 18.13g. at a 1/2" to slightly less than 1/4" group. This rifle seems to want heavy pellets. The H&N Baracuda Match 21.14 does very well also at 3/4" to 1/2" groups. Keep in mind that I am using a rest but I am fully supporting the rifle in my hands, so this is not as good as the accuracy could be. I have only shot 2 clips of JEB Exacts but the accuracy is substantially better than everything else tested. At one point, the rifle stacked 3 pellets on top of each other...making a clump of pellets still hung in the target. I have run close to 1000 rounds through the rifle. The bolt that started as stiff and sticky, has become smooth. The trigger is just an extension of my finger, requiring no thought at all. The Magazine is excellent...after you figure out how to fill it. This rifle fits my needs perfectly. It is a tack driver built with quality. I can go out in my yard and practice shooting for far less money than I would spend on my .308 ammo. The Benjamin leaves you feeling like you are using a real firearm, less the loud bang. (Super quiet, just the ping of the hammer falling). No more feeling like you are playing with a carnival you, while really wishing were sharpening your shooting skills. If you are looking to an alternative to traditional firearms for the sake of cheaper ammo and convenience of shooting at home, this is it!
Pros
Excellent build quality, excellent trigger, excellent accuracy, super quiet, inexpensive to shoot
Cons
The wood stock seems to be painted rather than stained? Finish is easily damaged. The hand pump has such a short hose that it forces you to my the rifle on the ground to fill it. It doesn't give me happy feelings to lay my $500 rifle in the dirt, so I always have to carry something to lay it on
Q&A
Question?
Login to ask someone who bought this product.
Can a scope be attached?
asked John from USA
Yes. You will need to use either dovetail or weaver rings, depending on the configuration of the rifle that you order.
Adam from USA
Is this gun regulated?
asked Dave from USA
No.Only the FT model Marauder is regulated. AGD-43168336 in .177 or .22.
Mark from USA
Benjamin Marauder is it the quietest air gun on the market?
asked Tom smith