The Brocock Compatto is a brand new concept from this UK manufacturer. It's a semi-bullpup design that is a brand new concept from Brocock and features design elements from Brocock's sister company Daystate. The result is a very lightweight, accurate, extremely quiet and hunter friendly airgun at a surprisingly low price point considering the features packed into the Compatto.
The Brocock Compatto is referred to as a semi-bullpup due to the action being behind the trigger (but not all the way to the back of the gun like full bullpups). No other airgun looks or performs like it. The semi-bullpup design shortens the length to a carbine friendly 38 inches (34" without Moderator) but retains a full length 18 inch barrel and a 150cc air tube. The Compatto has an ambidextrous synthetic stock that is made from much heavier synthetic compounds than found on traditional synthetic stocks. This is the material found in tactical rifle and pistol stocks. The result is a slightly heavier synthetic stock which has a good robust feel. But the rifle itself comes in at just 7.3 lbs. So you have a stock that is tough but also incredibly light to carry into the field.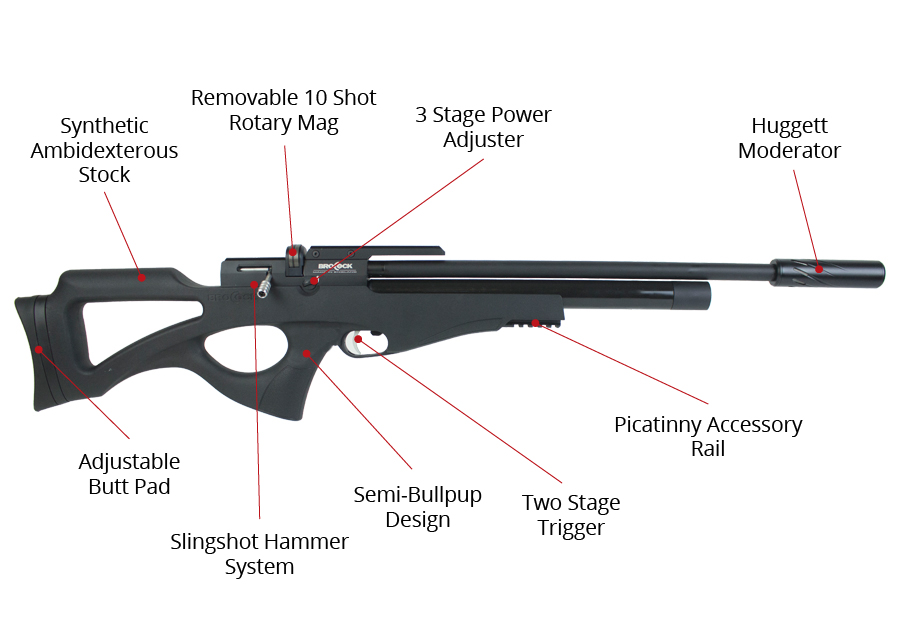 This is the full-powered version of the Brocock Compatto fitted with the updated Slingshot Hammer System redesigned for the Compatto. The Slingshot Hammer system eliminates valve bounce and produces more consistent valve pressure release which results in both efficient use of air as well as more consistent shots. Basically, this means you get similar results to having an internal regulator without the additional cost. The results are more shots per fill and higher power than standard hammer systems. The Compatto also includes a power adjuster with three settings, with the lowest setting producing approximately half the power of the full power setting. A non-removable 150cc air cylinder can be filled to 230 bar (3,300 psi), providing around 30 full power shots per charge (90 shots at low power). The Compatto also comes equipped with a Huggett Moderator that is attached to an already shrouded barrel. The makes for a truly whisper-quiet air rifle and the Compatto one of the quietest airguns you may shoot! There's a lot to love about the Brocock Compatto semi-bullpup. This should become a favorite of those looking for a lightweight accurate and portable airgun to take into the field.
Brocock Compatto Features
Semi-Bullpup design
Ambidextrous synthetic stock
Slingshot hammer system
Manual safety located in front of trigger
Three power settings of low, medium-high, and high
Obtain max muzzle energy of approx. 37 ft/lbs in .25 caliber - 30 ft/lbs in .22 caliber - 20 ft/lbs in .177 caliber
Removable self indexing 10 shot rotary magazine
Two-stage trigger
Full length baffled shroud with attached Hugget moderator
Dovetail scope rail & Picatinny accessory rail
2-Year manufacturer warranty
Specs
Manufacturer

Brocock

Caliber

.22

Velocity

0 fps

Condition

Refurbished

Ammo Type

Pellets

Action

0

Barrel Style

Rifled

Fire Mode

0

Gun Weight

11.00

Loudness

1-Low

Magazine Capacity

0

Mechanism

Pre-charged pneumatic

Rail

Yes

Safety

0

Front Sights

none

Rear Sights

none

Shots per Fill

0

Trigger Adjustability

0

Trigger Action

0

Use

0

Warranty

1-year limited warranty
Reviews
Average Customer Review
4.4
4.5
5 Reviews
5.0
By John
USA
September 19, 2017
Well made and love the size of it. My only problem with it is it shoots about 4" low when shooting at an angle at 25 yards.
Pros
Light and easy to shoot. Well made
Cons
Can't count on accuracy when shooting at a downward angle.
5.0
By john
USA
May 23, 2017
Excellent PCP. Accurate, hard hitting and consistent shooter with both light and heavy pellets.
Pros
Accurate and consistent shooter.
Cons
Synthetic stock needs to be stiffer.
As of my first review with this gun about how picky it is with the use of pellets. Yes it is very picky. Working with this rifle over a length of time, I happened to accidentally stumble on a pellet that it seems to like. The grouping has increased with much more accuracy without flyers and makes it much more confident to use when hunting. After the much frustrating trial to find the right pellet for this rifle, the rifle performs the way it should. With the high quality that was put into the making of this gun and along with it's price, with the right pellet, the gun is a real joy to shoot. Yes the accuracy is there, with the right pellet. I don't know how other compattos shoot because I don't have the luxury to the multitude of compattos to choose from. And I believe that every rifle shoots differently. This one that I have performs very well with AIR ARMS 18 Grains pellets. So you guys having accuracy problems with this gun, give the AAs pellet a try, I think you will be surprised.
Pros
With the correct pellet, the rifle performs excellent
Cons
Very picky with pellets
5.0
By james
USA
May 5, 2017
Great combo deal. Hawke scope is excellent with mil dot reticles, in green/red illumination. Air Venturi tank with PCP reg is excellent. My Compatto is in 22 caliber. Though, I've only tested extensively in 20 yard range, I've tested over 20 types of pellets with less than 3/4 inch groupings (certainly more than enough for squirrel headshots). At max power, 2900 PSI fill, the Compatto can shoot 30 usable shots. Tested with 14.35-25 grains. Mine likes most of the pellets in the 16-18 grain range, but with a few pellets in 14, 15 grains performing very well. Tested with H&N, Match Domed, Barracuda/hunter, Terminators, Hunter/Extreme, Sniper Light, SpitzKugel, Field Target Trophy & Crow Magnums. JSB test batch, Exact Domed. Beeman Kodiak Domed, Match Domed, Devastator and Crow Magnums. Also tested with RWS Superpoints, Rem Express - most shots accomplished at lowest power settings, of 3 (max power will easily power thru squirrels, beware the background). Rifle is easy to handle, align and minimal recoil. Fairly quiet, backyard friendly with the excellent Huggett Moderator. Overall excellent first PCP rifle!

Pros
Lightweight, easy to handle, 18 inch barrel, great scope/tank combo, magazine easy to load (better than cassette mags), charging handle is easy to cycle. Great price for the rifle, but a plus with the combo. 2yr warranty on rifle. 3 power settings and ambi stock. Cool looking design!
Cons
Fairly long at 38 inches, location of the air gauge, safety paddle (crisp ops, but not labeled for easy ID), mags expensive at $79 each,
Nice little gun, but I have only one problem with this gun, it's very very picky with the pellets it shoots. Out of all the pellets I have, and I have a lot of them,and all high performance pellets, the gun will not hold a group. Forget lite pellets, jsbs, H&N, crossman, beeman,etc..The only pellets this gun likes is what's in the manual. Sovereign 15.9gr only groups well, but still has flyers. It's really frustrating. The gun itself is smooth action, filling is good,lite to carry when hunting, and easy to load. The scope is great. But if I had my way, for the price, and being so picky with pellets, I would like to return this gun and get the new FX streamline.thats all I can say about this gun.
Pros
Lite, smooth action, easy to load, easy to fill.
Cons
Too picky with pellets, will not hold groups.
Q&A
Question?
Login to ask someone who bought this product.