The Crosman AK1 is a select fire CO
2
Full Auto BB gun version of one of the most incredibly popular and recognizable firearms platforms on the planet. Propelling BBs from the realistic muzzle at over 1400 rounds a minute with speeds up to 430 fps, this airgun will have you shredding cans and impressing your friends in no time flat. Simply put two CO
2
cartridges and up to 28 rounds of BBs in the spring fed, drop out curved magazine that looks instantly familiar, and you're ready for shooting fun. The operation is remarkably similar to the real steel version, and the look and size will have you checking to make sure it's only shooting BBs. Crosman has increased the realism of this rifle even more by using an AR compatible stock tube and an AK compatible grip, so you can add the authentic versions to get the exact grip and buttstock you want. To finish off the similarities, the airgun comes with sling mounts, and the buttstock folds into the body of the gun like the firearm version does. If you want to add a scope, there's a long Picatinny scope rail on the top, and you can also choose to use the included fixed front sight and adjustable and removable rear sight. You can also add accessories like bipods, lasers, and lights on the three 13 slot Picatinny forearm rails around the handguard. If you're looking for a CO
2
BB gun version of the famous landmark firearm with a modern look but without all the noise and expense, get a Crosman Full Auto AK1 at Airgun Depot now.
Crosman AK1 Full Auto Features:
Semi/Full auto
.177 Caliber BB
CO2 Powerplant
Uses two 12oz CO2 cartridges
Max velocity: 430 fps
Rate of Fire: 1400 rounds per minute
Magazine capacity: 28 rds drop out
Fixed front sight
Removable, adjustable rear sight
Picatinny optics rail
Three 13 slot Picatinny accessory rails
Folding stock
Adjustable buttpad
Sling mounts
AK compatible grip and AR compatible stock tube
Overall length: 34.5"
Weight: 8 lbs.
Specs
Manufacturer

Crosman

Caliber

.177

Velocity

430 fps

Condition

New

Ammo Type

BBs

Action

Semiautomatic/Full-auto

Barrel Style

Smooth bore

Fire Mode

Repeater

Gun Weight

8.00

Overall Length

34.50

Loudness

3-Medium

Magazine Capacity

28

Mechanism

CO2

Rail

Weaver/Picatinny

Safety

Manual

Front Sights

Post

Rear Sights

Adjustable

Shots per Fill

0

Trigger Adjustability

0

Trigger Action

0

Use

Plinking/Fun

Warranty

1-year limited warranty
Reviews
Average Customer Review
4.7
4.5
15 Reviews
4.0
By Greg
October 28, 2023
Pauls tip on using two sides of sticky Velcro for securing the folding stock works very well, but, make sure you expand the stock first to a comfortable length of pull, then apply the Velcro to where the stock meets the side of receiver. Works outstanding !
Pros
Looks, feel, and weight screams quality! Crosman is known for outstanding fit and finish and you wont be disappointed. Search the net for the best price possible and itwill bring you back here ! Plenty of power and accurate ! Use a reflex scope on it and push the rear sight all the way forward on the Picatinny so you dont lose it.
Cons
More versatility for the folding stock lock and more quality into the speedloader. Mine broke second time I used it.
Hi All In reviewing the comments, I see many people have the same concern I "HAD" with mine regarding the folding stock not locking in place when folded. The trick shared with me was to get a 1" x 1" piece of double sided velcro tape, pick a place on the gun that the stock makes contact with when folded. Apply the tape, pull the other side of the tape off and fold the stock. You should wind up with the velcro on both sides and I have found it takes the floppiness out of the equation. Depending on the type of tape, that will determine how much you need or how long it will last. Worked for me and I hope it works for you. Happy shooting!
Pros
Floppy stock fix
Cons
A locking folded stock option
5.0
By April
USA
March 19, 2023
Verified Purchase
Pros
Great gun, works all as it should. I bought this for my 13yr old son and he loves it. For the price this gun is really good. We do live in a very rural area so perfect for us. Because it does look very real and would not be good for a city kid.
5.0
By Rick
January 15, 2023
Its a cheap way to have fun in full auto.
Pros
Cool gun. Weighs like the real things surprised how much metal it is made up of.
Cons
Uses a lot of CO2 because of the blowback full auto will use up all the CO 2 in one-two magazine refills (slider refill) 60rds or so.
5.0
By Mark
August 23, 2022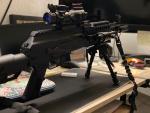 Pros
Rifle is fun. I always have pests that come to my backyard and it's fun as heck unloading the whole mag shoots super fast. Added a 4x scope, laser sight, and a bipod. Added a lot of weight to it but I like the feel to it, added a sling to hold it up gets tiring after a while with all the added Al weight to it. Recoil isn't as bad. Loudness depends if you in an open environment or enclosed space. Loud as heck if it's indoor shooting. Single shots good and all but full auto is where its at. I noticed usually my co2 last about 3 good mags of co2 usually the 4th time I noticed the co2 starts to deplete and runs out either mid-way through the 4th time or at the very end of that 4th time. Overall really impressed with the AK1. Kinda wished they made a drum mag and have a conversion kit into tank, would be way more fun. 28rds is fun but not too fun when it shoots way to fast and having to reload every time after seconds of shooting lol. Comes with a speed loader so it does help
Cons
Kinda loud, and I wish the stock could hold in place when its folded in. Pretty much swings around unless you hold it while shooting.
5.0
By Cesar
USA
February 2, 2022
Great air rifle.
Pros
I always wanted a ak air rifle ever since getting the crosman dpms and Crosman knocked it out of the ball park again!!!
Cons
Its a little too loud for an air rifle might want to use hearing protection.
4.0
By Shaun
USA
June 19, 2021
Overall a good purchase. I would recommend.
Pros
I like the high power As well as the looking feel.
Cons
Sighting it in Was difficult.
4.0
By antwone
USA
January 15, 2021
Great gun I love it
Pros
Lots of fun shoots pretty good groups
Cons
Magazine is really tight and FPS is only about 325
5.0
By Ashton
January 10, 2021
Pros
Looks just like the Ak47
4.0
By Larry
USA
December 31, 2020
I do love this Website, will be ordering more items from them.
Pros
It looks nice and you can modify it.. I got a Scope and Red Lazer on my gun, can't wait to shoot it (Been to Cold now)
Cons
I mean I haven't shoot it yet, so... It says you can mount a Sling, but it's difficult for two point slings unless you use a One Point Bungee Sling or something cause it only have one hook-up for a Sling in the front.
Q&A
Question?
Login to ask someone who bought this product.
Why is it ALL BLACK AND NOT WITH REAL WOOD LOOK OR ACTUAL WOOD !!!!! Why why why
asked David from USA
Dose the muzzle break screw off like the r1? And dose the dust cover remove like an ak
asked Treyvin from USA
Is it blow back
asked Paul from USA
Is Gun metal or plastic polymer?
asked Correll from USA
Looks like plastic
Thomas from USA
I am interested in this product. But I see no extra magazines?
asked Chris from Canada
Search Crosman Full Auto AK1 Magazine on this site.
David from USA
Is this a plastic frame?
asked Jacqueline from USA
Polymer is just a different way to say plastic . Firearms like the S&W Shield are made of high quality polymer . Theres Good polymers and cheap polymers . Since I havent handled this rifle I cant say if its good or bad .
Rusty from USA
Thank you. Polymer as in plastic, or real polymer. Polymer usually adds some weight on this type of airgun. That's what we're looking for.
Jacqueline from USA
yes it seems plastic to me, but it is nicely made. However I am having problems with the magazine. It gets stuck and is hard to release, I know about the AK's magazine release I have a real one. Still the mag is difficult to pull out.
Charles (Mike) from USA
No. It is polymer. Internals are metal
David from USA