With the Daisy 426 CO2 BB air pistol, shoot 15 BB's as fast as you can pull the trigger. The pistol is powered by a 12 gram CO2 cartridge and shoots .177 BB's at velocities up to 430 fps. Reloading is easy with the built-in magazine, and the CO2 cartridge fits conveniently into the grip. This is a great choice for teaching beginners safe handgun practices.
Daisy Model 426 CO2 BB Pistol Features
Uses a 12-gram CO2 cartridge
Semiautomatic
Built-in 15-rd magazine
Integral accessory rail
Finger molded grip
Velocity up to 430 fps
Specs
Manufacturer

Daisy

Caliber

.177

Velocity

430 fps

Condition

New

Ammo Type

BBs

Action

Semiautomatic

Barrel Style

Smooth bore

Fire Mode

Repeater

Gun Weight

0.90

Barrel Length

0.00

Loudness

1-Low

Magazine Capacity

15

Mechanism

CO2

Rail

No

Safety

0

Front Sights

Blade

Rear Sights

Fixed

Shots per Fill

0

Trigger Adjustability

0

Trigger Action

0

Use

Plinking/Fun

Warranty

1-year limited warranty
Reviews
Average Customer Review
4.4
4.5
8 Reviews
5.0
By Donald
USA
March 8, 2021
Verified Purchase
I purchased this pistol and another rifle together from Airgun Depot. I received my order quickly and was packaged very well. No issues whatsoever.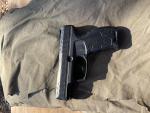 Pros
This little pistol really fits your hand. Me and my kids had no trouble using it. We shot a few hundred BB's through it on our backyard range and had no issues whatsoever. Accuracy is pretty good with this pistol. We would have a few fliers but the fun factor makes up for any accuracy issues. I did put a bit of white paint on the front sight to make it stand out a bit. Overall I think it's a super good deal for the price. It seems built rugged for years of service with kids and " big kids" alike.
Cons
Fits big and small hands alike. Very nice look and feel. Easy to change out CO2 cartridges. Has a nice removable grip that snaps right into place after changing your cartridge. Rugged construction. We were getting around 100 shots or so from one cartridge and still having pretty good accuracy and power for plinking.
5.0
By Richard
USA
February 19, 2021
Verified Purchase
Pros
Mine came 3 days before expected . has good feel and hits the target close to were I aim. Good on co2 when pelgun oil is used .. Not loud so backyard use is very good
Cons
Adjustable rear sites
5.0
By Peter
USA
December 21, 2020
Pros
I bought mine at Dick's Sporting Goods and reordered one at air gun depot. It's a very well made gun that feels solid in your hand. It's Japanese built and doesn't feel cheap at all. As far as shooting goes, the accuracy is pretty good but maybe not 100% perfect. That being said I was able to hit a tree branch from like 100 yards away.
Cons
I wouldn't change much about this gun! It's impressive for the price - which is why I ordered a 2nd one.
4.0
By Paula H.
January 3, 2020
My gun also shoot hi and to the right . Is there anyway to adjust the sights. Any tricks to it cause I know that it is made of plastic. Ps this pistol is a gift.Sincerely Paula Hillman.
2.0
By JayWC333
October 23, 2019
Verified Purchase
The gun functions well, but the accuracy is terrible. It shoots high and right...and that's not from me "pulling" the shot or squeezing the trigger wrong. It happens when I shoot it and my daughter shoots it. If Daisy reads this and wants to send us another one to try or to warranty out the pistol, that'd be outstanding. After all it's $30 too much to have an inaccurate paper weight.
Pros
Cheap. Light trigger pull. Light weight for children.
Cons
Very inaccurate due to poorly crowned barrel or oversized bore.
4.0
By chop
USA
September 23, 2016
good light cheap gun im just gonna say this was a barn find i found this gun for 19.99 at a sporting goods store was so surprised at its power and accuracy so i decided to take it up a notch with a daisy laser ...big upgrade shot in groupings and all.... if you dont order this gun here, im thinking you wont in a store locally its rare ive seen it in stores so good luck

Pros
first couple shots loud and powerful claims 480fps i think its around 400fps may need to chrony, small and light, 16shot mag up top no clip just roll bb's in
Cons
really none just get over the all plastic part
5.0
By Anthony
USA
August 28, 2016
Compared to other pistols in this class -- that is, all plastic, double action only, no features other than a safety -- this is a nice light pretty accurate shooter. I like it a lot, based on having shot about 250 BBs with it, using just two cartridges, I should add. I got about 120 shots with each one, and loved the no-hassle, top fill, built in magazine. So there's no need to buy extra magazines, a nice savings and a nice feature. This pistol is light to shoot and hold. I put an inexpensive laser on it, and after just 5-10 shots I was grouping about 1-2 inches at 16 feet with a few fliers. That's free hand, no rest, and that's pretty good for me, and I'm honest about accuracy or lack thereof. This pistol compares favorably on accuracy, trigger, co2 consumption, and price with the Colt Defender, the XBG, the Daisy 415, and several others in this price range. Fun gun.
Pros
Light, reasonably accurate, top load built in magazine, long on CO2 use, and PRICE, don't forget the price.
Cons
A plinker it is, nothing else.
Q&A
Question?
Login to ask someone who bought this product.
When I try to install a new CO2 cartridge all the CO2 leaks out. Is there an o-ring at the end where the CO2 cartridge goes? If so, what size and where can I get one.
asked Bruce from USA
What holster is good for daisy 426 BB pistol
asked Raymond from USA
What does it come with?
asked Kelvin from USA
The gun and a magazine.
Mark from USA
is this plastic ?
asked Bigdawgg
will an 8 yr old girl be able to shoot this well? How bad is the trigger? She currently shoots a Diana 22 air rifle and with that trigger she is excellent. If the trigger is bad it is a hazard and difficult to shoot.l.
asked Joe Gleason
is 439fps fairly powerful
asked darryl
will this work with plastic airsoft bbs?
asked Luke
How powerful is this pistol
asked Jerry
How do I load the co2
asked Crystal Eubanks