The Daisy Red Ryder is the first bb gun most people can think of, and until today it has only been available in the smaller youth size. Now, adults can enjoy a grownup-sized version which is bigger by 1.35" in length. Grab this larger version and challenge a young shooter to a plinking challenge!
Daisy Adult Red Ryder Features
Faithful, larger reproduction of Red Ryder Model 1938 BB Rifle
Spring-piston powerplant
Up to 350 fps
650-shot BB reservoir
Wooden stock & forearm
Lever-action repeater
Open sights
36.75" overall length
Specs
Manufacturer

Daisy

Caliber

.177

Velocity

350 fps

Condition

New

Ammo Type

BBs

Action

Lever-action

Barrel Style

Smooth bore

Fire Mode

Repeater

Gun Weight

2.95

Overall Length

36.75

Loudness

1-Low

Magazine Capacity

650

Mechanism

Spring-piston

Rail

No

Safety

Manual

Front Sights

Blade & Ramp

Rear Sights

Adjustable

Shots per Fill

0

Trigger Adjustability

Single-stage

Trigger Action

0

Use

Plinking/Fun

Warranty

1-year limited warranty
Reviews
Average Customer Review
4.6
4.5
14 Reviews
4.0
By George
August 21, 2023
Verified Purchase
Pros
Easy to load and use.
Cons
Stock a bit flimsy(small)
5.0
By Robert
USA
June 7, 2023
Verified Purchase
This is a hefty air gun, especially compared to the 1999.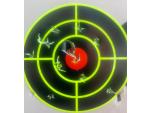 Pros
1938ARR larger stock is great! Air gun shoots hard and straight. Lasso Scope mount needed 1/8 inch spacer washer under rear for elevation. Windage dead on. 1-1/2 inch groups at 40 feet using 4x32 Scope in 1 inch high mount 4 screw rings on the 3/8 inch dovetail rail. Love this Air Gun!
Cons
Put an inexpensive Daisy front fiber optic sight on it.
5.0
By Eric
March 20, 2023
Verified Purchase
Looks great, shoots great, a lot of fun! Seriously, it has been a blast just doing some target practice. I would absolutely recommend the Red Ryder as well as Daisy. Thanks!
Pros
Classic look, nostalgic, reliable
5.0
By PHILIP
January 15, 2023
Buy it good to use in basement or garage.
Pros
everything good about rifle
Cons
No cons
5.0
By Peter
USA
January 6, 2023
Verified Purchase
I plan to add a bipod to the rifle. There is a company called Buck Rail that makes a bipod mount, among other attachments, for the Red Ryder.
Pros
I have no idea what happened to the ones that me and my brother got for Christmas when we were kids. So, I decided that this Christmas I would gift myself the adult version. My son, a US Marine Sargent and myself had a blast when it arrived.
Cons
The scope that came with it leaves a bit to be desired, so we kept the scope mount, but added a Bushnell 3-9x40mm rim fire scope on it. Now it is awesome!
4.0
By Matt
December 21, 2022
Verified Purchase
As a Canadian it really isn't the cheaper option once you tack on border and UPS fees. My gun also got delayed for over a week but that was on UPS. This is a good company to order from especially if living in the US. The adult version of the Red Ryder is a must have. I'm loving my new gun!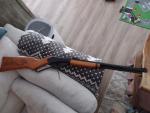 Pros
Solid gun, looks and feels great. Shoots great and is a nice size.
Cons
The stock came a bit loose but just tightened up the screws. A bit of a chip in the stock but nothing major damage wise.
5.0
By Greg
August 1, 2022
Verified Purchase
I own many airguns, but this one takes me back to my childhood in 1960 Nebraska - learning to shoot from my dad with the Red Ryder. So glad to see they created the 1938ARR (Adult Red Ryder). So simple to shoot, and my 70 year old eyes work well with the sights provided. IMO, great value for the price !
Pros
Outstanding presentation. Solid feel. Adult sized. Wood stock and forearm. Nearly silent when shooting.
Cons
None
3.0
By terrance
USA
March 10, 2022
Verified Purchase
This gun is fun to shoot. I never did have a red ryder when growing up so had to get this one now at over 70 years old. The weight is nice and the trigger pull just a tad long for me. The cocking handle is way stiff for me right now but I am sure that will become easier as it wears in. I would buy it again if the situation came up
Pros
Overall look and feel is good, Easy to load, seems well built
Cons
stock not properly bedded, even with screw tight as possible stock still wiggles,Loading mechanism works only when it feels like it accuracy is horrible , safety is too big and should be a bit farther back from the trigger, I find myself trying to pull the safety instead of the trigger.
5.0
By Gary
USA
June 4, 2021
Pulled it out of the box, put 12 BB's in it. The first three were high I adjusted the sight down 1 click and knocked the red out of the target with the next 9. So much fun. Just like when I was a kid.
Pros
Red Ryder. It's just fun
Cons
None that I can think of
5.0
By Richard
USA
February 28, 2021
Buck rail has bipod and weaver/pic. Rail kit for these
Pros
I love mine shoots well for what it is... Just ordered a bipod kit and weaver rail kit from buck rail
Cons
A tad bit longer and a upgraded spring piston
Q&A
Question?
Login to ask someone who bought this product.
Is the scope a Daisy or a Lasso one?
asked Fernando from USA
Where's the girls pink redrider at? I need 1 for my daughter want her to learn how I did to shoot
asked Michael from USA
has not been available for some time.
Val from USA
From what I can see in the images, it looks like the scope is detachable. Is this so?
asked Albert Hernandez
It says 350 fps. How much more velocity can i achieve with"the dust devil"non lead b.bâ"
asked Ruby from USA
From my calculations, 666 fps
Robert from USA
Does it have a metal cocking lever? I bought a regular Red Ryder, metal cocking lever, and Chief A.J. stock and made my own "Adult size Red Ryder. It cost me more to do it that way and the Chief A.J. stock does not come with the Red Ryder name and logo, so I added it with a printed enlarged transfer and wood burning iron. If this had been an option then I may have just bought it. I had a good time doing mine though.
asked Daniel from USA