The upgraded Diana Stormrider Gen2 featuring black synthetic stock is a light and highly accurate rifle with solid construction for a price that won't break the bank. Despite the fact that this is a budget minded air rifle, you still get max power of 26 fpe and max velocity of 950 fps in .22. The 100cc air tube fills to 2900 psi, so it's fairly easy to fill with a hand pump. You get about 30-40 shots per fill, which means more shooting and less pumping or filling. This newer version also has an improved, longer integrated moderator, giving you a quieter shot that sits at the lower end of the loudness scale.
The Stormrider has a light 2 stage trigger that's adjustable for both pull weight and sear engagement. This version adds a black synthetic stock that gives you a firm hold even when wet. For additional control and comfort, it has a checkered grip and forearm and a rubber buttpad. This air rifle has an integrated pressure gauge on the end of the air tube, and the side bolt with O-rings for grip has been enlarged from the previous model so it's easier to use. It includes a rear sight that's adjustable for windage and elevation and a fixed front blade sight, and the rear sight can be removed so you can add a scope on the 11mm dovetail mount.
Whether you're shooting for fun, shooting at targets, or hunting small game, the Diana Stormrider Gen2 in black synthetic stock has you covered. It's easy on the wallet, a great entry point into the PCP market, or an enjoyable extra gun, so get yours today at Airgun Depot.
Gen2 Diana Stormrider, Black Synthetic Stock
PCP
Bolt action
Max. velocity: 950 fps (.22)
Max. energy: 26 fpe (.22)
Mag. capacity: 7rd (.22)
Shots per fill: 30-40
Black synthetic stock
Integrated muzzle brake moderator
Max. fill pressure: 2900 psi
Air tube volume: 100cc
2 stage adjustable trigger
Adjustable rear sight
11mm dovetail mount
2 year limited warranty
Specs
Manufacturer

Diana

Caliber

.22

Velocity

950 fps

Condition

New

Ammo Type

Pellets

Action

Bolt-action

Barrel Style

Rifled

Fire Mode

Repeater

Gun Weight

4.60

Overall Length

39.80

Barrel Length

19.00

Loudness

2-Low-Medium

Magazine Capacity

7

Mechanism

Pre-charged pneumatic

Rail

11mm dovetail

Safety

Manual

Front Sights

Blade

Rear Sights

Adjustable

Shots per Fill

30

Trigger Adjustability

Two-stage adjustable

Trigger Action

0

Use

Small game hunting/target practice

Warranty

1-year limited warranty
Reviews
Average Customer Review
4.4
4.5
8 Reviews
4.0
By Leslie
USA
May 20, 2021
If you're stepping up from a springer, you should be very pleased with both power and accuracy. Customer service is excellent. When clipping ruined the baffles in my moderator, they sent me a new barrel/moderator
Pros
Update from previous review. Light weight, easy to operate, very good trigger, smooth loading and easy operation of bolt. Mine is a .177. A good value for the money
Cons
Not as accurate as I had hoped, Most of my .22 PCP's (Gauntlet, custom Discovery, custom Maximus) will group at .1" at 10 meters and less than .75" at 40 yards. So far, after trying many quality pellets, .25" is the best that I can get. Even with the included reg, 20 shots is about the limit if you want about 2 percent extreme spread which is reasonable for a reg. As with my previous Stormrider I polished the lead for smoother loading. I don't know the condition of the crown as it is to difficult to remove the moderator - I will probably check this out when it is out of warranty as this may improve accuracy.
5.0
By ben
August 23, 2020
Verified Purchase
I suppose if it were a $1000 gun I could could find something wrong with it. It's the least expensive PCP on the market. It gets the job done. It is extremely quiet and shoots far better than any of the 3 spingers I have.
Pros
It seems you only read about ones that don't hold air. This one came with 200bar in it. It was 10 days before ebay pump arrived. Still had 200bar. It's been sitting for a month now waiting for the squirrels. Still full of air. I took a Bug Buster off my springer and it works fine. Had to get new rings to clear magazine. Ended up with Warne rings. Will never mess with cheap rings again. These are precision and nice. Came with regulator but I'm reluctant to take it apart because it is holding air so well. It is as accurate as I am with the 3 different pellets I tried.
Cons
Perfect for what it is.
5.0
By Corey
USA
August 19, 2020
Verified Purchase
This is an excellent value for the money. It's as much fun to shoot as a 10/22, but is quiet and clean.
Pros
Lightweight, powerful, accurate, easy to fill, extremely fun
Cons
The magazine is low quality--the ball bearing to hold the cover in place popped out.
5.0
By Tom
USA
August 16, 2020
Verified Purchase
Pros
This rifle is a shooter, I have had it out to 75 yards and it shoots great . Lots of knock down power very accurate!!!
Cons
None
3.0
By Joshua Amiel sunga
July 31, 2020
..
Pros
Can you ship to Philippines?
Cons
I want to buy
4.0
By Brian
USA
July 25, 2020
Verified Purchase
Stock is small but butt to trigger reach is normal length. This is an adult gun. Rough finish and deep checkering on stock is just right to provide good grip for field carry without a sling. Came with spare "O" rings and a threaded barrel end cap for those who want to remove the silencer and take 6 inches off the length of the gun. I'm in Arizona and ordered this thinking it would come from Utah in a few days but it drop shipped 5 days after order from a warehouse in Ohio. So be prepared to wait an extra week for this gun. Took off a star for the fill probe problem. If Diana is unwilling to QC the guns at their Ohio warehouse it seems Airgun Depot should consider bringing them into Utah and doing the QC themselves. If I wasn't mechanically handy, I'd be an angry customer at this point.
Pros
Been shooting a scoped Benjamin Marauder for 10 years. Wanted to try a rifle half that weight. With this gun I am shooting bench rest nickle sized groups at 10 meters with the supplied open sights. Bolt action smoothed out during first magazine load of pellets. Trigger very good right out of the box. I bought this as a very light weight field gun to be used with open sights and it seems ideal for that purpose. So far, if I pump it up to 175 bar after each 9 pellet magazine, the tank seems to stay in that 150 - 175 bar sweet spot for 8 grain diablo or hollow point diablo pellet accuracy. So I don't feel the need for the regulator accessory just yet although it is tempting. Will probably get a second barrel band when they come back into stock.
Cons
Non-existent QC on the fill probe. OD miked out at 0.3165" and the Foster spec is a maximum OD of 0.3150" including the plus tolerance. Would not go into the female fitting on my Benjamin hand pump. Chucked it up in my drill press and used a 1/2" X 6" band of 400 wet/dry sandpaper to take it down to about 0.314" and now it fits the pump fitting just fine. Diana fill valve seems stiffer (or maybe it's the smaller tank) than the Marauder so pump strokes require a bit more effort than that gun but fewer are required for the 175 bar I'm trying to hit.
5.0
By Matthew
USA
July 20, 2020
Bought when the regulator was included free. I set the regulator to 12ft/lb(110psi) I tried 6 types of pellet and it grouped well with all 6. Standouts were JSB 15.89, H&N Sniper Mag 18 and the shocker for me was some Ruger Superpoint 17gr. A 4x32 scope with low rings fits but would need medium to clearance magazine. For the price(with included reg,)Im extremely pleased. I was able to get a budget 12ft/lb pellet gun, good accuracey and built FOR THE MONEY. I get 40 usable shots with slight poi drop after 3rth or 35th shot. It's a sub $200 pcp that I think hits a homerun. Tips: The bolt is tough to pull back, i put my thumb opposite the bolt handle and help guide the the action, it helps. I haven't the barrel so can't complain about tough feeding of pellets. I noticed it help to tip the barrel up at an angle when closing bolt. Pellets feed easier. Picture is of how I place my thumb to offset pressure allied by bolt handle smoothing out the action.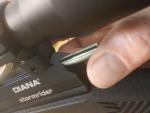 Pros
Not pellet fussy, regulator makes it a whole new beast, shot count, quick top up, affordable, accurate and tunable.
Cons
The grip checking dpi and forend dpi different, bolt asssmbly and action are rough. trigger adjustment screw backed out while shooting groups, no contrast of open site, I added yellow nail polish to the front site and it helped.
4.0
By Leslie
USA
June 29, 2020
Just received yesterday - 6/28/2020, Excellent fit and finish. Magazine functions flawlessly. Chronographed at advertised speed - 1050 with 8,0 grain pellets, The cocking lever (bolt action) was much lighter than I expected as was cambering pellets. Trigger worked great for me so no adjustment needed. Have not yet tested for accuracy as this is a lengthy process and the only pellets that I have are very old and not good quality. I will soon tear down and check and lube everything inside. So far, so good. I will probably order the optional barrel band. I did purchase the bundle with the reg and upgrade fill port - fantastic pricing!
Pros
Light weight, power, quality construction, 9 shot mags, very quiet, excellent trigger
Cons
Nothing yet
Q&A
Question?
Login to ask someone who bought this product.
Does it come with a silencer/suppressor/moderator? Such feature is not legal in New Jersey. If it's available without that feature, I'll buy it.
asked EPQ from USA
How much effort, or pumps, is it to pump up to pressure ?
asked Ken from USA
does it come with hand pump adapter
asked Tyler from USA
OK, am considering this model for light-duty pest control. What are your average group sizes? Please provide group measure in inches or mm, range to target, the pellet used, number of pellets per group, and PSI level when the group was produced. Corresponding chronograph measure at the time of the group would be nice if you have them. Thank you for your data and information.
asked Eric A. from USA
Can you put a scope on the rifle
asked Theo from South Africa
Yes. The Stormrider has a 11mm dovetail optic rail.
Mark from USA
What kind of fill connection does this have
asked Kyle from USA
DIA-1900101. The fill probe is in the item pics. The synthetic model uses the same fill probe.
Mark from USA
how does this gun compare to the air venturi avenger
asked Bill from USA
The Avenger will be a more robust gun. Higher shot count. The Stormrider is lighter and shorter.
Mark from USA
How do u fill it will i need to buy somthing to fill it or how dose that all work
asked David from Canada
To fill the Stormrider you need a 300-4500 psi hand pump,air tank or compressor.
Mark from USA
hand pump recommendstion?
asked Donald from USA
Any of the handpumps will work. The Hill and Air Venturi are the best.
Mark from USA