The FX Crown takes everything that made the Impact such a groundbreaking rifle, and puts that adjustability into a standard sporter stock. But not just any stock, this FX Crown features the beautiful black-pepper laminate stock. Truly a stock that matches the quality and precision engineering that is houses the internals of the Crown.
The FX Crown is a shooters dream. Much like a high performance race car, you can adjust and fine tune the Crown to achieve the highest accuracy of perhaps any rifle! Starting with the new FX Smooth Twist X barrel system. This new system allows you to now only change the caliber of the rifle (from .177 up to .30 cal) but you can also now exchange the barrel liner itself to further tailor your barrels twist rate and choke to the pellet of your choice. The Smooth Twist X system is housed in a fully shrouded barrel to keep things ultra quiet. In the coming months expect more and more barrel liner options to be offered as add on accessories for your FX Crown.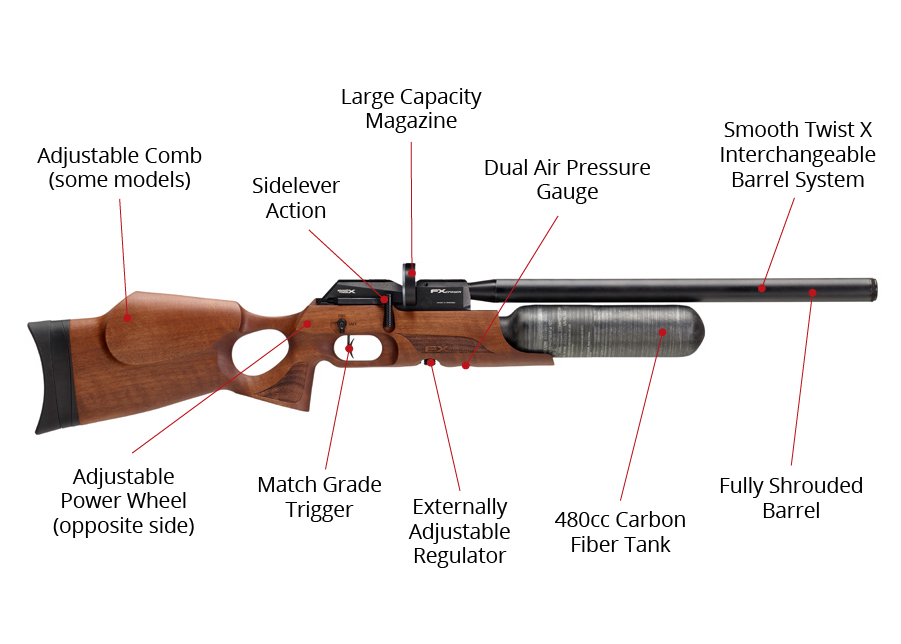 Adjustability has no limits with the FX Crown. At the base of stock are housed two pressure gauges; one to show the pressure of the removable 480cc carbon fiber bottle, the other the regulator pressure. This regulator can be adjusted externally as well. Other adjustments include a hammer spring adjustment and a valve flow adjuster on the left side of the stock. There?s an adjustable comb and the butt stock is fully adjustable both vertically and tilting horizontally. The adjustable two-stage trigger is easily called match grade and is simply one of the best triggers on the market today.
Note that there is a large demand for this rifle. Preorders as always will be fulfilled in the order they are received. Expect delays initially on the launch of this rifle.
FX Crown MKII PCP Air Rifle, Black Pepper Laminate Stock
Ambidextrous thumbhole Black Pepper laminate Minelli stock
Smooth sidelever cocking system
FX Smooth Twist X (STX) barrel system
Superior Superlight STX liner included
Interchangeable calibers and barrel liners (additional calibers and liners sold separately)
Fully shrouded barrel
Updated breech block with four barrel set screws for more rigidity = better performance
Breech block upgrade allows for caliber changes without removing scope
Externally adjustable AMP (Adjustable Match Precision) regulator
Externally adjustable hammer spring tension
3-step transfer port adjustment
Dual pressure gauges: one for air tube pressure, one for regulator pressure
Removable 480cc carbon fiber air cylinder
Max fill pressure is 250 bar (3600 psi)
Magazine capacity: 21 rds. in .177, 18 rds. in .22, 16 rds. in .25, 13 rds. in .30
Shots per fill: 200 in .177, 145 in .22, 110 in .25, 45 in .30
500mm (19.685") or 600mm (23.62") barrel options available
28% larger plenum coupled with larger valving offer more power than ever before
With moderator, 500mm barrel models have an overall length of 45"
With moderator, 600mm barrel models have an overall length of 49"
Two-stage adjustable, match trigger
Upgraded action with integrated 20 MOA Picatinny rail
Adjustable buttpad
Male quick-disconnect foster fitting
Includes one magazine and 3-year transferable warranty
Specs
Manufacturer

FX Airguns

Caliber

.177

Velocity

940 fps

Condition

New

Ammo Type

Pellets

Action

Sidelever

Barrel Style

Rifled

Fire Mode

Repeater

Gun Weight

6.90

Loudness

2-Low-Medium

Magazine Capacity

21

Mechanism

Pre-charged pneumatic

Rail

Weaver/Picatinny

Safety

Manual

Front Sights

none

Rear Sights

none

Shots per Fill

200

Trigger Adjustability

Two-stage adjustable

Trigger Action

0

Use

Small game hunting/target practice

Warranty

3-year limited warranty
Reviews
Average Customer Review
5.0
5.0
6 Reviews
5.0
By Earle
USA
August 10, 2019
Two year review; I have now had this air rifle for over 2 1/2 years. I have not had one issue with this rifle it is consistent and keeps on target. I mainly use it to keep the squirrel population in control on my property I've taken many shots at over 100 yards with accuracy. I would definitely recommend this rifle when you need long range accuracy. I have not been disappointed with it.
Pros
Once Sighted in, it stays true to its target day after day with accuracy. The workmanship will be beyond of what you will be expecting when it arrives.
5.0
By Dickszinya
June 2, 2019
If you like to kill critters dead in their tracks this is the critter reaper. Do you want to shoot a gnats ass off at a hundred yards uphill on a cold day with high winds? Well ya can, and you can get his balls too. Only problem y'all have is runnin outta room to bury them critter sons a bitches. I use it for everything even turning the neghbors lights out from 200 yards. Also circumsized a hillbilly once by shooting his sister in the chin.
Pros
Extremely accurate
Cons
I'm surrounded by smell of death.
5.0
By Scott
USA
December 18, 2018
I decided to try a PCP because of all the reviews about accuracy and consistency and boy were they right. I have used a variety of break barrel pellet guns of good quality for pest control on my property for years but the PCP blows them all away. I am not the best shot in the world but with the FX Crown I can hot a quarter size target at 50 yards consistently without issue. I suspect that the accuracy is due to the smooth twist barrel although a fixed barrel likely helps for consistency. I would recommend this gun to anyone looking for a consistent and accurate pellet gun. The only trouble is finding anyone to fill my tank to 4500 psi and currently can only get it charged to 3800 psi. This limits the number of rounds I can fire before recharging the gun.
Pros
Takes a little time to learn the best way to load the cartridge; like just a rookie issue
Cons
Takes a little time to learn the best way to load the cartridge; like just a rookie issue
5.0
By william
USA
September 7, 2018
I've been lusting after one of these since they where first announced. Fit & finish are extraordinary as is the accuracy. Single hole groups at 50 yards (probably further just haven't stretched it further yet) It gets A LOT of attention at the range, people even ask to take photos of it, my .500 S&W Magnum doesn't get that kind of attention! I'm absolutely over the moon with this gun, the price stung a bit at first, now I realize its worth every penny. Very nice FX, very nice indeed! Now I know why John went there!
Pros
Not enough superlatives available to do it justice.
Cons
None that I can see so far.
5.0
By Gary
USA
July 11, 2018
I believe I bought back in April of 2018. I honestly did a lot of research before I went and purchased, over a year. Face it, your getting ready to pay 2000.00$ for this Pellet Gun!! The Sweden Quality is Nice, For Sure. I do Backyard Shooting and Crown is Very Quite. I bought 4 different kinds of Pellets 2 Tins were the JSB, and the other 2 were of High quality also. The JSB shot outstanding at any Regulated level. (Different Speeds) Accuracy is Great just like advertised or better. The other 2 Tins of Pellets I could not get to Group well at all, which was a little disappointing. So far its just the JSB that shoot well out of this Expensive Rifle. It does take awhile to Pump this Tank up with Hand Pump, Not Fun. Ordered a Airforce E-Pump back in May 2018, Back Ordered. Its July 11 and still on Back Order till July 16. I would highly recommend getting a Compressor. The versatility is the Crown, you can do a lot of changes with this Rifle, one of the reasons I purchased. Did some adjustments on the Hammer Adj Knob, YOUTUBE Video. FPS with the 25 grain JSB is 966. Regulator Level is 138. Havent messed with Trigger, its a Match Trigger no complaints at all. I think the Magazine is Big they should make 10 Shot Magazine. In my opinion theirs not a Pellet Gun out there that's worth 2000.00$ I know this is an Expensive Hobby and im hooked, but I could of bought a DPMS Panther 308.cal and a Ruger 9mm Pistol for 2000$$. Lol...Im Glad I own the 25.cal Crown, even though its a lot of Money. That's my Short Review hope it Helps.
Pros
Sweden Quality, Not a Heavy Rifle at all Well balanced easy to Shoot.
Cons
Big Magazine, Big Price
5.0
By Bill
December 28, 2017
UPS dropped off myound one in Gray Lam, mounted a Bushnell Elite 4200 4-16 scop,and filled with air. Was cold and breezy here in North East so I wasn't expecting any kind of good groups. The JSB 25.4 did right at 900 fps and the wind pushed them around a little at 50 yards. Then I switched to the JSB 34gr King MK-II, these pellets are shooting close to one hole groups at 50 yards and the wind did not seem to bother them at all. I never shot a pellet this heavy before and you could feel a slight recoil when firing the heavy JSB's. I am still getting a feel for this gun but I like what I see so far. The trigger is right at one pound but fully adjustable. The Heavy JSB heavies are shooting right around 780 fps good for 46 foot pounds. Regulator pressure right out of the box was set at 133 bar. I bumped reg up to 140 bar but have not shot over chrony yet. Gun is definitely shooting hotter than it was before I increased reg pressure. With everything set on Max Power and sighted in at 50 yards with JSB 34's I can reduce hammer tension to 3 on dial and then shoot JSB 25.4's and not touch anything on scope the POI is exactly the same as the 34's. To me this is a really cool feature.From what I see so far FX has a real winner here with the Crown if gun remains reliable and you heed all the do and don't warnings in the owners manual. I can't wait to buy different cal barrel sleeves and probes, I can see a .22 in the future. I did remove the barrel sleeve and clean, I highly recommend cleaning barrel in any new gun because the first two patches were black so barrel was dirty from whatever FX uses to preserve or manufacture the bore with. Gun has a lightweight feel, cheekpiece is fully adjustable and I moved up about 1/2" to suite my shooting position.
Pros
Unlimited adjustability, lite weight, can make any caliber you want by simply changing barrel liner and probe.
Cons
Wish FX would make smaller 10 round magazine so I could use medium scope mounts instead if high.
Q&A
Question?
Login to ask someone who bought this product.
What scope options will fit this air rifle? Don't see a Picatinny rail, no sights built in.
asked Michael from USA
Anyone know if in .30 cal. you can get a 700 mm barrel?
asked JEFF from USA
If I were to purchase an extra air bottle for this rifle, with it removed from my rifle, what type of connection would I need to fill it with a foster fitting on my air compressor? ie...... to go from detached bottle to foster fitting.
asked Wayne from USA
Will Smooth Twist X barrel from FX Impact X interchange with the FX Crown? Will 480cc air tank interchange between FX Impact X and Crown?
asked William from USA
Buenas tardes quería preguntarles a ustedes sobre la potencia de impacto por libra que el rifle tiene ya que no la tiene ahí en la descripción, quiero en calibre 25, y calibre 30.
asked LUIS EDUARDO from USA
Whoope its slow for almost two grand fpe is low I guess a target rifle only
asked Jeff
Dear Sr.. I have in my shopping cart a fx crown Cal. 30 ... I want to add an extra barrel Cal.  177. How can I add it in preorder? Best regards Gerardo Quiroga 
asked Gerardo from USA
Do we know when the fx crown is going to arrive.
asked Randy