The FX Royale is a superb air rifle and the flagship sporter rifle from FX. A gun of this quality deserves a heritage finish and the Walnut Royale 400 provides just that. The walnut is beautifully selected for not just durability but the highest degree of quality and appearance. Checkering on the grip and forend of the rifle provide an excellent grip and feel.
The Walnut 400 is build around the excellent Royale breech block system. This system includes an internal regulator. If you've never shot a PCP with a regulator you're missing out. The internal regulator provides consistent air flow regardless of how much air is in the air cylinder so that each shot is powered by the same amount of air. This results in better accuracy and a more efficient use of air.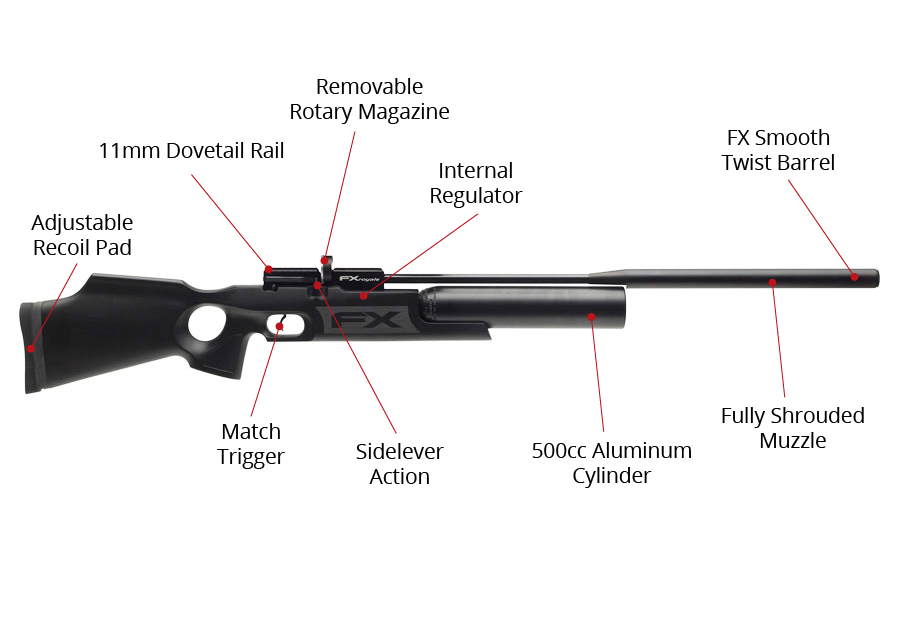 The breech itself holds a 12 shot rotary magazine (16 shots in .177 caliber) that is cycled by the effortlessly smooth side lever cocking mechanism. All CNC machined from aluminum. Like all modern FX air rifles the Royale 400 Walnut has the FX Smooth Twist Barrel. A barrel that is completely innovative and simply stated will be the most accurate airgun barrel you'll ever have the pleasure of firing.
We've swapped out the standard 400cc air cylinders on our Royale 400s and upgraded them to 480cc carbon fiber tanks. These tanks hold more air (3,600 psi) and are almost a pound lighter than the standard aluminum tanks. And speaking of power, if you're simply target shooting to keep your skills sharp, you can turn down the power of the gun using FX's 3-step power wheel on the left side of the gun. This will extend your air even more!
The Walnut Royale 400 air rifle features an exceptional fully adjustable two-stage match trigger. Out of the box the trigger is set at just 12oz, incredibly light with a clean break. The stock is very well balanced with a balancing point located just under the breech, making it easy to shoot off hand.
Note: Higher calibers are available in this series of airgun. The FX Royale 500 is the .25 caliber version, and the FX Boss is the .30 caliber version.
FX Royale 400 Walnut Features
Right hand thumbhole stock
Features FX Smooth Twist Barrel
Internal pressure regulator
3-step patented power adjuster
Sidelever cocking action
Removable 480cc carbon fiber air cylinder
Additional spare cylinders available
Max fill pressure is 250 bar (3600 psi)
Achieve up to 36 ft/lbs of energy (18 ft/lbs in .177 cal)
Shrouded barrel
Adjustable recoil-pad (height)
Removable rotary magazine
Fully adjustable match trigger
Male quick-disconnect Foster fitting for fast refills
Specs
Manufacturer

FX Airguns

Caliber

.177

Velocity

950 fps

Condition

New

Ammo Type

Pellets

Action

Sidelever

Barrel Style

Rifled

Fire Mode

Repeater

Gun Weight

7.50

Overall Length

40.25

Barrel Length

19.50

Loudness

2-Low-Medium

Magazine Capacity

0

Mechanism

Pre-charged pneumatic

Rail

11mm dovetail

Safety

Manual

Front Sights

none

Rear Sights

none

Shots per Fill

0

Trigger Adjustability

Two-stage adjustable

Trigger Action

0

Use

Small game hunting/target practice

Warranty

1-year limited warranty
Reviews
Average Customer Review
5.0
5.0
6 Reviews
5.0
By Bobby
USA
December 21, 2020
I had the the Royale 400 since Feb of 2017 and it has never given me any trouble, no air leaks, nothing. Excellent PCP air gun.
Pros
My FX Royale 400 is exceptionally accurate - pellets in the same hole at 20 yards. I often use it to kill squirrels that chew up and destroy my bird feeders. Nothing like hearing that "THWACK" and see the tree rat fall. It's also easy to charge with my Scuba tank.
Cons
None
5.0
By Phillip
USA
September 18, 2017
I really like this gun ! Very accurate and fun to shoot I just received it and I hope it doesn't give me any trouble for a long time ! So for I would recommend is gun. I have the 177 caliber. Waiting for hunting season to open I'll plan on killing many squirrels
Pros
. I have the 177 caliber. Waiting for hunting season to open I'll plan on killing many squirrels
Cons
Gun is real slippery and hand have to be real careful not to drop
5.0
By Aaron
USA
August 26, 2017
This gun is like getting married to your "one", it don't get no better then this. Where do I start, not only beautiful, but faithful. Every time I pull the trigger, I know that pellet, is going exactly were I aimed it.
Pros
Beautiful wood. World class accuracy.
5.0
By philip
USA
July 6, 2017
I own fx, daystate, air arms, and many other high end airguns ranging from 177 cal. Up to .357cal., If I had to keep only one airgun it would be my .22 cal. fx royale. I've put dozens of 18 grain 500 pellet tins through it, I can only guess that I've shot over 10,000 pellets through it and it's always been one hole groups, I use 1 inch targets at 30 yards and draw smiley faces in the 1 inch targets, it's that accurate. It did get more accurate for me after I had shot about 500 shots through it. Yes it is pricy but it's the best.
Pros
Everything
Cons
There are no cons on my beautiful fx royale.
5.0
By Mcoulter
June 9, 2017
OK, this is a fairly early review. I've had the rifle just over one week and have only put maybe 150 pellets through it. I could not be happier with already being able to shoot true 1 MOA 12-shot groups with it at 65 yards with JSB 18s.
Pros
Accurate Just the right power for a .22 (32 fpe with jsb 18s) Fantastic size & weight Shoulders VERY well
Cons
Unlike the review of the .177 Royale here, there IS some recoil / motion when shooting my .22. That being said, it is not enough to disrupt my view of the target and pellet impact throughout my shot. My air tank's quick connect *barely* fits into the stock's recess. I need to be VERY careful that the connector's collar is fully-engaged and locked in before pressurizing the rifle. Don't ask me how I learned this... :-0
5.0
By Dave L.
April 10, 2017
The FX Royal 400 is the most accurate airgun I have ever used and I have many in my collection. Balanced perfectly and one hole accuracy makes this my favorite rifle by far. The trigger is very nice and I've adjusted nothing. I chose the .177 because I have the other calibers in my collection and I wanted a flat shooting rifle that doesn't drop as much as the .25, I had heard of problems with .177 barrels leading up on these guns but so far I have had no loss of accuracy whatsoever. I have already put 1500 pellets through the rifle and without using any lube on the pellets. I can say this barrel is just as accurate as the day it came. This rifle will put pellet on pellet at 40 yards if you do your part. The best thing is that there is no recoil or mechanical motion when you shoot, you can watch the hole appear on the target through the scope. It's a lot of money to pay for an airgun, but if you want a spectacular rifle that is easy to shoot and is completely consistent you will be totally impressed. It's also very quiet.
Pros
Very accurate...incredibly accurate...almost unbelievable accurate. Light weight, 16 shots in .177, short in length. Excellent quality.
Cons
The magazine is a little bit tricky at first, but no problem once you get used to it. Not even a con really.
Q&A
Question?
Login to ask someone who bought this product.
How loud is this compared to the Benjamin marauder?
asked RA
Are the 17 caliber and 22 caliber barrels interchangeable? if so, how? thanks.
asked Marvin W. from USA
I would like to buy a walnut stock for my fx 400. Where can I find one?
asked Andrew
How well do these guns do in FT?
asked William from USA