Exclusive to Airgun Depot only! The Gamo Coyote Whisper PCP with a Mantis 4-12x40 Scope. The Coyote Whisper PCP is an affordable yet high end PCP that is perfect for the serious airgunner. And if you've never owned a PCP, this should be your first one. Features a hardwood stock, cold hammer forged barrel, suppressed Whisper Fusion silencer, 10 shot rotary magazine and a regulated valve. The Hammer-forged barrels deliver precision downrange with a higher degree of accuracy. When you consider a precharged pneumatic air rifle as your next purchase- what's the No. 1 thing you want? Accuracy! That's what you'll get in your Gamo Coyote PCP air rifle. Hammer-forced barrels deliver precision downrange. But that's not all. Manufactured in Europe, these guns feature high quality construction and premium features such as Beech wood Monte-Carlo comb, 2 Stage adjustable triggers, as well as the European cold hammer forged barrel with attached silencer. With a 232 B.A.R. fill pressure, self regulated valve, and 10 shot rotary magazine you'll be putting more consistent shots on target per fill with the Coyote than with its non-regulated competitors. And with this repeater- you'll be pulling it a lot! No need to spend twice as much for an accurate PCP with a fancy European name. If you've been waiting to make the jump to PCP power, Gamo gives you affordability, quality and accuracy all in one with the Coyote Whisper pre-charged pneumatic air rifle.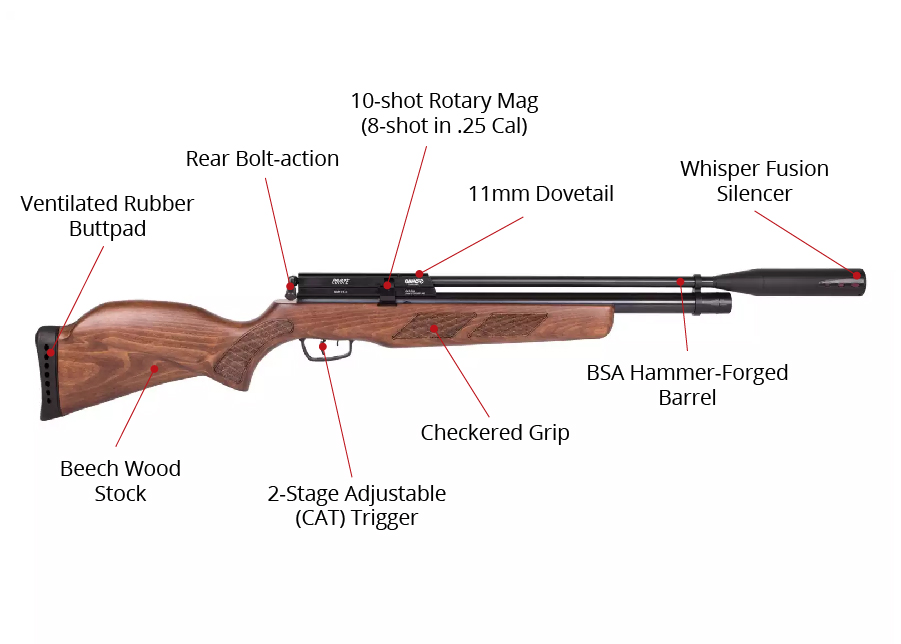 Gamo Coyote Whisper Air Rifle Scope Combo Features
Includes Mantis 4-12x40 AO w/ rings
Pre-charged pneumatic
Bolt-action
10rd removable rotary clip (8rd clip in .25 caliber)
11mm dovetail grooves (no open sights)
BSA hammer-forged rifled steel barrel
Whisper Fusion Silencing Technology
Built-in manometer (air pressure gauge)
Self-regulated valve
232 bar (3-365 psi)
2-stage adjustable trigger (CAT=Custom Action Trigger)
Ventilated rubber butt-pad
Ambidextrous beech stock
Checkered grip and forearm
Manual safety
6.60 lbs.
Specs
Manufacturer

Gamo

Caliber

.22

Velocity

1000 fps

Condition

New

Ammo Type

Pellets

Action

Bolt-action

Barrel Style

Rifled

Fire Mode

Repeater

Gun Weight

11.00

Overall Length

0.00

Barrel Length

0.00

Loudness

3-Medium

Magazine Capacity

0

Mechanism

Pre-charged pneumatic

Rail

11mm dovetail

Safety

Manual

Front Sights

0

Rear Sights

0

Shots per Fill

0

Trigger Adjustability

0

Trigger Action

0

Use

0

Warranty

1-year limited warranty
Reviews
Average Customer Review
4.7
4.5
3 Reviews
4.0
By Dennis
USA
November 3, 2018
Tried the Umarex Gauntlet as my first PCP. Not impressed. Thought seriously about going all in with the FX Streamline but just couldn't justify $1500 or so with optic & moderator. Picked up the Gamo Coyote Whisper combo with a 10% off deal from AGD. Rifle appears to be well made.Stock is really nice & blueing is also.The moderator is a bit disappointing as it is plastic,although it works well. A few more bucks for aluminum would look lots better.As most have noted,$50 bucks for a spare mag is nuts! The rifle is heavy but well balanced & feels good in the hands. Very accurate from shot 11-40 from a full 3350 fill. JSB 15.89 and H&N 18.52 both patterned 1/2" at 22 yards. I've ordered a Lane regulator that will hopefully improve consistency. Also have a Lane depinger as the rifle does have a little "twang" noise.
Pros
Quality,accuracy,price.
Cons
Ugly cheap looking moderator.Expensive spare magazines.
5.0
By Michael
USA
October 25, 2018
Purchased this rifle as I first pcp airgun. Perfoms well with JSB match heavy 18.13g for distance shooting. Anything under 15yrds just about any pellet will shoot well. Glad I chose this one as my first pcp airgun.
Pros
Very accurate and able to get 40 shots from a fill. Rifle is back yard friendly due to it being really quiet.
Cons
Is a little on heavy side but not bad. The ridiculous price for extra magazines. 50 bucks is pretty outlandish for a magazine in my opinion.
5.0
By Scott
USA
May 22, 2015
Got my coyote about 2 weeks ago and I am very happy with my purchase! Was debating between the Marauder and the Coyote but ultimately decided on the Coyote appearing to be an overall nicer gun. The construction of the gun did not dissapoint, I have to admit I was somewhat worried as Gamo break barrel guns are really lacking in the quality department but the coyote is well made and solid. Its a pretty heafty gun with the wood stock, great for target shooting off a bench but I need to add some sling swivels to make it more friendly for hunting . I got the combo with the scope from BSA, its a good starter scope but I think that I will up-grade later. The optics are clear but the construction feels somewhat clunky. Overall really happy with the gun and the way it shoots, really great for a first timer PCP
Pros
Construction Power Magazine Capacity
Cons
Scope could be better No Sling Studs
Q&A
Question?
Login to ask someone who bought this product.
I am awaiting my Gamo Coyote, what is the first thing I should do as far as mounting Scope, first shots, first fill etc!!
asked Fred from USA
The VERY FIRST thing I would do is order a trigger from Charlie Da Tuna!! Period!! Anything after that will be fun!! Great looking gun, good luck and have fun!!
Nate from USA
How does the Coyote PCP function in backyard friendly environment
asked Fred from USA
Do you have to fill the gun up with air
asked Martin from USA