Definitive Guide to

Gamo Swarm Maxxim
Break barrel airguns have long been the best combination of affordability, convenience, and power, but their one big drawback has been having to single load each pellet. But those days are over! With the Gamo Swarm Maxxim you have a break barrel air rifle that shoots almost like a pcp without the need for tanks, pumps, or compressors. No fuss, no muss, just time on the trigger! What looks at first glance to be a regular ol' Gamo with a hump on the front, turns out to be at second glance the most innovative and, yes, we?ll say it, game-changing break barrel airgun to come out in years! While you might be put off by the looks of the gadget sitting on top of the breech, don?t be a chump, because that little bit of genius makes this gun absolutely unique. It holds a rotary magazine and with it you can fire ten shots by just breaking the barrel and pulling the trigger. Add in Whisper Maxxim Sound Suppression, an included 3-9x40 scope, a great trigger, and excellent accuracy, and you won?t find a better buy anywhere!
Highlights

Photo Gallery

Multi-Shot Break Barrel

Video
Order a Gamo Swarm Maxxim
Video
Detailed Review
Repeating break barrel rifles aren't new; Gamo itself made a number of repeaters in the ?70s and ?80s and Mendoza has the RM 2000 to its credit, but most of these guns suffer from the same problem. They load the pellets from a tubular magazine like you can find on some .22 long rifles, but this system just doesn't work very well with pellets and it never caught on.

Does the rotary magazine on the new Gamo Swarm Maxxim work? Yes!
It works like a dream! We have put hundreds of pellets through it without a single hint of a problem and this makes all the difference. After all, if it wasn't consistent it would just be a gimmick, but its reliability changes the entire experience and brings break barrel airgunning to a whole new level of sophistication and shooting enjoyment.
The Basic Anatomy of a Gamo Swarm
The first thing you will notice when you take this gun out of the box is how light it is! At just over
five and a half pounds
without a scope, you won't have any problem carrying this around for a full day of shooting.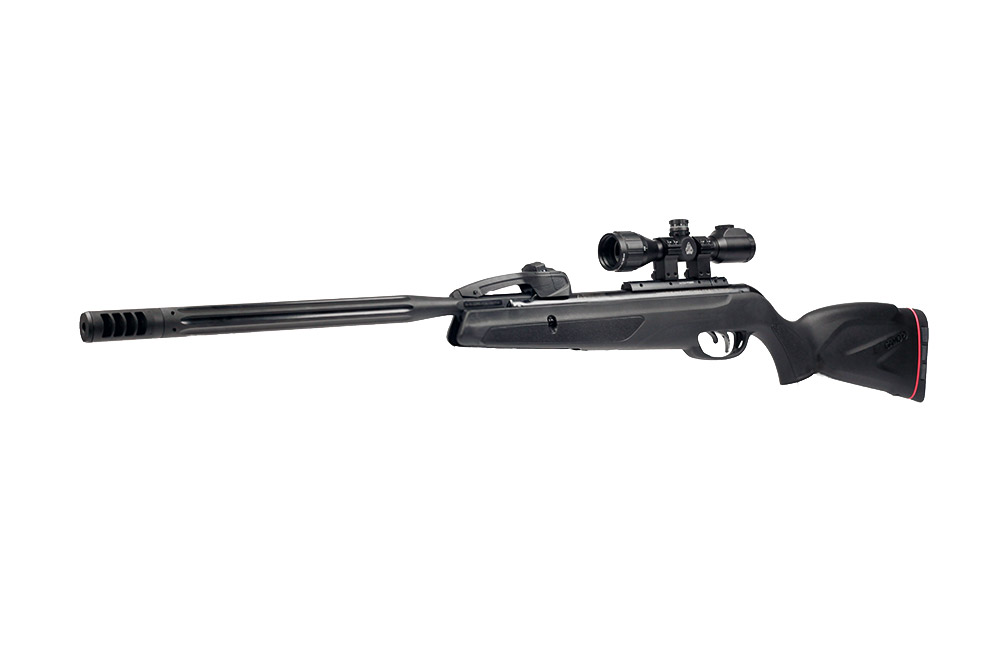 Starting at the front of the gun, we have a muzzle brake to divert air turbulence away from the pellet, which helps with accuracy and recoil, and the brake is very smooth and comfortable to grab onto. It is attached to Gamo's
Whisper Maxxim Sound Suppression Technology
consisting of
noise dampening chambers
encased in a fluted shroud surrounding the rifled steel barrel. A lot of the noise produced by break barrels comes from the spring piston powerplant and not much can be done about that, but this keeps the report of the gun quiet. We'll come back to the 10X Quick-Shot Rotary Mag System, so let's move onto the durable all-weather synthetic stock which has the smooth slim lines we are used to seeing on Gamo's break barrels. Gamo has added fine stippling on both the forestock and grip to keep your hands from slipping even when wet, making the gun very comfortable. Although the stock is synthetic it doesn't have the hollow sound that some cheaper stocks often have and it exudes quality. The raised Monte Carlo cheekpiece is ambidextrous and ensures a good cheek weld even with the high scope mounts you'll need to clear the magazine.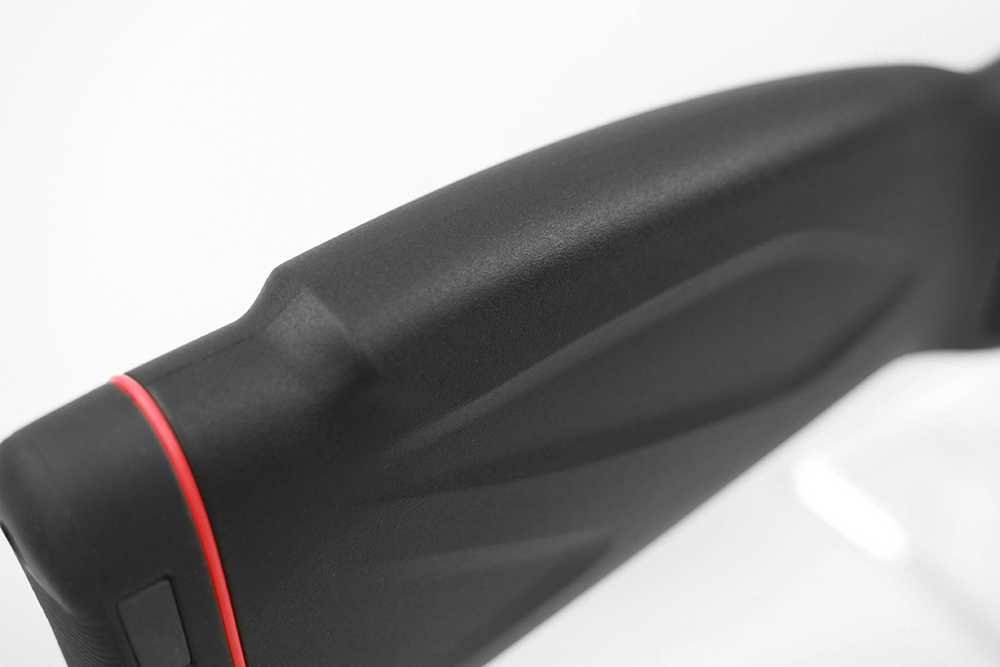 Between the stock and the butt pad you will find
Gamo's Proshot ID System
: on the .22 it is a green band marking the gun for small game hunting, while the red band on the .177 tells you it is for pesting only.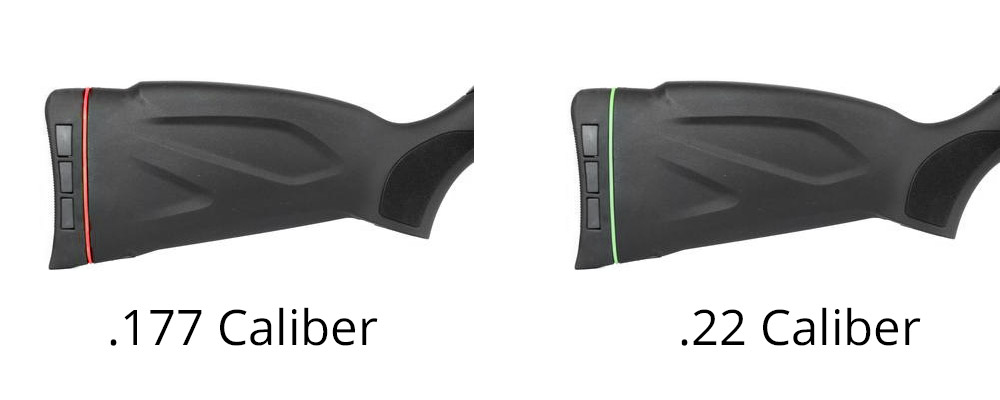 Gamo claims that their
SWA, or Shock Wave Absorber butt pad
reduces felt recoil by up to 74% and while this is hard to judge we can say that the gun has very little kick to it, the butt pad stays in your shoulder with very little pressure, and the gun won't slip when you lean it in the corner. Mounted on the 11mm dovetail scope rail is Gamo's
Triple R, or Recoil Reducing Rail
which they claim
reduces the recoil
to the scope by 99% while not affecting accuracy, and while we can't measure its effect on recoil, we can say it doesn't hurt the accuracy! It also has two machined holes for scope stop pins. Gamo had to cut corners somewhere to get this gun to you for $200 and they did it with the scope. Of course, we are glad they included it because it gets you shooting, but most shooters will want to upgrade as soon as they get a few shekels squirreled away.
The scope is a 3-9x40
, but the parallax is not adjustable and is set at 25 yards so if you want to shoot closer than that you'll have to keep the power low and if you want to shoot too much further you'll be doing a bit of guessing and praying. But, like we said, it will get you shooting, and at around 25-35 yards it is just fine. People have been asking
if you see the magazine through the scope and the answer is no.
But if you mount a red dot you will see it without upgrading to high rings.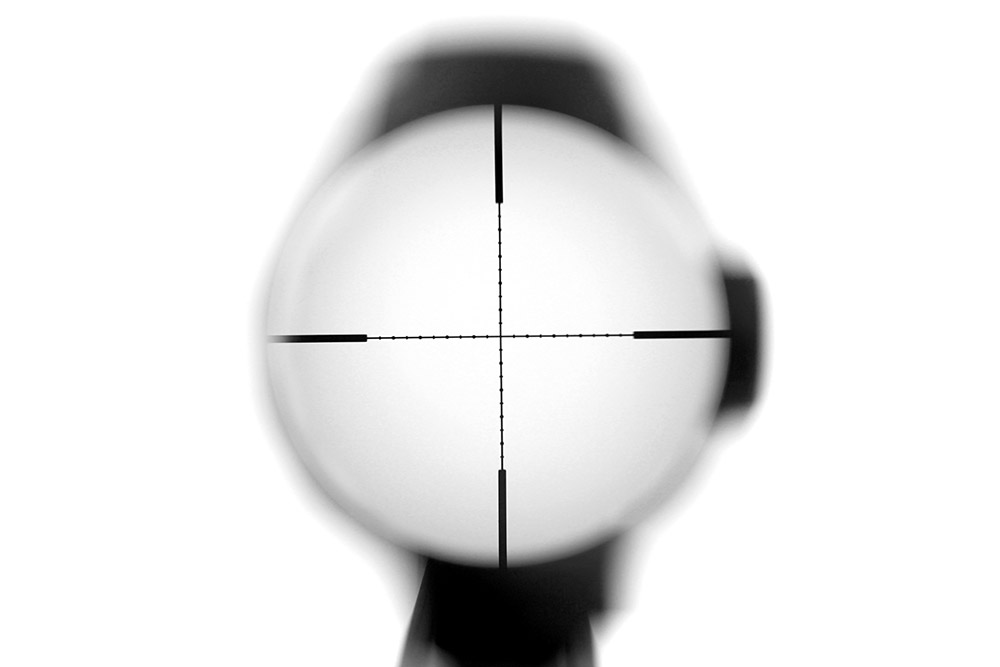 Note that when you upgrade the scope you will have to get a fairly compact replacement as there isn't a lot of room between the magazine and the rail. UTG has a number of scopes that will work like the
UTG Compact
or
UTG BugBuster
.
CAT, or Custom Action Trigger
, is better than we have any right to expect on a gun of this price. It is
adjustable for both first and second stage travel
, and with an average pull weight of 2lbs 9oz it is just right for hunting and fine for target shooting. We liked the trigger right out of the box, but your mileage may vary and if you want to adjust it the manual walks you through the process. The trigger has three holes in it adding a bit of sexiness, and while it is plastic, you'll will appreciate it when you are out hunting in the middle of winter and your buddy's finger is freezing on his metal trigger. It has a manual safety so you are in charge of your shooting.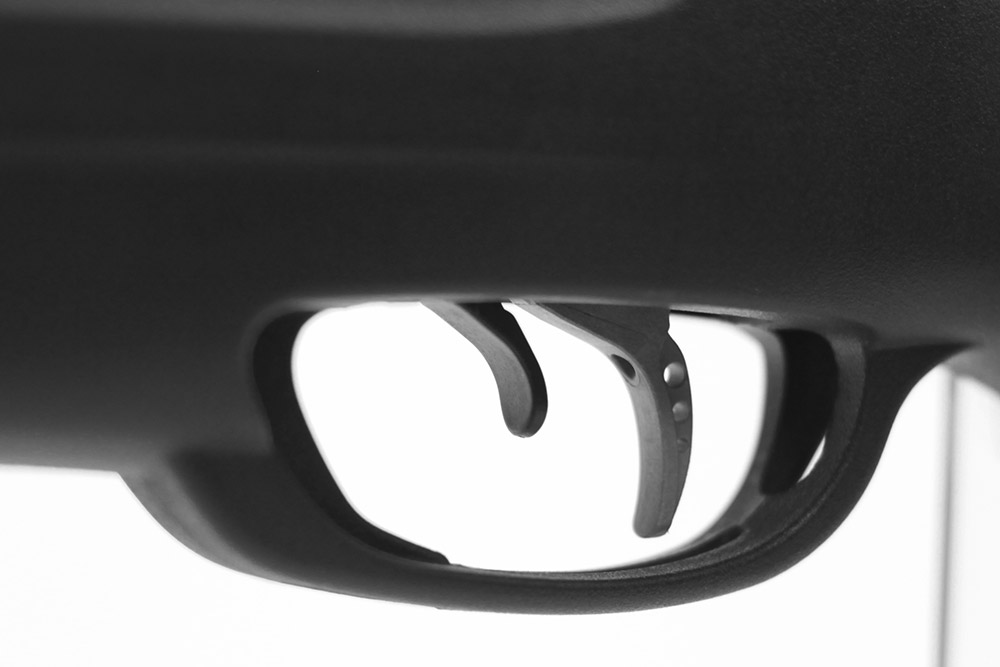 Gamo's IGT, or Inert Gas Technology Piston
won't lose power in the cold like a coiled spring powerplant will and it provides a smooth shooting experience with plenty of power and no buzz, twisting, or twang. The firing cycle is so smooth, in fact, that a couple of times while shooting copper coated ammo we could actually see the pellets flash through the air! The gun is relatively easy to cock, taking only about 30 pounds of pressure.
Multi Shot Break Barrel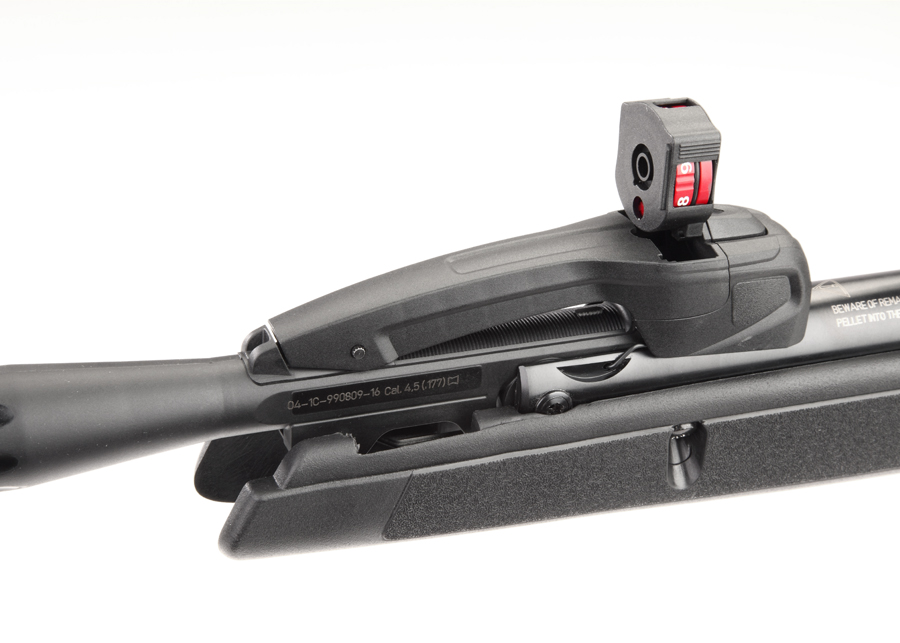 And now we get to the part you've been waiting for, the
10X Quick-Shot Rotary Mag System
. We have been blown away by how fun it makes shooting this gun. It looks like a Gamo but it shoots like nothing else in the world! The magazine
holds 10 shots in either caliber
and it loads very easily, just turn the magazine and pop the pellets in. If only all PCP magazines were this easy and reliable!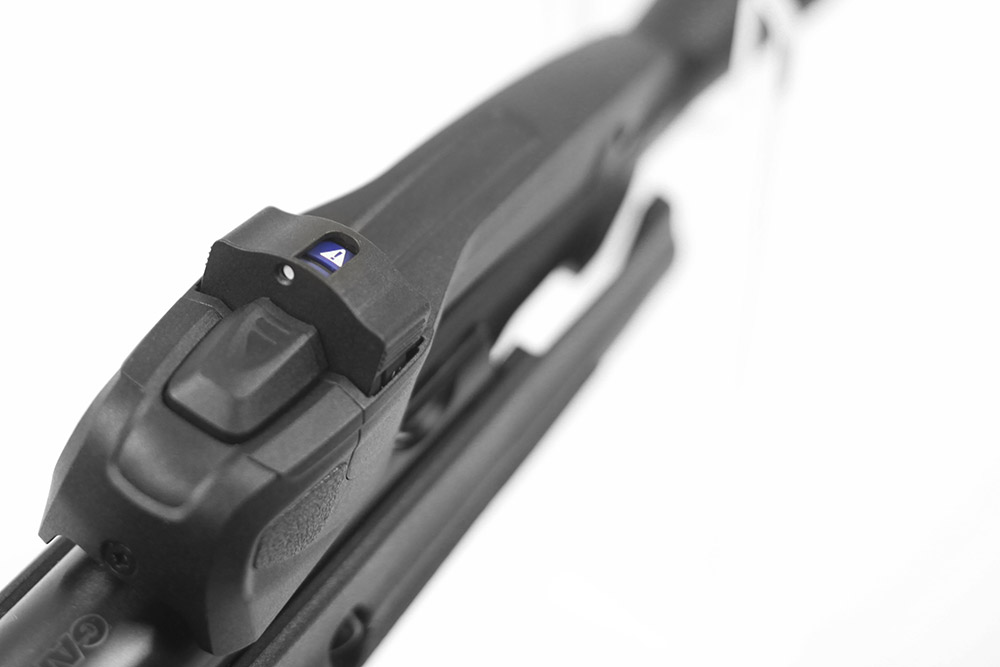 The top of the magazine tells you how many pellets you have loaded and gives you a warning sign when you are down to your last shot to keep you from dry firing it. We have put hundreds and hundreds of pellets through it and it has fed without any hesitation, although we did notice in the .177 that if the pellets were too short they ran the risk of falling out of the breech after they were loaded. We recommend picking up
spare magazines
because they are priced very reasonably and you'll burn through ten shots pretty quickly!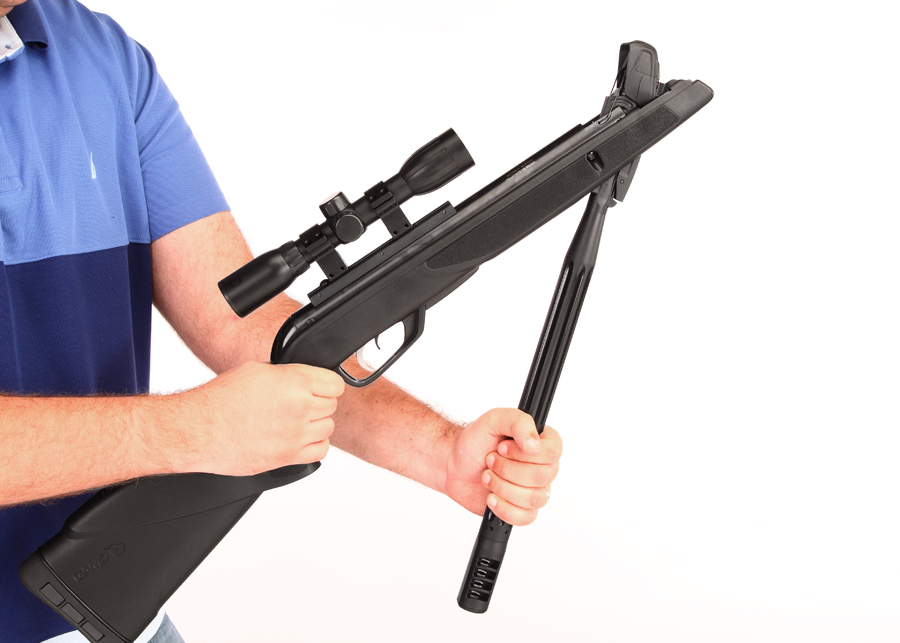 Now, what does the 10X Multi Shot System mean in practical terms? The fastest that our team has been able to load and shoot a typical break barrel airgun ten times is just over 50 seconds, while we have been able to fire the Swarm Maxxim ten times in just 22 seconds! (We weren't aiming very carefully!) But these numbers don't tell the whole story; they can't describe how much you'll appreciate not having to fumble in your pocket for a pellet each time you shoot, and hunters will recognize the value of a quick follow-up shot. In the unlikely case that you break the 10X system, don't worry, you can get a replacement from Gamo and in the meantime, you'll just be back to single loading.
Accuracy, Shot Counts & Shot Performance
The big question now is
is it accurate? And yes it is!
Keep in mind that these are powerful springers and are very light so you'll need to practice your artillery hold, but with a bit of practice you should get good results with a variety of pellets. We spent most of our time with the .22 and we found that in general it shot JSBs well, but when we tried the
JSB 18.13 Heavies
at 25 yards, halfway through the group we were holding our breath because five pellets had gone into virtually the same hole! The
ten shot group
ended up at .67 inches or 17mm measured center to center. We know of springers costing a lot more that would be proud of that!
very impressive: at 25 yards 9 out of ten shots went into .55 inches or 14mm
, with a flier opening it up to 1.65 inches or 42mm. Both of those are great pellets for this gun! When we took it out to 50 yards, the first five Predator GTOs went into about an inch and a quarter but
the scope wasn't up to the job
and by the end the ten shot group was about 2 inches across. With a better scope you should be able to get groups around an inch to an inch and a half at fifty yards. We didn't find a pellet that the .177 really liked so its groups were a bit larger.
will shoot up to 1300 fps in .177
with the lightest alloy pellets, although you will want to use heavier pellets to keep the velocity down around 800-950 fps. The
.22 will get up to 975 fps
with the lightest alloy pellets. In our tests, it shot the 11.75 grain Predator GTOs at 790 fps and the JSB 18.13 Heavies at about 590 fps. But keep in mind that we are shooting at almost 5000 feet of elevation so your numbers should be about 15% higher than ours. To sum up,
the Gamo Swarm Maxxim air rifle is accurate, affordable, powerful, and it's a freakin' repeating break barrel!
If you are looking for the best value around, the Swarm should be at the top of your list. And if you have a
powder-burning buddy
you are trying to get into airguns but he or she doesn't want to shell out the money for a PCP and isn't convinced by single-loading springers, make sure they take a long look at the Gamo Swarm Maxxim! Do you have a Gamo Swarm Maxxim air rifle? Once you've put some lead downrange, leave your comments below and tell us how you like it!
A Multi-Shot Break barrel
The Gamo Swarm Maxxim is a break barrel air rifle that features all of Gamo's technology including IGT for sound suppression and SAW recoil pad to reduce recoil. All of those features are nice, but the real mouthwatering feature of the Swarm Maxxim is the multi-shot magazine. We ran it through some tests and not only does it work, it works great! The 10X Quick-Shot Rotary Mag System works smoothly and if you ever need a quick follow up shot - the Gamo Swarm Maxxim is the break barrel you want to have.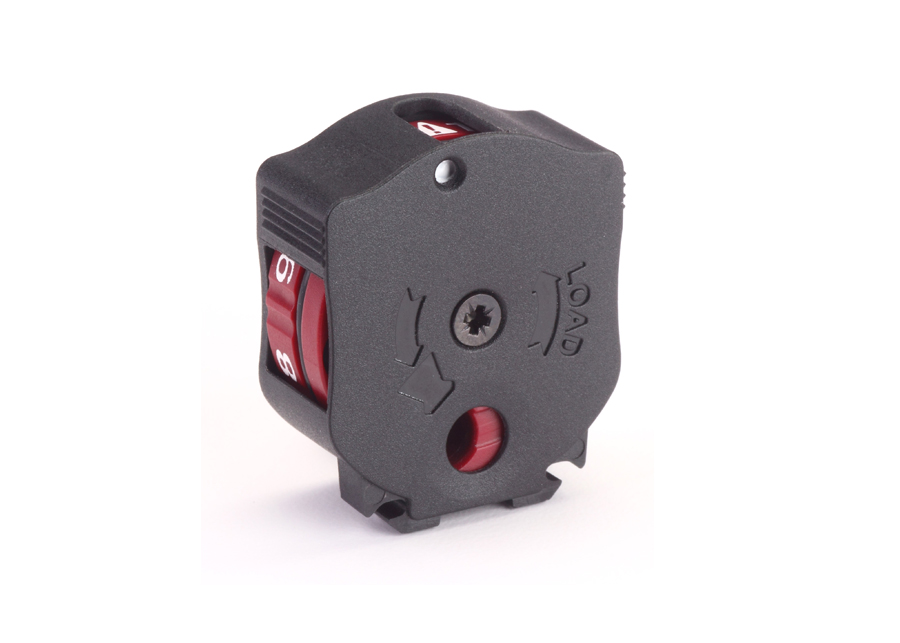 Discuss