Known for extremely realistic replicas, Umarex has just released their newest addition. The Glock 17 CO2 BB gun is almost a dead match to it's firearm counterpart, with realistic blowback and magazine ejection. Capable of throwing all 18 rounds downrange at velocities up to 365 fps, which makes it great for a backyard plinker or realistic training tool. The exclusive Black Ops kit includes the pistol, an extra magazine, Hornady Black Diamond Steel BB's (1500 ct.), and a Umarex Nylon Holster!
Umarex Glock 17 Gen 3 Black Ops Comobo Features
Blowback action slide
Drop-free metal magazine
Authentic replica right down to controls
Fixed white "U" shaped GLOCK™ style rear sights
Fixed white dot front sight
Full metal slide
Powered by (1) 12g CO2 capsule in magazine
GLOCK™ rail
Fits duty holster
Combo Includes: Glock 17 BB Magazine, 18rd, Hornady Black Diamond Steel BBs, 1500ct, Umarex Nylon Holster
Specs
Manufacturer

Glock

Caliber

.177

Velocity

365 fps

Condition

New

Ammo Type

Pellets

Action

Semiautomatic

Barrel Style

Smooth bore

Fire Mode

Repeater

Gun Weight

1.50

Overall Length

7.75

Barrel Length

4.00

Loudness

3-Medium

Mechanism

CO2

Rail

No

Safety

Manual

Front Sights

Blade

Rear Sights

Fixed

Shots per Fill

0

Trigger Adjustability

0

Trigger Action

Double-Action

Use

Plinking/Fun

Warranty

90-day limited warranty
Reviews
Average Customer Review
3.8
4.0
5 Reviews
4.0
By Mark
November 9, 2023
Pros
Realistic feel compared to the real deal. One of the most accurate BB gun out of the many that I have. Good power for 5-6 mags. Contrary to others you can field strip but not the same as a real glock. It involves removing a specific pin to remove the slide. You can actually strip it all the way down if you want by removing 2-3 more pins but you have to do it in a certain direction and be very cautious if you want it to work properly upon reassembly. This replica is also 1mm wider than the real thing fyi. Partial blowback gives it somewhat of realistic feel and I like that part. Good enough for me to practice with instead of money spent on ammo. Havent had any problems except an issue with one of the two magazines I have. Dont over tighten the co2 or youll break a pin holding it together. Overall I like the gun and have killed many mice with it that have invaded my dwelling.
Cons
Make the magazine one piece to avoid failure. Like others have said the trigger is the worst part of the gun and the slide is a bit sloppy.
1.0
By Adam
USA
May 11, 2022
Verified Purchase
I'd avoid this purchase. Upon pulling it out of the package I was immediately regretful of this purchase. Slide is sloppy and rattles plus poor finish. Trigger is the worst trigger I have ever felt on a airgun or even an airsoft gun! That's right a $10 plastic airsoft pistol has a better feeling trigger. The holseter does not even fit the extra mag so you cannot velcro the strap down it is short by a half inch from even toching whete it needs to be.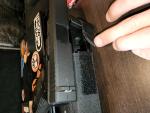 Pros
Velocity seems decent. Holester is not bad other than it does not fit the spare mag.
Cons
Came with free wear marks on the top of the slide! They grind the rear sight out in place on the slide. Just about everything is poor quality; trigger, slide, holster, and it does not take down the way a glock does. Got this as a trainer for people for a real Glock 17. May as well of grabbed the cheapest pistol I could find. This is junk! Disappointed in Umarex and Glock!
5.0
By Tricia
February 3, 2021
Great choice
Pros
It shoots the best out of the ten BB pistols I have.
Cons
Sometimes it dose not shoot
5.0
By James
October 8, 2020
Pros
Great option to choose never had a problem with it. I've had it for around 6 months good size and weight feels and looks very real.
4.0
By William
USA
January 21, 2020
Great fun feels good and shoots ok..
Pros
With the two maids that come in this package you can work on mag drop and reloading. Very realistic.
Cons
Loads multiple bb if the user doesn?t know how the loading of a bb works. You can load multiple bb by not releasing the trigger completely..
Q&A
Question?
Login to ask someone who bought this product.
In the specs it says ammo type is pellets will they shoot BBs
asked Jonathon from USA
Does it come with c02?
asked Declan from Canada
Is this charged in USD? I cannot find that detail
asked Steven from Canada
The price is in US dollars.
Mark from USA
Does it field strip like original?
asked bob from USA
Do the mags fit standard mag pouches , i plan on using this to augment my duty traing.
asked Sgt. Cotton