Choose the Hatsan Hercules QE air rifle if you're looking for a quiet PCP rifle with great stopping power. With its high shot count, you'll get enough follow-up shots for whatever you're hunting. Shot noise is cut by up to 32% with the integrated QE technology sound moderator, and the ergonomic tactical stock delivers a comfortable shooting experience every time. Add a sling and you're ready for your choice of the range or a great day of hunting.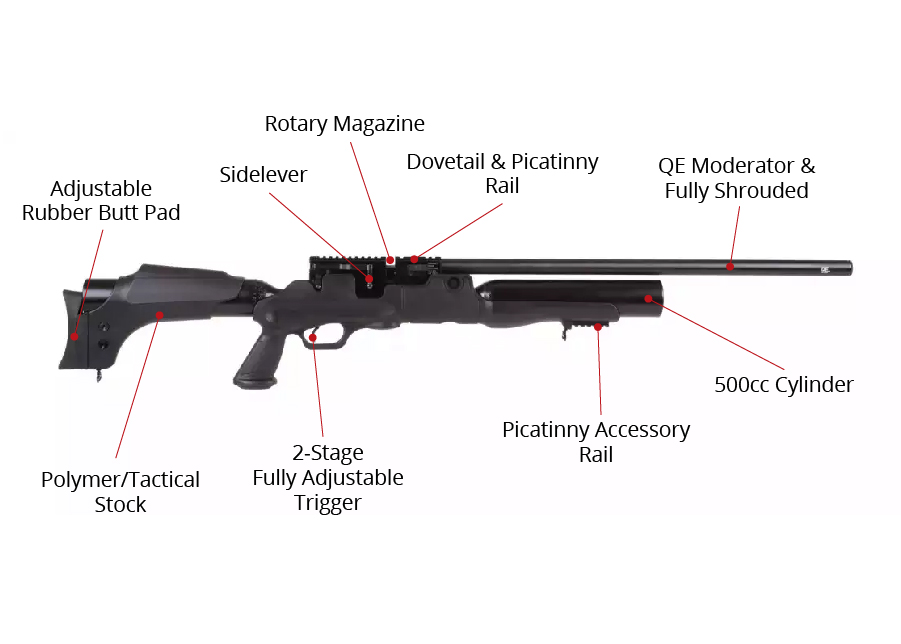 Hatsan Hercules QE (Quiet Energy) Air Rifle Features
Pre-charged pneumatic
Repeater
Magazine capacity: .177 cal = 17-rd, .22 cal = 14-rd, .25 cal = 13-rd, .30 cal = 10-rd, .357 cal = 9-rd, .45 cal = 7
Velocity with lead pellets: .177 cal = 1300 fps, .22 cal = 1230 fps, .25 cal = 1200 fps, .30 cal = 990 fps, .357 cal = 890 fps, .45 cal = 810
Quiet Energy Barrel Technology integrated sound moderator and fully shrouded barrel
Side-lever action
Integrated sling mounts
Anti-double-feed mechanism prevents more than one pellet from loading when gun has been fully cocked
Anti-knock system
Fill reservoir up to 250 bar
Advanced polymer, tactical stock
Integrated pistol grip
Adjustable rubber butt pad
Dual safety, manual and automatic
11mm/22mm rail
Black metal trigger
2-stage fully adjustable
Precision rifled choked barrel for accuracy
Built-in pressure gauge
Shot count at optimal velocity: .177 cal = 70, .22 cal = 65, .25 cal = 62, .30 cal = 51, .357 cal = 48
Muzzle energy: .177 cal = 32.5 fpe, .22 cal = 49 fpe, .25 cal = 64 fpe, .30 cal = 97 fpe, .357 cal = 142.5 fpe, .45 cal = 225
Detachable rotary magazine
Weight: 13 lbs
Includes quick-fill nozzle, two rotary magazines and two 500cc air cylinders
Specs
Manufacturer

Hatsan

Caliber

.30

Velocity

1070 fps

Condition

New

Ammo Type

Pellets

Action

Sidelever

Barrel Style

Rifled

Fire Mode

Repeater

Gun Weight

13.00

Overall Length

48.40

Barrel Length

23.00

Loudness

4-Medium-High

Magazine Capacity

10

Mechanism

Pre-charged pneumatic

Rail

11mm dovetail

Safety

0

Front Sights

none

Rear Sights

none

Shots per Fill

51

Trigger Adjustability

Two-stage adjustable

Trigger Action

0

Use

Hunting

Warranty

1-year limited warranty
Reviews
Average Customer Review
4.7
4.5
7 Reviews
5.0
By christopher
USA
March 13, 2018
nmI have the Hercules in .357, and it's absolutely phenomenal. Rick in Florida on Ebay casts and sells some 97 grain heavy pellets (as opposed to JSB 81 grain) and they are hands down the most accurate ammo I have found for this rifle. The JSB is good! But....the 97's are perfect. 81 grain does high vel. of 897-903 for 142 fpe. That's about the ad rating. But, it cycles 105 grain flat point slugs that the same guy aforementioned casts, and they produced 817 fps for 168 FPE!!! The 82 grain hollow points he has are an accurate ammo as well, and are great for hunting. I've taken down 6 crows in the first month owning it. The weight deserves a mention, and i remember a time looking at big bores when I totally overlooked this rifle for that reason. However, you really don't notice it after a while, and I do believe that it contributes to the accuracy by absorbing recoil and barrel rise when fired. I DO NOT know how they offer this rifle in .25, much less .22!!! You'd have to shoot slugs to stay under the sound barrier. I've heard the .30 does over 1,000 FPS. Hatsan is good for their velocity claims with real, down to earth lead pellets. I also own a Yong Heng compressor that cost me $355 on Amazon and has auto-stop. Fills it in 3 minutes after 20 shots. Believe me, you will need it. The gauge goes to red at a claimed 250 BAR, but I've found that filling it to the middle of the narrow red zone on the gauge gives me two magazines at full velocity with only a 10 FPS spread (887-897 with 81-grain JSB's) That's (18) FULL POWER shots in .357/9mm!!! That is quite a task! The dual bottles work together to balance the air delivery and really, this is an ingenious piece of equipment. One other thing I've noticed is that once you zero it, it "holds" zero better than any airgun I've ever owned, barring maybe my .2nd generation 22 Marauder. I know I can pick it up, and it will hit anything I want, anytime!!
Pros
POWER ACCURACY CONSISTENCY AND SHOT COUNT DUAL-ACCOMMODATING SCOPE MOUNT, PLUS PICATINNY UNDER FOREARM COOL FRIGGIN PISTOL GRIP, REALLY HELPS!
Cons
AIR CONSUMPTION PRESSURE REQUIREMENT (250 BAR) WEIGHT ALL CAN BE OVERLOOKED OR WORKED AROUND; IT'S A BEAST!!!!!
5.0
By Muan
USA
June 1, 2017
Heavy But Effective This Gun Is Awesome
5.0
By John
USA
December 2, 2016
This gun is amazing I get quarter-size grouping 50 yards and very powerful I can't say anything bad about this rifle I just love it very powerful and accurate
Pros
Very powerful and accurate use the Dome pellets
Cons
Grizzlies are not very accurate pellets
4.0
By William
USA
August 25, 2016
Well, it seems that just when I think Hatsan couldn't (and wouldn't) possibly put out a heavier air gun, sure enough, they do - and they call it a hunting gun, too! This gun is a hunting gun like my aunt Polly had the change and became my uncle Joe! Since it comes with no sights, you will have to mount a scope, and because it is so heavy (13 pounds, out of the box) you will need to mount a bipod, too! That will easily bring the total weight of this Monster to well over 15 pounds! It won't be an offhand shooter that you will find comfortable. It comes in six different hard hitting calibers, which will certainly qualify it as a gun powerful enough for hunting, but those who will find it easy to field carry will be few in number and far between! No, this gun will not be your first choice as a hunting weapon, but might find a home as a long range bench rest gun with few others that will equal it's potential performance for excessive distances. In lesser calibers, after finding the right heavy pellets for your particular choice of gun (to tame the high velocity that the lower calibers can be expected to present), the .177 cal., the ,22 cal., the ,25 cal., and maybe the .30 cal., pellets will most probably group very well and continue to hit hard at distances equal to, or greater than 100 yards! I think the .357 cal., and the .45 cal. will be too expensive, and not as accurate as the lesser calibers, thus, unless you have a way to hunt comfortably using those larger calibers, you might stay away from those versions. I wonder, too, why Hatsan recently put out the Gladius, a ligher weight, better balanced, high performance gun with extra features and a power wheel, but left out the power wheel on the Hercules, while charging more money for the Hercules, with the only betterment that I see being the larger air containment? No doubt there will be those who will disagree with this review, but I just received my own Hercules yesterday, in .25 caliber, and have not yet shot it. A cursory review, and some you tube videos are what I base my opinions on. In any case, when outfitted, this gun is the heaviest gun of any kind that I have ever owned, and I have owned many hundreds of guns over the last 65 years
Pros
Accurate; hard hitting; large air reservoir; multiple choice of calibers.
Cons
Excessively heavy! Not particularly adapted for marketed usage (as a hunting gun). Although it does have the power to be one, the weight of the gun takes away the probability that you will find it pleasurable to shoot it as a hunting weapon. Cost is high in respect to the standard Hatsan usual price point and market. This gun is already being marketed by some sellers with a package of extras that takes some of the edge off the base pricing of the gun alone that waivers right around $1,300.00.
5.0
By Arturo A.
USA
August 8, 2016
Got it on .22. Heavy but well balanced. Plenty of shots oer fill. Very quiet. Needs heavy pellets (18gr and over) to get the best out of it. Love this gun. Way too powerful and accurate.
Pros
Power, accuracy, shots per fill
Cons
Weight
5.0
By kenney
USA
August 6, 2016
i purchased this gun in 30cal, and was blown away by the power it has, i have done a full exstensive review on my youtube channel (southern Gunner) you wont be dissapointed with this gun. check out my channel for the hands on review
Pros
everything
Cons
none i see
Q&A
Question?
Login to ask someone who bought this product.
The 357 model hatsan qe, what is the maxim kill range for, deer and hogs, and what is your thoughts on this gun over all, I'm new to this as far as airguns , but I want to get a good all around rifle , for hunting
asked Charles from USA
First. The Hercules is 13 lbs. This is going to be a very heavy rifle with a scope. Your effective range is out to 90-100 yards.
Mark from USA
What do I need to fill it I have a air compressor at home is there a fitting fro compressor to gun? Hose? Please let me know. Paul
asked Paul
how far will this rig ruin the woodchuck in my garden . I e how close do I half to be ?
asked Peter Fischer
can I use any grain of .357 pellet on this air rifle?
asked jose
hello. How can ı increase power? Please help me
asked burak yasan
How many total shots per fill in the 0.45 caliber?
asked Francisco Briseno
Can the round balls and Grizzly pellets be shot with the HATSAN HERCULES 357 (9MM)
asked Sanjay from USA
What is the recommended amount for hatsan hercules 45
asked Bob Larkins