The Legends M3 Grease Gun takes a classic .45 cal warfighting submachine gun and turns it into an incredibly authentic airgun copy that gives you almost identical look and feel when compared to the original. It's based on the later M3A1 variation and let you shoot at speeds up to 450 fps with a rate of fire of 1025 BBs per minute, so you can experience what these guns are like without having to go through the expense and hassle of trying to find a real steel model.
One of the first things you'll look for if you're an enthusiast is the flip open dust cover and the hole in the bolt that you use to cock it, and both of those features are included on this airgun. That's the main upgrade over the original M3, and it means you don't have to worry about a crank cocking lever.
With this version, you just put your thumb in the hole to cock the bolt, and then either hold the trigger down, or pull it as fast as you want, depending on whether you have it set to full auto or semi auto. Plus, the gun features blowback action, a drop free stick magazine, and a collapsible wire stock to give you a look and feel that's very close to the original version.
This airgun uses two 12 gram CO2 cartridges, and you'll get to shoot about 120 BBs (4 magazines) on fresh cartridges. For sights, the Grease Gun uses a fixed blade front sight and a fixed peep style rear sight.
If you want to find out what it's like to use a gun from history in an affordable full metal CO2 version with the same features as the firearm model, get a Legends M3 Grease Gun at Airgun Depot Now.
Legends M3 Grease Gun Features:
.177 cal
450 fps
Semi auto or full auto
Blowback action
Full metal
60 round drop free magazine
About 120 BBs (2 magazines) per full CO2 charge
Rate of fire: 1025 BBs per minute
3 position manual safety
Peep style iron sights
Flip open dust cover
Collapsible wire stock
Thumbhole charging slot on bolt
Uses two 12g CO2 cartridges
Specs
Manufacturer

Umarex

Caliber

.177

Velocity

450 fps

Condition

New

Ammo Type

BBs

Action

Semiautomatic/Full-auto

Barrel Style

Smooth bore

Fire Mode

Repeater

Gun Weight

7.70

Overall Length

29.80

Barrel Length

8.00

Loudness

3-Medium

Magazine Capacity

0

Mechanism

CO2

Rail

No

Safety

Manual

Front Sights

Post

Rear Sights

Adjustable for elevation

Shots per Fill

120

Trigger Adjustability

0

Trigger Action

0

Use

Plinking/Fun

Warranty

1-year limited warranty
Reviews
Average Customer Review
4.8
5.0
15 Reviews
5.0
By Rand
January 28, 2023
Verified Purchase
Pros
Looks and feels like the original I had the opportunity to use many years ago. Also like the detent for the magazine follower, it makes reloading much easier, it should be included on the MP-40 mags.
Cons
Haven't had a chance to shoot it yet so can't think of anything. It would look more natural with a "weathered" finish
4.0
By Douglas Bonoff
January 27, 2023
Verified Purchase
Don't overload the mag- half-full max
Pros
It's an older model, finicky with advancing rounds, but perhaps getting more consistent after additional break-in tests.
Cons
Give it the carbine sling
5.0
By Harold
January 9, 2023
Verified Purchase
I carried the M3 in Vietnam. Bought it for $50. Was my favorite weapon because of size and versatility. Many have said it needs adjustable sights but the M3 wasn't made to drive tacks but spray the area and lay down cover. The M3 A1 replica is a little different than the M3 (Charging handle for one) but this is a great gun.
Pros
So close to original that the adjustable stock has the built in barrel removal wrench and hand loader magazine assist. Most replicas do not have these features. Long wait but worth it. Glad to finally get it.
Cons
Would be nice if it sold for the original price of $15 USD.
5.0
By Patrick
January 8, 2023
Verified Purchase
Pros
Both feel and function are satisfying. Exploring the evolution of the actual weapon and the opinions of users learning to appreciate its efficacy, edifying. The Umarex "Legend" Series Replicas are rounding out my WWII Collection.
3.0
By ronald
January 8, 2023
Verified Purchase
Pros
Pure fun to shoot.
Cons
A lot if sharp edges. Cut myself on a couple.
5.0
By Burk
USA
January 8, 2023
Verified Purchase
Pros
Have been waiting for a M3 replica for quite some time. This was worth the wait. Its winter in Wyoming so just a couple of mags and back inside but wait until this summer. Sure puts a grin on the face of anyone letting go a burst.
Cons
Right now too much fun to come up with any cons.
5.0
By Greg
January 4, 2023
Verified Purchase
Having carried the Greasegun as a tanker (74-78), I got to know the real deal very well. The UMAREX Legend M3A1 is so spot on that when pulling it out of the box, old memories of carrying the Greasegun both in Germany and Korea flooded back. It felt as though I just picked up the weapon from the arms rooms out of 2/66 Armor 2AD, and 4/7 Cav 2nd ID ! You will NOT be disappointed.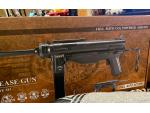 Pros
Unbelievably near authentic, couldn't believe this was a BB subgun.
Cons
Nothing.
5.0
By George Holt
January 1, 2023
Verified Purchase
This particular gun is a plinker and a replica of the original!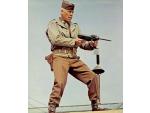 Pros
Very well made Airguns, very close to the real deal!
Cons
Only one thing I would change, instead of it being made in Taiwan, you would probably sell more of them if they were made in the US, thats my opinion! But being that I purchased Two, to me they are US made, a lot of US vets have used these in different campaigns!
5.0
By Jack
December 18, 2022
Verified Purchase
Great piece for history buffs.
Pros
Weight and over all appearance are as close to original Guide Lamp & Ithaca stamping as can be. Good job Umarex Sure brings back 60 yrs. ago in the service.
Cons
Sadly it does not use 45 ACP for it's ammo.
5.0
By Tom
December 14, 2022
Verified Purchase
The legend series is about as close as you can get to the real thing and you get a lot for the money.
Pros
Made of steel very realistic look and feel. Weight is very close to the real thing. Cyclic rate is slower than the Thompson. The Thompson is more fun to shoot but M3 is more controllable. Magazine holds more bbs than Thompson so lasts about twice as long on full auto. Thompson is very cool but does not look or feel quite as real as the M3. Both are great and you will not be disappointed.
Cons
The gun can fire with the top cover closed. Magazine is a tight fit and sticky. Non realistic safety on underside of gun.
Q&A
Question?
Login to ask someone who bought this product.
When is available?
asked Lee from USA
How and at what shop can I find the correct sling? (NOTE. I was issued one in Force Recon, USMC)
asked Force Recon-USMC from USA
M1 Carbine sling was what was initially issued per my research (along with the same oiler in the handle for this model - unsure if the Umarex allows access - on the side for the earlier model that had the cocking handle). They can be ordered on a ton of places online - run a search like "m1 carbine sling for sale"
Timothy from USA
Is this gun are the real gun or just for game
asked John Griffin from Papua New Guinea
You forgot about the part; ...."and you'll shoot your eye out ! "
DAVID from USA
This is a .177 caliber bb gun, it is used for shooting targets only. Shooting people or animals with this would be cruel, it would hurt small animals severely and cause significant pain, the same goes for people.
Jeffery from USA