Bearing all of the standard markings and trademarks you would find on the real steel XDM, the airgun replica has no shortage of features. Picking up this replica XDM is likely to make you question whether or not you're holding the real thing. Every detail of the firearm has been transferred over to this air pistol, including the grip safety, ambi mag release, striker status indicator, slide stop, trigger safety and even the takedown lever! The 20 round, drop free magazine has a heft that feels good in the hand. Install a single 12 gram CO2 cartridge, load up your BBs and blast away! The full blowback action of the slide with each pull of the trigger is strong, providing a realistic recoil sensation that is sure to get your attention. And once you've fired your last BB from the magazine, the slide locks back, letting you know it's time for a reload. Firing steel BBs at speeds up to 325 fps and achieving 70 shots per CO2 cartridge, the XDM is bound to provide hours of airgun enjoyment.
Springfield Armory XDM 4.5" BB Pistol Features
Metal Slide - Black
Rugged Polymer Frame
Full Blowback
Interchangeable backstraps (small, medium, large)
Field Strips just like the real steel XDM
Functional grip safety
Funcitonal striker status indicator
Operates on (1) 12 gram CO2 cartridge
20 rd. drop free magazine
Ambidextrous magazine release
Functional slide stop lever
Functional trigger safety
Manual lockout safety
Red Fiber Optic Front sight
Two dot rear sight
Picatinny accessory rail
Specs
Manufacturer

Springfield Armory

Caliber

.177

Velocity

325 fps

Condition

New

Ammo Type

BBs

Action

Semiautomatic

Barrel Style

Smooth bore

Fire Mode

Repeater

Gun Weight

1.90

Overall Length

8.00

Barrel Length

4.50

Loudness

3-Medium

Mechanism

CO2

Rail

No

Safety

Manual

Front Sights

Fiber Optic

Rear Sights

Fixed

Shots per Fill

70

Trigger Adjustability

0

Trigger Action

0

Use

Plinking & target practice

Warranty

90-day limited warranty
Reviews
Average Customer Review
3.3
3.0
4 Reviews
5.0
By Carter
USA
April 13, 2023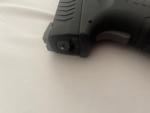 Pros
This bb gun is amazing, I have the real version and this thing is identical. It has great power and the blowback is super realistic. Would totally recommend if you are looking for a realistic bb for the money.
Cons
The only con is there is a tiny rattle but it is nothing noticeable and only happens when you shake the gun really hard. The glock 17 gen 4 bb gun has way more rattling.
2.0
By Courtney
July 28, 2021
Pros
The weight and feel mirror the original one. Bought two for practice when we can't get to the range. Love the look and feel. Very cool to find exact replicas. Kudos to the design team.
Cons
We had to buy our own tap and dye to fix the CO2 caps. (We almost lost an eye). The follower immediately broke on both. Not enough power to flip targets rated for this pistol. Even though I want to love this pistol, it's shortcomings on functionality force me to not recommend this purchase. We don't use them anymore because everytime we do they disappoint, so they are money wasted.
4.0
By Jeff
USA
September 21, 2020
Pros
Great way to get some inexpensive trigger time in the house. I have a 5" XD Mod 2 and I bought this just for practicing. the weight and feel are very close. Plenty accurate at 5 to 10 yards. I actually ordered a second magazine it is so much fun to shoot.
Cons
The first one I received had some issues,that were quickly handled by Airgun Depot.
2.0
By Michael
Canada
August 9, 2020
The first one I bought had some lemon issues including the cross threading of the CO2 cap , subsequent purchase of new magazine with plastics follower snapped off almost immediately. Ordered a second one and treated it like a small baby and it still broke within 1000 shots. I would think long and hard about buying this and I like it so much I have thought about buying it for a third time.
Pros
This is my favourite 4.5mm BB pistol. The looks, the weight and feel. The fact that 30 rounds fit easily once perfectly placed in its double stack magazine. Big blowback, decent accuracy and power just a beautiful air pistol.
Cons
The trigger lead connection just snapped on my second one of these. Snapped in the exact same place on both guns. Just too big a quality issue to not affect the rating substantially.
Q&A
Question?
Login to ask someone who bought this product.
what is barell thread
asked Ronald from USA
Can this be dry fired repeatedly without ammo?
asked Phil from USA
You should NEVER dry fire ANY weapon if you expect it to function properly.
Douglas from USA
Where does the pellets go to be loaded
asked Sherry from USA
It shoots bbs, not pellets
Douglas from USA
Are you going to do a review video on this gun any time soon?
asked Jeff from USA
Is it normal if the mag doesn't puncture the CO2 cartridge well? Not only that, the cap bumps out when screwing it back, thus making it hard to remove or place the flap.
asked Jd from USA
Does it locks back when no more ammo?
asked Liviu
Where dose the co2 go?
asked Ashton
Under bottom plate of mag under CO2 cap.
Joseph from USA
Is this a airsoft gun or a pellet gun?
asked Royal
How many mags come with? Can I buy extras?
asked William from USA
Comes with one and spare mags are available for purchase but the new ones with the improved follower tab are not in stock yet according to AGD rep.
Joseph from USA
Do you know if the pistol will be delivered in a box or a blister pack?
asked David Blair Pmb from USA
Cardboard box
Joseph from USA