This is the exact same set-up that Cameron from TWANGnBANG uses and reviewed on his channel. This includes the incredibly powerful .50 cal Dragon Claw II PCP air rifle, a 6 pack of .50 cal Air Bolts and a 3-9x32 Bug Buster IR scope. A perfect scope to pair with the Air Bolts as you?ll never be hunting farther than 50 yards out so this 3-9 power is perfectly matched for Air Bolt hunting. And with the illuminated reticle it will help with your target acquisition in low light. Truly a hunters set-up, it's the Dragon Claw Twang N Bang Air Bolt Combo.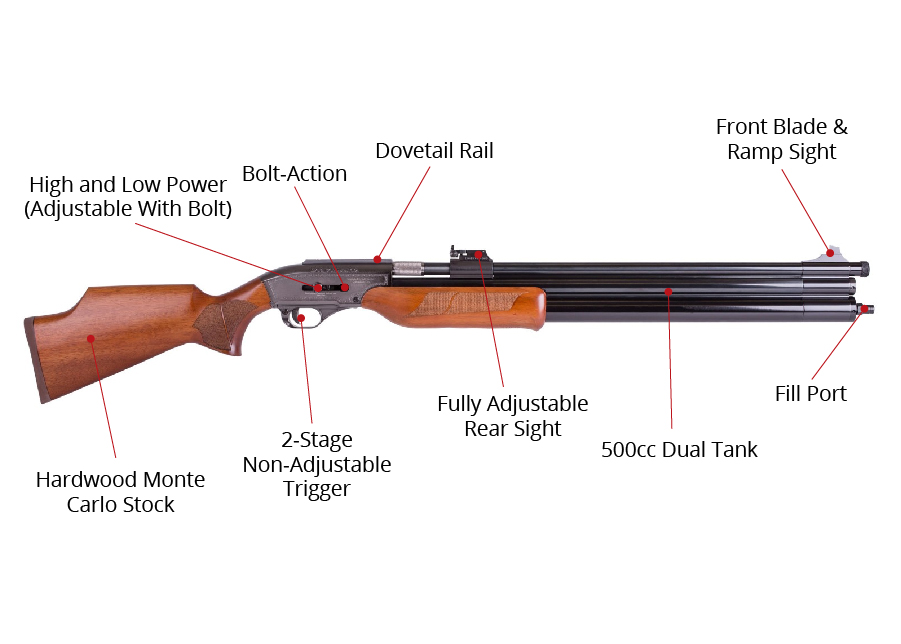 Seneca Dragon Claw II Twang N Bang Combo Features
Includes 6 pack of .50 cal Air Bolts ($120 value)
Includes UTG Bug Buster IR 3-9x32 AO Scope & Rings ($100 value)
Single-shot
500cc Dual Air reservoir chambers
3,000 psi max fill pressure
2 power levels (first bolt stop is low power, second is high)
Hardwood Monte Carlo stock with checkered forearm & grip
Specs
Manufacturer

Seneca

Caliber

.50

Velocity

860 fps

Condition

New

Ammo Type

Pellets

Action

Bolt-action

Barrel Style

Rifled

Fire Mode

Single-shot

Gun Weight

8.50

Overall Length

42.10

Barrel Length

21.65

Loudness

5-High

Magazine Capacity

0

Mechanism

Pre-charged pneumatic

Rail

11mm dovetail

Safety

Manual

Front Sights

Blade & Ramp

Rear Sights

Adjustable for windage & elevation

Shots per Fill

0

Trigger Adjustability

0

Trigger Action

0

Use

Hunting

Warranty

1-year limited warranty
Reviews
Average Customer Review
4.8
5.0
5 Reviews
5.0
By lindsey
USA
November 28, 2019
Awesome gun
Pros
Way it shoots pellets and air bolts
Cons
Cocking heavy
4.0
By Scott
October 1, 2019
I like to know is this good for shooting shot shell like bird or squirrel shot?
5.0
By Bonita
USA
October 24, 2018
If you want a big bore this is it
Pros
It looks awesome , it shoots awesome, this gun is unbelievably powerful
Cons
None really, but if it weighed less that would be great
5.0
By Alex
October 20, 2018
Love everything about this gun
Pros
Shoots arrows!
Cons
The scope that comes with the combo kit is trash, may have just been the one I received but myself and 3 others who have been shooting rifles forever tried to sight it in and no matter if it's 10yrds or 50yrds the thing still patterns the area of a dinner plate. Now on the other hand the iron sights are deadly accurate.
5.0
By David
USA
July 8, 2018
Accurate and deadly!
Pros
Price. Craftsmanship. Accuracy. POWER!
Cons
None.
Q&A
Question?
Login to ask someone who bought this product.
What is a good upgrade on scope , need a compressor , and laser ? Shot shell for varment , birds ! Please recommend , mid price on compressor & !scope
asked Steven from USA
Do you sell Code: AGD-25008265 without a scope?
asked L. Scott from USA
What is the arrow speed in feet per second? Are the arrow points 8/32 tpi? What is the arrow weight? What is the tip weight? Thanks,
asked David from USA
Will this combo take down something as big as elk? If not then what can I expect from it? Thank you
asked Patrick from USA
I am ignorant when it comes to arrow firing pcp rifles. Can arrows be equipped with broadheads
asked Jim from USA
Are these legal in commiefornia?
asked Susan from USA
Do they only do big bore rifles or do they also do big bore pistols I'm looking for a air rifle with a side effect possibly 22 magnum doesn't really matter what kind of gun whether it be airsoft or whether it be a 22 handgun but it has to be 22 long rifle and 22 magnum if you know of a gun like this please let me know or if you carry anything like this please let me know
asked CEE from USA
I can't say conclusively that there are no big bore pistols, but I haven't seen any, and I have looked. I think the issue is the inability to get the FPS to make it practical for an air pistol. Even at .177 and .22, the highest FPS I have seen is at 700. As you go up to .30 and above. you're likely going to be at 400 FPS or less.
Sean from USA
Can I fire the Air Venturi Long Shotshells, #6 Shot from the Dragon Claw Dual Tank?
asked Dennis from USA
What fill port is on the rifle and what one do I need on my compressor?
asked Stephen from USA
Is scope good in grouping
asked John from USA
Does the air leak out of the tank
asked Michael from USA
Can this gun shoot bird shot shells?
asked ZACHARY from USA
To how many yards is the .50 caliber accurate with slugs, round balls and air bolts?
asked Wayne from USA
Whats the barrel thread size on the end of the Seneca Dragon Claw Dual Tank, Twang N Bang Combo
asked Anthony from USA
Can it be aired up with the normal 150 or 175 psi compressor? If not where can you air it up?
asked William from USA
No. The Dragon Claw operates at 3000 PSI. You have the option of using a 4500 PSI handpump (we sell them) a scuba tank (3000 PSI) a CF air tank (4500 PSI) or a 4500 PSI air compressor.
Mark from USA
Can you use a hand pump to recharge the rifle?
asked Michael
Yes, but it's not fun. From empty it took me about 45 minutes. To top off from around 2000 psi it takes about 10 min.
Evith from USA