The new Springfield Armory M1A Underlever pellet rifle was developed by Air Venturi and is a very accurate replica of the real thing. Featuring a fixed barrel, this underlever is on of the most accurate air rifles in its class. The weight of 9.9lbs wood stock is identical to the National Match firearm version, which just adds to the replicated design. The rear peep sight is adjustable for windage and elevation and it has a fixed front blade. The rifle is scopable via threaded holes on the left hand side that accepts a traditional M1A/M14 mount. With an extendable cocking lever, the 35 lbs cocking effort is much easier than one would expect and it does not affect the aesthetics of the rifle. If you're looking for a show piece to hang on the wall or an accurate pellet rifle, look no further than the Springfield Armory M1A Underlever pellet rifle!
Springfield Armory M1A Underlever Features:
Spring-piston
Extendable Underlever for added leverage while cocking
Single-shot
Up to 1000 FPS in .177
Up to 750 FPS in .22
Sliding breech cover exposes loading port during cocking cycle
Rifled steel barrel
Fixed Front Sight
Windage and Elevation Adjustable Rear Sight
Ambidextrous Hardwood Stock
Two stage trigger, non-adjustable
Manual Safety
Recoil pad with rubber insert
Anti-bear-trap safety mechanism
Faux bolt handle
Specs
Manufacturer

Springfield Armory

Caliber

.177

Velocity

1000 fps

Condition

New

Ammo Type

Pellets

Action

Underlever

Barrel Style

Rifled

Fire Mode

Single-shot

Gun Weight

9.90

Overall Length

45.60

Barrel Length

18.90

Loudness

3-Medium

Mechanism

Spring-piston

Rail

No

Safety

Manual

Front Sights

Blade

Rear Sights

Adjustable for windage & elevation

Trigger Adjustability

Two-stage non-adjustable

Trigger Action

0

Use

Small game hunting/plinking

Warranty

1-year limited warranty
Reviews
Average Customer Review
4.3
4.5
16 Reviews
5.0
By kenny
August 4, 2022
Verified Purchase
This is my 2nd one. First one was hinky. I didnt like how high i had to raise the rear peep hole post to zero it at 25yds..I Mounted a red dot and cheek riser/rest and its a great shooter now. However its a bit heavy thou. Im tore between the red dot site and the sure steady cheek weld of the open sites of the 2nd one. Ive since found out my first one has issues with saddle fit in the stock. Ive solved most of it but may remove more material for a better fit. LASTLY: keep your fingers away from trigger or cocking release when cocking. When cocking its possible to cock it without the trigger being set and all the spring pressure is on the safety catch! it will not release unless you put extra pressure on the cocking lever...then you can slowly ease the pressure off the spring...unless the trigger catches it, then it will operate normally. Trying to force the safety catch down with the spring pressure on it will at bet bent the lever or at worst break it off at its weld inte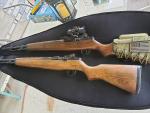 Pros
real wood stock. adjustable sights, powerful. Looks and feel like real McCoy. Mimics my 1945 M1 Garand closely
Cons
better fake flash hider set screw. OEM is too short...will strip out easy. Fake mag would complement it 100%
5.0
By kenny
July 14, 2022
Verified Purchase
Actually a tad bit oversized, compared to my 1945 M1 Garand. Keep your fingers away from the safety catch while cocking. Problems with the loose rear windage and elevation prompted me to add a scope mount, and a 30mm .4 moa red dot. Well then i needed a cheek riser/rest for the red dot. So bottom line is a pellet rifle worth of displaying and shooting. Zeroed at 25 yards gives you a re zero at 50-55 yards...then it starts dropping off after that. Ive hit targets as far as 60 yards (7-8in cookie tin) then even a 32oz sport drink bottle at 75-80yards aiming about 8in high. this is really just a kool adult size plinker thats just plain fun to shoot and show off. If your wanting super tight groups, then there are loads of air rifles with scopes that will out perform this one ...But not near as kool.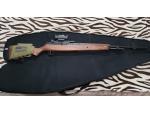 Pros
realistic weight, feel, hard hitting
Cons
hinkey front sight needs longer set screw. rear sight was kinda sloppy (loose) Stock is dry...needed multiple coats of BLO to darken, seal and put a bit of shine to it
5.0
By Bromhead
July 1, 2022
Great service from the airgun depot folks
Pros
Great - feels like the real thing. And looks lethal.
4.0
By Karl
June 19, 2022
Verified Purchase
Found a scope mount that works perfect and fits like a glove. The CYMA C40 Scope Mount Base for M14. The mount is solid billet and the thumb screws have the correct thread pitch. No mods required. I have tried a couple other mounts and this is the only one that fits.
Pros
Stable and accurate. Nice looking rifle
Cons
A little on the heavy side. If you have small hands it may seem a little bulky.
5.0
By Nathaniel
March 19, 2022
You can buy a mount to put a scope on the gun. A standard airsoft m14 mount should be fine they're around 20$
Pros
The gun just slides into your arms so nice. The weight and the wood are by far the best I've ever handled. And the sights being adjustable is an outstanding feature. For anyone wondering if you can mount a scope? Yes, yes you can. You just need to find an airsoft m14 mount and you're set from there.
Cons
After a bit of extensive use, the lever has a small issue staying clipped under the rifle. A minor unnoticeable issue.
4.0
By David Bighinatti
September 28, 2021
Verified Purchase
It's a keeper good value.
Pros
Air gun depot provided fast free shipping. Ordered the M1A late in the day Sept. 22. It was delivered 10 am on Sept. 26. The gun felt and looked like the real item. I know this because I have owned and shot the real M1A for the last 8 years. Excellent value for the money.
Cons
The only complaint that I can report at this time is the wind-age adjustment does not move the rear peep sight. Elevation adjustment works fine. To accomplish the wind-age adjustment, it is required to push the peep sight in the direction required while turning . It very easy to to feel the clicks as you turn the , so adjustment was not a problem. Once the impact point was centered in the 10 ring on a NRA slow fire target at 50 feet. I fired a 5 shot group using 10.4 Gr pointed pellets. The group was 8 o'clock in the 10 ring , one hole group the size a hole that would be made by a .40 S&W round nose. I own 3 RWS air rifles in .177 and .22. None of these high price air guns group like this M1A.
5.0
By marty
USA
July 16, 2021
I have 37 air rifles,many more expensive than this M1,but this beauty will become one of my top 3.
Pros
Nicer than expected! I just re-finished the stocks on a M1A and an M1 carbine,real ones,for a friend. When my M1A arrived,I was overwhelmed with the realism of this bad boy. Accurate and a load of fun to shoot.
Cons
NOTHING
5.0
By Gerald
USA
March 10, 2021
Verified Purchase
Pros
Looks awesome! 1in grouping at 25 yards. I love this rifle.
Cons
Wish the sight would have been metal.
5.0
By Michael
USA
November 22, 2020
Verified Purchase
Despite what Phil said I read the manual carefully. I am formerly military I have over 50 years in firearms instruction , repair and am a NRA range safety instructor. I VERY CAREFULLY READ ALL INSTRUCTIONS ON ANY RIFLE, PISTOL OPTICS. It received the same scrutiny as my custom made rifles. My air rifle didn't work right right out of the box. That's why it was sent back immediately. the air rifle that was resent to me was a totally different rifle. It functions beautifully just as the INSTRUCTIONS THAT I READ !!!! SAID IT WOULD. Cudos to Air Rifle Depot for handling my issues. The M1A now sits next to my M1A National Match that I have read the instructions on proper use and was trained to use 50 years ago.
Pros
Nice weight and atock
Cons
Nothing now that the faulty one was replaced
4.0
By Phil
November 10, 2020
Pros
When you cock the lever on this type of air gun, there is a safety mechanism that engages to prevent the cocking lever from snapping back until the lever is fully cocked. Before closing the lever after cocking, you must release the lever safety catch. If you don't release the lever catch, you will damage the gun. I read a review that describes exactly what happens when you don't release the lever safety catch. The reviewer blamed the gun, but the issue was operator error.
Cons
Make the front cover out of wood. And make the rear chamber cover out of metal. The plastic looks really cheap.
Q&A
Question?
Login to ask someone who bought this product.
Are the SPRINGFIELD ARMORY M1A PCP Air Rifle, 22 Caliber and The M1 Carbine Blowback BB Rifle made in China? Zabby-Do
asked Robert from USA
This one is an underlever air rifle (NOT PCP) - and yes, made in China. The M1 carbine BB rifle - made in Taiwan
Val from USA
What is the material of the upper stock manufactured from It looks like plastic.
asked Richard from USA
Hey Jim. The last question you answered was that this product was manufactured in China. I would have presumed that but at the top of this site the specs listed the 'manufacturer' as Springfield Armory. That's confusing. Unless Springfield Armory has a factory in China, which I'm not aware of (conflict), that spec is misleading or disingenuous. Can you explain that for me? Thanks.
asked Alan from USA
Will an M6 bayonet fit the bayonet lug on this rifle?
asked John De from USA
There is no bayonet lug on the muzzle
PHILIP from USA
As an old Marine who has trained with both the M-1 Garand, and the M-14 at Parris Island, the top looks like an M-14 with a flash suppressor, and the bottom, stock looks like a M-1 Garand. With a BB loaded magazine it would it would pass more as an M-14. Any thoughts or is it just me. The question is why not one or the other? Why the mix?
asked William from USA
This is a copy of the Springfield M1A, the semi auto version of the M14.
Brian from USA
I need to know if the end of the barrel is a supressor/silencer as I live in NJ and that is illegal to possess. If it is not I will be purchasing the rifle.
asked Michael from USA
the muzzle break at the end of the barrel is just for looks it is made of plastic and has nothing to do with silenceing the rifle.
James from USA
No not a suppressor strictly a plastic muzzle break but it is just abit percieved quiter than my .22 cal ruger max break barrel
Norbert from USA
well it looks like it is finally here, has anyone tested it yet? is it as claimed?
asked James from USA
The first rifle I received was faulty. The anti bear trap lever wasn't connected and it had loose parts rattling around inside. When operating the cocking lever it felt like gravel was in the mechanism. Air Gun Depot quickly replaced it with a different unit. The one I have now cocks smoothly and everything works well. The trigger is a bit rough but tolerable. I've shot 14.4 grained domed pellets( .22 caliber) that chronographed a consistent 775 fps. wad cutters 750 fps. The scope mount from my M1A National Match fits but I believe I will leave the iron sights on for now. Pretty satisfied for now. Mike
Michael from USA
Suppressors/silencers are illegal in New Jersey. Is that a suppressor on the end of the barrel thus rendering the gun illegal in new jersey and making me a class D felon? If not then I will be ordering one. Thanks in advance, Mike
asked Michael from USA
its just for looks , make of plastic,
James from USA
Not a suppressor strictly a muzzle break, non functioning and really for looks
Norbert from USA
Will it be compatible with a surplus M14 flash hider?
asked Connor from USA
only in the looks dept. its made of plastic, and no ports
James from USA
i tried fitting my spare and no joy without modification
Norbert from USA
How does a scope attach? It looks like a special side-mount is needed. Where does one acquire the scope mount?
asked Craig from USA
it requires the M1/ M14 mount , bet it at pyramid air
James from USA
I'm using a standard m1a/m14 mount they have it set up exactly the same but you need to use non see thru rings or the scope will sit to high for a good alignment
Norbert from USA
can you put a scope on it ??
asked Lisa from USA
it requires the M1/M14 mount from pyramid air
James from USA
has anyone done a hands on shooting of this when it was at shot show and has anyone heard if the delivery date has changed. does anyone know who the manufacture is . any help would be great.
asked James from USA
The M1A will be released in Aug/Sept. It is manufactured in China.
Mark from USA