The Springfield Armory XD-E is such a good BB pistol copy of the real firearm that you might question whether it's real or not. With astounding details including authentic Springfield markings and blowback action that feels almost genuine, you have a nearly perfect replica that's great for plinking or for getting the feel of shooting a pistol.
For comfortable and secure shots, this pistol gives you authentic grip zone texturing and front and rear slide serrations. Also, the fixed two dot rear sight and windage adjustable front red fiber optic sight give you quick target acquisition and accurate shots, and the under muzzle single slot Picatinny rail lets you add accessories like lasers and lights.
Shooting at speeds up to 380 fps and offering an 18 round drop free magazine, this air pistol will convince you with its real feel blowback that imitates recoil. It's easy to use either right or left handed because of its ambidextrous magazine release and safety, and the functional takedown lever lets you take it apart just like the firearm version.
Whether you own the real steel version or just enjoy faithful full metal reproductions, you'll love the performance of this pistol, so get a Springfield Armory XD-E from Airgun Depot now.
Springfield Armory XD-E Features:
18rd drop free magazine
.177 cal
Blowback
Double action/single action trigger
Max velocity: 380 fps
Windage adjustable red fiber optic front sight
Fixed two dot rear sight
Functional takedown lever
Ambidextrous safety
Ambidextrous magazine release
Authentic grip zone texturing
Front and rear slide serrations
Single slot Picatinny accessory rail for lasers/ights
Authentic Springfield markings
Uses one 12 gram CO2 cartridge
Weight: 1.95 lbs.
Includes Allen key for piercing CO2 cartridge
Specs
Manufacturer

Springfield Armory

Caliber

.177

Velocity

380 fps

Condition

New

Ammo Type

BBs

Action

Semiautomatic

Barrel Style

Smooth bore

Fire Mode

Repeater

Gun Weight

1.95

Overall Length

7.75

Barrel Length

4.30

Loudness

3-Medium

Magazine Capacity

18

Mechanism

CO2

Rail

No

Safety

Manual

Front Sights

Fiber Optic

Rear Sights

Fixed

Trigger Adjustability

0

Trigger Action

0

Use

Plinking/Fun

Warranty

90-day limited warranty
Reviews
Average Customer Review
3.9
4.0
8 Reviews
1.0
By Robert
USA
April 11, 2023
Verified Purchase
Wish I could have something worth all the money I sent on this hunk of junk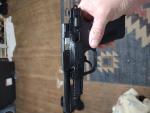 Pros
Wow this bb gun fell apart after one use went to clean it and found it was badly damaged and saw the slide lock had been sanded off what a wast of my money why would you send this gun to me with it in this kind of condition
Cons
I do not remened this gun to anyone
5.0
By Robert
USA
March 13, 2023
Verified Purchase
If you want to get the best pistol for your money then this is the pistol to get hands down it is the best one I ever owned yet I had all of them and Springfield Armory has topped all of them
Pros
Great pistol, very realistic, easy takedown, lever
Cons
None
5.0
By Jhon
USA
March 12, 2021
I would like to let people know how easy it was for me to exchange my first item I bought that didn't work quite well they were so good at taking it back and sending me the new one at no cost to me That's sending it or receiving it no cost to me they were very professional to work with I will be purchasing more products from these guys for sure
Pros
Haven't had a chance to shoot the new one yet we'll get back with you on that review
Cons
No cons at the moment
1.0
By Algis
USA
February 8, 2021
I ordered it with a spare mag. The mag that came in the gun refused to let the gun fire after the bb 's and co2 were loaded. So I set up the other mag. Fired 2 times and the slide jammed. fired 4 more times and the slide jammed again. The follower in that mag refused to lock open to allow ez bb loading. It was more frustration than it is worth. Returned for a refund.
Pros
good feel and weight
Cons
quality control needs work
5.0
By Allen
USA
February 4, 2021
Pros
Very nice pistol. Nearly exact replica in lol and weight. Solid blowback. I get about 3 mags before I need to replace. Extremely accurate - even more so after adding green laser. No crappy white warnings on the slide.
Cons
Adjustable valve would be awesome.
5.0
By SCOTT
January 29, 2021
Pros
IMPRESSIVE. Bought this for home defense. It might not be as intimidating as an actual 9 mm automatic, it beats having nothing at all and can be a very effective disincentive to any criminal after four or five shots to the face.
Cons
A built-in CO2 cartridge tensioner knob would be handy though I imagine it would detract from the realistic appearance.
Q&A
Question?
Login to ask someone who bought this product.
Can this weapon fire without bb's loaded? If so, will it have the standard blowback?
asked Phil from USA
Do you think this will take down a squirrel at relatively close range? .177 pointed pellet?
asked Robert from USA
No, the gun doesn't deliver enough energy for a humane kill.
Tom from USA
I am not a liberal animal rights activist, but why would you use such a marginal gun to deal with a pesky squirrel? It shoots BB's! It would be far more humane to use a gun having at least 600 psi muzzle velocity using lead pellet ammo weighing no less than 10.5 gr. in this caliber. Then place your shot well into the vital area.
JAMES from USA
Do you have a holster for the new Springfield Armory XD-E. Will the holster for the real Springfield Armory XD-E fit this pistol?
asked Kay from USA
Can this bb gun be taken apart using the takedown lever, like its XDM counterpart?
asked Jd from USA
Is this metal or composite construction?
asked Bruce from USA
Is the slide plastic or metal?
asked Keith from USA