Every bit of performance you will need at an outstanding price. The Umarex Gauntlet has the capability of shooting long shot strings consistently, 70 shots at 1000 fps (.177 cal) or 60 shots at 900 fps (.22 cal) to be exact. Now there is no need to worry about drops in pressure affecting accuracy which places the Gauntlet in a class of its own. The Gauntlet is easy to load with interchangeable 10-shot magazines and is well balanced in its weight making it comfortable to carry and load on the hunt. Target shooters as well will enjoy the experience of this air rifle with its single shot tray for increased accuracy and also an adjustable stock comb to fit any shooter's build. Umarex has thrown down the Gauntlet with this new innovation in PCP performance.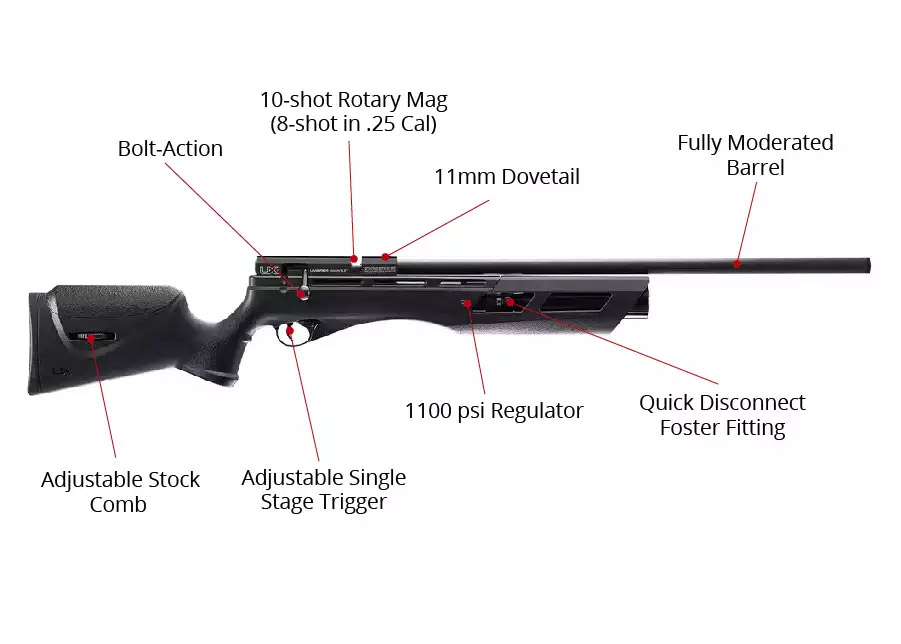 Umarex Gauntlet Air Rifle Features
10-shot repeater
3,000 psi, 13 cu. in. removable tank
1,100 psi regulator means consistent shot strength
Incredibly quiet - fully moderated
Adjustable Single-Stage Trigger
11mm Dovetail rail
Bolt action
Easy foster quick-disconnect fitting
Pressure release key
Includes 1 rotary magazines and 1 single shot tray
Specs
Manufacturer

Umarex

Caliber

.177

Velocity

1000 fps

Condition

New

Ammo Type

Pellets

Action

Bolt-action

Barrel Style

Rifled

Fire Mode

Repeater

Gun Weight

8.50

Overall Length

46.00

Barrel Length

23.50

Loudness

3-Medium

Magazine Capacity

10

Mechanism

Pre-charged pneumatic

Rail

11mm dovetail

Safety

Manual

Front Sights

none

Rear Sights

none

Shots per Fill

70

Trigger Adjustability

Single-stage

Trigger Action

0

Use

Small game hunting/target practice

Warranty

3-year limited warranty
Reviews
Average Customer Review
4.5
4.5
37 Reviews
5.0
By Donald
USA
December 27, 2019
Verified Purchase
I was afraid I was taking a gamble when I ordered my Gauntlet. I did a lot of research and I was seeing people talking about cracked air stripers and gauges not lining up and forearms not fitting properly but in spite of these miner flaws they were happy with their Gauntlets, so I ordered one and when It arrived I was holding my breath while I was doing the unboxing. I received a perfect air gun and man is this thing an awesome deal! It's worth way more than it cost. My daughter told me she has been seeing coyotes in her back yard on her security cameras. I'm looking forward to spending some time in her back yard.......
4.0
By William
USA
October 11, 2019
Verified Purchase
a little heavy but well balanced, the cylinder is not lined up when you tighten the cylinder,i cant get mine to line up yet but i will,i don't think it's a problem,,over all a super buy.i give the gun a 4 star because of the cylinder.
3.0
By James
USA
September 4, 2019
Verified Purchase
Can drive tacks but ! is a very heavy gun just good for bench shooting not a walk in the woods gun.
Pros
great accuracy.
Cons
very heavy gun
5.0
By Larry A.
August 22, 2019
Sir how to purchase that pcp airgun? Im from Philippines.
Got it in .22. Just forget the warranty. You have to do things to this rifle to get it to its potential. So if you want the warranty don't buy it cause you have work to do. 1. You have to work on the trigger. 2. You will have to take the barrel off the gun and clean it because if you don't and try to do it with the shroud and barrel cap on it you will damage the LDC SYSTEM. Barrel cap maybe cracked as well and will need fixed. 3. Forget the little 13 cu in bottle and just order the 22 cu in with a real regulator on it cause the 1100psi reg that came with the gun IS OFF. Nobody yet that has tested it has found it at 1100, always under. Add shims or upgrade to a 1200-1250 psi and be done with it. 4. Order Hajimotos barrel band it will definitely help with the poor barrel support and point of aim issues from the slightest barrel bump. 5. Start working out at the gym if you plan on carrying it around cause it's stupid heavy. After you put bi-pods, extended bottle, a good quality scope 4x16x44 or more, sling, which is in the most awful place to be mounted, your gonna need to be in shape cause it's now about 15 pounds. 6. Do some major work on the bolt, polishing, cleaning and lubricating cause out of the box it is very hard to cock and feels like your rubbing 2 bricks together. But hey, it's a 300$ PCP with a reg that with a little know how and some work can really be an reliable, accurate and pretty damn quiet air rifle.
Pros
When the work is done, great gun for the money.
Cons
Very stiff and gritty Bolt, no factory barrel band, inaccurate regulator, anchor point position for sling, overall weight, better LCD concept, trigger, and 3/8 dove tail mounts instead of the more common 22 mm.
5.0
By Franco
USA
May 25, 2019
Verified Purchase
My .177 Umarex Gauntlet out of the box accuracy is highly comparable to my other 1K air rifle. Perfect gun for my small cal, daily beater and basement shooting need.
Pros
Surprisingly out of the box accuracy.
Cons
Trigger is what you would expect from a sub $300 airgun.
4.0
By Robert
USA
May 9, 2019
Verified Purchase
The air gun is very accurate well built but very heavy.
Cons
Very heavy and very very hard to pull back the bolt and push forward l am hoping It will get better the more I shoot it.
4.0
By Antonio L.
April 27, 2019
Im a Paramedic from North Carolina. I have a lot of experience with air guns and powder burners. I shoot my riffle on co2 during the warm months and HPA during the cold season. I use a 9 and 12 oz co2 bottle. Nothing to do but purchase your bottle from dicks sport or where ever and screw the bottle in and shoot. I dont have a chrony, but i shoot different items around home that are solid, like old metal chairs, steel pots etc. It hits very hard on co2, but not nearly like HPA. I shoot around 25-65 yards without any difficulty. during this time a year, I usually shoot pest. usually rats, sparrows, snakes, lizards with dead on accuracy. shoot a lizard at 30 yards or so and that will tell you about your riffles accuracy. On HPA winter time. I shoot up to medium sized game. Raccons, fox , etc.
Pros
On co2 9oz bottle ,you get around 300 to 350 shots with dead on accuracy and cheap. with HPA you get about 60-70 shots with extreme accuracy and hard hitting. My suggestion for pellets are crossman ultra mag 22 or crossman hollow point 22. Ive personally shot crows out to 85 yards without a problem. Im sure it will reach out much further, but thats my longest distance with that riffle.Ive shot up to 100 yards with a different air gun, but it required major concentration, but the gauntlet is dead on with little effort.
Cons
Trigger is workable out the box, but really needs to be torn down ,trigger polished and adjusted, pull out the valve, check the seals and lube and make neccessary adjustments. At that point your ready to do amazing things. My friend has an armada by crossman and a bull boss. I cant keep up with the bull bosses power out the box, but who cares when you can make head shots as needed.The riffle shots so accurate. I tell my friends that I make pellet placement not aim to hit.
5.0
By Robert
USA
April 26, 2019
Verified Purchase
.25 Gauntlet very accurate and hits with authority out to about 100 yards plus, have taken ground squirrel at 100'. I get 24 shot per fill would definitely recommend to buy, for money you can not go wrong. Fit and finish is on par for price looking forward in getting the 22.cal for something less power ( hopefully). The only real downside is the forward sling stud position very awkward.
Pros
Power Accuracy
Cons
Weight Sling studs
Q&A
Question?
Login to ask someone who bought this product.
can we use hand pump for this gun,brother?
asked Tony from USA
Are you shipping to Canada?
asked Afshin from Canada
Does the .177 come with the updated barrel band and other updates that the .25 got? Thx
asked John from USA
No. The .177 cal has been discontinued. All remaining guns in stock do not have a barrel band. They are the last .177 cal guns available.
Mark from USA
Can you purchase extra .25 cal magazines?
asked Matthew from USA
Yes. At Pyramyd Air
Mark from USA
What scope and mount would you suggest for this gun
asked Robert from USA
Use a 2pc 11mm dovetail high mount to clear the magazine. The scope choice is a personal decision. For advice contact sales.
Mark from USA
I'm wondering this year (2020), does .22 Gauntlet come with a barrel band? I've heard Umarex has barrel band for .25
asked Tian from USA
The gauntlet in both 22 and 25 cal comes with a barrel band.
Mark from USA
I just set up my Umarex gauntlet .22. The recommended fill charge in the specs indicates between 2000 - 3000 psi.. however the pressure recommendation stamped on the rifle indicates max. 1250 psi. which is correct?
asked ben from USA
The air tank fills to 3000 psi. It's output is regulated to between 1150-1250 PSI. Fill the air tank to 3000 PSI.
Mark from USA
The air tank fills to 3000 psi. It's output is regulated to between 1150-1250 PSI. Fill the air tank to 3000 PSI.
Mark from USA
The air tank fills to 3000 psi. It's output is regulated to between 1150-1250 PSI. Fill the air tank to 3000 PSI.
Mark from USA
I just set up my Umarex gauntlet .22. The recommended fill charge in the specs indicates between 2000 - 3000 psi.. however the pressure recommendation stamped on the rifle indicates max. 1250 psi. which is correct?
asked ben from USA
The air tank fills to 3000 psi. It's regulated output is between 1150 to 1250 PSI. Fill the tank to 3000 PSI.
Mark from USA
in your video of the Umarex Gauntlet gun it says that you get a pump, sling and scope is this right?
asked robert from USA
The kit w/pump,sling and scope . AGD-43118444
Mark from USA