The Legends series by Umarex has brought historic firearms to life as some of the most accurate air gun replicas to date. In keeping with the accuracy standards set by Umarex, the German MP40 submachine gun is no exception. With a 52 round magazine and full auto capability, this .177 caliber BB rifle promises hours of fun! Utilizing two 12 gram CO
2
cartridges, simply select full or semi-automatic firing, and mow down tin cans like never before. The original MP40 was first developed in 1940 for a select few assigned to the German paratroopers regiment and then later became the standard submachine gun for the Wehrmacht infantry. The Legends MP40 is a faithful replica that will transport you back in time the minute you pick it up. The full metal body and folding shoulder stock highlights the realistic feel. The hooded front sight and adjustable rear sight stay true to the original design and keep your eyes on the prize. For fans of WWII military arms, this legendary gun can finally be yours!
Umarex Legends MP submachine Gun Features
Two firing modes: Full-Auto and Semi-Auto
Uses (2) 12-gram CO2 cartridges
Blowback
52 rd BB magazine (.177 caliber)
Full metal
Fixed front sight
Adjustable rear sight for elevation
Folding stock
Manual safety
Please Note: Do not use Air Venturi or H&N Smart Shot BB's, as they will fail to feed through the magazine for this specific model
Specs
Manufacturer

Umarex

Caliber

.177

Velocity

450 fps

Condition

New

Ammo Type

BBs

Action

Semiautomatic/Full-auto

Barrel Style

Smooth bore

Fire Mode

Repeater

Gun Weight

7.70

Overall Length

24.50

Barrel Length

10.00

Loudness

3-Medium

Magazine Capacity

0

Mechanism

CO2

Rail

No

Safety

Manual

Front Sights

Post

Rear Sights

Adjustable for elevation

Shots per Fill

0

Trigger Adjustability

0

Trigger Action

0

Use

Plinking/Fun

Warranty

90-day limited warranty
Reviews
Average Customer Review
4.5
4.5
113 Reviews
5.0
By Phillip
August 14, 2021
Verified Purchase
I designed a speed loader that can be 3d printed that is basically a funnel that holds the slide back while you pour in the bbs. You can download the file on thingiverse if you have access to a 3d printer. Search thingiverse for Umarex MP-40 to find the file.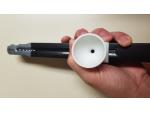 Pros
Lots of fun to shoot, everybody has a smile on their face after shooting this one!
Cons
Picky about bbs but as long as I use Umarex bbs it feeds flawlessly. I add a little powdered graphite to the bottle of bbs and shake it up before I use them.
5.0
By Michael
USA
August 13, 2021
Pros
Excellent shooter. Very real look and weight. Once you learn how, BB's load easily. Takes about 15 seconds. Never had a jamb yet. Fired about 1500 rounds so far. I usually get 4 to 5 magazines per double CO2 cartridges when they are at least at room temperature. Suggest using Umarex BB's. Get them in 1500 count bottles.
Cons
Nothing.
5.0
By Lewis
August 11, 2021
Pros
It looks like the real thing and mine is very accurate and it is best to use coated bbs and watch your friends and family faces light up when shooting auto also good quality.
Cons
nome.
Pros
Great shooter. Loading the magazine is tricky at first but super easy once you get the hang of it. Lots of jams initially but coating the bb's with dry lube directly in the jar and a small amount in the magazine fixed the issue immediately.
Cons
Zero
5.0
By Steve S
February 14, 2021
Verified Purchase
Pros
Runs smooth, no jamming, easy to use and clip holds 52 BBs, more than any other automatic.
Cons
Nothing
5.0
By Gary
USA
February 10, 2021
Verified Purchase
If you never had the chance to fire a weapon with fully automatic capability you are missing out. I know it's a BB gun you will change your mind set. I have every weapon that is fully automatic everytime I go shooting it's such a rush I feel like a kid again.
Pros
The look is so real it's mind blowing
Cons
None
2.0
By Russ
USA
December 16, 2020
Verified Purchase
The magazine is prone to jamming.
Pros
Great replica as far as looks go..
Cons
The gun jams after two shots. It is far from fully auto. They have offered me a return based off the assumption that I received a defective magazine , but that would entail me sending the whole rifle and magazine back and then waiting for a replacement.
5.0
By Harry
August 12, 2020
Shoots great. No problems
Pros
Looks and feels like the original in WWII
5.0
By jerry
USA
May 22, 2020
Pros
I bought this gun several months ago and it was terrible feeding BB's, I think if they were not double stacked that would not have happined. I tried several brands of BB's and found that Hornady Black Diamond BB's were the best of the bunch, but still not good. Then my son suggested graphite powder. That fixed the problem. Otherwise it is is a great gun in every other respect. No regrets at all
Cons
Use Black Diamond BB's and GRAPHITE powder
Pros
I gave this thing a bad review thinking a BB is a BB. That is NOT the case! Umarex BBs are the ONLY ones this gun will feed. Don't waste your time trying any others. After making that discovery, this thing is FUN! Great authenticity and feel. And fun. Awesome action. Fun. Good accuracy on semi auto. And did I mention it's fun?
Cons
Magazine is a bit difficult to load. On full auto, this thing is a CO2 hog. Takes two CO2 cartridges at a time and they won't get you through 2 full mags on full auto.
Q&A
Question?
Login to ask someone who bought this product.
Do Crosman co2 cartridges work with this model? I have heard they might be problematic with this gun. Any thoughts?
asked Jeremiah from USA
Saw an empty Crosman CO2 cartridge in half, and you will know why not to use Crosman. Full of thick sticky grease Use Daisy, much better, Also Crosman BB's are a no go as well
Raymond from USA
What can be done to keep magazines from jamming
asked allen from USA
A touch of dry graphite works wonders mine went from jam-o-matic to flawless full auto mag dumps
Raymond from USA
Umarex or daisy bb s work fine, Umarex has a list of the do not use brands. Be sure the bbs stager In the magazine exact with no uneven spaces, a drop of gun oil at the top and bottom of the bb channel in the mag coating the bb s slightly, this can compromise shot grouping but guarantee dumping a full 52 shot mag in less than 3 seconds.
Matt from USA
Use Umarex BB's . Crosmans tend to jam in the MP40 mags.
Mark from USA
What brand of bb's/pellets go best with this?
asked Jorge from USA
The Umarex BB's work well.
Mark from USA
How can I add a laser sight to this? What accessories are necessary?
asked Benjamin from USA
Laser sight on a Classic WW2 subgun? Heretic!
Raymond from USA
No. There are no attachment points.
Mark from USA
Has anyone used plated, copper or zinc bbs with no jams or feed problems?
asked Rick from USA
The black diamond BB's work the best because the zinc BB's are bad for the clip.
Charlie from USA
Crosman BB's are a problem. Most others are fine . Plated or not.
Mark from USA
Does the gun come with Co2 cartridges ?
asked Boyd
Does the gun come with Co2 cartridges ?
asked Boyd
Hello, can you buy extra magazine for this MP 40? Thanks
asked JOE
Is the co2 location in the magazine where the BBs go also??
asked C
can a HPA tank be used with this gun
asked james
Purchased two but both came with wrong key wey to puncture co2 . What is the correct size.
asked Joseph from USA
The key provided to set the co2 is incorrect. What is the correct size?
asked Joseph from USA
How can i get the screwcap that go's with the magazine that tightens down the co2 bottles
asked Steve Kunze