The Umarex Notos Carbine is a portable and handy airgun with adjustable length that's surprisingly flexible and accurate. It gives you speeds up to 700 fps using a 12 grain pellet, so you get plenty of power for pesting, small game hunting, and plinking.
You can adjust the overall length of this airgun to get the custom fit you're looking for because this Carbine model has a buttstock that adjusts for length. That means you also get a gun with a smaller overall size when you adjust the stock fully in. You also get extra comfort and control thanks to the ridged rubber buttpad.
You'll love the consistency of each shot from the Umarex Notos Carbine because it gives you 21 fully regulated shots at optimal velocity from its regulator set at 1900 psi, with up to 40 shots overall from the air tank that fills to 3625 psi. You'll also appreciate how easy it is to cycle the smooth sidelever, and you'll be surprised at how quiet the shots are because of the shrouded barrel and three baffle SilencAir System.
You can choose between trying to make each shot as perfect and accurate as possible with the included single shot magazine or the ease and quick follow up shots of the 7 round auto indexing removable magazine. And if you want extra accuracy, it's easy to attach your favorite scope to the integrated full length Picatinny scope rail.
If you're looking for a compact PCP airgun that gives you the power and accuracy you need for plinking, pesting, and small game hunting without a lot of fuss, get the Umarex Notos Carbine today at Airgun Depot.
Umarex Notos Carbine Features:
Sidelever
PCP
Uses .22 caliber pellets
Buttstock adjusts for length
Max velocity: 700 fps (w/ 12 gr. pellet)
Shrouded barrel and 3 baffle SilencAir System
Max fill pressure: 3,625 psi (250 bar)
Regulated pressure: 1,900 psi
40 shots per fill (21 fully regulated)
Onboard fill pressure gauge
Male Foster QD fill fitting
7rd removable rotary magazine
Single shot tray included
Full length Picatinny scope rail
Ridged rubber buttpad
Barrel length: 11.75"
Specs
Manufacturer

Umarex

Caliber

.22

Velocity

700 fps

Condition

New

Ammo Type

Pellets

Action

Sidelever

Barrel Style

Rifled

Fire Mode

Repeater

Gun Weight

4.00

Overall Length

34.00

Barrel Length

11.75

Loudness

3-Medium

Magazine Capacity

7

Mechanism

Pre-charged pneumatic

Rail

Weaver/Picatinny

Safety

Manual

Front Sights

none

Rear Sights

none

Shots per Fill

21

Trigger Adjustability

0

Trigger Action

0

Use

Small game hunting/target practice

Warranty

1-year limited warranty
Reviews
Average Customer Review
4.5
4.5
11 Reviews
5.0
By Rob
USA
May 31, 2023
Verified Purchase
The rifle is absolutely fun to shoot, and it does a decent job shooting out to 90 yards. I have 3 targets set up, an 8" a 3" and a 2". I can consistently hit the 3", but the 2 is harder ( this may have more to do with the optic I have on the rifle, tnan the rifle itself ). Overall, I am very surprised with the rifle. This is NOT a hunting rifle. This - is for plinking, and I wish it was a semi-auto with a larger capacity than 7 pellets in .22 . I can see myself running and gunning with this.. Cocking lever is on the left, which may be awkward for some, but is not a big deal. Just takes a little getting used to.
Pros
Fun little plinker! + Extremely lightweight! + Consistently accurate ( can hit 3" target at 90 yards with .22 cal 14.8 gr pellets ) + Nice long Picatinny mount + Fairly quiet
Cons
- Larger magazine capacity - More than 1 magazine included (* Fortunately, you CAN order more mags, but they are pricey for what they are ) - More air capacity. I can get out 3 mags when full. Although, if it's a balance between weight and air - I would choose weight. I have larger rifles for larger air capacity.
5.0
By Rob
USA
May 29, 2023
Verified Purchase
Very lightweight, easy to move. Great for short-distance shooting. Not sure how I will feel about it for anything more than 30-40 yards. Haven't been able to test accuracy yet. Don't expect it to do as well as my Aselkon rifless or my Jefferson State Raptor on anything beyond 50 yards, but I'm hoping it may wow me.
Pros
HOLY COW THIS THING IS QUIET! Of ALL of my air rifles, this is by far the quietest.
Cons
I really wish the air cylinder was larger. It's ridiculously small. Maybe a mag and a half worth of air in it - and the mags are pretty small too.
5.0
By LANCE
USA
April 27, 2023
Great intro into the PCP realm - Umarex knows what they are doing!
Pros
Compact PCP - Light Weight - Powerful - Accurate - Fully Regulated - SilencAir System - Picatinny Scope Rail - Inexpensive PCP - Great Overall Balance
Cons
n/a
4.0
By CEDRIC
April 24, 2023
Verified Purchase
The LDC is non removable but its plenty quiet
Pros
EVERYTHING I LOVE - Length (compact), weight (very light), adjustable LOP, adjustable trigger, regulated @ 20 FPE, Side Lever, long pic rail, styling and lastly the ACCURACY. I have 2 video reviews up on YouTube: https://www.youtube.com/watch?v=7koyONBRlyg&t=436s
Cons
EVERYTHING I DON'T LIKE - Magazines could be better designed. I have trouble loading the OEM ones! And it only comes with 1 mag
5.0
By Bill
March 27, 2023
Verified Purchase
Pros
Great air gun in 22 at 25 yards 7 shots covered by a quarter first time out!
4.0
By lee
USA
March 19, 2023
Verified Purchase
you cant go wrong with this airgun or any snowpeak airguns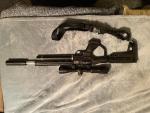 Pros
the gun is plenty acurate for hunting its light, short ,regulated and very reasonably priced where all the other regulated guns should be priced actually a pp750 snowpeak pistol highly modified to make it better why does airgun depot not carry the excellent snowpeak airgun brand line???
Cons
the usual fixed moderator from umarex which is plain stupid. UMAREX THREAD 1/2x20 and send a threaded mod instead cocking lever is on wrong side and hard to grab but very usable but has no handle. the quick release holes in the stock for a quick release single point sling are not properly finished and have to be modified to work the stock could have been made to fold. only comes with one magazine, sights and pistol grips should be included lots of cons for me but i am picky ! would i buy again absolutely. would i tell people to buy absolutely. its a perfect hunting, plinking platforn straight out the box you cant go wrong.
5.0
By RANX
March 13, 2023
Verified Purchase
Pros
Great 1st PCP Rifle, very quiet, lightweight. Accurate (for my backyard plinking and rodent control)
Cons
Magazine needs improvement, I already ordered a 3rd party replacement. Like someone else mentioned, a rail on the bottom for a bi-pod would be nice but its not game breaking.
2.0
By Peter C Aquilina
March 3, 2023
Verified Purchase
Pros
Nice design.....that's where it ends!
Cons
Come on guys!..... spend a little more, and charge a little more, and now you have a product that you are proud to sell and we are happy to buy. First, the suppressor is loose and got worse as I used the gun, with no way to tighten. Then, the barrel where it fits into the breach came loose. Accuracy went from pretty good to really bad. Umarex, you should be ashamed of yourself.....
4.0
By Scott
February 10, 2023
Verified Purchase
great entry gun, super light, red dot scope works best, thought left hand side lever would be difficult nut i love it, great little carbine
Pros
fast ship, nice gun, great feel, would by again
Cons
would like more than 1 magazine
Q&A
Question?
Login to ask someone who bought this product.
Amigo quanto custa ela pra enviar para o Brasil ?
asked Wallyson from Brazil
Is this left-handed sidelever?
asked Alex from USA
The lever is in the left side
Rob from USA
Is the cocking lever reversible for right-handed shooters?
asked Kendrick from USA
No. The cocking lever is not reversible.
Adam from USA
What is the weight?
asked LANCE from USA
Any Diana connection here? That mag sure looks like a Diana mag
asked Wade from USA
How long is it
asked Jeffery from USA
31 1/4", stock extends it to 34"
Dave from USA