This is a Community Review of the BSA R-10 MK2 air rifle by Steve Scialli. The author of the following review are in no way affiliated with Airgun Depot. The views expressed below are personal opinion only.
Overall Reviewer Rating




Accuracy
Ergonomics
Quietness
Power
Trigger
BSA Guns has been around for a long time. Once known as Birmingham Small Arms Company Limited, it can be argued that Britan's earliest Gunsmiths helped forge this heritage-rich organization into what it is today. It's too much to go into here, but let's just say they got their start in the 16th century making muskets for King Williams the III at the handsome sum of 17 shillings a piece. Enduring times of war, feast, and famine, BSA marched on as Britan's leading supplier of military arms & munitions right through the end of the First World War. At the height of it all, BSA had grown to occupy 68 manufacturing facilities that employed over 28,000 workers. These days, BSA Guns ltd is a fragment of its former self, yet its potent heritage lives on in its line of sporting arms and air rifles. At the tip of that spear is the BSA R-10 MK2.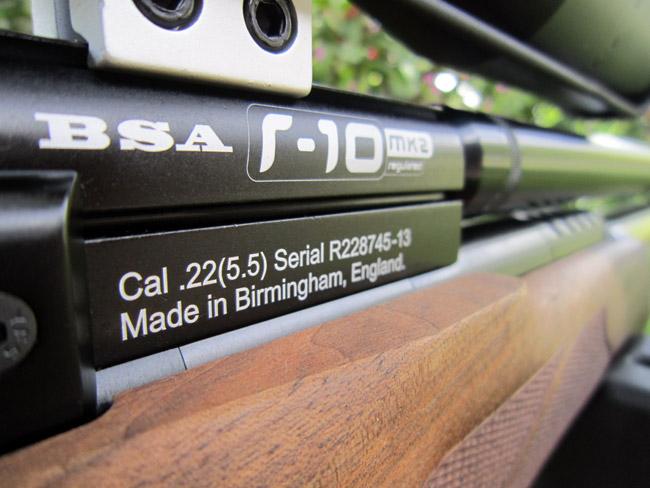 About 3 years ago, the BSA R-10 Regulated appeared on the market and people went nuts, labeling it "the World's sexiest air gun." Then it sort of fell off the map due to magazine indexing issues, only to reemerge again in 2011 as the BSA R-10 MK2. The more refined MK2 (pronounced mock two) touted upgrades to its trigger, internal seals, magazine, regulator, stock, fit, and finish. Once again people went nuts swearing their allegiance to the MK2 on account of its provocative look, incredible accuracy, and superb quality… only to be outdone by its relatively modest price.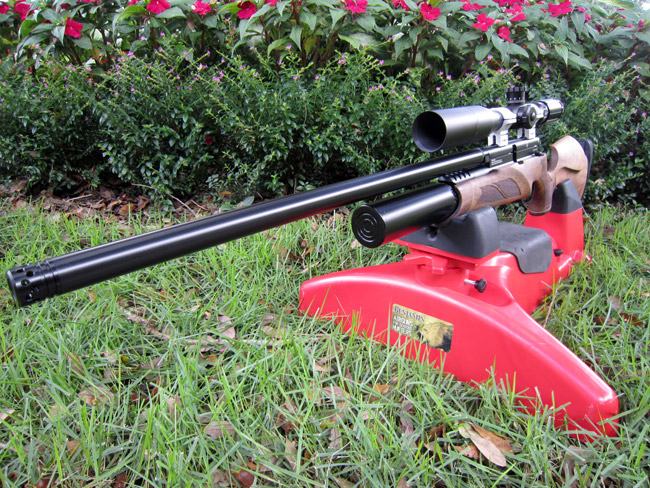 Having spent a few weeks with the MK2, and putting a thousand rounds through it, I am pleased to report; "this thing is a freak of technology!" The MK2 is pleasing on so many levels, I hardly know where to begin, but begin I must…
The stock on the MK2 is unlike anything I have seen in the mass produced air gun world, and feels purposefully meaty in the hands. Minelle Group of Italy, specializing in furniture, brush handles, and rifle stocks, designed and crafted this one… and it's over the top. There are swoops, bends, bulges, and sharp edges in all the right places. The checkering is exquisite, yet is rugged and functional. The but plate is adjustable so one can get comfy in any shooting position, and BSA has even included high quality sling studs. Rosewood inserts top it off, and an intoxicating perfume of aged whiskey barrel seduces the senses each time you cheek this rifle. Just to look at it inspires thoughts of organic bliss, and to shoulder it is to fall in love. The metal work on mine is second to none, and was perfection inside and out. The bluing is as pristine and deep as the Pacific on a hazy day, and all the moving parts interact as if assembled by a Swiss watch maker. It's all crack for the senses.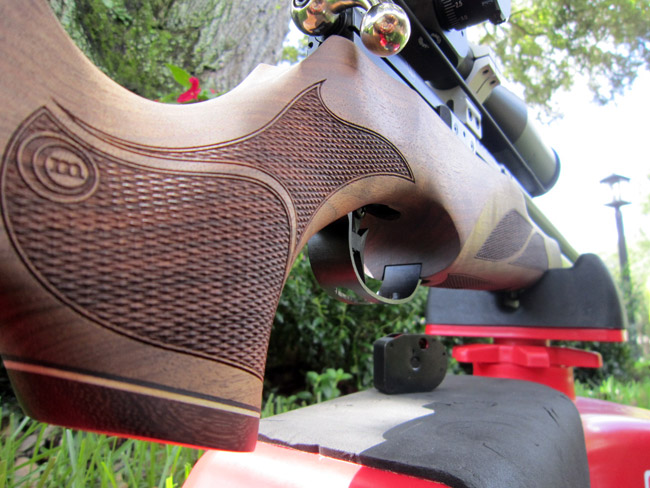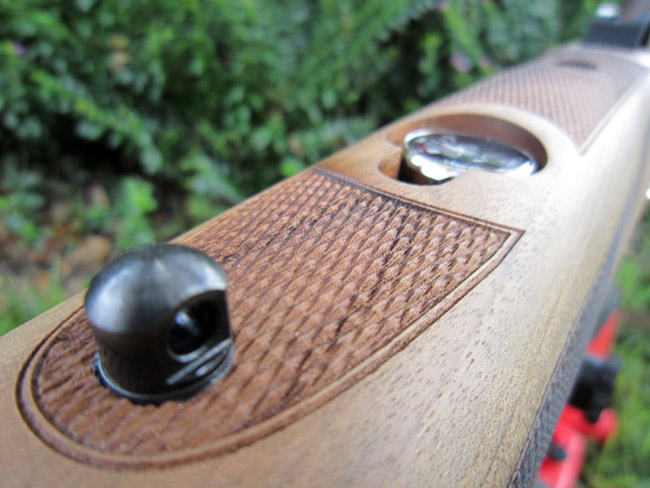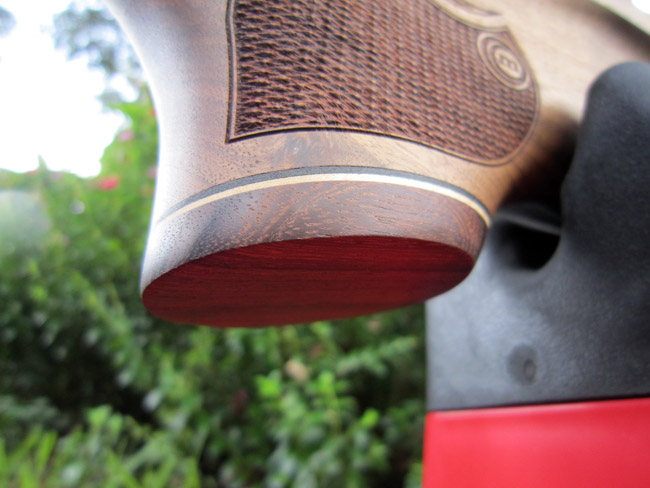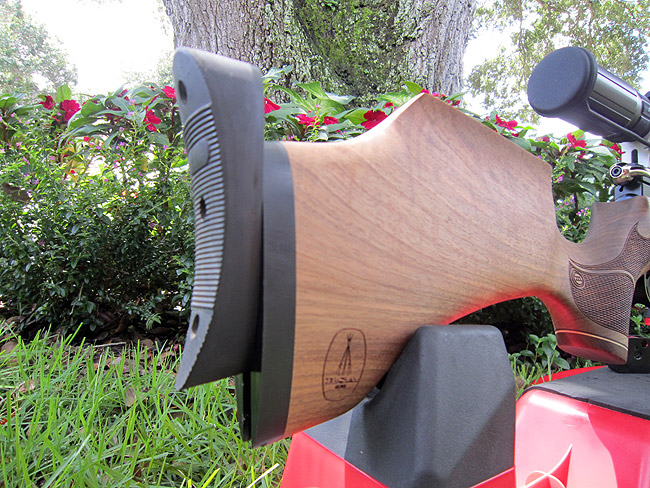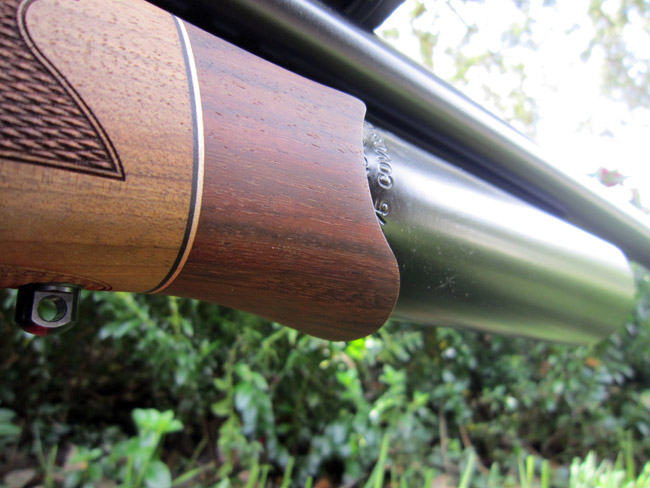 So enough on the sensual response… let's get down to business. One thing that makes the MK2 special in its price point is that the action is regulated. This means that there is an apparatus within the MK2 that balances the air pressure between the fill bottle and action each time a shot is fired. What this means to you is that your velocity consistency from shot to shot will be dramatically improved over a non-regulated gun. It also means that less air is wasted with each shot. These two features contribute to improving the overall accuracy of the rifle as well as increasing the amount of shots per fill. Void of the typical PCP bell curve, the shot string looked like this…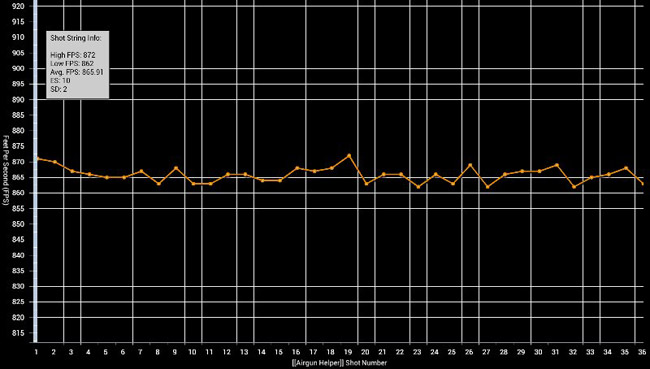 Across 36 shots there was an average difference of just 2 fps from shot to shot, and the high and low fps were separated by just 10 fps. This consistency comes from the regulator, and translates into great accuracy over a large number of shots on a single fill up. With some experimentation, I determined that the most consistent performance will be realized by filling to 220 bar (3250 psi), and refilling after 30 shots. It should also be noted that even though the max fill pressure is advertised at 232 bar, filling to this pressure created valve lock in my MK2. Using the fill probe is straight forward enough, but be sure to use the supplied lube on the o rings, and be gentle when inserting and removing the probe… the seals tore easily on mine (insert man giggles here).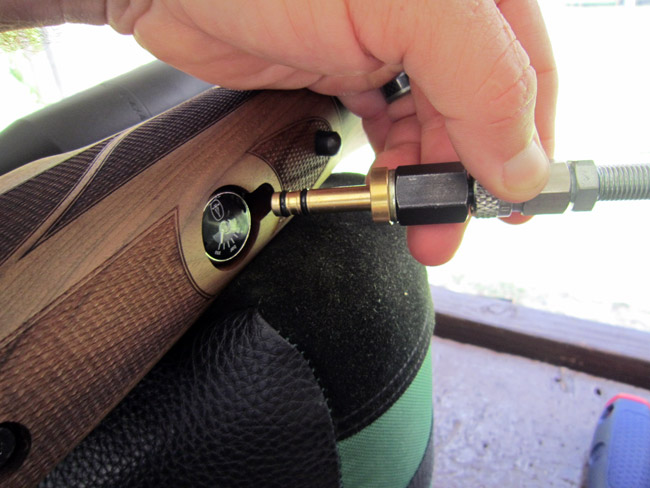 The trigger on the R-10 is the most adjustable I have come across. Not only are the first and second stages adjustable, as they are in most high dollar air rifles, but the trigger canter AND blade angle can be adjusted as well. Mine arrived with the first and second stage just where I would want them but it was set a bit heavy. After reviewing the included instructional DVD and Owner's Manual, I was easily able to adjust the weight down to a pound or so… and "oh my" what a nice trigger brake.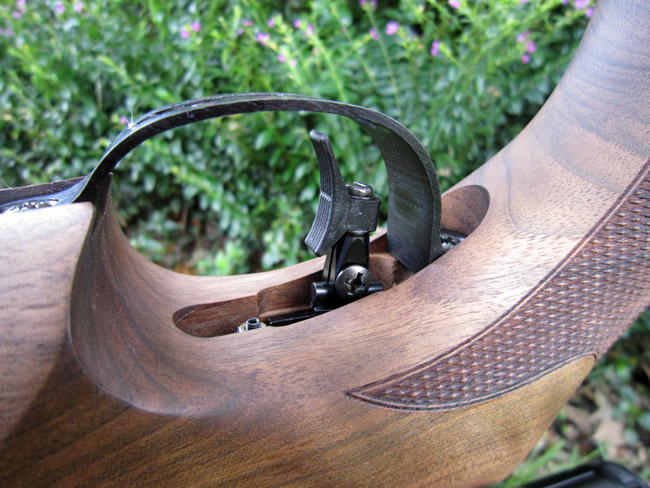 The redesigned magazine is superb. It was super easy to load, and never missed a beat in over 1000 shots. It holds 10 rounds in .22 and has a quick reference number engraved in the wheel so you know how many shots you've got left. Simply grip the mag, and use your index finger to rotate the spring loaded wheel from hole to hole. Also noteworthy is that this gun is extremely accurate with the magazine which is not usual for a PCP repeater… at least not this accurate (more on that later).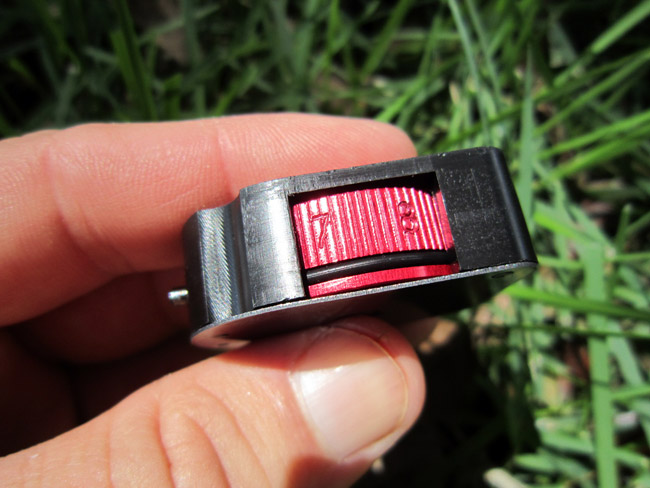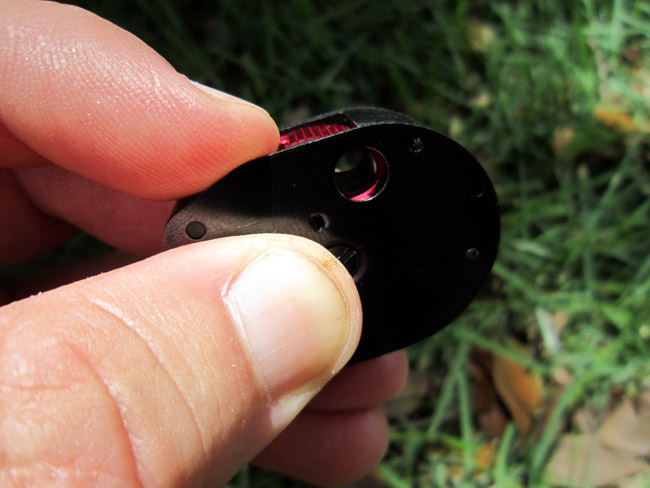 The report on the R-10 is very quiet. It seems the version for the Americas comes with a longer barrel shroud than does the one distributed in Europe. I pulled it off and there are no fanciful baffles within it, so I'm not sure what's behind the technology. But I can assure you it is backyard friendly. To scale it, it is a lot quieter than my .25 Marauder, a little quieter than my Daystate Huntsman XL .22, and not quite as quiet as my Kalibrgun Cricket .22…. but it's damn close. The shot cycle is free of any valve twang. All you get is a quiet "click," followed by a whoosh of air… it's about as loud as a screen door being gently closed. I'm not sure what's on the end of the barrel shroud and whether it contributes to accuracy or sound moderation, but I like it. It unscrews too, revealing 1/2″ UNF threads for adding an aftermarket silencer, but I can assure you, one is not needed.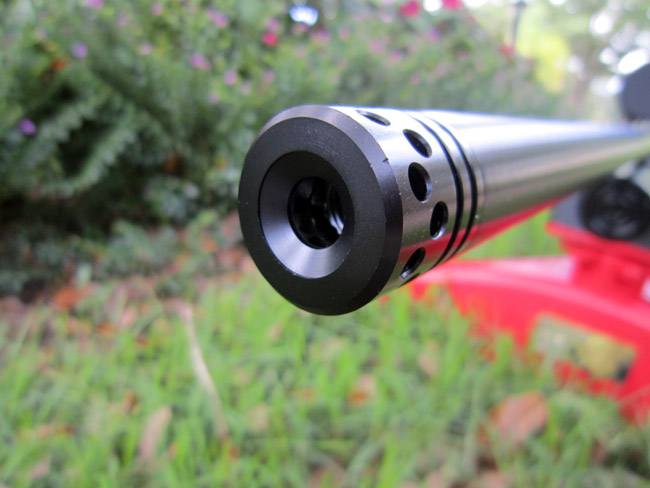 My one and only gripe is the safety. It functioned perfectly, feels to be of superb quality, looks cool, but was overly stiff to toggle to & fro… so much so that I couldn't easily do it with my thumb when my hand was wrapped around the grip. I took the stock off and had a look. Everything seemed in place, and to be finished well, so perhaps it just needs breaking in. Admittedly, I didn't actuate it more than 2-3 times.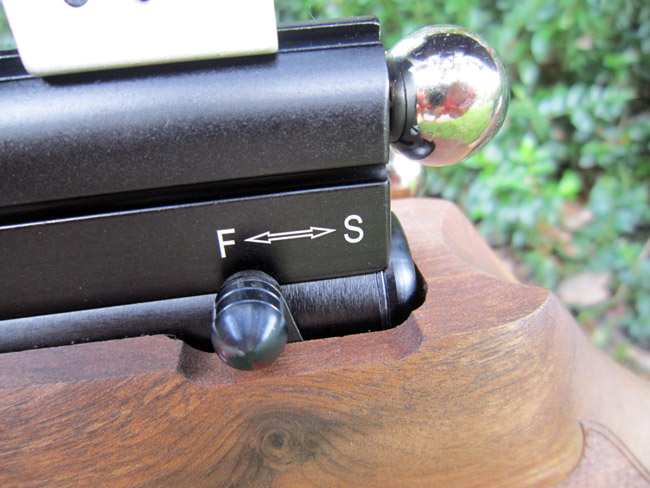 So is it accurate? Uh…yea. Very! BSA Cold Hammer Forges their barrels. This means they bore out a barrel, but rather than cut the riffling into place, they slide a riffled mold into the barrel and hammer the outside of the barrell until it conforms to the mold. This process not only compresses the steel into a more compact package, making it denser and stronger… it also aligns the steel's molecules with the barrel's twist, making for a super slick, uniform finish, free from any scrapes or imperfections that a cutting tool may leave behind. Then for good measure a proper crown is cut into the barrel's muzzle so that the gases escaping behind the pellet don't force it off balance as it exits. What this means to your ownership experience is that you can expect repeatedly tight groups over a wide variety of pellets. The R-10 didn't like everything I put through it, but at 25 yards it shot most brands very well, drilling pellet sized groups at will.
GROUPS OF 5 AT 25 YARDS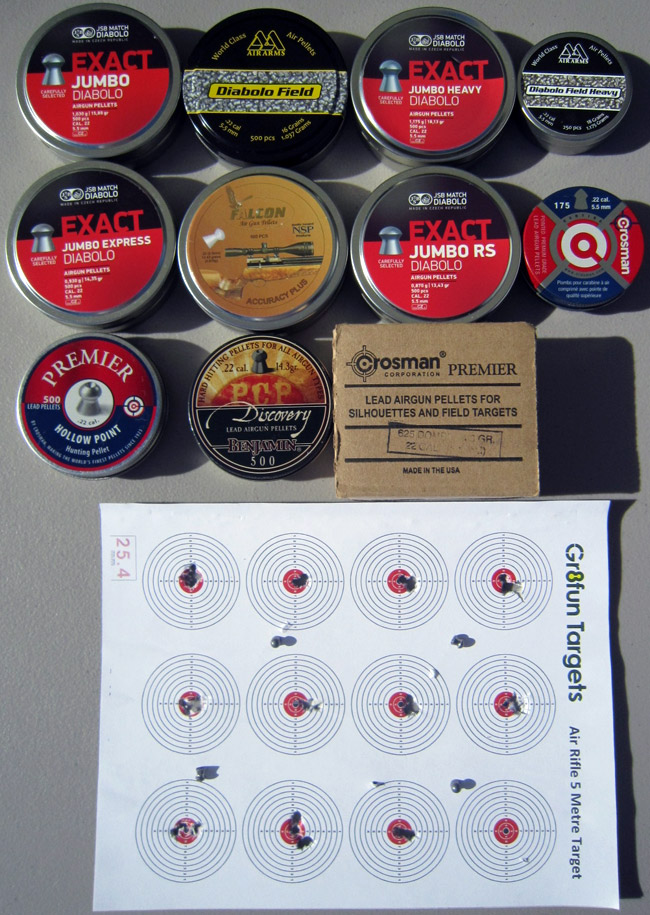 GROUPS OF 5 AT 25 YARDS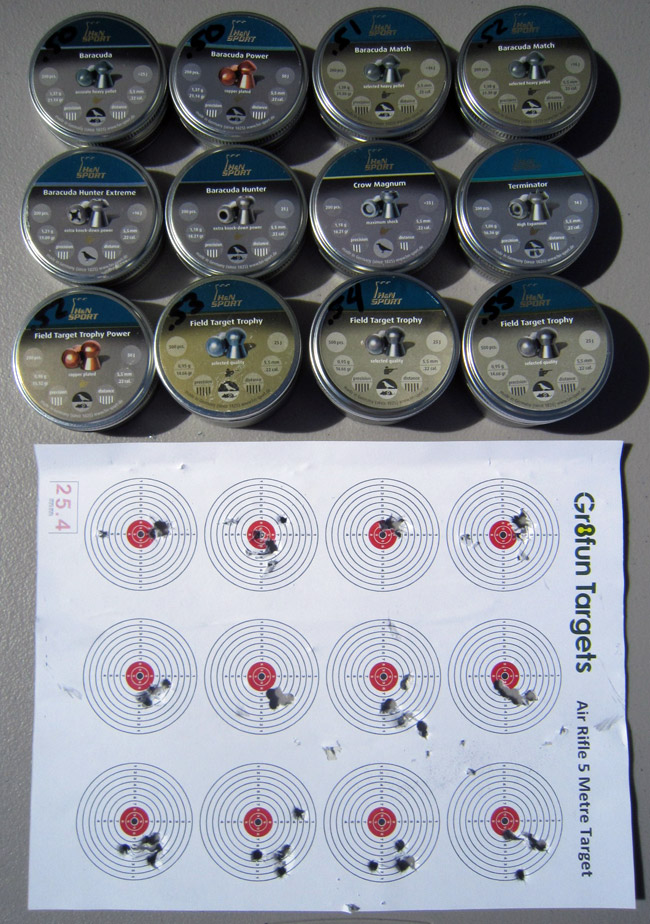 At 50 yards, most of the above pellets opened up into 1/2″ to 3/4″ groups, but three types stayed especially tight. The JSB 15.89 grain, JSB 14.35 grain, and Air Arms 16.0 grain all stayed in the 3/8″ range. Here is one such group. Take away the one I pulled and it's basically a one-hole group. This is remarkable accuracy at 50 yards for any PCP air rifle.
5 SHOT GROUP AT 50 YARDS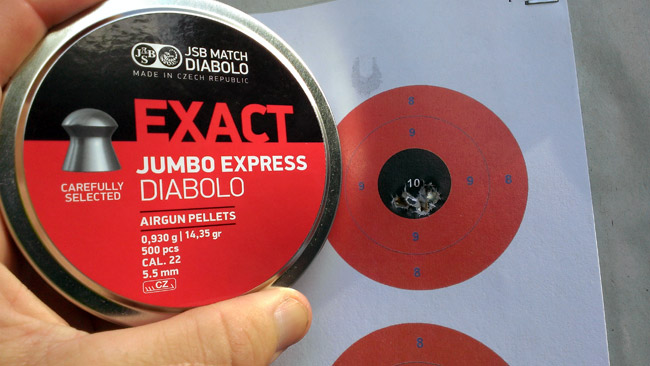 I found accuracy testing at 25 and 50 yards to be perfectly unchallenging with the R-10… the accuracy is that good. It goes without saying that the R-10's super powers warranted a 100 yards test. This often proves to be an adventure with such light projectiles though. Even if the gun does shoot exceptionally straight, a little breeze or even a ball of gnats can easily push a 16 grain pellet well off course. But the R-10 had proven laser accurate thus far and I was eager to see what would happen.
SHOOTING THE R-10 AT A 3″ TARGET 100 YARDS AWAY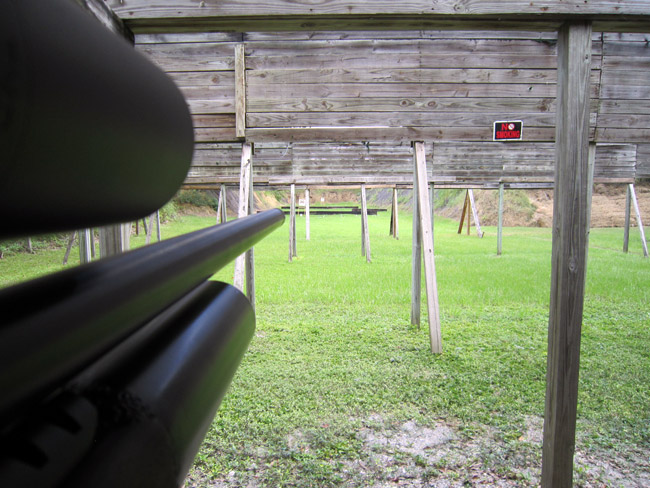 I had a left to right swirling breeze of 3-4 mph but threw caution to the wind and let things fly. I guessed just right at the 8 dot holdover and the rest was up to chance. It didn't take but an instant to realize that without the wind pushing the pellets around, something remarkable was about to occur. But this was my first 100 yard group with the R-10.
FIRST GROUP OF 7 AT 100 YARDS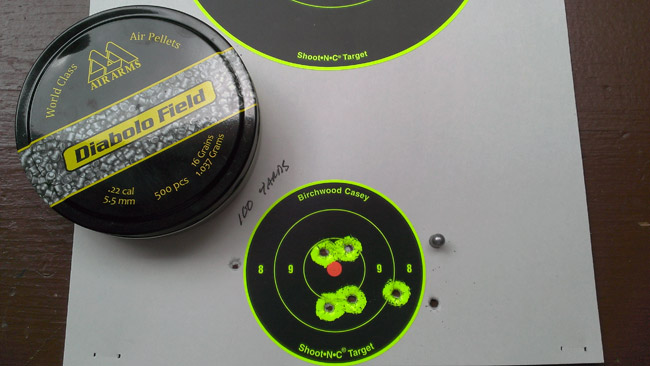 Feeling energized and super confident in this amazing piece of machinery from BSA, I wanted another stab at a 100 yard group. This time, I patiently watched the grass tips down range, and squeezed off each shot in between the puffs of wind. I almost couldn't believe my eyes when 4 of the 5 shots fell into a neat little group of less than 3/4″! Mother Nature got the better of me though, and flexed her muscles just as I squeezed off shot 5. Nonetheless, this validates that the BSA R-10 MK2 is an absolute force to be reckoned with.
SECOND GROUP OF 5 AT 100 YARDS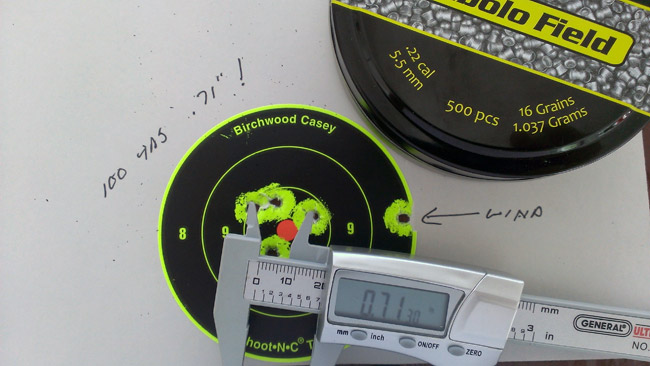 A .71″ group of 4 at 100 yards says a lot about this incredible precision air rifle. Results like this don't happen by accident. They come from the harmony of heritage, passion, and precision engineering all working hand in hand. BSA has clearly worked hard to bring us a high-end pre charged pneumatic that can play with the big boys. If this PCP was in fact targeted at BSA's foe over at Daystate, FX, and Kalibrgun, then I can assure you… they have something to fear. Let's not forget that it is available to you at a fraction of the cost of its English, Swedish, and Czech brethren. Now go do the right thing and thank BSA in the best way you know how.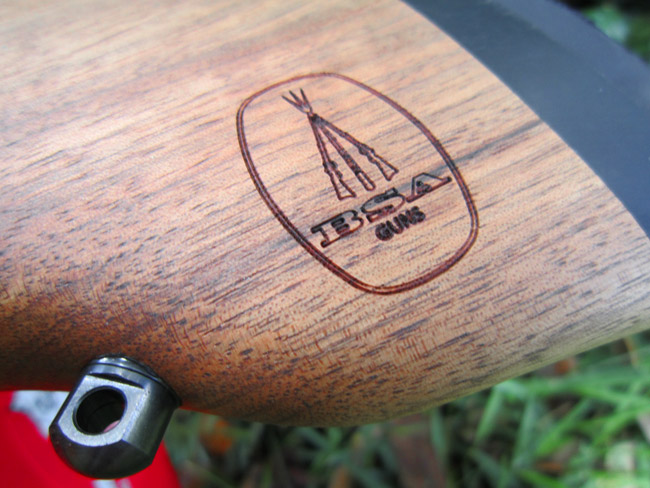 Helpful Links:
BSA R10 Air Rifle
BSA Air Rifles
Air Gun Reviews