Receiving your new airgun is an exciting moment and we want those feelings to last for years. Here are some tips that you can take to get the most out of your new airgun.
Start by shooting it and giving it a thorough test in the first month while you still have the option to return it. Most come out of the box shooting well, but for those that might have an issue, our very good return policy will cover a replacement or refund in most cases. If thirty days have passed and then you discover a problem with your airgun you will need to deal with the manufacturer, and that can be a more difficult process.
Then, read the manual! This isn't very fun but it needs to be done.
When you are done reading, check the screws holding the action in the stock, especially if you have a break barrel. Loose screws will always make you lose accuracy and in some cases can actually shear off! Once you have your break barrel broken in you may want to put some blue Loctite Threadlocker on the stock screws, but don't do that yet.
Clean the Barrel
The first step in breaking in any gun is to clean the barrel. Barrels almost always come with some junk in them that either remain from the manufacturing process or that is put there to protect them while they are being distributed, but either way, you will want to remove it before shooting. It is true that if you shoot the gun enough the pellets will clear it out pretty well on their own, but if there is any grit or machining shards inside the barrel it may get scratched, and why not just start with a clean barrel?
The way we do it is to run some patches saturated with Ballistol through the barrel (starting at the breech end if possible) followed by dry patches until they come out clean. You can use a pull-through system like the Otis, or a cleaning rod like this Dewey, but either way, you will want to take care to protect the crown of the gun (the beveled end of the barrel the pellet exits through). Inserting the rod through the breech end of the barrel helps, and if you are using a pull-through system make sure you pull it straight out so it doesn't rub on the crown.
If you are concerned with getting the absolute most accuracy out of your gun, you may want to follow a more elaborate cleaning regimen similar to what is recommended for breaking in firearms: Clean it thoroughly as described above, then shoot it once, clean it, shoot it once and clean it, then shoot it five times and clean it, and then shoot it ten times and clean it. After that, you can be pretty confident that the barrel is clean and won't need further attention for some time. In fact, it shouldn't need to be cleaned again until you notice accuracy begins to fall off. At this point, the barrel is ready to be seasoned or broken in.
If you haven't yet, now is the time to mount a scope.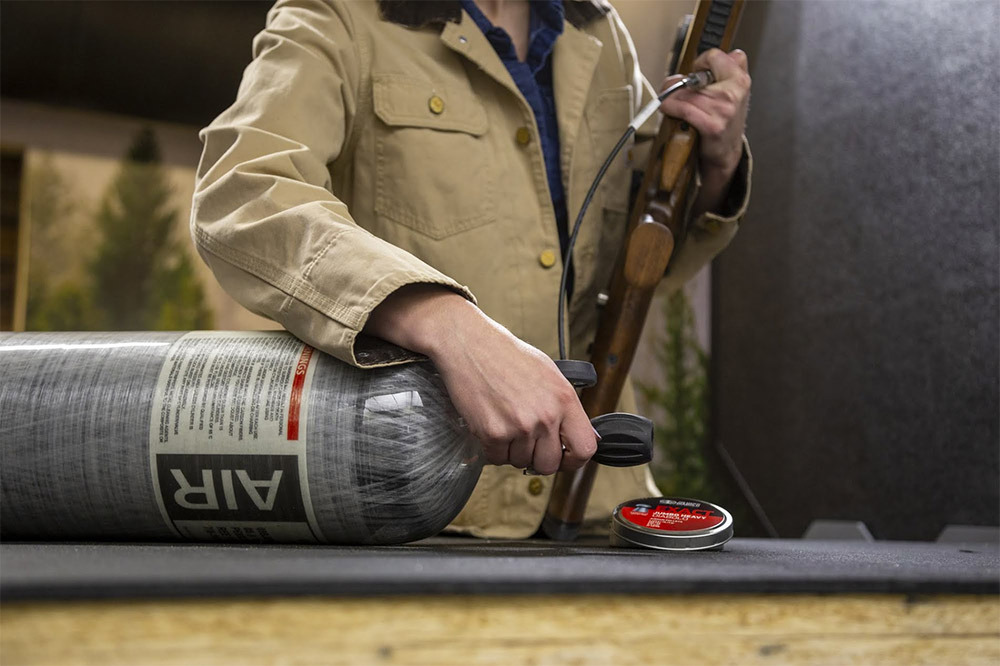 Fill Your PCP Airgun
If you have a PCP then you will need to fill it using either a hand pump, carbon fiber tank, or an HPA compressor. If your PCP is empty then you will find that as you attempt to fill it, the air goes into the reservoir and straight out the barrel. This happens because the hammer spring is putting enough pressure on the valve that it partially opens letting the air escape. To fix the problem, just cock the gun and then fill it up. When you are just topping off the tank this shouldn't be an issue.
Remember when filling your PCP to go very slowly when using an air tank or compressor. The Air Venturi tanks we sell have a slow fill valve that helps prevent overheating the cylinder and valve but you will still want to take it easy. And if you are using tanks from other manufacturers you may really need to watch this. Try to take at least a minute to fill your air cylinder from empty, and thirty seconds to top it off.
Season the Barrel
Now that your gun has a clean barrel and is filled up it's time to season the barrel. This is very simple—all you need to do is shoot a bunch of pellets through it! This deposits a thin layer of lead inside the barrel, which smooths it out a bit and fills in any tiny rough or low spots. Some barrels reach peak accuracy after 50 shots but many need up to 500 shots or even more. Smooth Twist X barrels, for example, are extremely accurate straight out of the box, but achieve their highest accuracy after 500 shots. If you are shooting a springer that continues to diesel (burn oil – you'll notice a bit of smoke coming out of the barrel or compression tube) accuracy may drop off quickly so feel free to run some patches through the barrel and then resume the process.
Other Things that Break-in
Other things happen during this initial break-in process. Anything mechanical tends to run smoother after it has cycled a bit so the trigger will often smooth out and become lighter. If you have a PCP, the bolt or side lever action tends to smooth out, and if the gun is regulated then the regulator will break in and result in greater consistency. If you have a break barrel, the piston seal will break in making the gun more consistent and perhaps faster.
As you go through this break-in process make sure that the gun holds air (if it is a PCP). After you fill the tank you will often see the pressure drop a little as the air cools, but if it continues to drop overnight or over the course of a week or so you have a leak. Sometimes fixing this is as simple as tightening a screw, but sometimes you will need to return the airgun.
Now for what you shouldn't do when getting a new airgun
What You Shouldn't Do
When you get a new air gun, don't:
Install a rail for a bipod – you may need to return it and no one is going to take it back if you've been drilling holes in it!
Immediately adjust it – first, figure out how it is shooting and get to know it a bit.
Start scrubbing it with JB Bore Paste – seldom is it necessary for cleaning the barrel, and it is easy to damage the bore if you aren't careful. Install a rail for a bipod – you may need to return it and no one is going to take it back if you've been drilling holes in it!
Immediately adjust it – no seriously, spend some time shooting before you start to tinker.