When it comes to our Head to Head comparisons we usually have some hands on experience with the guns we choose beforehand that helps us when pitting the two guns against each other. But for this Head to Head things are a little different. With the Olympics in full swing, competition air rifles have been on our minds here at AGD. Competitive shooting is nothing new to me, I have competed in many IPSC, IDPA, GSSF, and SASS competitions, but the disciplines shot in the Olympics are still somewhat new to me. That being said this Head to Head takes on a little different purpose than others in the past. I want to find the best entry level rifle that I can actually compete within 10 meter and 3 position matches but at the same time not have to pay an arm and leg to get into the sport. With all that in mind let's take a look at our competitors and see what they can do.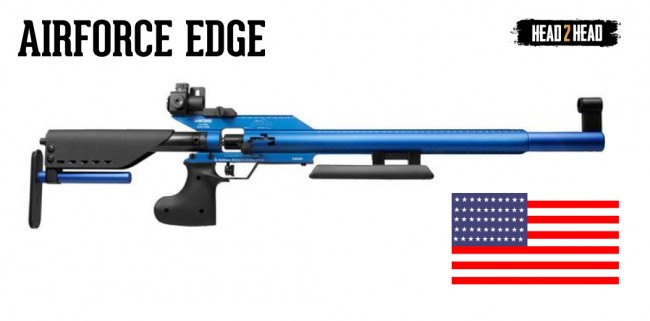 In the red corner, we have the extruded Aluminium monster hailing from Ft. Worth Texas. Weighing in at 6.2 lbs is the AirForce Edge. The Edge combines the proven AirForce inline valve design with a two-stage trigger, a Lothar Walther barrel and a fully adjustable target style stock that results in a great package that is manageable for shooters of almost any size or age. This 100% American made gun brings a lot to the table but is it enough to keep up with the competition?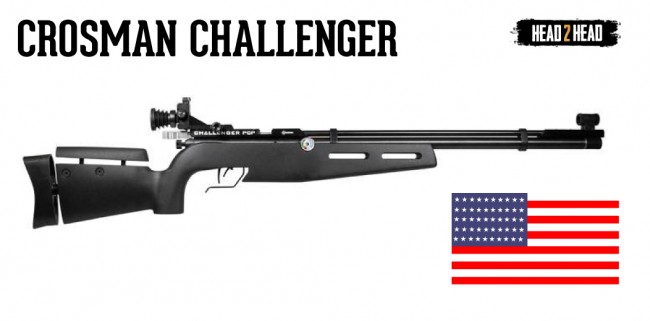 In the blue corner all the way from upstate New York, weighing in at 7 lbs we have the Crosman Challenger. The Challenger couples the air tube and barrel of the Discovery with a trigger that is very reminiscent of the Marauder. A truly ambidextrous rifle with its unique T-shaped charging handle makes this gun great for lefties. Because it's so adaptable as well as economical the Challenger has been a favorite of JROTC and 4-H shooting teams across the country. With such a strong track record it should have no problems holding up with the competition.
Round One: Build Quality & Ergonomics
The Edge is a very well made rifle in every respect. The frame is 100% aircraft grade extruded aluminum. This results in a very durable, yet extremely lightweight rifle. AirForce aficionados will notice right off the bat that this gun is very familiar, but there are a few major differences between the Edge and its sister rifles, the most obvious being the lack of a large air tank on the back of the gun. In its place, the Edge has a much smaller tube style air reservoir that can be pressurized up to 3000 psi. The Edge can be fully adjusted for length of pull as well as an adjustable forend position.  The Edge can also easily accept barrel weights should the shooter want to add them. This provides added balance while still keeping the gun in regulation for Sporter Class 3 Position competition. The Edge can be set up for right or left handed shooters however it does require some disassembly to switch the bolt over. The bolt also has a convenient dry fire setting allowing for dry fire practice and getting your trigger pulls down just right. There are a few downsides I found to the Edge, one being the texture on the pistol grip and forend is a bit on the smooth side for me. I found that after longer shooting sessions my hands became clammy and I had a bit of a harder time holding on to the gun. This could be easily corrected with the use of gloves but I would still like to see a rougher texture on both surfaces.
The Challenger offers a bit of a more traditional look and feel over the Edge. Its wood stock is coated in a matte, non-slip finish which provides good grip on the gun. The buttstock is fully adjustable for length of pull and comb height and while it does not have an adjust forend like the AirForce, it does have provisions for adding one later if the shooter chooses. The Challenger also features a 2,200 max fill reservoir as well as a free floated barrel.  The unique charging handle of the Challenger means that it is ready for either right handed or left handed shooters right out of the box. This is a big plus when shooting in a club setting where multiple shooters may be using the same rifle. That adaptability is part of the reason the challenger is so popular with clubs and youth shooting groups. Though the Challenger lacks a dry fire trigger setting, it does feature a hammer spring tension adjustment that allows you to fine tune the rifle to get optimum velocities and trajectories with whatever pellets you are using. The amount of adjustment is somewhat limited so don't expect to turn this Challenger into a field target or hunting rifle but it is nice to be able to tune the gun to the ammo you are using.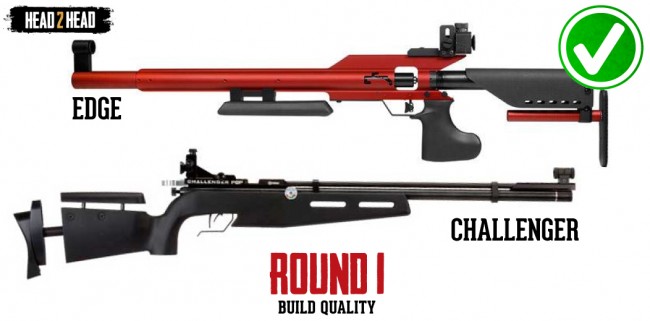 Winner: The Edge takes this round, though not perfect it is a much better built gun than the Challenger and considering that it has a dry fire mechanism that is a big plus since practice is so important in being successful at any type of shooting. Having the ability to dry fire and practice at any time is a huge advantage over the Challenger.
Round Two: Trigger
The two stage adjustable trigger on the Edge was something that I was really not expecting. AirForce guns, though some of my favorite air rifles have always had kind of soft single stage triggers, but not the case with the Edge. The first stage pull was nice and light, pulling at just 11 oz. on our Lyman gauge. The second stage break out of the box was a bit heavy for a 10 meter gun at 2 lbs 7 oz. but it was very very crisp. With a little tuning the trigger was pulling just over a pound and the break was really crisp and perfect for staging up on when lining up a shot. After the break, there was quite a bit of over travel but not enough that it affected the follow through. A great little 2 stage set up that I would be happy to shoot any day.
The Challenger features the same trigger as the Benjamin Marauder. While this trigger setup has been around for a long time and is perfectly adequate it is not ideal on a match rifle. Though it can be trained to and shooters should have no problem getting used to it the Crosman trigger lacks a definitive clean break. Instead, it has a very soft, almost spongy feel to it. Our Challenger trigger was lighter than the Edge out of the box t 1 lb 8 oz so I did not adjust it much. Again, the Challenger trigger was not bad enough to affect shooting and I was able to get good accurate shots with the rifle but it could be improved.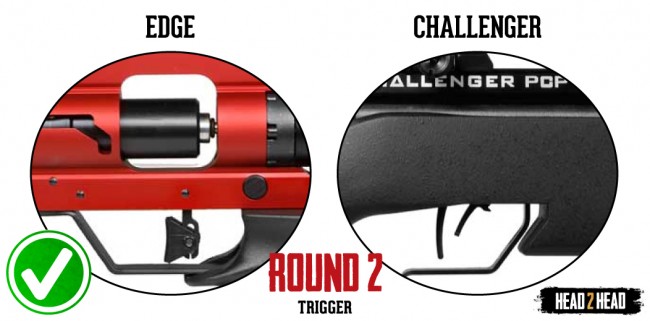 Winner: The Edge takes this one for sure. It was a much better trigger out of the box and with a little setup time put in, it can be made really great. The over travel was a bit of a let down but I'm sure with some tweaking an aftermarket over travel stop could easily be devised.
Round Three: Accuracy

Both these guns are capable of hole-on-hole accuracy. I had no problem stacking pellets with either gun. These guns are designed to show the shooters skill and not the guns so they really are just about as good as they can get. Both of these guns feature Walther Lothar barrels which almost everyone considers to be the best in the business. I could go on and try to test more, but the reality is they are both equally accurate.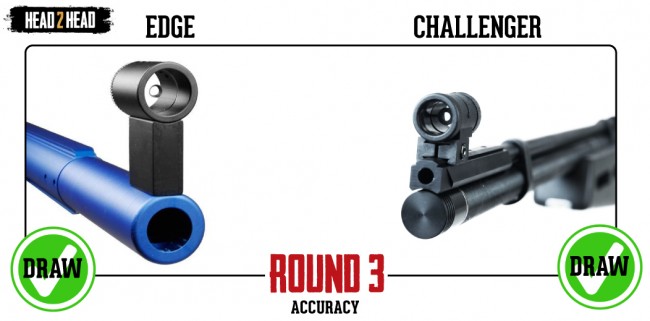 Winner: This round is a draw. Accuracy just isn't an issue at this level of rifle. Both companies have put together dead accurate guns that will rely on the shooter doing their thing. I'd really say accuracy for a shooter will come down to the stock preference of what the shooter is happy with. The Challenger providing a more traditional stock design while the Edge is more modern.
Round Four: Shot Count & Velocity

Usually we test for ft/lbs to see which gun makes the most power, however, things were a little different here. We wanted to see what kind of consistency we could expect out of these rifles when shooting a match. A standard men's ISSF 10 meter match is 60 shots, so I fired 60 shots from each rifle across our chronograph to see what kind of velocity change and shot counts we could expect. Both guns met the task easily and should be able to shoot a 60 shot match no problem. After 60 shots the Edge fired at an average of 346.05 fps with a standard deviation of just 7.83 fps, pretty good on the consistency aspect but with the velocity being so low I did have problems with my shots producing clean holes in the standard National Target 10m Rifle Targets. The Challenger had an average velocity of 547.47 fps but with a standard deviation 15.68 fps, a lot more variance but with the higher velocity it can be expected.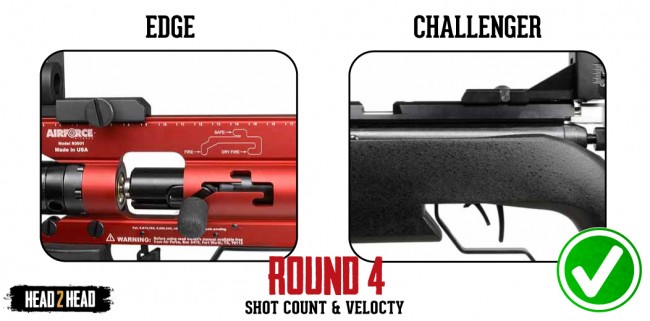 Winner: Ultimately we ended up giving this one to the Challenger due to its higher velocity resulting in easier scoring and a flatter trajectory. Both will stand up to a 60 count match, and perhaps our Edge had a faulty valve out of the factory as these rifles are supposed to result in 500 fps.
Round Five: Sights

Both of these guns are equipped with diopter target sights and both provide an excellent sight picture. However, there were a few features that we liked and disliked about each. The Edge can be purchased with or without a rear sight, allowing you to set it up how you want, however, should you choose to get the rear sight offered by AirForce you will not be disappointed. The adjustment knobs are nice and large and when making adjustments they are very tactile and easy to turn. This American made sight really shows a high degree of quality and fine tuning. The front sight is quality as well with an aluminum post and hood that protect the plexiglass sight inserts. The inserts can be swapped out for ones with different diameter apertures by unscrewing the back of the sight housing and slipping in a new disc, just that easy. AirForce really went above and beyond making sure that this gun stays on target. Crosman on the other hand really skimped on the sights on the Challenger. I'm not sure who made the decision to put cheaply made sights on such a great shooting gun, especially one designed for competitive shooting. The rear sight is constructed of metal but lacks the same refinement as that of the AirForce. Adjustments were sloppy and not as precise so getting the Challenger sighted in just right was, well…challenging. The front sight is almost all plastic and does feature changeable apertures as well which I really did like since it uses the same sight apertures as those that are found on the AR78 CO2 rifles and made finding replacements easy.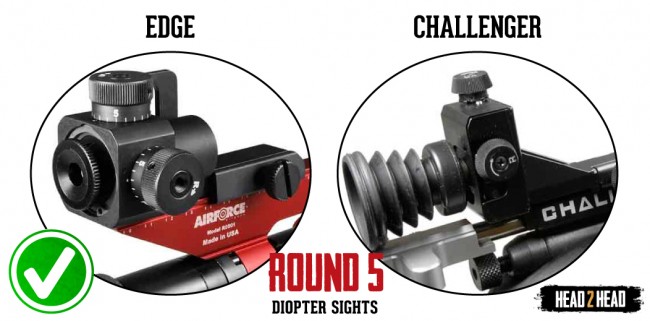 Winner: Overall, though, this round goes to the AirForce Edge hands down. The Edge makes up for its low velocity with a really great sighting system.
Conclusion: Well it looks like the Edge came out on top for this one. AirForce really made a great entry rifle for those looking to get into competitive shooting. Realistically you could make either of these rifles work equally as well as the other and a lot of the decision between the two will come down to personal choice, but I think that the AirForce gun makes for a great starting point. What would you choose? Be sure to leave your comments below or ask any questions as we love to hear what you have to say about these two guns and about 10m competitive shooting in general.