So what kind of pressure can you reasonably get from a simple hand pump?  That's easy.  Today's hand pumps can hit 4500 psi.  Next article… or is there more to the story?  
Let's go back 12 years.
In 2008, Benjamin (Crosman Corp) released the Benjamin Discovery, and the airgun world was changed forever.  It was the first affordable PCP available to the US market, and it put everything in one box.  You had the Discovery, which was shootable with decent open sights, AND a way to fill it with the Benjamin hand pump.  Additionally, the Discovery ran on only 2000 PSI making pumping that much quicker and easier to fill.  For many shooters, this was the first time they'd ever considered a PCP airgun, and it opened the door for the PCP craze we see today. 
Step up to 3000 please.
We can thank Tom Gaylord for both the Discovery and also what may be the most successful PCP air rifle in the US, the Benjamin Marauder.  Shooters had now been initiated into the world of PCPs with an easy to shoot, easy to fill, all-in-one option.  So the fact that the Marauder needed another 1000PSI to operate was not as much of a big deal.  And, that Benjamin hand pump was up to the challenge and filled that need, and a whole lot of airguns.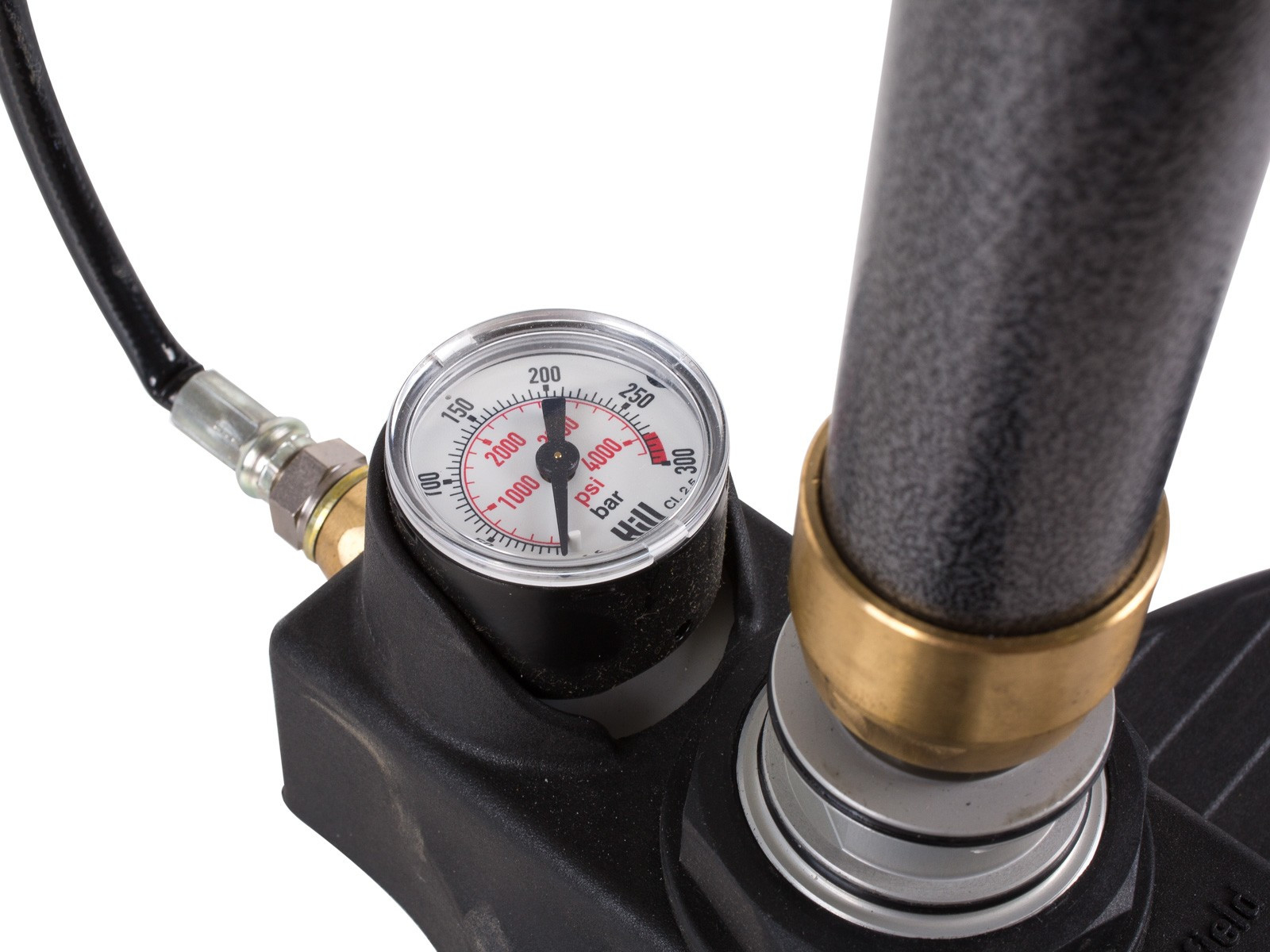 Once shooters got the taste of what a PCP airgun could do vs the more typical break barrel, multi-pump, or co2 variants, it was off to the races.  And because the cost of tanks and compressors were out of reach for most shooters, the hand pump continued to be the primary source of high-pressure air for many years.  In many ways, it still is. 
What about My 4500 Bottle?
The Benjamin hand pump could fill to 3000 PSI with proper technique and a lot of patience. But airguns were getting hungrier and hungrier for higher fill pressures. This was, in large part, due to the increased use of regulators. A regulator allows you to have a lot more pressure in the tank because you have a chamber, called a plenum, that holds a measured volume of air at a specific pressure between the main tank and the valve. When you fire a regulated airgun, the hammer hits the valve and dumps the air from the plenum, which is refilled from the main air reservoir. This adds a level of consistency previously unseen from your typical unregulated airgun. And, with the ability to push the pressure, you also got more shots.
To be able to take guns past the 3000 PSI mark, new pcp hand pumps were created.  Where 3000 psi was the norm a few years ago, that just doesn't cut it for today's airgun market.  We need more pressure, and hand pump makers responded.  Today nearly all the available hand pumps can fill to either 4350 or 4500 psi. That's a lot of pressure folks. 
What does it take to get a hand pump to 4500 psi?
While a hand pump can technically reach its 4500 PSI limit, that does not mean that it doesn't take a tremendous amount of work to get there. Hand pumps are not operated only by the strength of the operator. They need mass to fully compress the pump to the end of the downstroke. Ideally, you want to be 200 pounds or better. While you can get a hand pump to compress with a ton of effort, it's a lot less work when you can "put your weight into it." Most pumps can get to 2000 or even 2500 fairly easily. It's one reason why the Discovery was such an ingenious product back in the day. But once you get past 2000 PSI and you start heading to 3000, 4000, and topping out to 4500, it gets a lot harder. You can get there, but you better be in shape if you expect to shoot a lot. Of course, if you shoot a lot and fill with a hand pump, then you'll get into shape!
Final Take
If you plan to use a hand pump as your primary fill solution, regardless of whether you will fill to 2000, 3000, or all the way to 4500 psi, then make sure that you get a good one. The higher-end pumps like the Air Venturi MK5 (Made by Hill from the UK) is probably the best hand pump on the market. It uses a three-stage system and can reach 4500 PSI with less effort than other pumps. But, there are many different options, and if you want help picking the best hand pump, whether as a backup or as your primary fill source, just give us a call, and we'll be happy to help you pick the best option for your needs.