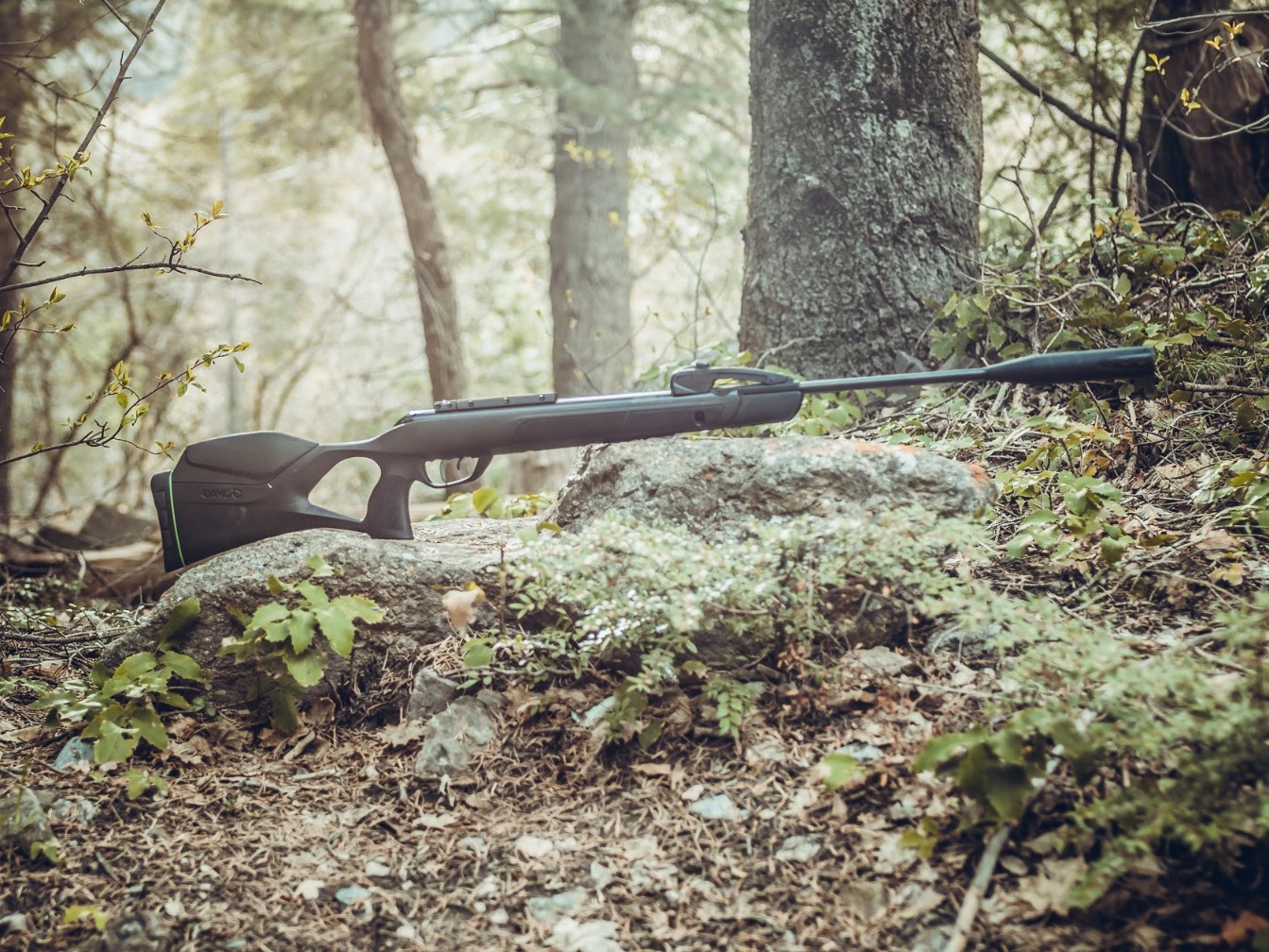 There is often confusion on whether an air rifle is a pellet gun or not. It all really comes down to how each individual looks at various terms. The term "rifle" denotes a long gun (not a pistol) where the barrel is rifled. Rifling is the spiralled grooves down the interior of the barrel designed to spin the projectile to increase stability in flight. An "air rifle" would then logically be a long gun with a rifled barrel that propels projectiles by some means of compressed air.
A pellet gun is an air rifle that propels pellets of any kind whether it be a pistol or long gun, regardless of the barrel being smoothbore or rifled. Now while technically these terms describe very different product categories, they are often used interchangeably.
Let's break down how these terms are most often viewed, aside from their technical definitions, as most folks actually use ammo as the distinguishing factor. It comes down to BBs or pellets. While most air rifles are pellet guns, there are a few exceptions that only shoot BBs. There is also the option of the hybrid, which is capable of shooting both pellets and BBs. The right ammo choice will depend on the model and the intended activity, so this is something worth considering carefully before heading to the range or backyard for shooting time.
If you are new to the world of air gunning, you probably have some questions. There is often some confusion regarding what constitutes a pellet gun, especially when talking about air rifles. Is an air rifle a pellet gun? This question comes up a lot for newbies so let's take some time to break it down once and for all.
Is an air rifle a pellet gun? The answer is yes in most cases since air rifles typically shoot pellets. The difference between a pellet and a BB comes down to shape and composition. A BB is round in shape, usually precision ground steel shot that's been coated with zinc or copper to prevent corrosion. A pellet is more "bullet" shaped, has a pointed, hollowpoint, or flat head, followed by a narrow waist, and then flares out into a "skirt." The skirt acts like fletching on an arrow to increase stability in flight. Additionally, pellets are most commonly made from lead or a lead alloy vs hard steel like BBs. The bottom line is that most air rifles are designed to shoot pellets, which means any air rifle shooting pellets is by default a pellet gun.
When is an Air Rifle NOT a Pellet Gun?
Where an airgun that shoots pellets is by default a "pellet gun," an airgun that's designed to only shoot BBs is referred to as a "bb gun." The major distinction between the two, besides the ammo they use, is that nearly all BB Guns use a smoothbore barrel vs a rifled barrel. Daisy Airguns are a perfect example. Daisy manufactures a whole line of air rifles that focus on BB ammo vs pellets. Daisy remains a brand built on nostalgia and a classic BB gun style. This is partly because Daisy appeals to the younger shooter just starting out and BBs are much less expensive, shoot at much lower velocity and are typically much safer for young shooters. There are other brands such as Umarex and Crosman that offer products that are either strictly BB Guns or that allow shooters to use either BBs or Pellets safely.
Does this mean all air rifles are strictly pellet guns? As we've been learning in the article, the answer is actually no. While most air rifles are designed to use pellets as the default, some models are designed to use BBs, and some are specifically designed to let you safely use either. The temptation to use BBs is easy to understand as they are extremely inexpensive compared to pellets. So make sure your air gun is designed to use BBs before you load them and fire them downrange. If not, you could seriously damage your air rifle by using BBs in a gun designed only for pellet ammo.
So now we know that every air rifle that shoots pellets is a pellet gun, even the hybrids capable of shooting both pellets and BBs. This often leads to questions about which one is better in terms of ammunition or operation. If you have a hybrid air rifle, the right one will depend completely on the activity.
BBs are great for target practice as well as teaching shooter safety and proper gun handling and shooting techniques. They are very inexpensive, so this makes them ideal for learning shooting basics and shooter safety. And don't think that BBs can't be accurate. The Daisy Avanti 499 is the most accurate bb gun in the world and thousands of shooters start out on this airgun. Every year Daisy hosts the Daisy Nationals where young shooters come from across the US to compete shooting the Daisy Avanti 499 at a massive 4-day event over July 4th. BBs are also great for just plinking, but you should keep in mind that since BBs are usually made of steel, there is a greater potential for ricochet. So don't shoot BBs at hard targets.
Pellets are ideal for so many shooting disciplines. From target practice to plinking, and also hunting. The fact that you can fire them at greater distances accurately, allows shooters to work on critical shooting techniques that translate beyond airguns. Pellets are also better for hunting and pest control. The additional weight, lead composition, and options such as pointed or hollow points, make pellets the right choice when hunting is your primary airgun application.
In Conclusion
There is plenty to learn about airgunning and the different types of ammo available. While almost all air rifles are pellet guns, there are a few exceptions such as options using only BBs and hybrid models capable of using both. The right one for you will depend on the types of shooting you intend to do with your air rifle.