We are about to dive into one of the most heated debates in modern airgunning: slugs or pellets. It's not much of a debate if your airgun only shoots one or the other well. If that is the case, shoot what works and call it a day. But what if you have an airgun that shoots both equally well? We've tested a few airguns that perform well with both JSB Knock Out slugs and Hades hunting pellets. So which is better to use? We'll look at that issue and maybe come up with a reasonable answer.
JSB Hades Pellets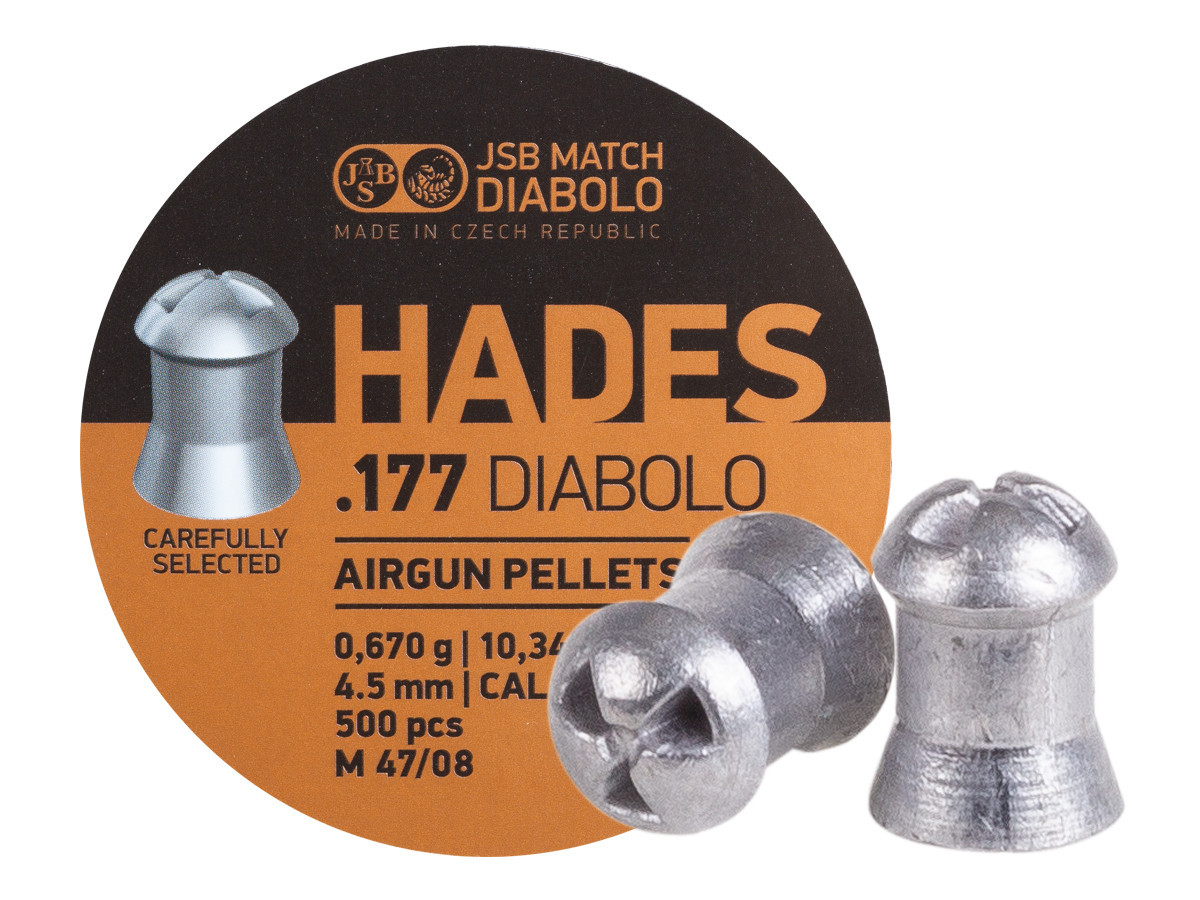 JSB, known for precision long-range domed pellets, is also the manufacturer of the Predator Polymags, one of the fiercest hunting pellets on the planet. We mention this because some folks may not see JSB as familiar with hunting pellets. Believe us when we say they know how to make hunting pellets.
It had been a while since JSB had released anything "hunting" related, but when they dropped the Hades pellet on us at Shot Show some time back, we knew right away they had a winner on their hands. This affordable, unique hollow point pellet was engineered from the ground up to act like a blender when it hits game. The head expands beyond the bore size and churns through game as it spins through the wound channel. As a result, much of the energy is dumped into your target, causing significant damage. It's a great hunting pellet. But it's not perfect. More on that later.
JSB Knockout Slugs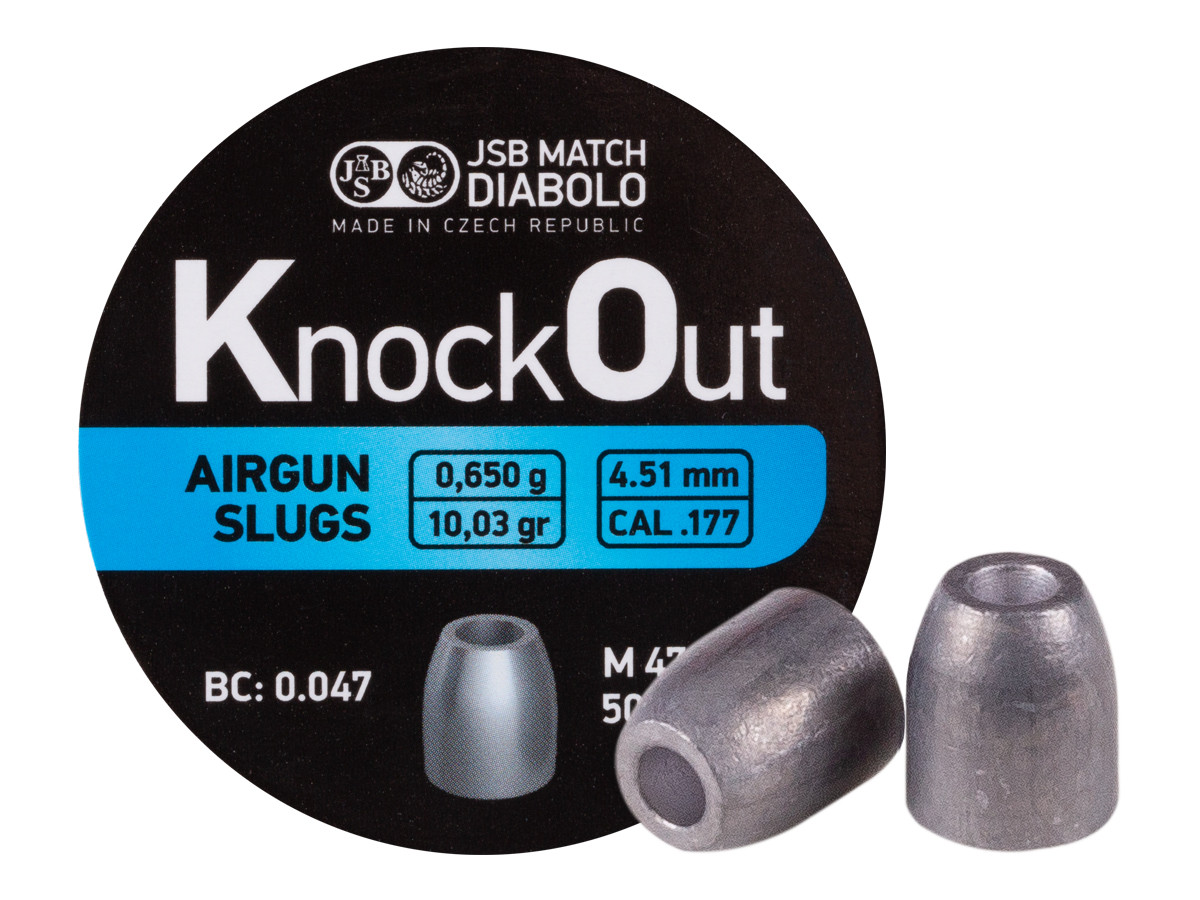 As with the Hades pellets, JSB dropped the Knockout slugs at Shot Show. Given the popularity of small bore slugs, we all knew that the big pellet makers needed to respond. Well, JSB certainly responded to the call. The Knockout slugs are available in .177 up through .30 caliber. They are designed around a typical bullet shape and incorporate a deep hollow point. Like the Hades pellets, the head opens up beyond the bore size when they hit game. They dump a ton of energy very quickly, dropping game with ease.
Pros and Cons
When you talk to slug shooters, they will talk about long-range accuracy, and rightfully so. The JSB Knockouts, with their conical shape and lack of a skirt, have a better ballistic coefficient (less drag in flight), should be more accurate at long range, and carry more accuracy. But they forget that you may need a "slug barrel" to experience that accuracy.
Most airguns are fitted with "choked" barrels that constrict slightly right as the pellet leaves the muzzle. This helps stabilize pellets and makes them more accurate. Unfortunately, slugs can have difficulty passing through this "choke" without becoming destabilized. But that's not the only challenge.
Pellets have two basic contact points as they go down the barrel. The head of the pellet and the skirt of the pellet. There's very little contact which helps reduce drag in the barrel and increase the potential velocity. Additionally, the skirt of the pellet is very thin and expands when hit with a blast of air, enlarging it to create a perfect seal and better engagement with the rifling.
On the other hand, slugs have a lot more surface area contacting the bore. This can lead to more drag, lower velocity, and the need for the "perfect fit." Slugs are solid core and rely on near-perfect sizing to engage the rifling and create a good seal. Too tight, and you get too much drag. Too loose, and you get a poor seal and insufficient engagement with the rifling. There's a lot less room for error with slugs.
Bottom Line
So now that we know the strengths and weaknesses let's get back to the question. All things being equal, which is a better hunting projectile for your airgun? Well, if they are both hitting the target, then it may not really matter. It may all be decided by the game you are hunting. If you are hunting larger game and may need more penetration, then slugs are the best option. If you are hunting smaller game and want less potential for passthrough, then the Hades are the way to go.
The great thing about this discussion is that we have two great options. If it works, use it. The game will not really care if it's dropped by a Knockout Slug or Hades Pellet. Dead is dead, and that's the end of that story. So use what works and don't worry about it.
That's a Wrap
Are you looking to do some airgun hunting and have questions about what airgun, pellet, or slug to use? Don't hesitate to call us and we'll be pleased to help you pull all the pieces together. We are always here to help.