The P38 firearm was made famous as the German army sidearm during WWII. This CO2 BB gun by Walther is a faithful replica and will be a fun plinker. This full metal pistol is powered by CO2 and has a removable barrel for a different look.
Walther P38 Features
Uses a 12-gram CO2 cartridge
Semi-Automatic
20 Round Drop-free BB magazine
Blowback action
Removable barrel
Fixed front & rear sights
2-stage non-adjustable trigger
Manual safety
Textured Synthetic Grips
The owner's manual shows you how to remove the barrel. Do NOT take any further action than that. Do NOT remove the slide. There's a very long, narrow spring that will quickly and suddenly pop out. If you lose that spring, the gun will not function as intended. The importer does not carry replacement springs if you lose your spring this will not be covered under warranty.
Specs
Manufacturer

Walther

Caliber

.177

Velocity

400 fps

Condition

New

Ammo Type

BBs

Action

Semiautomatic

Barrel Style

Smooth bore

Fire Mode

Repeater

Gun Weight

1.90

Overall Length

8.50

Barrel Length

4.75

Loudness

4-Medium-High

Magazine Capacity

0

Mechanism

CO2

Rail

No

Safety

Manual

Front Sights

Blade

Rear Sights

Fixed

Shots per Fill

0

Trigger Adjustability

Two-stage non-adjustable

Trigger Action

Single-Action

Use

Plinking/Fun

Warranty

90-day limited warranty
Reviews
Average Customer Review
3.7
3.5
9 Reviews
4.0
By Ethan
USA
November 28, 2022
Verified Purchase
This is a very nice and well-made replica! the gunmetal has a very nice heft to it, the grip feels incredible, it fits like a glove in my hand, and is very enjoyable to shoot. Highly recommend picking it up, especially since it comes at a super reasonable price. The only downside I can really lay out is the two-stage trigger is really heavy to the point where for the first mag I thought something was wrong with other mechanisms; Once you get that under your belt though its not a huge issue.
Pros
- Good weight - Good material (body + grip) - Easy Co2 insertion - Easy magazine to load - Shoots like a dream
Cons
- Fairly heavy trigger-pull required
3.0
By Douglas
USA
October 26, 2022
Verified Purchase
My previous post savaged these pieces, but here's the bright side! This is a solid replica that has no faults other than accuracy. Crisp blowback that does not overly waste CO2. It's obvious why the Wermacht preferred the upgrade to try to match the 1911s. SS still preferred the Lugers for short-range work. The replica P38 is enhanced by the appropriate holster, available from various vendors. Likewise the Lugers.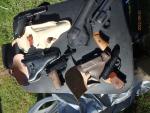 Pros
Follow-up: A rattly beast, but seems to settle down after more use
Cons
Mein Gott find wood grips!
3.0
By Drew
Canada
July 5, 2020
I wish the blowback went a little further back
Pros
Can you shoot this gun without its barrel? What happens if you do?
Cons
Excited to receive this gun
2.0
By Art
December 4, 2019
I regret having to score the Walther P38 low but the performance of the pistol was very disappointing. 1. It misfired often. 2. BB's would stick in the barrel requiring a rod to displace. 3. The slide had to be manually racked many times during the course of a 20 shot magazine. 4. The gun would shoot consistently to the left, an inch or more. The preceding problems begin to occur almost immediately (had fired only two CO2 cartridges). Have returned the pistol for an exchange.
Pros
A look and feel of the pistol was very impressive. A treat to handle.
Cons
See opening comments.
Very nice replica. At 10 yards it is very accurate and will spin a tin can around. Trigger pull was stiff at first but a little silicone spray and use freed it up nicely. Happy with this purchase!
Pros
Very nice replica. I have been collecting air guns for my grandsons to have some day. Great addition to have in the German collection.
Cons
As I stated trigger pull was a little stiff at first. A couple squirts of silicone, and use it freed up nicely.
4.0
By imad eddin al
USA
June 17, 2018
4.0
By John
USA
January 10, 2018
I have the real thing, side by side they look very close.
Pros
Holds air pressure well, trigger is not bad for a replica. A fun gun to shoot.
Cons
Plastic grips don't look real. Battle worn finish would help the looks.
5.0
By Paul B.
February 19, 2015
The finish and fit is perfect, accuracy is unbelievable, and the action functions perfectly.
Pros
BBs penetrated 3" in raw potato.
Cons
Trigger pull was just over 10 lbs., but after shooting it a lot and leaving the hammer cocked when not in use it has now dropped down to 6.2 lbs. I love the gun.
3.0
By darrell
USA
July 4, 2013
This is a beautiful pistol! It was fun for the first few magazine loads. After that, I started having problems. Not enough to send the gun back, but in retrospect, I should have. First problem: If I hesitated at the last moment on the trigger pull just before it tripped, I got a "no fire" with a round dribbling out the barrel or I'd get a "fizzle" sounding shot with no power behind it. I learned not to do that any more. The second major problem occurred when I disconnected the barrel. For some reason, when I pulled the slide back it separated from the frame and out popped a little spring. After several attempts to get the spring back and some warranty ending scratches to the frame, I finally got it working again. Maybe it was just my turn to get a gun with problems right out of the box or just a fluke. I should mention that out here on Maui everything costs an arm and a leg to ship from the mainland (I know Boo hoo! I know. Look where I live!). I try to fix what I can. On the positive side. I Had a good learning experience and I have lost not confidence in your products overall.
Pros
Nice looking gun. Good blow back action when it works. Good feel and balance.
Cons
Did a lot of research on this gun. For the price I'm a little disapointed. The trigger difficulty, the slide problem, and I should mention the magazine loading design. You spend a lot of time chasing bbs that pop throgh the loading port. I recommend holding a stiff piece of cardboard behind it.
Q&A
Question?
Login to ask someone who bought this product.
It shows a holster does it come with it,in this package.
asked Jeff from Canada
The P38 does not come with the holster.
Mark from USA
Was anyone VERY satisfied who has purchased this identical Walther CO2 P-38 pistol? I'm seriously considering purchasing this!
asked Dan from USA
The first review listed, the 2nd review of this pistol answers my question-I'm buying one! Walther makes all of their products with excellence, and the real P38 was the so revolutionary when originally produced, that it set a standard for all modern handguns today!
Dan from USA
Umarex has mags for sale for $12.99 each. Anybody else sell them?
asked richard from USA