Does not come with sights, refill clamp or device to fill the tank. If you plan to put a scope on your gun, you won't need the open sights. The AirForce hand pump comes with the correct fitting to fill your EscapeSS air rifle. Are you a survivalist or prepper? The EscapeSS air rifle was made for you! It's compact, light, accurate, powerful, has Sound-Loc baffles to make your hunting stealthier and has adjustable power. The original Escape rifle was conceptualized by TV's Ton Jones of Auction Hunters fame, and AirForce thought there might be some people who also wanted a quieter gun.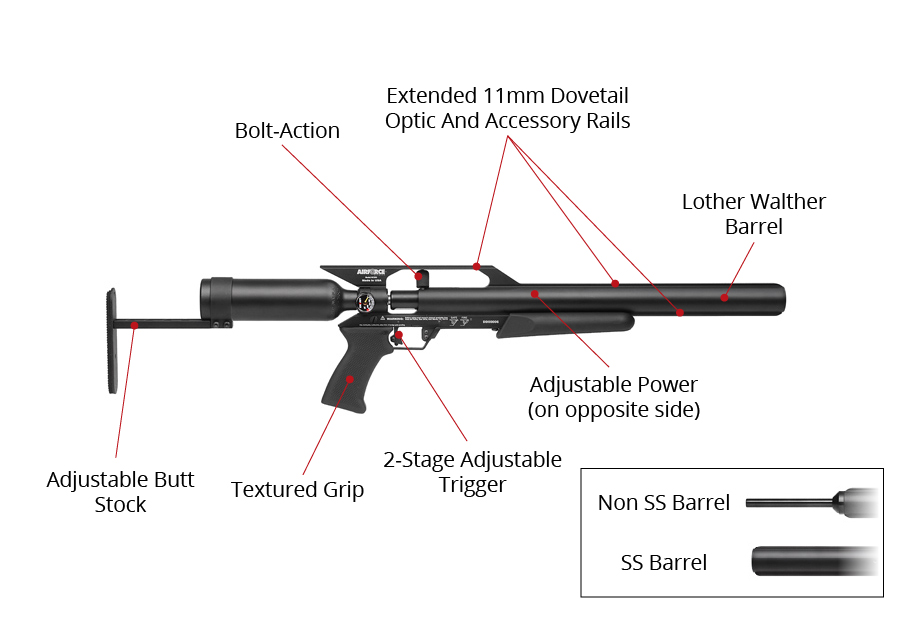 AirForce Escape SS Air Rifle Features
Pre-Charged Pneumatic(PCP)
Single-shot/Bolt-action
2-stage trigger
Automatic safety
Textured grip Adjustable buttstock
Adjustable power Recoilless
Extended optics rail
Specs
Manufacturer

AirForce

Caliber

.22

Velocity

1054 fps

Condition

New

Ammo Type

Pellets

Action

Bolt-action

Barrel Style

Rifled

Fire Mode

Single-shot

Gun Weight

4.30

Overall Length

32.25

Barrel Length

12.00

Loudness

4-Medium-High

Magazine Capacity

0

Mechanism

Pre-charged pneumatic

Rail

11mm dovetail

Safety

Automatic

Front Sights

none

Rear Sights

none

Shots per Fill

15

Trigger Adjustability

Two-stage adjustable

Trigger Action

0

Use

Hunting

Warranty

Lifetime limited warranty
Reviews
Average Customer Review
0.0
0.0
0 Reviews
Q&A
Question?
Login to ask someone who bought this product.
Is the hand pump included in the purchase price?
asked Holden
Is there an adapter that I can use my Benjamin pump to charge this gun? Also it says it doesn't come with a charge adapter....Is that for charging the tank off the gun? I assume that you can charge it on the gun. Ron
asked Ronald from USA
I own this particular Air Force gun. Just leave the tank on the gun. No need to remove it ever. Most pumps are standardized with a quick attach system. Although I can't confirm the benjamin pump will work with this gun I have eye-balled both systems and they look identical. FYI-- I love this gun. It's super quiet as it has a real baffled sound reduction system you find in rim-fire silencers. It's very light to carry making it premo for hunting. Accuracy is top notch. Here's the only drawback I've found- there's no place to anchor your head except on the butt plate. It's no big deal but others might find that disconcerting. I also own a .25 cal Condor and the cheek fits properly and comfortably on the tank. Not so with the Escape SS. Takes a little getting use to but I have no trouble using this method.
Thomas from USA
there is a foster style fitting under the black plug on the new tanks it should work I have a bengi pump as well
ian
Yes. You will need only a 1/8 foster fitting, go with the ss and not the brass version! Foster threads to hose then connects directly to air force tank. Fill on the gun.
Shane from USA
how many shots are you getting on a tank fill? what size tank are you using
asked mike
According to the video 10-15 shots
Pete from USA
I own this gun. You get, depending on where you put the power setting (I put it on 10 in a 1 to 13 scale), 10 to 15 shots before you see bullet drop. On full power about 8 identical shots before power drops off. It's a small tank, hence the light weight with limited shots . . . but all you need in a hunting situation is a few good shots. I appreciate the small size and light weight. This gun will do just about anything a .22 rimfire can, but much more quietly and great stealth. This gun is a winner.
Thomas from USA
You can probably expect +10 full power. I use the larger tank and get 30 running full power in .25, +100 shots restricted at 750fps. In .177.
Shane from USA