One of the hottest and most talked about guns in recent times, the Air Venturi Avenger is at the top of many wish lists and in high demand. No other gun on the market gives you this combination of versatility, quality, and affordability, which makes it the entry level rifle to beat.
First things first: the Avenger delivers on its promises. The gun goes toe to toe in accuracy against premium guns that cost 5 times as much. It could even be the most accurate airgun you'll own, and certainly at this price point.
What makes the Avenger so different is its adjustability. It has an externally adjustable regulator and an adjustable hammer spring. You can tune this rifle almost any way you want, from a lower power hand pump setup, to a high power compressor setup. There's never been a gun like it anywhere near this price level.
There are two gauges for your convenience, one for reg pressure on the right side and one for fill pressure on the left side. There's also a light and crisp 2 stage adjustable trigger, and the male quick disconnect fitting at the end of the air cylinder makes for easy fills.
The airgun with many setup options also has 2 holes for swivel studs and a Picatinny forearm rail for stock accessories like lasers, bipods, and lights. Also, your choice of optics mounts easily using the 11mm dovetail and Weaver combo scope rail.
Rounding out the features is a silky smooth sidelever that operates one of the two included auto indexing magazines, giving you more time shooting with less time reloading. If you're looking for an incredibly accurate PCP air rifle that can be set up however you want, the Air Venturi Avenger is your answer.
Air Venturi Avenger Features:
PCP
Sidelever
Max velocity: 1000 fps (.177), 930 fps (.22), 900 fps (.25)
Max power: 22 fpe (.177), 34 fpe (.22), 45 fpe (.25)
Synthetic stock
Externally adjustable regulator (up to 3,000 psi/210 bar)
Easily accessible hammer spring adjustment screw
2 stage adjustable trigger
Max fill pressure: 4,351 psi (300 bar)
180cc air cylinder
Fully shrouded barrel
Picatinny rail on fore-end of stock
Holes in front and rear of stock for mounting swivel studs for a sling
Dual gauges - reg pressure (RH Side) and fill pressure (LH Side)
Male quick disconnect fill fitting
Easy access degassing screw
Manual safety
11mm dovetail/Weaver combination scope rail
Magazine capacity: 10rd (.177 & .22), 8rd (.25)
Barrel length: 22.75"
Overall length: 42.75"
Weight: 6.4 lbs.
Includes two magazines and single shot tray
Specs
Manufacturer

Air Venturi

Caliber

.25

Velocity

900 fps

Condition

New

Ammo Type

Pellets

Action

Sidelever

Barrel Style

Rifled

Fire Mode

Repeater

Gun Weight

6.40

Overall Length

42.75

Barrel Length

22.75

Loudness

3-Medium

Magazine Capacity

8

Mechanism

Pre-charged pneumatic

Rail

Weaver & 11mm dovetails

Safety

Manual

Front Sights

none

Rear Sights

none

Shots per Fill

24

Trigger Adjustability

Two-stage adjustable

Trigger Action

0

Use

Small game hunting/target practice

Warranty

1-year limited warranty
Reviews
Average Customer Review
4.6
4.5
43 Reviews
5.0
By David
July 30, 2023
Verified Purchase
Pros
I like everything about this gun. It's accurate and powerful.
Cons
I wish it was about 4 inches shorter in length.
5.0
By Basil
July 24, 2023
Verified Purchase
Not inexpensive, but it is affordable. Excellent gun for someone new entering into the shooting sports. With no recoil and very little noise, it avoids the firearms recoil anticipation many new shooters have to deal with.
Pros
The Avenger is enjoyable to shoot. No issues with the gun or any accessories. With a Hawke scope, it's almost impossible to miss. Very glad I purchased one.
Cons
Nothing I've seen yet.
5.0
By Craig
July 8, 2023
Verified Purchase
put air in it scope on it, hade it sighted in at 40 yards in ten shots. in side a quarter , at 80 yards, it took me 7 shots to find the second mil dot 3 bullseyes running 2100 psi and got 38 shots before pressure drop below set pressure 25 cal. my neighbor like ti so much he bought one but 22 cal. Love it !
Pros
I like everything about it
Cons
No Con's
5.0
By Daniel F
USA
July 7, 2023
Verified Purchase
To All Airgunners..The Air Venturi Advenger is a must have to your collection
Pros
Crazy accurate,,light ,,, affordable. The list is endless.They it out of the on this one
Cons
I can't find any Cons on this one other then I wish they make a Dirty 30
5.0
By Mark Grant
July 7, 2023
Pros
Love the lightweight stock , very low noise firing .25 caliber pellets. The 8 shot repeater cartridges are somewhat cumbersome to load properly, but once you figure it out, it makes sense.
Cons
Just has a rail to sight from.....you have to invest in a scope to target something.
5.0
By Wendell
July 7, 2023
Verified Purchase
This is a small game machine coupled with the H&N barracuda pellets , have had squirrels run off after being hit with other pellets and less powerful air rifle but with the Air Venturi/H&N combo have not lost one yet
Pros
Light, powerful, accurate, adjustable 2 stage trigger, what more can you ask for at this price range
Cons
Would be nice if it came with a threaded end cap on end of the barrel for use with a moderator
5.0
By David
May 30, 2023
Verified Purchase
You simply cant go wrong with this PCP.
Pros
Super accurate with the heavier pellets. Craftsmanship is on par with PCPs costing twice as much. Trigger is amazing.
Cons
At this price point I wouldn't change a thing.
5.0
By Allyn Goodlock
May 15, 2023
Verified Purchase
Very nice gun for the money!
Pros
Very accurite
Cons
Better quality mags
5.0
By dennis
February 9, 2023
Verified Purchase
after 250+ rds thru it and 1 dry patch pulled thru i mounted a donnyfl fx moderator and the accuracy fell off( i thought the added weight gave bad bbl harmonics). but a lightly coated patch with penetrating oil was pushed thru the bore( stopping way short of the breach area to save pressure rings) and let it set a while. then the double patch pulled thru next had several slivers of lead on it. PROBLEM SOLVED! the donnyfl helped a lot on the noise level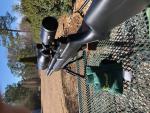 Pros
exceptionally accurate, extremely tunable, definitely a 3 noise level, ugly as a mud fence, and powerful. use caution when using 18 gr or higher when the power is full on. the trigger has a very slight creep when lowering the trigger pull weight but still a good trigger. be prepared to fall in love with this rascal!!
1.0
By John
USA
February 4, 2023
Verified Purchase
at 350 dollars might seem inexpensive but its still 350 dollars and you have to buy a pump a scuba tank or air compressor
Pros
Light Weight adjustable air pressure
Cons
leaks poor quality control. Received with no air pressure.
Q&A
Question?
Login to ask someone who bought this product.
If i order from Philippines is there any assurance that i can receive the item and how long does it take before it arrive? Thanks
asked Leonard from Philippines
What can i realistically hunt with the 25 cal version of this? I've seen a lot of people say it has great power but how does that compare to what animals can i take down with a well placed shot? Would a deer be reasonable?
asked Tyler from USA
A deer would absolutely not be reasonable. I think that your upper limit for game should be raccoons or skunks. Much bigger than that, you run the risk of injuring the animal without killing it. Deer is too big.
Ethan from USA
Do you make it for left handed?
asked Christian from USA
What is its bore size? What is the depth of rifflings? Is it a choked or straight bore? What is the recommended pellet weight?
asked John from USA
New to this. Any stores in FL. where I can get hands on info and setup on an eventual purchase? Definitely like the Venturi Avenger. Live in Tampa, willing to travel FL.
asked Chet from USA
i have the 25 cal when i use my hand pump ii here air comming out of the frount of the gun where the fill conector is at
asked charles from USA
Can nitrogen and or co2 be used
asked Ralph from USA
Anytime I attempt to adjust my regulator it leaks. Why? What do I do to fix it?
asked Jesse from USA
I have owned three of the new Avenger baffle models and all had regulator creep. The regulator gauge would creep up 200 PSI in seven minutes and 600 to 800 PSI overnight. Has anyone experience regulator creep with their Avenger? Was it with the new baffle model or the non-baffle model?
asked Lawrence Berns from USA
I have the avenger in a .22, and very please, very accurate, but it doesn't have enough power to kill a squirrel! Any suggestions, does anybody know what I should do?
asked Otto L. from USA
I would make sure its shooting at the right fps. It could just be heavy of a pellet for it to shoot at speed to kill. Havinf said that the right placement for the shot is equally important. I usually shoot for the head or heart. It will drop them without any issue. Usually I go for the head if the set up is right otherwise i go for a vitals hit and that will do the job.
Tyler from USA
my avenger 22 @ 1600 reg psi, 3000 psi plenum, 2 turns in on hammer spring, using any 15.89 gr pellet will knock him dead if hit anywhere in the chest area at 30 yds. head shots are comical. be careful not to over-rev the 14.3s as accuracy will fall off at longer ranges. i muffed a shot once with a gut shot 15.89gr. @20 yds and his guts were hanging out the exit side. he didn't go 5 feet! read your manual on tuning
Dennis from USA
regulate psi to 2500
william from USA
I have killed 5 squirrels and 1 rabbit with my avenger since september 4th (opening day) and it has never let me down. Always one shot one kill. If you have a chrono, and its going over 800fps with a 14.3gr crosman, you may just be hitting them in the wrong spots. They will run away with anything less then a heart shot
Owen from USA
which is better .177, .22, .25 pellets i see .177 gives 1000fps
asked vernawn from USA
Don't be lured by higher FPS, Speed doesn't kill - accuracy kills and very often higher speed kills accuracy
LESLIE from USA
.25 is best for anything from squirrels to coyotes
Owen from USA
The multi pellet clip is hung up with pellets in it. It won't line up the pellet with the cocking lever so you cant load a pellet in the chamber
asked Steve from USA
return clip for new one
william from USA
What type of silencer should I use?
asked Leroy from USA
I just received one from Buck-Rail and it works great and installs in two minutes. (That's out of the shipper to shooting). It's made from 3d printed polymer and cost about one fifth (or less) than most brand names. Only adds 4 inches to length and doesn't interfere with fill nipple.
LESLIE from USA
DonnyFl Sumo I think
Owen from USA
what silencer would you recomend for this rifle
asked Jon from USA
I just received one from Buck-Rail and it works great and installs in two minutes. (That's out of the shipper to shooting). It's made from 3d printed polymer and cost about one fifth (or less) than most brand names. Only adds 4 inches to length and doesn't interfere with fill nipple.
LESLIE from USA
DonnyFL Sumo
Owen from USA
Is the end of the Barrel Tapped to fit a front sight. So that a Diopter type sight can be used?
asked Norton from USA
Front of barrel is covered by the shroud and silencer. There is no provision for attaching a front sight.
LESLIE from USA
suggest a compatible scope
asked David from USA
I use a gamo 4x32 on mine, works perfectly
Tyler from USA
UTG 4x12x40
william from USA
I HAVE HEARD THAT THIS GUN IS A BIT LOUD. Which moderator should I get for it? I do not want to spend more than 1\3 of the cost of the airgun (100$)
asked Terence from USA
I've been using the moderators from. Wolfairguns.com. Much more affordable and just as quiet IMO.
Riccardo L. from USA
I have been using products from DonnyFL. Nice products. I use them on pcp's from air venturi and benjamin, they allow you to go unnoticed while urban hunting....
Ian from USA
What do u need to charge up the gun ?
asked Michael from USA
Any type of high pressure air pump; bike style if you're not doing it a lot, Small electric ( I use a Benjamin), Air bottle if you have a large HP air Pump or local dive shop to fill it. All will do the job.
Richard from USA
Hi folks..... I'm pleased with this rifle and it surpasses all expectations. How long can it safely hold 2-3K psi ? Must it be de-gassed after each use? Thanks!
asked Jack from USA
Actually leaving a pcp devoid of air can be detrimental and as for holding pressure, ,without a leak it will hold air until it is released , no problem.
Ian from USA
Do you think this gun in .25 can dispatch a hog?
asked Mark from USA
With a head shot
Owen from USA
With the right shot I'd say so but to do it humanely I would think you'd want at least .357 at minimum. Id check with your states D.N.R office to see what they recommended .
Mark from USA
I saw a video of a guy killing a hog with a break barrel.22 / ear shot
Colin from USA
Had question....can you use a air compressor to fill the gun?
asked Mark from USA
no you need a high pressure compressor,one capable of putting out 4500 psi. i just bought the benjamine compressor,im going to use this with a 3000 watt inverter to make it mobile
Steve from USA
What is the Muzzle energy ft/lbs? On the .25
asked Chris from USA
With 34 grain pellets you can tune for 57 foot pounds and 25 shots as per AEAC
LESLIE from USA
Hey mark. What size air cylinder is on this gun? Thanks
asked Chris from USA
Cylinder Size 180 cc
Mark from USA
Can I kill adult iguana with this gun that have invaded my yard, if so what caliber
asked Michael from USA
With good shot placement, .177, .22, or .25 cal can dispatch iguanas humanely. I own the .22cal and it is extremely accurate with reg set at 1200psi using JSB Hades at 860-895 fps.
William from USA
22 cal will do. 25 cal for sure,
Mark from USA
I'm trying to find out what the receiver is made out of (ie aluminum or polymer)? Are parts/ o-ring sets going to be available to be purchased for this rifle since it is made in china from the distributor (Air Venturi or this site) or are we going to have to get parts from the country of origin? Thanks for any info.
asked Randolph from USA
The receiver group is aluminum. Once the gun is in general production there will be parts,service,and technical help thru Air Venturi.
Mark from USA
Hope everyone is doing great. I preordered 7/1 and I'd like to know if I can expect a this rifle in the mail soon or not. Have a great day.
asked Steven from USA
The next batch of Avengers are due to be shipped in mid to late Sept.
Mark from USA
What all needs to be purchased with gun to start shooting?
asked Billy from USA
An air source to fill the gun. 3000-4500 PSI.Ammo .and a scope and rings.
Mark from USA
8/2/20 Hi have you guys got any of these guns in yet at all or is everything still on hold?
asked Chris from USA
The second shipment is on it's way.
Mark from USA
what would be a good scope and rings for this airgun
asked John from USA
A 3-9 x or 4-12 x will work fine. Look at the Athlon.Hawke,MTC.or UTG scopes.
Mark from USA
What size is the air reservior?
asked John from USA
how many psi to charge it fully?
asked Roger
will it accept an after market moderator like a donny fl ?
asked don h
Yes. Donny sells an adapter for his moderators that fits the Avenger.
William from USA