One of the hottest and most talked about guns in recent times, the Air Venturi Avenger is at the top of many wish lists and in high demand. No other gun on the market gives you this combination of versatility, quality, and affordability, which makes it the entry level rifle to beat.
First things first: the Avenger delivers on its promises. The gun goes toe to toe in accuracy against premium guns that cost 5 times as much. It could even be the most accurate airgun you'll own, and certainly at this price point.
What makes the Avenger so different is its adjustability. It has an externally adjustable regulator and an adjustable hammer spring. You can tune this rifle almost any way you want, from a lower power hand pump setup, to a high power compressor setup. There's never been a gun like it anywhere near this price level.
There are two gauges for your convenience, one for reg pressure on the right side and one for fill pressure on the left side. There's also a light and crisp 2 stage adjustable trigger, and the male quick disconnect fitting at the end of the air cylinder makes for easy fills.
The airgun with many setup options also has 2 holes for swivel studs and a Picatinny forearm rail for stock accessories like lasers, bipods, and lights. Also, your choice of optics mounts easily using the 11mm dovetail and Weaver combo scope rail.
Rounding out the features is a silky smooth sidelever that operates one of the two included auto indexing magazines, giving you more time shooting with less time reloading. If you're looking for an incredibly accurate PCP air rifle that can be set up however you want, the Air Venturi Avenger is your answer.
Air Venturi Avenger Features:
PCP
Sidelever
Max velocity: 1000 fps (.177), 930 fps (.22), 900 fps (.25)
Max power: 22 fpe (.177), 34 fpe (.22), 45 fpe (.25)
Synthetic stock
Externally adjustable regulator (up to 3,000 psi/210 bar)
Easily accessible hammer spring adjustment screw
2 stage adjustable trigger
Max fill pressure: 4,351 psi (300 bar)
180cc air cylinder
Fully shrouded barrel
Picatinny rail on fore-end of stock
Holes in front and rear of stock for mounting swivel studs for a sling
Dual gauges - reg pressure (RH Side) and fill pressure (LH Side)
Male quick disconnect fill fitting
Easy access degassing screw
Manual safety
11mm dovetail/Weaver combination scope rail
Magazine capacity: 10rd (.177 & .22), 8rd (.25)
Barrel length: 22.75"
Overall length: 42.75"
Weight: 6.4 lbs.
Includes two magazines and single shot tray
Specs
Manufacturer

Air Venturi

Caliber

.25

Velocity

900 fps

Condition

New

Ammo Type

Pellets

Action

Sidelever

Barrel Style

Rifled

Fire Mode

Repeater

Gun Weight

6.40

Overall Length

42.75

Barrel Length

22.75

Loudness

3-Medium

Magazine Capacity

8

Mechanism

Pre-charged pneumatic

Rail

Weaver & 11mm dovetails

Safety

Manual

Front Sights

none

Rear Sights

none

Shots per Fill

24

Trigger Adjustability

Two-stage adjustable

Trigger Action

0

Use

Small game hunting/target practice

Warranty

1-year limited warranty
Reviews
Average Customer Review
4.8
5.0
13 Reviews
5.0
By Dennis
USA
June 27, 2021
Verified Purchase
To start ..silica packets had opened in the bag. Little pellets were inside the gun . I pulled the barrel cap off an had to dump them out of it They were everywhere ..Rifle showed to my home 2 days earlier than I expected. Now to the " Keeper of the Yard" This is my first PCP, coming from break barrels. I haven't heard this rifle without the donnyfl suppressor. I installed it before filling my tank and this thing is whisper quiet and deadly accurate. 1 mag with new scope and I was within 4 inches repeatedly. After the second mag I can cover the 8 shot sting with a silver dollar @50 yds with 25.39 kings. Understand please I AM NOT a SHOOTER ! This is a new hobby but I've shot off and on my entire life but it's been 3 years since I've been to a range. This rifle is far better than any break barrel and did I say whisper quiet. This can be pumped with a hand pump but I am 220 lb. I do nearly lift feet the last 3 inches of stroke after 3500 lb. As of today I love everything about it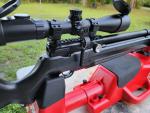 Pros
Twin gauges, easy and light trigger pull, regulated power gives ample shots.
Cons
As an owner of 6 hours, absolutely nothing.
Pros
Wow, I am quite impressed, This is my first pcp but I shot air rifle collegiately in the far past, This is not far from one of those rifles. Out of the box, and zeroed with in a few mins, first two shots were almost the exact same hole. That is what I was after, an accurate gun! For the price and what it comes with I am extremely happy. No it is not a competition air rifle but it is not far off. Also not familar with PCP, got a hand pump and that might be the first upgrade. Get ready to pump.
Cons
A little higher quality stock would be nice.
5.0
By Dennis
USA
June 27, 2021
Verified Purchase
Came with some air in it so I mounted a Vortex 2x-7x scope and sighted it in. After pumping it up to 3000 psi I picked out 2 pellets. The H&N Crow Magnums I sighted it in with and the H&N Barracuda Hunters to see how it grouped. It slightly prefers the Crow Hunters. After about 30 sight in and break in shots I shot two 5 shot test groups at 25yds. The photo is the Crow Magnum pellets on top the Barracuda Hunter pellets below. These are a stock right outta the box rifle !! Need I say more ??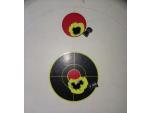 Pros
Would have preferred the wooden stock but I do really like the light weight of the synthetic.
Cons
The only thing I would change is a factory installed suppressor, it's kinda loud without one installed.
5.0
By Bobby
USA
May 9, 2021
Verified Purchase
I bought mine for AirGun Depot. I have several "high-dollar" air guns and none to them blow this Avenger away. It is a sweet shooter. In fact, It shot a 33.95 gr pellet just a little faster than my .25 Daystate Wolverine HP (high power) R.
Pros
Light weight, very accurate.
Cons
Nothing I can think of
5.0
By Nick
April 4, 2021
Verified Purchase
I take the top rail issue as minor but can be major if expensive scope falls off unexpectedly.
Pros
Very accurate out of the box. Two gauges, for storage and operating. Adjustments for trigger, and operating pressure. 4300psi max fill gives lots of shots.
Cons
Screws holding top rail were too short, were held by only one or two threads and came off when scope was being mounted, ( easy fix replacing with longer screws but annoying). Purchased shroud adapter and "modifier" and got near silent operation.
5.0
By Jim
USA
March 31, 2021
Verified Purchase
I use mine primarily for varmint eradication. I have over 300 prarie dogs working up the field behind my home and invading my yard. This rifle has cleared them 100% out to 165yd and I regularly pick them off at 190-215yds. Longest kill is 265yds. I find that impressive for an air rifle putting out 34fpe.
Pros
Consistency, range, varmint lethality, single action bolt... adj reg for $300!
Cons
I would work on smoothing out the bolt action. Definitely not up to biathlon standards... but it can be challenging to keep your eye on the target when cycling the bolt for the drift compensated second round down range.
5.0
By David
March 11, 2021
Buy it I love the 25
Pros
This is my first PCP air Gun Man I'm impressed It's amazing out of the box I put a cheap scope on it and Shot amazing groups 30 yard same hole Now shooting 70 yds 1" groups
Cons
Not much The stock is plastic but for 300 it's def acceptable
5.0
By Hector
USA
December 14, 2020
Verified Purchase
4.0
By Julio Cesar
Mexico
November 19, 2020
que tipi desupresor Donnyfl le queda a este rifle , y que bipode si lo tiene en la tienda airgun depotre , informacion de que bonba manual se puede utilizar para la recarga
Pros
la autonomía de disparo me da unos 54 disparos a como viene sacado de la caja sin regularlo y la precisión que tiene con grupos de media pulgada a 30 mts con jsb de 15,89gr
Cons
megustaria un modelo de culata mas táctico con ajustes de la mejilla
Q&A
Question?
Login to ask someone who bought this product.
what silencer would you recomend for this rifle
asked Jon from USA
Is the end of the Barrel Tapped to fit a front sight. So that a Diopter type sight can be used???
asked Norton from USA
suggest a compatible scope
asked David from USA
I HAVE HEARD THAT THIS GUN IS A BIT LOUD. Which moderator should I get for it? I do not want to spend more than 1\3 of the cost of the airgun (100$)
asked Terence from USA
I've been using the moderators from. Wolfairguns.com. Much more affordable and just as quiet IMO.
Riccardo L. from USA
I have been using products from DonnyFL. Nice products. I use them on pcp's from air venturi and benjamin, they allow you to go unnoticed while urban hunting....
Ian from USA
What do u need to charge up the gun ?
asked Michael from USA
Hi folks..... I'm pleased with this rifle and it surpasses all expectations. How long can it safely hold 2-3K psi ? Must it be de-gassed after each use? Thanks!
asked Jack from USA
Actually leaving a pcp devoid of air can be detrimental and as for holding pressure, ,without a leak it will hold air until it is released , no problem.
Ian from USA
Do you think this gun in .25 can dispatch a hog?
asked Mark from USA
With the right shot I'd say so but to do it humanely I would think you'd want at least .357 at minimum. Id check with your states D.N.R office to see what they recommended .
Mark from USA
I saw a video of a guy killing a hog with a break barrel.22 / ear shot
Colin from USA
Had question....can you use a air compressor to fill the gun?
asked Mark from USA
no you need a high pressure compressor,one capable of putting out 4500 psi. i just bought the benjamine compressor,im going to use this with a 3000 watt inverter to make it mobile
Steve from USA
What is the Muzzle energy ft/lbs? On the .25
asked Chris from USA
Hey mark. What size air cylinder is on this gun? Thanks
asked Chris from USA
Cylinder Size 180 cc
Mark from USA
Can I kill adult iguana with this gun that have invaded my yard, if so what caliber
asked Michael from USA
With good shot placement, .177, .22, or .25 cal can dispatch iguanas humanely. I own the .22cal and it is extremely accurate with reg set at 1200psi using JSB Hades at 860-895 fps.
William from USA
22 cal will do. 25 cal for sure,
Mark from USA
I'm trying to find out what the receiver is made out of (ie aluminum or polymer)? Are parts/ o-ring sets going to be available to be purchased for this rifle since it is made in china from the distributor (Air Venturi or this site) or are we going to have to get parts from the country of origin? Thanks for any info.
asked Randolph from USA
The receiver group is aluminum. Once the gun is in general production there will be parts,service,and technical help thru Air Venturi.
Mark from USA
Hope everyone is doing great. I preordered 7/1 and I'd like to know if I can expect a this rifle in the mail soon or not. Have a great day.
asked Steven from USA
The next batch of Avengers are due to be shipped in mid to late Sept.
Mark from USA
What all needs to be purchased with gun to start shooting?
asked Billy from USA
An air source to fill the gun. 3000-4500 PSI.Ammo .and a scope and rings.
Mark from USA
8/2/20 Hi have you guys got any of these guns in yet at all or is everything still on hold?
asked Chris from USA
The second shipment is on it's way.
Mark from USA
what would be a good scope and rings for this airgun
asked John from USA
A 3-9 x or 4-12 x will work fine. Look at the Athlon.Hawke,MTC.or UTG scopes.
Mark from USA
What size is the air reservior?
asked John from USA
how many psi to charge it fully?
asked Roger
will it accept an after market moderator like a donny fl ??
asked don h
Yes. Donny sells an adapter for his moderators that fits the Avenger.
William from USA