An elite airgun like the AirForce Condor SS requires an elite scope. This combo includes the Hawke Vantage 4-12x50 AO Illuminated reticle rifle scope, and rings. A match made in airgun heaven. Whether you're zeroing in on your prey, or shooting spinners at 75 yards, your Condor SS Hawke scope combo will help you achieve unheard of accuracy. And since this Talon is shrouded (SS = Sound Suppression), you can safely use your Condor without scaring away prey or alerting your neighbors. And the Condor includes an adjustable power meter, which helps to tone down the power so you don't punch through your backyard fence!.
Note that you can buy extra barrels of different calibers and easily swap them out (no special tools required).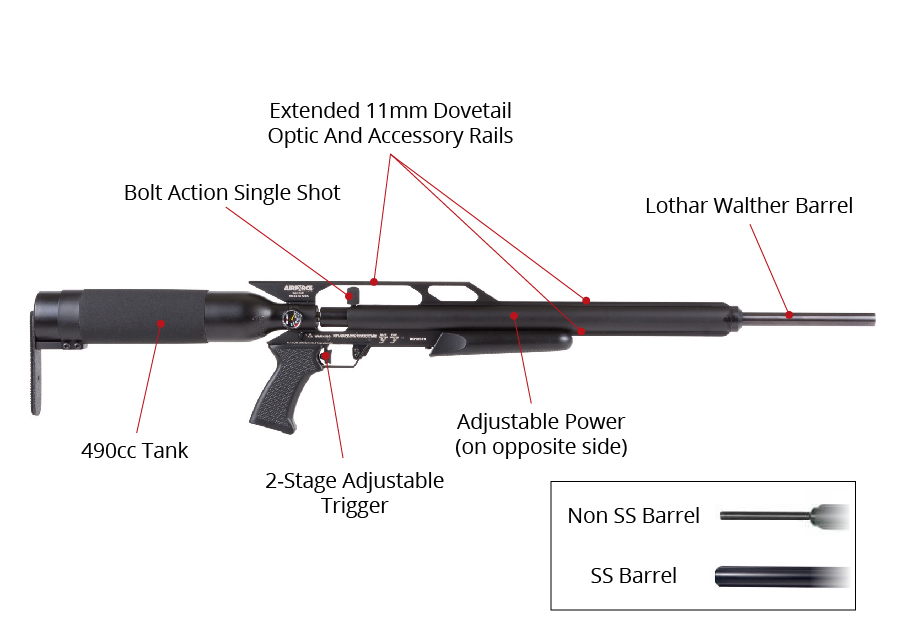 AirForce Condor SS Hawke Scope Combo Features
Includes Hawke Vantage IR 4-12x50 Scope & rings
Pre-charged pneumatic
Single-shot
Recoiless
Adjustable Power
600-1300 fps depending on caliber, pellet & power setting
Multiple Dovetail Mounting Rails
Extended Scope Rail
Max Fill Pressure: 3,000 psi
Specs
Manufacturer

AirForce

Caliber

.20

Velocity

1000 fps

Condition

New

Ammo Type

Pellets

Action

Bolt-action

Barrel Style

Rifled

Fire Mode

Single-shot

Gun Weight

0.00

Overall Length

0.00

Barrel Length

0.00

Loudness

4-Medium-High

Magazine Capacity

1

Mechanism

Pre-charged pneumatic

Rail

11mm dovetail

Safety

Automatic

Front Sights

none

Rear Sights

none

Shots per Fill

0

Trigger Adjustability

0

Trigger Action

0

Use

Hunting

Warranty

Lifetime limited warranty
Reviews
Average Customer Review
4.6
4.5
17 Reviews
1.0
By DARRIN
USA
November 4, 2020
Pros
Powerful
Cons
Tank leaks around foster fitting. Looks like no QA was done on the tank.
I had to add an Air Force Tri-Rail Base to raise the scope approximately 1/2 inch to achieve a comfortable sight picture and cheek weld for me.
Pros
A quality American Made air rifle, I like the build, design, durability and accuracy. I have spent many hours enjoying this rifle, it has many features for tuning and adding accessories. The Hawke scope is also very good, I have 2 more Hawkes mounted on my other air rifles, no problems very satisfied.
Cons
non noted
5.0
By Jack
USA
January 6, 2020
Even though the Condor is not regulated it can be adjusted for accurate shot placement. I perched the .25 cal and found the JSB Exact Heavy MK2 33.95 grn work great on mine at a 5 on the power setting. I chrono average 920 FPS with a full charge and 865 on shot 20 with a tank pressure of 2,200 before topping off. Shooting with the air cranked all the way up in my opinion is a sacrifice of air and accuracy. It is extremely quiet for back yard practice. I have no regrets making this purchase. With a little experimenting with the power setting sub mil accuracy at 50 yards is possible with the right pellet or slug. I love the fact that I can shoot longer slugs without the worry of magazine limitations. For plinking or hunting I love this air rifle. Great warranty for the original buyer as well.
Pros
Quiet and accurate and hits like a hammer. Twenty or more shots without sacrificing accuracy and energy. Made in the USA
Cons
None I have observed.
5.0
By Chris
USA
January 1, 2020
Great air gun already hav a talon like so much I brought a condor.
Pros
Very accurate, very well constructed. Shipped on time arrived in perfect condition.
Cons
Only single shot. Loading could be easier, but ground squirrels only give you one shot at a time.
5.0
By Deg
November 12, 2019
This rifle is light, easy to handle and amazingly accurate. I like the scope as well. The built in suppressor is very effective. Overall, a very nice gun. I've been through spring guns and one pump pneumatics and they all shake themselves apart and are not accurate. Problem solved.
5.0
By Patricia
USA
August 31, 2019
Wish I would have came across this the first time! I love this thing and as soon as I save up some more money I will be getting the Texan SS .45cal. American made and you can tell by handling it its well put together,light weight and perfect for hunting small game. Airgun depot helped me out a lot when other purchases weren't up to par. Customer service is second to none!! as far as I'm concerned..
Cons
None for me
2.0
By Jeff
USA
July 16, 2019
I thought I purchased the .25 but the .177 showed up and I figured I would stay with it as I do a lot of backyard shooting. I thought wrong. This rifle is as loud as my Remington Centerfire .22. It is more of a snap than a boom, but it is damn loud. On the upside, the Hawke scope is great and the rifle is very accurate. My problem is that I can't shoot it the way I intended as it is too loud. I reached out to Airforce via their website to see if this is normal and I have not received a response...that was 3 weeks ago. I will call them soon to see if I can get some help.
Pros
Fairly accurate.
Cons
Power wheel is not very consistent on the chronograph and it is as loud as a .......
5.0
By Kevin
USA
April 19, 2019
Took my condor out for sighting and had an good time shooting it. It was accurate and easy to shot after a few adjustments. Airforce just makes a great air gun.
Pros
Number of shots per fill
5.0
By Ricardo Mckillips
USA
July 24, 2018
Love this rifle!!!! Decided to go .25 cal normally a .177 and .22 type of shooter, but I have been coming across mediam game so wanted to have some stopping power! The scope that is in the combo package is awesome!! Good matchup with the condor.... AirgunDepot hooked me up with all the right leads for my type of shooting... Even threw in some discounts!!! I zero in between 50 to 25 yards and my groups are around 2� This rifle is very acurate, my power is set at half!!!! Definitely has become my favorite PCP!!!! It is quieter then my Benjamin murader Pistal!!!
Cons
Single loader :-(
5.0
By Kenneth
USA
July 20, 2018
Love the platform plenty of rails for accessories. Quiet compact great accuracy took some time to find the right pellet but when I did 100 yard shots no problem
Cons
Would like to have seen a better grip. And a smoother safety
Q&A
Question?
Login to ask someone who bought this product.
How much does this .177 gun and scope weigh?
asked Bill from USA
Where do you get the tank filled and how much does it cost?
asked James Snow
Is this Lothar Walther barrel?
asked Yiming from USA