Unlike firearms, this .357-caliber bullpup won't send your quarry running for cover when you pull the trigger. Benjamin's SoundTrap baffles suppress the report. You don't need a lot of noise to demonstrate power. The results are downrange, and that's all you really want. The long rail above the barrel plus a shorter one under the muzzle give you plenty of space to add a scope, flashlight, bubble level and/or laser. Optical accessories made for the AR platform can also be mounted on your Bulldog. Because this is a big bore, you're no longer limited to smaller pests and traditional airgun-sized game. Hunt feral hogs, coyotes and other larger game. You can also take smaller pests and game at further distances than you would with small-caliber airguns. Here's what our tech department found when shooting the Bulldog with 81-grain JSB pellets. The reservoir was filled to 3,000 psi for this 10-shot string (2 mags). Ending pressure was 1,900 psi: Shot 1: 897 Shot 2: 908 Shot 3: 903 Shot 4: 892 Shot 5: 882 Shot 6: 876 Shot 7: 864 Shot 8: 848 Shot 9: 833 Shot 10: 817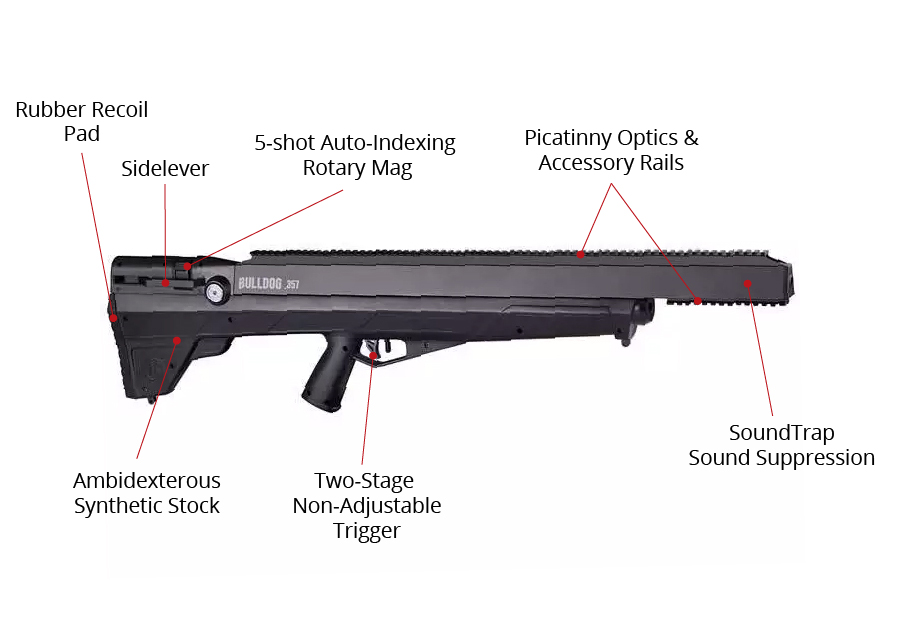 Benjamin Bulldog .357 Bullpup Features
Precharged pneumatic
5rd auto-indexing rotary clip
Sidelever
28.00" rifled barrel
SoundTrap baffle-less trapezoid-shaped sound suppression
26" long Picatinny optics rail
5.50" long Picatinny accessory rail
2-stage non-adjustable trigger (stage 1=2 lbs., stage 2=3 lbs.)
Manual safety
36" long
Ambidextrous synthetic stock
Rubber recoil pad
3000 psi max fill pressure
340cc reservoir
10 max shots per fill (going from 800 fps down to 670 fps and from 3000 psi down to 2000 psi by shot 10)
7.70 lbs.
Real Tree Xtra camo stock
Foster male quick-disconnect
800 max fps with a 145-grain Nosler bullet (900 fps max with a 95-grain bullet)
200 ft-lbs. max with a 170-grain bullet
Includes Swab-Its, 6 Nosler eXtreme bullets and Pellgunoil
When you look for optical accessories, the Bulldog's manual states this: "Use of 37mm tall (Absolute Co-Witness) rings, widely used with the AR platform, are recommended." You may also use other sighting systems suited for AR platforms.
Specs
Manufacturer

Benjamin

Caliber

.357

Velocity

910 fps

Condition

New

Ammo Type

Pellets

Action

Sidelever

Barrel Style

Rifled

Fire Mode

Repeater

Gun Weight

7.70

Overall Length

36.00

Barrel Length

28.00

Loudness

4-Medium-High

Magazine Capacity

0

Mechanism

Pre-charged pneumatic

Rail

Weaver/Picatinny

Safety

Manual

Front Sights

none

Rear Sights

none

Shots per Fill

0

Trigger Adjustability

Two-stage non-adjustable

Trigger Action

0

Use

Hunting

Warranty

5-year limited warranty
Reviews
Average Customer Review
4.4
4.5
10 Reviews
5.0
By Dubre
USA
February 28, 2019
This gun is an absolute beast. High powered out the box, and has great accuracy at 50 yards that will pretty much take whatever it hits.
Pros
Works awesome with my favorite pellets (Predator Polymags)
Cons
It's shrouded but loud, hit up Donny FL
5.0
By Jon D.
December 19, 2018
These may be strange looking, but man are the awesome!!! And Lots of fun!
1.0
By Jesse
USA
March 8, 2018
Called company nearly a month after item shipment, they said it was returned undeliverable to them. I was not informed nor contacted about it, after calling I was told to expect my refund in 10-14 days and they would not reship. Sounds like unauthorized borrowing and illegal loan practices. I'm sure this product is great when your not getting
Pros
Has goodbpurported features
Cons
Bought as gift they did not get.
I purchased this gun with the whole kit (Camo bulldog, Centerpoint 4-16x56 glass etched reticle scope with sunshade, premium benjamin sling, bipod, Threaded polymer cleaning rod, Tactical brown benjamin soft case, Nosler ammo) in realtree xtra from airgun depot's sister company, but I have ordered things from airgun depot and there customer service is excellent. Even though I purchased the whole gun and kit somewhere else, I felt the need to post this review. Before I purchased this bulldog, I did alot of research. This .357 Bulldog bullpup puts out up to 200 foot pounds and can fire up to a 175 grain bullet. Out of all the .357 bullpups I looked at and shot, I felt the bulldog was the best choice in terms of power, reliability, multiple ammo choices, ease of use, durability. I was stuck for a while on the Kalibr Cricket .357 bullpup but its power was 110 foot pounds as opposed to the bulldogs near 200, the Crickets mag was short which limits ammo size and choices and the cricket only liked certain ammo due to the slight difference in 9mm,.357,.35. This was the same with Evanix bullpups and the rainstorm 3D. Dont get me wrong, the cricket and rainstorm 3d were both brilliant and great shooters as were other Evanix bullpups in .357 but they didnt have the power, durability,that I was looking for. This bulldog is plenty accurate too. I almost didnt buy it because the videos I seen of people shooting it, didnt seem that accurate. But after getting mine its really accurate. Even with 66 grain roundballs, which people said those were the most innaccurate. At 30 yards i can put 66grain roundballs in a 1 inch group (you have to sort out the roundballs by hand to only shoot the most uniform and conistent ones). The jsb 81 grain pellets are clover leaf groups around half inch to inch at 30 yards. At 50 and 60 yards at the range I havent gotten to do alot of testing but I was acheiving about 2 inch groups with jsbs and about the same with the nosler 145 grain after finding correct holdover. That day it was really windy and raining so Im sure It could do much better with better conditions. People say this guns loud. Its not. Its not quiet by any means like my marauder but its nothing like a .22 firearm. I shoot my bulldog in my backyard at 30 yards with a 1/4" thick, 4 foot by 4 foot steel plate backdrop. For the ammount of power its putting out, Its not entirely that bad. Its Like a baloon popping with metal clang. I wish it was quieter or had baffles, why the shroud with no baffles beats me. Its not really light but Its extremely well balanced and very ergonomic so shouldering and pointing It feels really good and natural. It has sling swivel studs so equipping it with a nice sling makes it a breeze to carry in the woods all day. The full length picatinny rail and underside picatinny rail makes mounting anything so fast. Any AR-15 optic, lights, lasers, infared illuminators, nightvision, or even open sights, mounts and hooks up in one second and the full length rail gives you plenty of real estate for those accessorys. The lever bolt action is smooth but being back by your shoulder, it takes some getting used to and would be better farther forward. The pressure gauge is on the side, Away from the end of the barrel. Pressure guages should NEVER be right next to the end of the barrel! The bulldogs fill port is in a great spot too, back by the shoulder stock whale tale underneath and it sits under a plastic dust cover. The trigger is a nice solid die cast aluminum skelotonized type and breaks nice. The safety is plastic and is a bit noisy until you learn how to master It. The plastic safety seems like an afterthought but its nice that its manual not automatic, so follow up shots are quick and easy. The whole upper half of the gun, and upper picatinny mount is metal, and solid. The mags hold 5 rounds and are great. There really easy to load and can fit a vast array of bullets, pellets and roundballs. The mags are really long and can accomidate tall (which in most cases means heavier) bullets. A neat thing about the mags are when its fully loaded, theres a small green mark on mag which is visible when shouldered and when its empty, theres a small red mark on the top of the mag to let you kow your out. (The bolt will not go forward when mags empty as well) The scope that came with the kit (centerpoint Mil-dot 4-16x56) is crystal clear and has a very fine glass etched reticle on the second focal plane. I believe this scope cost about $200, but it rivals scopes costing double. One reviewer stated his cross hairs were crooked. Mine are perfect. Many people have said this is the best scope to come on a gun from the factory as a kit or combo and I would have to agree. The finely etched glass mil-dot reticle is outstanding. The bipod that came with kit wasnt special but it works fine. The sling is really nice and so isnt the benjamin soft case. All in all this is a fantastic gun and hunting tool thats very powerful, accurate, balanced, and durable, at a amazing price
Pros
Extremely powerful, accurate, balanced, easy to point or shoulder, very ergonomic and all around great shape/design. Gun has sling swivel studs, shrouded barrel. Full length picatinny rail on top is great for any tactical or AR-15 type optics, sights, or other accessorys and offers plenty of real estate, Extra picatinny on bottom great for bipod, lights, lasers, infared illuminators etc. Gun is durable, made in u.s.a.,. Gun shoots wide range of ammo, great mags that are easy to load and long. Gun is pretty compact and easy to carry in thick brush, easy to fill or pump, easy to clean and keep clean, great trigger, Perfect placement of pressure guage and fill port, action is smooth, Quick connect Foster fitting instead of leaky probes. Guns not obnoxiously loud, good shot count, good consistency for no regulator. Realtree camo not only looks great but is functional
Cons
bit on the heavy side, no baffles in shroud (why benjamin/crosman didnt install baffles is mind boggling because they couldve made it quieter), longer than most bullpups. Safety is plastic and seems like an afterthought. If not familiar with gun, you can double load a round.
4.0
By Richard
USA
January 20, 2017
will it shoot other caliber pellets ?
5.0
By Brandon
USA
December 19, 2016
This was much more then what I expected... I am very happy so far with the purchase and the on time arrival! Will see as time passes if it holds up to its quality so far very 😁!
5.0
By michael w.
June 11, 2016
This is the most awesome thing I have ever seen.
Pros
Greatness
Cons
none
4.0
By Matthew
USA
May 2, 2016
5.0
By michael pundyke
USA
September 2, 2015
I just got this benjamin bulldog a few weeks ago an let me tell you I'm in airgun heaven we have a family rank in Honolulu Hawaii an I've been hunting on our property most my life first small varmint hunting an birds but the last few years been pig hunting so now larger game an pigs in Hawaii are huge well I first set my scope an mounts on my real tree camo bulldog then charged it up an sighted it in at 50 yards dead on accuracy omg....,so I ordered JSB 81 grain an the benjamin nostler 145 grain bullets so used the more affordable ammo an sighted it with the JSB an called it a night woke at 4:30 that morning for my first pig hunt with my bulldog .357 an set out on our ranch soon my brother spotted a female pig an I quickly got it in my sites My brother quickly ranged the pig out of 47 yards so steady my rifle on my shooting stick an let one go an to my amazement the pig went down just inside 50 yards a perfect shot behind the front leg bullet went threw both lungs an heart an clean threw from one airgun hunter to another buy this gun it's just amazing very powerful an extremely accurate with great optics also I use a leaper 4/24/59mm works flawless thanks to justin in returns an the while AGD family for exceptional customer support I will shop no we're else happy an safe hunting shoot straight an hit your target!!!
Pros
Everything rifle is incredible benjamin hit it out the park with this .357 big bore bulldog
Cons
NONE!!!
Q&A
Question?
Login to ask someone who bought this product.
does the benjamin pump work for this benjamin bulldog
asked Alexis from USA
How hard is it to fill with a hand pump? What is the biggest animal you have taken? Is this gun big enough to take a hog or deer?
asked Dustin from USA
Killed a buck at 80 yards
Richard from USA
I am interested in the Benjamin Bulldog Bullpup. Can you recommend a higher quality scope good out to 200 yards with scope mounts to make it the correct eye level?
asked Jeff
Can you use .357 air bolts usefully in this rifle?
asked Chappy from USA
What is the Bulldog Barrel length? Can I shoot .35 cal air bolts thru it?
asked Chappy from USA
could you kill a deer at 100 yards
asked mark adams
I killed a 6 point buck at 80 yards, went completely thru the deer.
Richard from USA