The Benjamin Gunnar is a tactical PCP air rifle with bold and flexible features that provides you with excellent performance. It reaches speeds up to 1000 fps in .22 and 900 fps in .25 and gives you power up to 32 fpe in .22 and 50 fpe in .25, so you can easily use it for either target shooting or small game hunting.
This air rifle lets you swap in components from the AR platform if you so choose, because it comes with AR compatible parts like the textured pistol grip and the buttstock that has a 4 way adjustable cheek piece. Plus, it gives you many ways to adjust its performance to suit your liking, including an adjustable trigger shoe, adjustable regulator, and 5 position external power adjuster.
The Gunnar makes it easy and fast for you to cock it with a smooth sidelever, and there's an onboard fill gauge for the 500cc bottle so you can fill it to 3000 psi with no problems. It also gives you quieter shots than similar guns because it has integrated sound suppression and a shrouded barrel, so you won't give away your position as easily when you're hunting.
The air rifle has a Picatinny scope rail so you can add your favorite scope to it, and it also has a Picatinny rail under the bottle so you can add things that help you steady your shots, like bipods or monopods. It also helps you keep a good hold with the comfortable ridged rubber buttpad, and you'll get plenty of shots before reloading with the 12 round magazine in .22 and the 10 round magazine in .25.
If you're looking for a powerful and accurate PCP air rifle for hunting or target shooting that you can customize for different uses, get the Benjamin Gunnar today at Airgun Depot.
Benjamin Gunnar Features:
PCP
Sidelever
Comes in .22 or .25 cal
Max velocity: 1000 fps (.22), 900 fps (.25)
Max energy: 32 fpe (.22), 50 fpe (.25)
5 position external power adjuster
Adjustable regulator
500cc bottle fills to 3000 psi/206 bar
Magazine capacity: 12 rds (.22), 10 rds (.25)
Shrouded barrel with integrated sound suppression
Adjustable trigger shoe
Onboard fill gauge
Picatinny scope rail
AR compatible textured pistol grip
AR compatible buttstock with 4 way adjustable cheekpiece
Ridged rubber buttpad
Picatinny accessory rail
5 year limited warranty
Specs
Manufacturer

Benjamin

Caliber

.22

Velocity

1000 fps

Condition

New

Ammo Type

Pellets

Action

Sidelever

Barrel Style

Rifled

Fire Mode

Repeater

Gun Weight

9.00

Overall Length

41.33

Barrel Length

19.25

Loudness

3-Medium

Magazine Capacity

12

Mechanism

Pre-charged pneumatic

Rail

Weaver/Picatinny

Safety

Manual

Front Sights

none

Rear Sights

none

Shots per Fill

90

Trigger Adjustability

Two-stage adjustable

Trigger Action

0

Use

Small game hunting/target practice

Warranty

5-year limited warranty
Reviews
Average Customer Review
4.8
5.0
6 Reviews
5.0
By jerry
August 4, 2023
Verified Purchase
5.0
By Marvin W.
USA
July 3, 2023
Verified Purchase
Seems like a fine Rifle.
Pros
I was happy enough with the Gunnar that I bought a back up. Still working on the accuracy but I believe this will come around.
Cons
The only things I would change at this time are - a better trigger (a Marauder trigger would be fine) (Will a Marauder trigger work?) and a closer fitting on the stock so it would not wiggle as much as it does. I will probably figure out a wedge or two that will solve this problem as soon as I am sure that I have it adjusted to the correct length.
5.0
By Dennis
February 23, 2023
Verified Purchase
I would buy this gun over any airforce texan! I wish they had this in 357 cal. Now that would be dope!!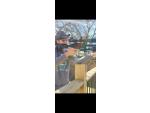 Pros
Things I like about this gun is without hesitation the quietness and the many many high-power shots you get with one fill up! I can shoot starlings from my living room window and my wife from the kitchen doesn't even know I shot! Now that is impressive to me!! And the 80 some shots I get is like WHAT!!! I can be squirrel hunting all day and I can miss 50 squirrels and still have a chance at 20 more. I love the adjustable ar stock as well! I run a YouTube channel so this gun is always the viewers favorite when I bring it on!!
Cons
I did not want to write anything in this spot but I feel like I have to mention the weight, it is a little bit heavy but with the right bipod and or rest this has little affect. But carrying the gun all day long you definitely start feeling the weight. Like I said not a big deal! Also something I would love is if the internal power regulator was easier to adjust but again not a biggie!!
Price is a little high fo a 25 cal.
Pros
Looks good but expensive for a 25 or 22 cal
Cons
Would like to be in 30 cal. Also Would like a suppressor to reduce sound moe as I wear hearing aids
5.0
By Eric
USA
April 19, 2022
Airgun depot is a great company with great people working there. i bought 5 guns and im happy with all 5.
Pros
i was in love with this gun, and its become my go to gun if i know im gonna be out for a while and i dont feel like grabbin the air compressor draggin it along the tank hold enuff air to get off a alot of good shots be for dinner lol.
Cons
nothing all good so far
5.0
By Dan
March 9, 2022
Verified Purchase
Pros
Quite, accurate, plenty of shot capacity, feels solid, very happy with this gun
Cons
A bit heavy. They could make a stiffer front pic rail. It has a little flex so I had to move my bipod back further than k wanted it.
Q&A
Question?
Login to ask someone who bought this product.
Will Marauder mags work in this? I know that they are different capacity. I have two other (non Marauder) PCP's that use Marauder mags and will avoid more confusion with different mags.
asked LESLIE from USA
Is the regulator in any way adjustable?
asked LESLIE from USA
will i be able to hit a rabbit at 100yrd
asked JEFFREY from USA
Yes, definitely
Mark from USA
is the gunnar accurate?
asked James from USA
What is the barrel length and overall length?
asked Jeffrey from USA
Read the specs. They're right above
LESLIE from USA
is the bejamin gunnar accurate like 1/2 inch at 50 yds
asked James from USA
YES MINE SHOOTS PELLET ON PELLET AT 60yds JSB 25.39 (all the room i have in yard)
Jeff from USA
How many shots per fill in the new 25 cal. Benjamin Gunnar?
asked Greg from USA
I'm getting about 45. Regulator set to 1900
Gary from USA