Crosman Diamondback SBD, NP Elite
Nitro Piston Elite (gas piston)
Breakbarrel
Single-shot
Rifled steel barrel
Adjustable 2-stage trigger CBT=Clean Break Trigger
Front and rear sights
11 Dovetail rail
Manual safety
All-weather black synthetic stock
SBD sound suppression system (Gold Level)
Sling mounts (rear post/front loop)
Includes CenterPoint 4x32 scope
Benefits of the Nitro Piston over a metal mainspring:
Smoother cocking
Smoother shooting
No spring torque
No spring fatigue, even if left cocked for hours
Functions perfectly in cold weather
Lasts longer than a metal spring
Specs
Manufacturer

Crosman

Caliber

.22

Velocity

1100 fps

Condition

New

Ammo Type

Pellets

Action

Break barrel

Barrel Style

Rifled

Fire Mode

Single-shot

Gun Weight

8.51

Overall Length

46.50

Loudness

2-Low-Medium

Magazine Capacity

0

Mechanism

Gas-piston

Rail

11mm dovetail

Safety

Manual

Front Sights

Post

Rear Sights

Adjustable

Shots per Fill

0

Trigger Adjustability

Two-stage adjustable

Trigger Action

0

Use

Small game hunting/plinking

Warranty

5-year limited warranty
Reviews
Average Customer Review
4.5
4.5
38 Reviews
5.0
By Jason Jaggers
April 22, 2023
Verified Purchase
Get a good quality scope, by the time you add up cheaper scopes, plus frustration, it's better to just buy a good scope
Pros
Power, quietness,hefty,and accurate
Cons
Better scope, I've gone through 5 so far
4.0
By Tom
USA
April 3, 2023
Verified Purchase
I ordered the 22cal. Crosman Diamondback rifle with no scope from PA on Jan. 14, 2023, I received it on Jan. 18, 2023. The accuracy was poor at first and the trigger was not too good. I backed out the trigger adjustment screw, 1/4 turn at a time until I achieved a long but light trigger pull. It took around 100 shots for the rifle to break in. The rifle gets better the more I shoot it.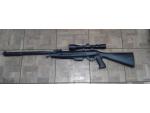 Pros
Poor accuracy at first but it is fairly accurate and reasonably quiet now. With a little work this rifle turned out real nice. At present this rifle will hold a quarter sized shot group at 30 yards. The rifle is sighted in with 22cal Crosman 14.3 gr. Hollow Point pellets. I had ordered the no scope option. I mounted 3-9x40 AO scope on this rifle. The cocking effort is not too bad but it could be better. I have a Crosman Summit Ranger NP2 rifle that is a little easier to cock.
Cons
The rifle weighs 8 1/2 pounds with out a scope and 9 1/2 pounds with a 3-9 x 40 AO scope. I don't think much of the fake magazine. At some point I think I will remove it. There were a lot of sharpe edges that had to be smoothed out. The open rifle sights needed work, the front sight was the same color as the rear sight. To give the sights some contrast, I tipped the front sight with high visibility fingernail polish. The fingernail polished worked out well. They are sighted in at 10 yards.
3.0
By Delbert Engelhard
February 26, 2023
Verified Purchase
I don't recommend it.
Pros
The iron sights are nice... and the pistol-grip stock.
Cons
It is very hard to cock; gas piston should be much easier. and it bucks like a mule.
5.0
By Ray
January 7, 2023
Verified Purchase
I tried FX 15gr pellets but that weren't as accurate as the Crosman are, gonna stick with the Crosman hollow points,14.3gr since they're very accurate
Pros
Very accurate rifle, I bought this to replace a Benjamin Summit NP .22 that stopped shooting (worn out NP, old rifle) and I wasn't disappointed! I'm getting 841fps with the Crosman Premier hollow points, sighted in for 65yrds and it's shooting quarter size groups! I got the rifle without the scope and put a UTG 3x9x40 on it, it is scary accurate for a break barrel. I'd say it's back yard friendly not very loud but not as quiet as the Benjamin Summit was. I'd definitely buy this rifle again
Cons
The trigger sux just a bunch, I tried to adjust it and put a longer screw in for the trigger but it still sux, definitely not a deal breaker tho. like I said, I'd buy it again!
3.0
By Jason W.S
December 8, 2022
Verified Purchase
Not mounting a scope, as the prey I am after is quick and elusive, no time to zero in on but with open sights Game On
Pros
Really nice airifle,powerful and quiet. UPS dropped it off yesterday afternoon. Unboxed it and after a few clicks( although no click) in elevation and windage. 5 pellets later dead on out to 40yds. Trigger finger is itching to use H&N Crow magnum 18.21 gr. on some skunks and roof rats as I live on a 12 acre horse ranch. Likes Crosman Premier H.P. pellets, most accurate. I'm going to adjust as necessary for the weight of the cm's.
Cons
Picatinnany rail. 10 shot magazine. Sights need trueglo or luminescent paint.
5.0
By Paul
September 16, 2022
Perfect first break barrel for an adult. Very forgiving while also powerful & accurate. Cocking arm may require ice after long plinking or target sessions. Its fun to shoot & hard to put down.
Pros
This is my 1st break barrel. I have had it for a little more than 8 months. I have loved this .22 from the moment I opened the box. Its not too picky about pellets or really hold sensitive. The rifle is fairly accurate no matter what I do. However when I feed it crosman HP 13.4 or H&N 18.5 hunter extreams, & hold her just right. I can get sub MOA 5 round groups @ 25yds consistently. Im confident if had a longer yard it wouldn't take long to do the same @ 35yd or even 50. It didnt come with a scope & it broke 3 I put on it. I have a Hammers 4-12x40mm A/O on it for 3 months/600+ rounds I have to rezero occasionally but otherwise it has been a great combo.
Cons
None.
5.0
By John
August 11, 2022
I truely am impressed with the .22 diamondback it has great power , is very quite, great for shooting , my neighbors cant hear it , we have invading raccoons every spring summer , its no problem taking them out with the diamondback at 25 yards no scope 1.5 inch groups sometimes 2 inch but thats on me. Its a year old and i put 2500 pellets thru it , avgs. 906 F.P.S. with crossman domed 13.7 grain pellets thats 24.98 F.P.E and avg.888 F.P.S.with 14.3 hollowpoint domed crossman pellets for raccoon shooting thats just over 25 F.P.E. this is one great of a break barrel air rifle thanks crosman
Pros
POWER ,ACCURACY, how it feels in hand, many pellets shoot great its not picky it takes out even large raccoons max ever 2 rounds
Cons
NONE TO ME
5.0
By tod
May 23, 2022
Verified Purchase
Pros
Heavy, I like that. Packs a wallop, mongoose goes into shock and then expires if it isnt dead instantly. I have a PCP scoped but needed a cheap break barrel for up close. Took one shot out of the box, adjusted and then dead center at 25 yards with the open sights (retired Marine so my eye relief and stock weld never vary). Just over a hundred bucks (no scope), long warranty. So far so good.
Cons
Every hand is different, arm length too, but my off-hand cups the front corner edge of the "magazine well" and if it was shaped differently, maybe rounded, I wouldnt notice. just a tiny bit louder than my bullpup, but still good.
4.0
By Robert
March 3, 2022
Verified Purchase
Like very much,because it looks like the M16.
Pros
Nice tactical looks,hits hard,easy cocking,backyard friendly.
Cons
Little heavy
Q&A
Question?
Login to ask someone who bought this product.
what fps does it fire a 14.3 grain lead pellet , i have no chronograph
asked darryl from USA
What are the best pellets for this air rifle? Will it do good with Crosman Premier 14.3 gr?
asked Kevin from USA
New to air rifles ?
asked Roger from USA
Is it ready for 1100 fps with 1 pump?
asked David from USA
Used JSB Exact Jumbo RS at 13.43gr but can't seem to zero in for more than a day. Changed scope to a UTG, same problem. Anybody managed consistency out of this toy gun and if so, with what ammo? I've got the .22 variant.
asked Minion from USA
First check the stock bolts if they are tight, next try JSB 18.13gr , or heavier pellets. Usually powerfull break barrels do well with heavier pellets, those 13.43gr are in the light spectrum for a powerfull break barrel. Try Air Arms Diabolo 16gr and 18gr and H&N 18gr and 21gr. Hope this helps please update your review how it went? I might buy it, I really like the break barrel rifles. They are not easy but man you really get to shoot any other rifle better.
Adrian from USA
Hello, I am waiting on my purchase to arrive. I was wondering if a bipod could be mounted to this air rifle? And with your testing of this gun, which .22 cal pellet was rated the best shooting out of this rifle?
asked daniel from USA
can use pellets 177 caliber on my rifle 22 caliber?
asked jorge from USA
No, this is a .22 calibur only. The .177 pellets are to small.
Kevin from USA
Received the rifle and seems solid. Scope mounts not included?
asked James from USA
How does this gun perform at 50 yards and even up to 100 yards (with decent accuracy)? Looking for a fun, affordable long range shooter in break barrel.
asked Seth from USA
This air gun does 1/2 pattern at fifty yards with Crosman Premier Hollow Point 14.3 pellets. I hope this helps!
Kevin from USA
what size pellet to kill a huge cane toad?
asked marasha from USA
Does rifle require purchase and installation of air cylinder regularly ... didn't see where to buy that. Do you also have one with multi-shot ability 22 cal also
asked Bruce from USA
This is a nitro piston air rifel means there is a gas ram that pushes the air out and it is a single shot
Gary from USA
Can the open sights be replaced with a higher quality set, or at least the rear sights ? I have heard the sight are made of plastic !
asked Scrambler82 from USA
Mark from USA - Is the rear sight on this rifle built to a standard mounting pattern ?
Scrambler82 from USA
You probably can remove the rear sight. The front sight can not be removed.
Mark from USA
What grain pellet should be used to achieve around 900 FPS?
asked Sean from USA
14 grain 850 fps
Gary from USA
14-18 grains
Mark from USA
Sound level equivalent?
asked Johnny from USA
This is a very quiet air rifle. Beyond 30 ft or so you will hear almost nothing.
Mark from USA
What type of sling do you put on the gun.
asked Hector from USA
I bought a Tactical Hero 2 point rifle sling and it works great. You will need to remove one clip to install on back of air rifle.
Kevin from USA
I would see if the benjamin brake barrel premium fits it worked great on my air rifel
Gary from USA
how can I put a bipod on this rifle?
asked pancho
what is the true fps on the 22cal not what is advertised not fallimg for the banana in the tailpipe so far hatsan is the only one I have found to be honest in this respect do you have real chrony test on this rifle?
asked Tom
How much strength is needed to cock this gun?
asked David Green