Crosman Diamondback SBD, NP Elite
Nitro Piston Elite (gas piston)
Breakbarrel
Single-shot
Rifled steel barrel
Adjustable 2-stage trigger CBT=Clean Break Trigger
Front and rear sights
11 Dovetail rail
Manual safety
All-weather black synthetic stock
SBD sound suppression system (Gold Level)
Sling mounts (rear post/front loop)
Includes CenterPoint 4x32 scope
Benefits of the Nitro Piston over a metal mainspring:
Smoother cocking
Smoother shooting
No spring torque
No spring fatigue, even if left cocked for hours
Functions perfectly in cold weather
Lasts longer than a metal spring
Specs
Manufacturer

Crosman

Caliber

.22

Velocity

1100 fps

Condition

New

Ammo Type

Pellets

Action

Break barrel

Barrel Style

Rifled

Fire Mode

Single-shot

Gun Weight

8.51

Overall Length

46.50

Loudness

2-Low-Medium

Magazine Capacity

0

Mechanism

Gas

Rail

11mm dovetail

Safety

Manual

Front Sights

Post

Rear Sights

Adjustable

Shots per Fill

0

Trigger Adjustability

Two-stage adjustable

Trigger Action

0

Use

Small game hunting/plinking

Warranty

5-year limited warranty
Reviews
Average Customer Review
5.0
5.0
7 Reviews
5.0
By JIM
USA
June 19, 2020
Verified Purchase
Easy to cock and is quiet. Best buy for the money....good, old American engineering. Fun to shoot because of its accuracy.
Pros
I like the balance of the rifle and how easy it is to aim. I was surprised at how accurate it was coming out of the box. I have 9 air rifles most all were $100 to $300 more expensive than this rifle, but it actually out shoots all the others in velocity and accuracy, plus it's not even broken in yet. And it's American Made!
5.0
By Conor
USA
May 2, 2020
Verified Purchase
Pros
This is an incredible gun so far. It was well worth the back order wait. It breaks through 1 inch board with ease. It's very quiet as well. I have an old pump bb gun that is much louder than this gun. Really impressed with this Crosman so far.
Cons
The silencing apparatus is plastic which makes me think it won't last very long. So far so good though.
5.0
By David
USA
January 8, 2020
Verified Purchase
Accurate as heck right out of the box....will be the first for a .25 cal ?????
Pros
Accurate and the power I was looking for and then some! Prompt delivery and overall a great product as always.
Cons
None
5.0
By Cletus
November 15, 2019
Took me a little bit to get used to the sights. Once I did I am hitting one and a half inch targets in the middle aT 15 yards with sights and have not mounted scope yet. will take it out farther when better light is available. I have no doubt it will do its part as long as I do mine. the scope is not great but not bad, for the price one can not complain. I have only used Crossman premier domed ultra mag pellets at 14.3 grains. This thing is beast. penetrated 1/2 inch plywood. not blast right thru, but the back side was blown out and the pellet was not in the wood. no doubt could kill a yote if pellet is to the dome. the fake magazine is annoying but can be worked around. non-issue for me, some that are picky or the grass is never green enough may not like it but its got enough weight due to quality you wont be doing yourself any favors by forearm grip that close to your body. trigger is a tad heavy with some creep but with practice and control is very good and did not hinder accuracy at all(i use 3 lbs triggers on AR10's). This is not a top of the line pellet gun, but its a very good value for the money. its very far from a "decent" pellet rifle. I was researching break barrels for six months before i decided to try this one and i am not disappointed what so ever. I dont really have anything to say negative about it nor is there anything that is a deal breaker. Its a keeper. For the price i do not think you will spend your hard earned cash any better. Oh yeah, suppressor works good too with ammo I tried. If anyone knows of other pellets that work well with this rifle please list in your review. Overall, you wont find this quality in brick and mortar stores, at least not the ones in my area.
Pros
Accuracy, Power, How quiet it shoots, Safety location, its well balanced also not forward heavy at all. Price/quality/value ratio.
Cons
none for me.
5.0
By James Vander
USA
February 25, 2019
I bought this gun and automatically got rid of the scope and mounts. I put the diana bullseye zr 1 mount on with a hawke 3?9?40 scope on the gun. Took 5 shots at 25 yards and put a grouping together that a quarter would cover eith no adjustments to the scope. I am very impressed with this gun, i own many break barrel guns and this one is one of my most accurate guns i own, outside my mtr 77.
Pros
Very accurate gun
Cons
None
5.0
By Jose R
USA
January 21, 2019
Verified Purchase
Excelente compra. Un servicio de primera muy agradecido por esta compra. El ?nico problema fue Ups que no la entreg? a mi residencia y la caja estaba mojada con un producto que ellos alegan se derram? en el veh?culo. Yo fui a las oficinas y lo recog? luego de comunicarme con ellos. El equipo no sufri? da?os. Gracias los contin?o recomendado y auspiciado
Pros
Excelente calidad y servicio
Cons
UPS no lo entreg? y la caja estaba mojada de con aceite
5.0
By Brad
USA
January 19, 2019
Verified Purchase
I shot the first 100 shots with open sights. I rear sight way right, just like my XT Storm. Than elevation up a bit , on target pretty close within 25 shots. Put on a UTG 4x32 ( not the center point that came with the gun ). What a difference this made , sighting in at 30 yds, this took another 25 shots. Next shot was a cotton tail @ 30 yds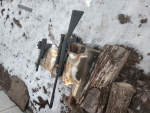 Pros
22 cal is awesome & accurate . This gun is quiet
Cons
None
Q&A
Question?
Login to ask someone who bought this product.
Can the open sights be replaced with a higher quality set, or at least the rear sights ? I have heard the sight are made of plastic !
asked Scrambler82 from USA
You probably can remove the rear sight. The front sight can not be removed.
Mark from USA
What grain pellet should be used to achieve around 900 FPS?
asked Sean from USA
14-18 grains
Mark from USA
Sound level equivalent?
asked Johnny from USA
This is a very quiet air rifle. Beyond 30 ft or so you will hear almost nothing.
Mark from USA