Engage targets in full-auto with Crosman DPMS SBR CO2 Air Rifle! Based on the ultimate warfighter rifle the M4, the DPMS SBR (Short Barrel Rifle) gives shooters everything they want from a full-auto M4 adapted for maximum airgun fun. Officially licensed and stamped, the DPMS SBR slings blistering semi and full-auto repeating BB shots, fueled by two 12-gram CO2 cartridges housed in the 30rd magazine. Adjust your SBR to your preference with a 6-point adjustable rear stock and get a steady support from the movable hand rest on the forend. The SBR's quad-Weaver/Picatinny rails give you limitless opportunities for mounting flashlights, pistol grips, and lasers. Each package includes removable pop-up sights and the rear sight is adjustable. The fire-mode selector lets you choose between semi or fully-automatic shots at 430 fps. If you want to mow down targets and shred paper and tin cans alike, grab the DPMS SBR and enter the action!
Crosman DPMS SBR Essentials Kit:
Tactical Short Barrel Rifle
Adjustable 6 Position Butt Stock
AR Compatible Pistol Grip
Quad Rail forearm for accessory mounting
Unique muzzle end cap
Flip up back up iron sights (BUIS)
Angled Foregrip
Realistic Weight and Functions
Uses 2 12-gram CO2 cartridges
Length: 26.9" to 30.4"
Includes: Extra Magazine, Two 1500 ct Copperhead BB's, and Pellgun oil
Specs
Manufacturer

Crosman

Caliber

.177

Velocity

430 fps

Condition

New

Ammo Type

Pellets

Action

Semiautomatic/Full-auto

Barrel Style

Smooth bore

Fire Mode

Repeater

Gun Weight

6.50

Overall Length

30.40

Loudness

3-Medium

Magazine Capacity

30

Mechanism

CO2

Rail

Weaver mounts

Safety

Manual

Front Sights

Flip-up

Rear Sights

Adjustable for windage

Shots per Fill

0

Trigger Adjustability

0

Trigger Action

0

Use

Plinking/Fun

Warranty

1-year limited warranty
Reviews
Average Customer Review
4.4
4.5
19 Reviews
4.0
By Mike T.
January 6, 2020
Verified Purchase
I did a lot of research on this before I purchased it. I love this thing, it is really fun. A little heavy for my 12 year old to hold be he still likes it way more than his Red Rider his uncle got for him. The only problem is the speed loader is a little mickey mouse and feels like it jams. Because the plunger is plastic I fear it's going to just snap off one day. I also seem to be having difficulty with one of the two magazines I have. It doesn't always puncture the second co2 cartridge and after verbal inspection it looks like the part that actually punctures the cartridge is not as long on the 2nd one as it is on the 1st.
Pros
Full auto made really well
Cons
Speed loader A little heavy for younger kids
5.0
By Juan
USA
December 26, 2019
Verified Purchase
This is a great rifle, having fun with along with my family.
Pros
Easy to operate.
5.0
By Ted
December 20, 2019
Verified Purchase
If you want to put a smile on your face, spend some time with this gun. It's a hoot to shoot and suprisingly accurate. It's a fun day in the backyard.
5.0
By dean c.
November 19, 2019
Verified Purchase
nicely built shoots well louder woks well lots of fun in full auto will make you smile wood recommend it . trigger pull is way to heavy
5.0
By Freddy
USA
November 7, 2019
Verified Purchase
Great gun for the price. I love it as a training tool. I cannot recommend this product enough!
Pros
-The feel -The function -The extra magazine
Cons
-The grip does hurt my hands after a little bit of use
4.0
By Derrick
USA
October 21, 2019
Verified Purchase
Hands down the funnest air rifle I've shot in a long time everybody smiles when they shoot it😁! super impressed with how authentic it is and realistic and love😍 how extensively accessorized the platform can be done.
Pros
It's fully automatic It can be accessorized It shoots straight It's CO2 last a long time
Cons
No real cons to speak of but maybe offer a higher-capacity in magazine . 😉
4.0
By Troy
August 19, 2019
Verified Purchase
DPMS SBR works and shoots great. However one container of BBs was open in packaging. Lost about half of contents. Packing could be better. Troy S.
3.0
By Kang
USA
May 31, 2019
I was very excited to shoot this gun, and each squeeze of the trigger did not disappoint, BUT.......when it came time to reload the only magazine that came with my purchase, it was impossible with the included reloading device. It jammed immediately and was completely useless no matter what I did. Had to resort to putting one BB at a time into the magazine, while holding back the tab with my thumb. I started to wish I had the stupid shake loader on Umarex Steel Storm. That is just sad. Why design such a nice gun only to sabotage it with a stupid magazine. It took all the fun out of it.
Pros
Great feel of the feedback.
Cons
The ill conceived magazine was literally painful to use!! Painful on my fingers, my time, and well....just painful. Makes the gun not worth using until a viable solution becomes available. They owe it to us early adopters to make this right.
5.0
By Flyin B.
May 29, 2019
I own a Stagg Arms M4 (.223), so I was pretty sceptical about this gun. I have to first say, I am not a big fan of Crosman, but I also own a Crosman M4-177 and love it. The M4-177 is ot a good training gun, but an accurate, extremely versitile air gun. The DPMS is however, a good training gun. I was hesitant about the blowback, in that the gun may not be very accurate, but it is. Most of you will laugh, but full auto is not my thing. I prefer to practice in semi-auto, since that is what I own. So, now you know I am not a fan of Crosman and not a fan of full auto. BUT, I am a big fan of this gun. The speedloaded works great, just keep putting in a drop or two of pelgun oil in it. I use it for most of my bb guns. The blowback is a nice novelty, but not very realistic, but it is after all a bb gun, so it works as you would expect it to. Bottom line - Great semi-auto & training tool! No regrets!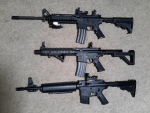 Pros
Overall good design Great training tool Feels very, very realistic Sights are plastic, had to shave the front site, but good now Very sturdy and tough Safety is great Magazine design is awesome
Cons
Front site was too thick for me, had to shave it. That's about all I've got!
3.0
By Phil S.
May 15, 2019
Verified Purchase
After firing my 2 clips just 10 times each,one of the springs does not fit properly on the pin and does not have enough compression to push the BBs down. It only shoots about 30 instead of the 50 BBs. When putting in the gas canister on the right side of each clip it does not fit correctly. Still after a dozen more times when trying to seat it and tighten it, I lose half a canister every time on each one. Enclosed is a plastic loading device with no instructions. It is flimsy and I'm surprised it had not broken while I figured out how to use it, as others have had happen. Doesn't work anyway. I have a small piece of wood with a tack protruding to pull the loader spring back instead of my finger nails or thumb which does not feel good after a few loads. This action is supposed happen with the enclosed device but all the BBs jam when you push the plunger with your other thumb. It's a good idea but needs a little more adjustment. I would hope this is not the norm. I bought the gun to capture the automatic features but it takes some of the fun out and is a bit disappointing.
Pros
Powerful and accurate and can be fun.
Cons
Clips are problematic. Loading device needs improvement. It is advertised at 600 rounds per minute. I guess If you have 12 loaded clips handy. Clips should be 100
Q&A
Question?
Login to ask someone who bought this product.