The Crosman Full Auto ST-1 looks like a sci-fi gun you'd use to fight aliens in space, and it delivers the cool factor along with unique tactical features, all with Crosman's famous reliability. You'll get an air gun you love to use for hours of target shooting and plinking enjoyment at speeds up to 450 fps.
Of course, the great looks of the gun aren't as important as the fun you'll have with it, and that's because it has a switch for both semi auto and full auto modes. You'll love blasting cans and targets to your heart's content because you get a 25 round drop free magazine fed by a high capacity 300 round BB reservoir, so you get a lot of shooting time with quick and easy refills to keep the good times going.
The Crosman Full Auto ST-1 has another feature you'll enjoy. You can convert it from a tactical air pistol to a tactical air rifle and back with a few simple changes. It comes with a butt stock and barrel extender so you can use it as a CO2 BB rifle, and you can take those off to use it in its more compact form as a fun full auto BB pistol. It's like getting two guns for one price, so you don't have to choose.
You have options when adding accessories like bipods, lasers, and tactical flashlights to your ST-1 because it has Picatinny rails on the bottom and both sides of the front. Plus, this airgun comes with a red dot sight for extra accuracy when aiming, or you can add a scope to the long Picatinny scope rail on top.
If you've been waiting for a select fire BB gun with slick looks that you can switch from an air rifle to an air pistol, get a Crosman Full Auto ST-1 today at Airgun Depot.
Crosman Full Auto ST-1 Features:
Full auto or semi auto
Max velocity: 450 fps
Uses .177 cal steel BBs
25rd drop free magazine
High capacity 300rd reservoir with built in speed loader
Removable barrel extender
Removable, two position adjustable buttstock
Includes red dot sight
Textured ergonomic pistol grip
Textured forward grip
Long Picatinny scope rail
Forearm Picatinny accessory rails on sides and bottom
Ridged rubber buttpad
Uses two CO2 Powerlets
Specs
Manufacturer

Crosman

Caliber

.177

Velocity

450 fps

Condition

New

Ammo Type

BBs

Action

Semiautomatic/Full-auto

Barrel Style

Smooth bore

Fire Mode

Repeater

Gun Weight

6.07

Overall Length

33.00

Barrel Length

15.50

Loudness

3-Medium

Mechanism

CO2

Rail

Weaver/Picatinny

Safety

Manual

Front Sights

none

Rear Sights

none

Shots per Fill

0

Trigger Adjustability

0

Trigger Action

0

Use

Plinking/Fun

Warranty

1-year limited warranty
Reviews
Average Customer Review
2.7
2.5
7 Reviews
4.0
By Joshua
USA
April 20, 2023
Verified Purchase
At 179 from 279 or so, this is my favorite airgun ever. Accurate, customizable, powerful for 12g co2, absolutely my obsession for 400 rounds now.
Pros
Barrell extension/suppressor (kinda), stock adjustments, rails, bb volume, 25 round mag, design, weight, full auto (which is more burst, but works here and there, still ok though), charger action, quick charger release. Ok, I'm done.
Cons
Bb trap door is ehhhh, dot sight must be replaced Pronto. Magazine load pull strip IS wonky, but be gentle and patient, it's cool otherwise. Gonna get dirty, nothing you can do but bring a Mr. Clean eraser.
4.0
By Paul
March 7, 2023
Verified Purchase
Pros
Had trouble and customer service was very nice and are sending me a new part. Thanks
2.0
By Paul
March 5, 2023
Verified Purchase
Pros
looks good
Cons
yesterday was my first time loading it and ended up with 300 bbs all over the kitchen floor. the door that holds the bbs in must be broke. it doesnt latch shut by anythung.
5.0
By Ronnie
December 12, 2022
Verified Purchase
The grandson who's name is Gunner loves it goes right to it first my little storm trooper
Pros
I am surprised how nice it shoots really hard it's accurate even in pistol format the barrel comes off easily and has a good fit no slop I think this is one cool bbgun better than I expected
Cons
I treat the magazine gently put a drop of oil on the pull tab but so far so good
2.0
By Ben Craig
November 21, 2022
Verified Purchase
Unfortunately the ST-1 is below sub par. I had only 1000 characters and could not get to the details of the integrated hand grip fell off after the first day of use. Just a big let down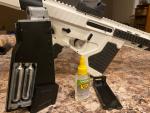 Pros
The design is what sold me the product. But the gun is EXTREMELY flawed. *READ THE MANUAL* before shooting. Semi Auto is the only way to effectively use this rifle.
Cons
1. The magazine is just flawed. The gun barely went through the First mag. I was rather disappointed so I started doing some research(*Read the Manual*) It tells me to apply REM oil to the tips of the C02 canister. Doing this was a difference between Night and Day.(Highly Recommend) 2. Reloading- Maybe I am missing something but you either keep the Magazine in and turn it upside down-pull the reload tab to get a full mag. Or you remove the mag completely between each use- bring me to flaw 3. After 100 rounds(4 full mags) of removing and re-entering- The gas blow valve was completely dirty and clogged. Cleaned it returned to full power. So I just kept the magazine in instead of removing it. 4. Full Auto freezes the C02 cartridges so fast. You will be luck to go through 2 Mags before you lose all power and you have to wait for them to unfreeze. 5. Semi Auto was the only was to truly enjoy the rifle without 6. You will BURN through C02. Maybe ever 50-100 rounds I was replacing cartridges
1.0
By Matt
October 13, 2022
Verified Purchase
Airgun Depot was great in handling my return.
Pros
I like the idea behind this gun. Looks great. has a lot of potential.
Cons
The magazine is a mess. The reservoir and quick load was the big draw for me. It jammed on first test load then the Co2 started leaking constantly. With such a new product there is very little in the way of troubleshooting support. Wait for a magazine redesign or version 2.
Q&A
Question?
Login to ask someone who bought this product.
Does this have blowback functionality?
asked Tyler from USA
No, but the charger does move.
Joshua from USA
Are the powerlets the regular CO2 cartridges you can purchase anywhere or are they special ones for the ST1
asked Gary from USA
Any 12g will do.
Joshua from USA
Are the CO2 powerlets the regular ones you can buy anywhere or are they specializes
asked Hugh from USA
I believe it takes 2 12g co2
Les from Canada
Will the barrel fit any other Crossman guns my A4 is a 14mm left but it would be great to add a longer barrel?
asked Gary from USA
It's got a specific mounting to the gun body of the st1. Do not believe it will mount on another
Joshua from USA