The FX Crown takes everything that made the Impact such a groundbreaking rifle, and puts that adjust-ability into a standard sporter stock. But not just any stock, this FX Crown features the beautiful blue sapphire laminate stock. Truly a stock that matches the quality and precision engineering that is houses the internals of the Crown.
The FX Crown is a shooters dream. Much like a high performance race car, you can adjust and fine tune the Crown to achieve the highest accuracy of perhaps any rifle! Starting with the new FX Smooth Twist X barrel system. This new system allows you to now only change the caliber of the rifle (from .177 up to .30 cal) but you can also now exchange the barrel liner itself to further tailor your barrels twist rate and choke to the pellet of your choice. The Smooth Twist X system is housed in a fully shrouded barrel to keep things ultra quiet. In the coming months expect more and more barrel liner options to be offered as add on accessories for your FX Crown.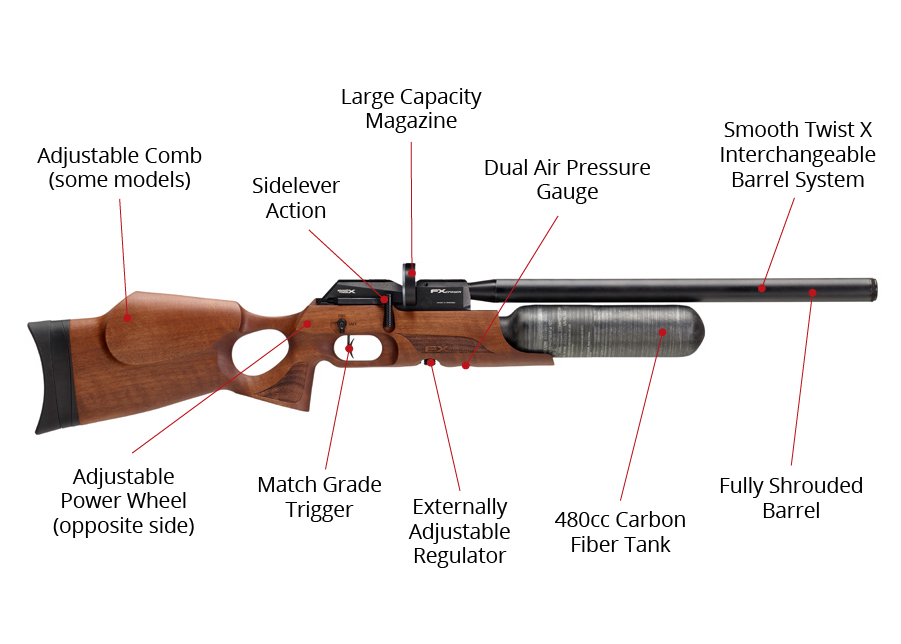 Adjustability has no limits with the FX Crown. At the base of stock are housed two pressure gauges; one to show the pressure of the removable 480cc carbon fiber bottle, the other the regulator pressure. This regulator can be adjusted externally as well. Other adjustments include a hammer spring adjustment and a valve flow adjuster on the left side of the stock. There?s an adjustable comb and the butt stock is fully adjustable both vertically and tilting horizontally. The adjustable two-stage trigger is easily called match grade and is simply one of the best triggers on the market today.
Note that there is a large demand for this rifle. Pre-orders as always will be fulfilled in the order they are received. Expect delays initially on the launch of this rifle.FX Crown Blue Laminate Features
Ambidextrous thumbhole blue laminate minelli stock
Side cocking lever action
FX Smooth Twist X barrel system
Interchangeable barrel calibers and barrel liners (additional calibers and liners sold separately)
Externally adjustable pressure regulator*
Hammerspring tension power adjuster
Valve flow adjuster
Two pressure gauges: one for airtube pressure, one for regulator pressure
Removable 480cc carbon fiber air cylinder (Additional spare tanks sold separately)
Max fill pressure is 250 bar (3600 psi)
Removable high capacity rotary magazine**
Fully adjustable match trigger
Dovetail scope rail
Adjustable Buttpad
Male quick-disconnect foster fitting
*Note: You need to carefully read the manual and understand how to adjust the regulator before attempting to do so. Decreasing the regulator with pressure in the tank will ruin the regulator. Know what you're doing before attempting to adjust away from the factory settings on the FX Crown.
**Note: FX Impact magazines are NOT compatible, the FX Crown utilizes a model specific magazine.
Specs
Manufacturer

FX Airguns

Caliber

.25

Velocity

905 fps

Condition

New

Ammo Type

Pellets

Action

Sidelever

Barrel Style

Rifled

Fire Mode

Repeater

Gun Weight

7.50

Loudness

2-Low-Medium

Magazine Capacity

16

Mechanism

Pre-charged pneumatic

Rail

Weaver/Picatinny

Safety

Manual

Front Sights

none

Rear Sights

none

Shots per Fill

70

Trigger Adjustability

Two-stage adjustable

Trigger Action

0

Use

Small game hunting/target practice

Warranty

3-year limited warranty
Reviews
Average Customer Review
5.0
5.0
2 Reviews
5.0
By Jimmy
USA
December 14, 2018
I own many airguns and this one is the lightest weight and most accurate I have. The only drawback I have found so far is the price.
Pros
Light and accurate
Cons
Price
5.0
By Robert B
USA
August 5, 2018
If you like to tinker around with trying to get better accuracy and farther distances. The this should be the rifle for you. Not to mention changing calibers. Right out of the box it shot pretty good at 25 yds. With the first two shots being snake eyes. I adjusted the scope for both windage and elevation. The next three were in the x ring and a 1/4 min. left. Adjusted and the next three were center and almost one hole. I was using JSB-25 grn. After the next 500 pellets through it, I adjusted the reg for more pressure as my groups opened up at 50, 75 and 100 yds. Still working at further distances beyond 130 yds. To me this is the fun part of this rifle. It's well worth the money. One more thing, I'm a powder burner and this is my first air rifle. Thank you airgun depot for this rifle.
Pros
Looks, feel and adjustments.
Cons
Wish it was built around the JSB-34 grn pellets.
Q&A
Question?
Login to ask someone who bought this product.
Does the FX Crown come with a case to store the rifle in?
asked Brian