The FX Crown takes everything that made the Impact such a groundbreaking rifle, and puts that adjustability into a standard sporter stock. But not just any stock, this FX Crown features the beautiful green hunter laminate stock. Truly a stock that matches the quality and precision engineering that is houses the internals of the Crown.
The FX Crown is a shooters dream. Much like a high performance race car, you can adjust and fine tune the Crown to achieve the highest accuracy of perhaps any rifle! Starting with the new FX Smooth Twist X barrel system. This new system allows you to now only change the caliber of the rifle (from .177 up to .30 cal) but you can also now exchange the barrel liner itself to further tailor your barrels twist rate and choke to the pellet of your choice. The Smooth Twist X system is housed in a fully shrouded barrel to keep things ultra quiet. In the coming months expect more and more barrel liner options to be offered as add on accessories for your FX Crown.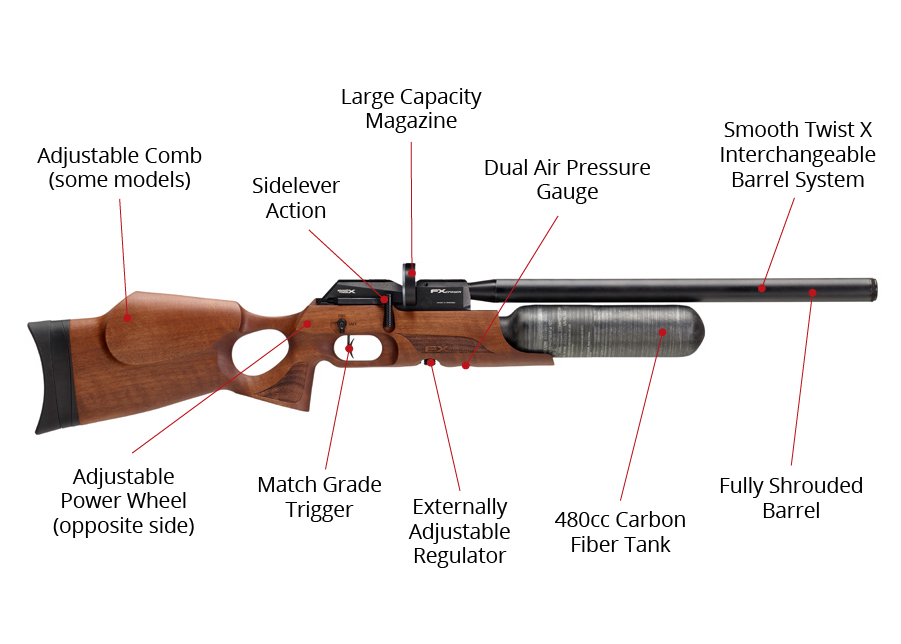 Adjustability has no limits with the FX Crown. At the base of stock are housed two pressure gauges; one to show the pressure of the removable 480cc carbon fiber bottle, the other the regulator pressure. This regulator can be adjusted externally as well. Other adjustments include a hammer spring adjustment and a valve flow adjuster on the left side of the stock. There?s an adjustable comb and the butt stock is fully adjustable both vertically and tilting horizontally. The adjustable two-stage trigger is easily called match grade and is simply one of the best triggers on the market today.
Note that there is a large demand for this rifle. Preorders as always will be fulfilled in the order they are received. Expect delays initially on the launch of this rifle.
FX Crown MkII PCP Air Rifle, Green Hunter Laminate
Ambidextrous Thumbhole Green Hunter Laminate Minelli Stock
Smooth sidelever cocking system
FX Superlight Smooth Twist X (STX) barrel system offers more rigidity, yet is about ½-pound lighter than previous version
Includes Superior liner
Interchangeable calibers and barrel liners (additional calibers and liners sold separately)
Fully shrouded barrel
Updated breech block with four barrel set screws for more rigidity = better performance
Upgraded action with integrated 20 MOA Picatinny rail
Breech block upgrade allows for caliber changes without removing scope
Externally adjustable AMP (Adjustable Match Precision) regulator
Externally adjustable hammer spring tension
3-step transfer port adjustment
Dual pressure gauges: one for air tube pressure, one for regulator pressure
Removable 480cc carbon fiber air cylinder
Max fill pressure is 250 bar (3600 psi)
Magazine capacity: 21 rds. in .177, 18 rds. in .22, 16 rds. in .25, 13 rds. in .30
Shots per fill: 200 in .177, 145 in .22, 110 in .25, 45 in .30
500mm (19.685") or 600mm (23.62") barrel options available
MkII offers a 28% increase in plenum volume and larger valving to allow for more power
With moderator, 500mm barrel models have an overall length of 45"
With moderator, 600mm barrel models have an overall length of 49"
Two-stage adjustable, match trigger
Adjustable buttpad
Male quick-disconnect Foster fitting
Includes one magazine and 3-year transferable warranty
Specs
Manufacturer

FX Airguns

Caliber

.177

Velocity

940 fps

Condition

New

Ammo Type

Pellets

Action

Sidelever

Barrel Style

Rifled

Fire Mode

Repeater

Gun Weight

6.90

Loudness

2-Low-Medium

Magazine Capacity

21

Mechanism

Pre-charged pneumatic

Rail

Weaver/Picatinny

Safety

Manual

Front Sights

none

Rear Sights

none

Shots per Fill

200

Trigger Adjustability

Two-stage adjustable

Trigger Action

0

Use

Small game hunting/target practice

Warranty

3-year limited warranty
Reviews
Average Customer Review
5.0
5.0
1 Review
5.0
By Jorge Oswaldo
USA
February 25, 2019
I have been shooting air rifles more than 30 years, break barrels to be precise. Several years ago I saw many people using pcps in a shooting range, I win one or two rounds against those with pcps with my Mendoza Breakbarrel (lol) and thought "my rifle is better" (20 years using those rifles I can predict where the pellet will go). Since then I have been watching videos on Youtube to get informed about pcps. So I decided to buy one to take a chance and see how does it worksm, order one of this FX CROWN, YES!, Green laminate! YES!, .25 No words, Best rifle Ever, I can not compare with other brands! but it is everything, Ted, Matt, Andy, and all reviews on you tube. Is more than that!!!
Pros
Everything
Cons
No one
Q&A
Question?
Login to ask someone who bought this product.
What is the availability of .30 Pellets & types
asked James from USA
Good day, what accessories come whit the purchase of this rifle? Thank´s.
asked Antonio from USA